Thatched roofs are beautiful but expensive.
This article breaks down the average cost of thatched roofing in the UK, so you know what to expect if you're considering installing or repairing one.
How Much Does a Thatched Roof Cost?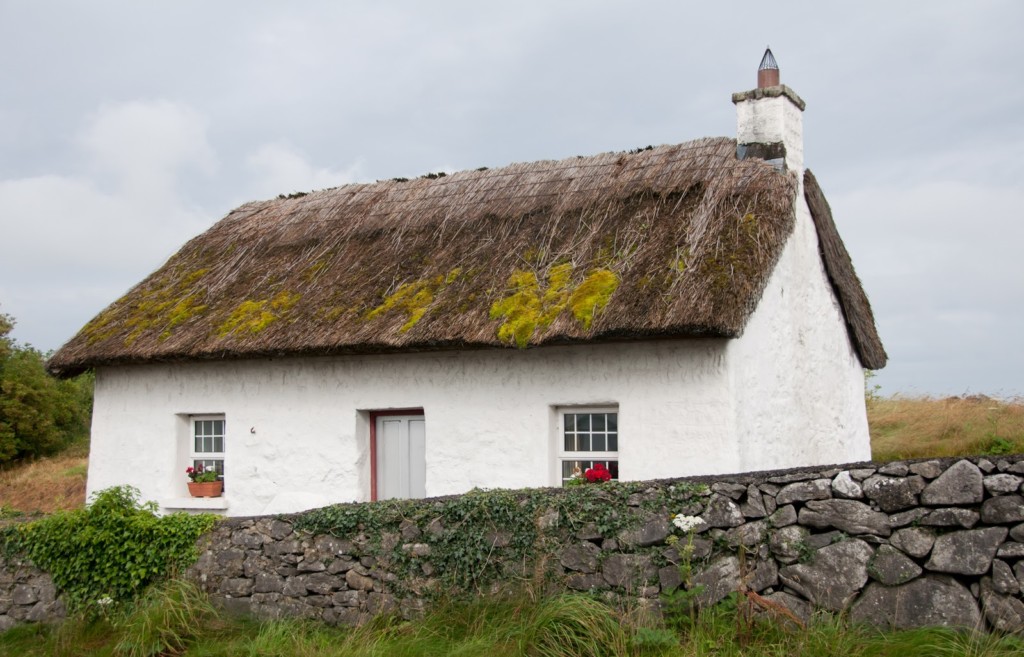 A new thatched roof typically costs between £15,000 and £30,000 for a full roof replacement.
The average cost is around £700 per square meter of roof surface area.
Key Points
Thatched roofs cost £15,000 to £30,000 for a full replacement
Average cost per m2 is around £700
Require high maintenance and re-thatching every 20-30 years
Our Opinion
While beautiful, thatched roofs are one of the most expensive roofing options due to specialized labour and ongoing maintenance costs.
The initial installation can cost tens of thousands of pounds, and upkeep is required to preserve the thatch every few decades.
For homeowners valuing charm over cost, a new thatched roof is a worthwhile investment into a classic aesthetic.
Average Cost of Thatched Roofing in the UK
A replacement thatched roof in the UK can set you back around £50,000. But thatch roof costs vary dramatically depending on where you live. Prices range from £1,500 to over £3,000 per square metre.
On average, the cost is about £700 per square metre. For a small cottage with a 45° roof and an area of 900 square feet, you'd pay between £4,700 and £8,800 for a new insulated thatched roof. Larger roofs can cost between £6,700 and £9,400, or £9,400 to £17,800 for an insulated roof.
The price for a new thatched roof can range from £5,000 to £30,000. The average cost per square metre is £60 to £85, excluding ridge tiles. Overall, installing a thatched roof can range from £15,000 to £30,000 or more.
Repair costs for a thatched house can be between £25,000 and £35,000.
There's a huge variation in thatched roofing prices. The details like finishing and ridge tiles you pay for make a difference. But on average, for a complete replacement of an average-sized roof, expect to spend anywhere from £15,000 to £30,000 or more.
Factors that Influence the Price
Several things impact the cost of thatched roofing in the UK:
Location – Prices are highest in the Southeast and other affluent areas.
Size and pitch of the roof – More surface area and steeper pitches increase cost.
Accessibility – Difficult access raises labour costs.
Scaffolding requirements – Needed for tall buildings.
Insulation – Adding insulation increases materials.
Roof structure – Reinforcing the roof beams adds expense.
Thatching materials – Long straw thatch is cheapest, water reed and combed wheat reed cost more.
Ridge details – Clay ridge tiles and decorative chimney pots add cost.
Local thatcher availability – Thatched roof specialists charge higher rates.
The wide range of thatched roof prices reflects all these variables. Carefully evaluating your specific roof's size, materials, and access needs is key to getting an accurate estimate.
Cost Comparison to Other Roof Types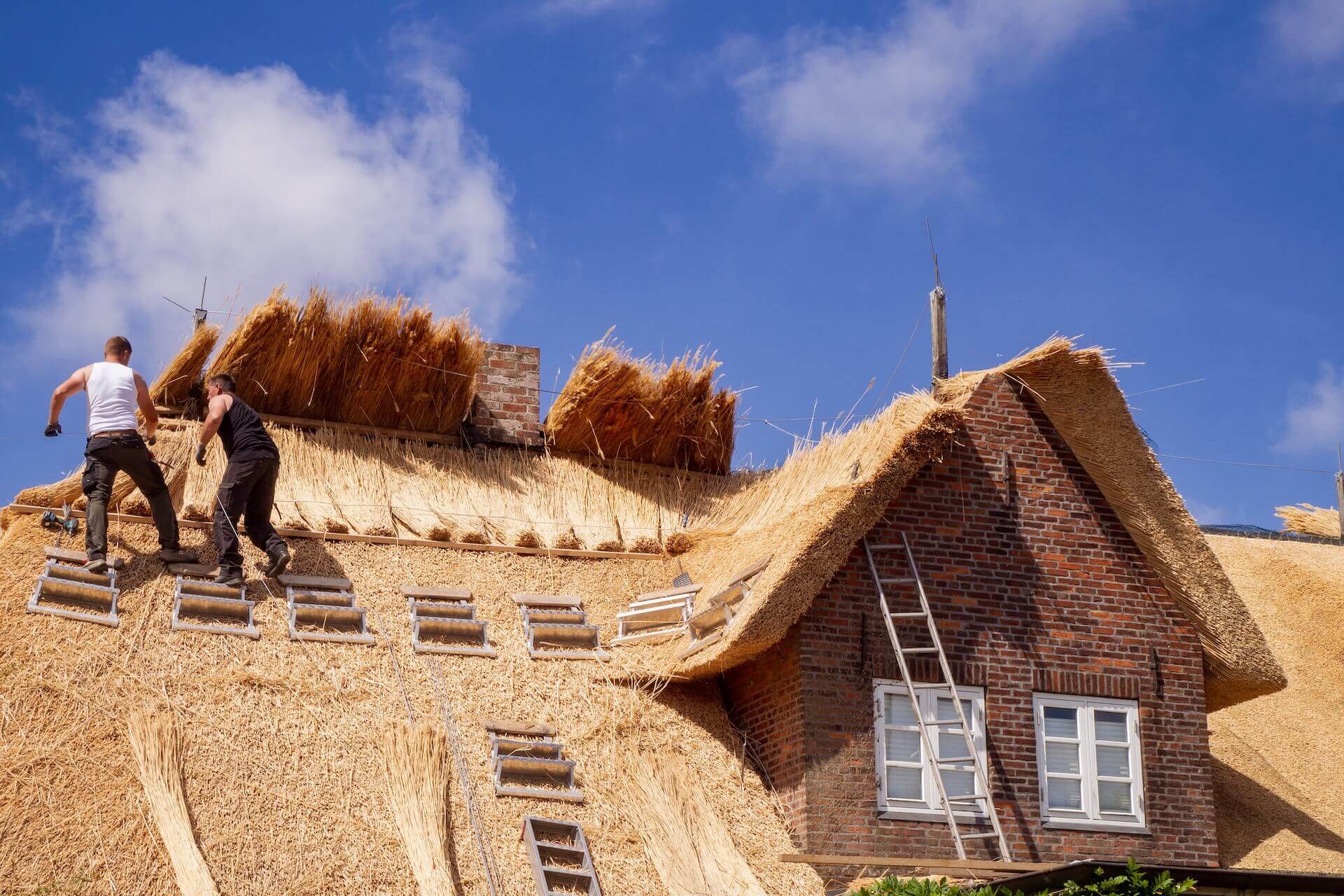 Although a thatched roof is more expensive upfront than conventional roofing, it can be a smart long-term investment. Let's compare the cost of thatch to other common UK roof types:
Asphalt shingles – Cheapest option but only lasts 15-20 years.
Slate – More durable than asphalt but requires ongoing repairs.
Tile – Concrete or clay tiles have a 50+ year lifespan but a high initial cost.
Metal – Lightweight and durable but prone to denting and noise.
A new thatched roof costs £30-£70 per m2, 2-3 times more than shingles or slate. But a thatched roof can last 60 years or more with proper maintenance. The long lifespan spreads the cost over decades rather than needing frequent roof replacements.
Thatch also provides excellent insulation, reducing heating and cooling costs. And it adds considerable value to a home. Overall, thatch offers an unparalleled combination of beauty, durability and functionality that makes it a smart long-term investment.
Benefits of Thatched Roofing
Beyond the aesthetic appeal, thatched roofs provide many practical benefits that make them a smart choice:
Durability – With proper maintenance, a thatched roof can last 60-100 years.
Insulation – Thatch provides excellent thermal insulation, keeping homes cooler in summer and warmer in winter.
Acoustics – The dense structure absorbs sound and reduces exterior noise.
Fire resistance – Properly installed, thatch is no more flammable than other roofing materials.
Eco-friendly – Thatch is all-natural, biodegradable, and sustainable if harvested responsibly.
Storm resistance – The flexible structure and overlapping design sheds wind and rain.
In addition to being beautiful, thatch brings functionality. The natural insulating properties reduce energy costs. The long lifespan avoids frequent reroofing. And thatch adds value if you ever sell your home. Although the upfront cost is higher, thatch offers many benefits that make it a smart investment.
Drawbacks of Thatched Roofing
While thatched roofs offer many advantages, there are some potential drawbacks to consider:
Cost – Thatched roofs are more expensive to install than other roof types like asphalt shingles or metal roofing.
Maintenance – Thatched roofs require regular maintenance every 5-10 years to replace worn thatch and keep the roof watertight.
Skilled labour – Proper installation and maintenance requires specialized thatchers, which may be difficult to find in some areas.
Fire risk – Thatched roofs are not inherently dangerous but do require fire-prevention measures like treated thatch, fire breaks, and lightning rods.
Weight – Thatch is heavier than other roofing materials and may require reinforcement of the roof structure.
Wildlife – Birds and rodents may attempt to nest in the thatch, requiring pest control measures.
While these potential disadvantages should be considered, they can often be mitigated with proper installation, maintenance, and preventative measures. For many homeowners, the aesthetic appeal and many benefits of thatched roofs make them well worth the extra effort and expense.
FAQ
Is a thatched roof expensive to maintain?
A thatched roof requires regular maintenance and re-thatching every 20-30 years, making it more expensive to maintain long-term compared to other roof types. Thatching materials, specialized labour, and preservation treatments add to the cost.
How long does a thatched roof last?
A properly maintained thatched roof typically lasts around 30 years before needing to be replaced or re-thatched. With regular maintenance, a thatch roof can last over 50 years. Proper installation and materials like long-straw thatch also increase longevity.
How much do thatchers earn?
Thatchers can earn £150-£200 per day for labour. As highly skilled tradesmen, master thatchers who run their businesses can earn over £40,000 annually. Apprentice thatchers start around £100-£130 per day.
How much is a thatch roof per square metre?
The cost of a thatched roof per square metre ranges from £60-£85 on average. Long-straw thatch is more expensive at £70-120 per square metre, while combed wheat reed thatch costs £60-£85. Insulation, fireproofing, and other factors also affect cost.
Conclusion
A thatched roof can cost between £15,000 and £30,000 or more depending on the size and pitch of the roof. The average cost per square metre is around £700, with prices ranging from £1,500 to over £3,000 per square metre. While beautiful, thatched roofs require specialized labour and ongoing maintenance that increase long-term costs. Overall, installing a new thatched roof is an expensive endeavour but provides a classic, distinctive look.