Thatch could be the perfect choice if you are looking for a natural and distinctive roofing material, but how long does thatched roof last?
This blog explains everything you need to know about the lifespan of a thatched roof and its maintenance needs.
How Long Does A Thatched Roof Last?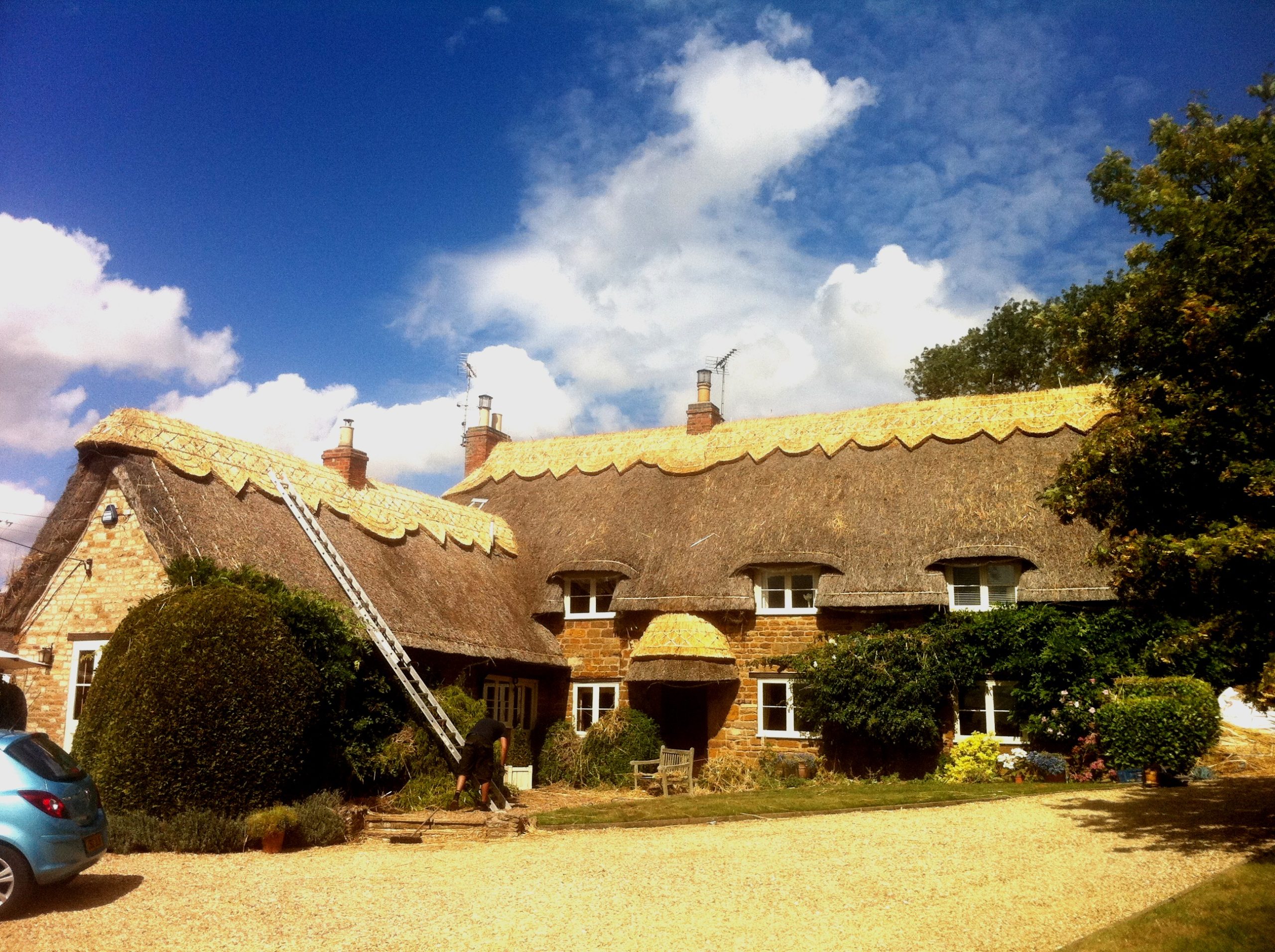 The lifespan depends on the type of thatching material used, with reed and wheat straw lasting 25-40 years typically.
Long straw thatch may only last 15-25 years.
Proper ridge work every 10-15 years and fixing any leaks or damage right away helps preserve the thatch and extend its lifespan.
Overall, a well-maintained thatched roof can provide decades of beauty and character to a home.
Key Points
Thatched roofs can last 15-40 years on average, with proper maintenance.
Reed and wheat straw thatches tend to last 25-40 years.
Regular ridge work and leak repairs help extend the lifespan.
Our Opinion
While thatched roofs require more upkeep than modern materials, their unique beauty and character are worth the extra effort.
With diligent maintenance and high-quality materials, a thatched roof can last upwards of 60 years.
The longevity ultimately comes down to regular care and preservation.
Thatched roofs add undeniable curb appeal and value to a home in our opinion.
The Lifespan of Thatched Roof
With proper maintenance, a thatched roof can last anywhere from 15 to 60 years depending on the type of thatching material used.
Water Reed thatch is very durable, lasting 25-40+ years before needing replacement.
Combed Wheat Reed and Long straw thatch have shorter lifespans of 25-35 years and 15-25 years respectively.
Wheat Reed thatch typically survives about 35 years before replacement is needed.
The longest-lasting thatch is Norfolk Reed, which can survive up to 60 years with diligent maintenance.
The lifespan of a thatched roof depends heavily on maintenance. Thatch requires regular attention, particularly to the roof ridges every 12-15 years. With careful maintenance like re-thatching and ridge repairs, a natural thatched roof can realistically last 15-30 years.
Installing a thatched roof is a significant investment, but the natural beauty and character are unrivalled. If you're considering thatch, weigh the lifespan and maintenance requirements against the incomparable charm of this traditional roofing material.
Factors Affecting Thatched Roof Lifespan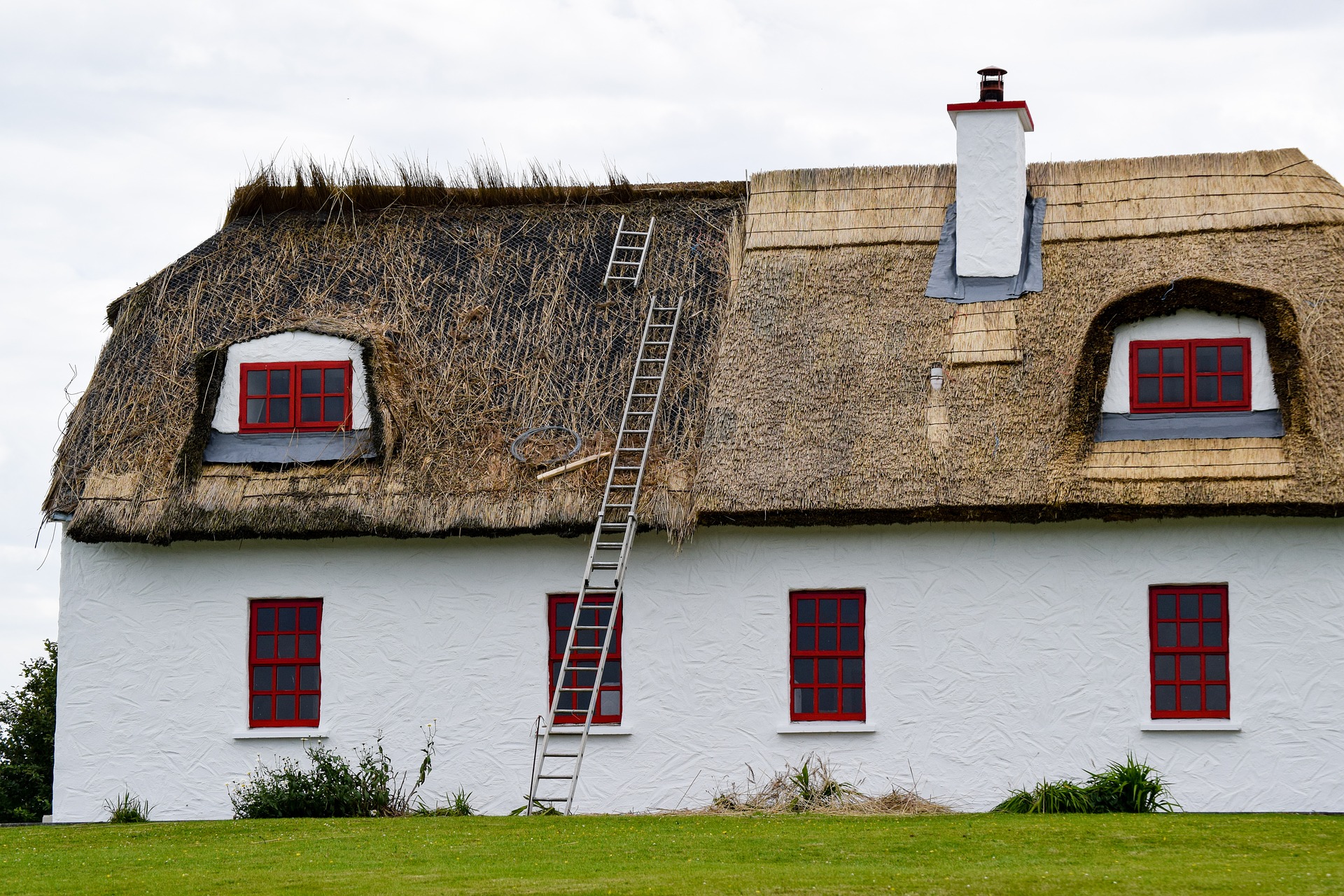 Several key factors determine how long a thatched roof will last before needing replacement:
Thatching Material – The type of reed used affects durability. Water reed and combed wheat reed last the longest.
Roof Pitch – A steep 45-55 degree pitch enables better water runoff and ventilation, increasing lifespan.
Climate – Wet, windy coastal climates shorten lifespan. Drier inland climates extend it.
Overhang – Wide overhangs protect thatch from rain erosion better than narrow ones.
Maintenance – Regular re-ridging, coating treatments, and repairs preserve the thatch.
Roof Shape – Simple roof shapes last longer than complex designs with valleys and angles.
Ventilation – Good ventilation under the thatch prevents moisture buildup and decay.
Craftsmanship – High-quality installation and materials boost durability.
Considering these factors will help you understand what to expect from a thatched roof's lifespan. Proper maintenance and design can maximize the years of beauty thatching offers.
Proper Maintenance For Longevity
To get the most life out of a thatched roof, proper maintenance is essential. Here are some key tasks:
Annual inspections – Check for any damage, leaks, moss growth, or animal nests. Catch issues early.
Re-ridging every 5-10 years – Replace the ridge cap to improve weather protection and appearance.
Sparrow pecking – Birds can damage thatch. Use wire netting to prevent access.
Moss and lichen removal – Gently clear growth to allow the thatch to breathe and dry.
Treatments every 4-5 years – Apply specialized coatings to boost weatherproofing. Ensure breathability.
Ventilation – Keep roof space clear for air circulation. Install vents if needed.
Repairs as needed – Patch any holes, gaps, or tears promptly to prevent bigger issues.
With regular care and swift repairs when necessary, your beautiful thatched roof can grace your home for decades to come. Don't let a lapse in maintenance cut its lifespan short.
Extending The Life of Your Thatched Roof
A thatched roof is a major investment, so it pays to take steps to maximize its longevity. Here are expert tips for getting the most years out of your thatch:
Overhaul every 20-30 years – A full overhaul renews the whole roof for decades of more service. It's costly but worthwhile.
Use quality materials – Opt for durable, treated varieties of reed, wheat straw or water reed. Don't cut corners.
Choose an experienced thatcher – Their skills make all the difference in durability and weather resistance.
Improve ventilation – Letting air circulate prevents dampness from shortening the lifespan.
Control moss and lichen – Don't let them take hold, as they retain moisture and accelerate decay.
Check after storms – Wind, rain and hail can damage thatch. Fix any issues right away.
Deter pests – Birds and rodents will gnaw away at thatch. Use wire nets and traps.
Avoid walking on it – That damages the material. Use ladders and platforms instead.
With a quality initial installation and proper care, your thatched roof can last 50 years or more. Take steps now to extend its life and preserve its timeless beauty.
Cost Considerations Over Time
Installing a thatched roof demands a significant upfront investment. However, taking a long view reveals that over decades it can be quite cost-effective compared to other roofing materials.
Yes, thatching is pricier than asphalt shingles or metal roofing. But a quality thatched roof lasts up to 50 years or more with proper maintenance. Asphalt and metal roofs typically need replacing every 15-30 years.
Factoring in just one or two roof replacements on another material during the lifetime of a thatch brings the costs much closer. And the character and charm of thatch are priceless!
To get the full value, be sure to:
Choose an experienced thatcher and quality materials
Maintain and repair thatch regularly
Overhaul every few decades
Viewed over the full lifespan, thatch offers good value along with its beauty. With care and upkeep, it can grace your home for generations.
FAQ
What are the disadvantages of a thatched roof?
Thatched roofs are more expensive to install and maintain than other roof types. They require specialized skills for installation and repair. Thatched roofs are also more flammable than other roofing materials. Home insurance costs may be higher for thatched roofs due to the fire risk.
Do thatched roofs attract vermin?
Yes, thatched roofs can attract vermin like mice, rats, and insects if not properly maintained. Regular treatments are required to deter pests. Proper ventilation and wire mesh under the thatch can help prevent infestations.
How much does it cost to replace a thatched roof in England?
The cost to replace a thatched roof in England can range from £40 to £70 per square meter. The total cost depends on the size and pitch of the roof, the type of thatch used, and any repairs needed to the roof structure. Expect to pay £15,000 to £30,000 or more for a full roof replacement.
Is it expensive to insure a house with a thatched roof?
Yes, insurance premiums are typically higher for homes with thatched roofs due to the increased fire risk. Thatched roof policies may have special terms and conditions as well. The cost depends on factors like the roof's condition, fire prevention measures, and the value of the home. Expect to pay 25% to 100% more compared to homes with standard roof types.
Conclusion
Thatched roofs are a traditional and attractive roofing option in England but require regular maintenance and upkeep. The typical lifespan of a thatched roof is 15 to 40 years, depending on the type of thatching material used. Proper ridge work every 10-15 years can extend the life expectancy. Overall, with diligent maintenance a high-quality thatched roof can last upwards of 60 years before needing a full replacement. The longevity of the roof comes down to using quality materials, proper installation, and ongoing preservation.