Do you how long slate roofs last?
This article will provide you with a complete guide about the lifespan of slate roofs and determine the best time to replace them.
How Long Do Slate Roofs Last?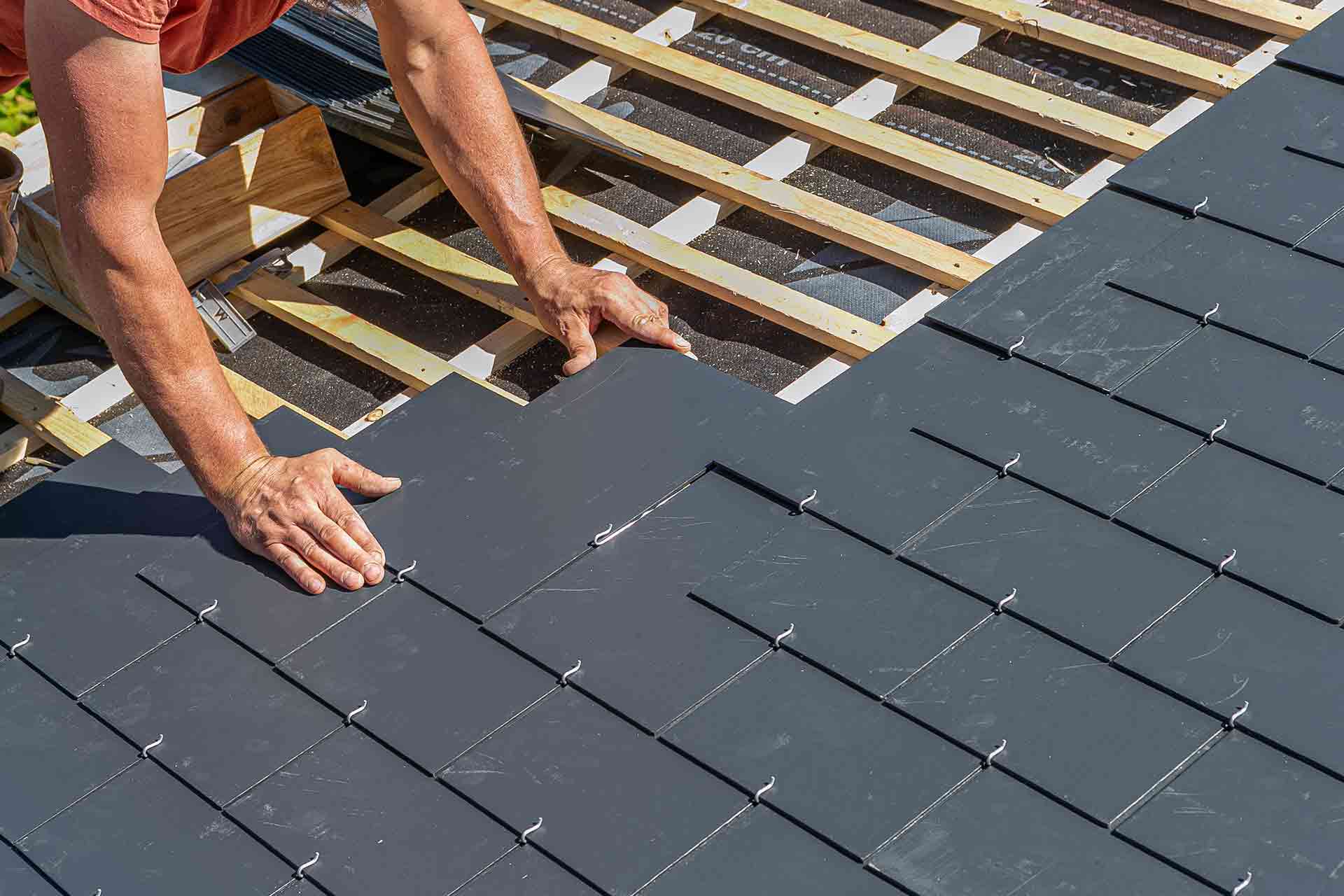 Slate is a natural material with unmatched technical features that will last well over 100 years.
It's usually the fixings and the supporting timbers that deteriorate before the slate tiles themselves.
But how do you know whether your roof needs a simple repair or re-slate?
Slate roof tiles are known for their exceptional durability and longevity.
With proper maintenance, a high-quality slate roof can last between 75 and 200 years.
This is over 3 times longer than the average asphalt shingle roof.
Key Points
Slate roofs can last 75-200 years with maintenance
Historic buildings still have original slate roofs
Slate lasts 3+ times longer than asphalt shingles
Our Opinion
In our experience, slate is one of the most durable and long-lasting roofing materials available.
When installed and maintained properly, a slate roof can easily surpass 100 years of reliable performance.
The upfront investment pays off exponentially over time compared to other roofing options that need frequent replacement.
We highly recommend a slate for homeowners wanting a roof to stand the test of time.
How Long Do Slate Roofs Last in the UK?
Slate is a natural roofing material with exceptional durability, often lasting over 100 years. Many historical UK buildings with original slate roofs installed centuries ago are still intact today. With proper maintenance, a slate roof in the UK typically lasts between 75-200 years.
Hard slate can last 75-200 years, while softer slate has a 50–125-year lifespan. Natural slate roof tiles can endure up to 150 years, despite being heavier than concrete or clay alternatives. Slate tiles generally last 50-100 years. In most UK environments, slate shingles survive at least 125 years and sometimes up to 200 years, exceeding the lifespan of multiple generations.
Some key factors determining how long slate roofs last in the UK:
Roof pitch – Steeper roofs allow slate to better shed water and last longer.
Slate thickness – Thicker slate is more durable but heavier. A minimum 5mm thickness is recommended.
Slate quality – Higher quality slate resists weathering and breakage better.
Proper installation – Good underlayment and ventilation help prevent leaks and damage.
Regular maintenance – Annual inspections and repairs extend the roof's lifespan.
Climate and weather – Slate holds up better in drier environments with less freeze-thaw cycles.
With proper installation and maintenance, natural slate roofs can last for centuries in the UK climate. Their longevity exceeds modern materials like asphalt shingles, making slate a wise investment for homeowners wanting a roof to stand the test of time.
Factors Affecting Slate Roof Lifespan
Many elements influence how long a slate roof will last. Understanding these factors allows homeowners to make informed decisions when installing or replacing a roof.
The type and grade of slate are critical. Higher-quality slate is more durable and weather-resistant. Using thicker slate tiles or shingles also increases longevity. A minimum 5mm thickness is recommended for roof slate. The slate's mineral composition affects strength – some types resist breakage and water absorption better than others.
Proper installation is key. Good underlayment and ventilation prevent moisture damage. Wide roof overhangs protect slate from precipitation. Steeper roof pitches allow better water runoff. Experienced roofers know the best practices for installing and fastening slate securely.
Climate plays a major role. Slate withstands freezing weather better than extreme heat. Areas with substantial temperature fluctuations and freeze-thaw cycles accelerate wear. Drier climates are ideal. Coastal regions can corrode slate more quickly.
Regular maintenance like annual inspections, prompt repairs of damaged tiles, and moss removal are vital. Slate's expected lifespan assumes proper upkeep will occur. Neglected roofs deteriorate faster.
Orientation is also important. South-facing roofs endure more sun exposure and temperature swings. North-facing slate roofs often fare better. Location also matters – slate lasts longer in rural areas than in polluted cities.
Considering these factors helps determine the slate material and roof design best suited for your home and climate. With thoughtful selection and care, a durable slate roof can endure over a century.
Different Types of Slate Roofing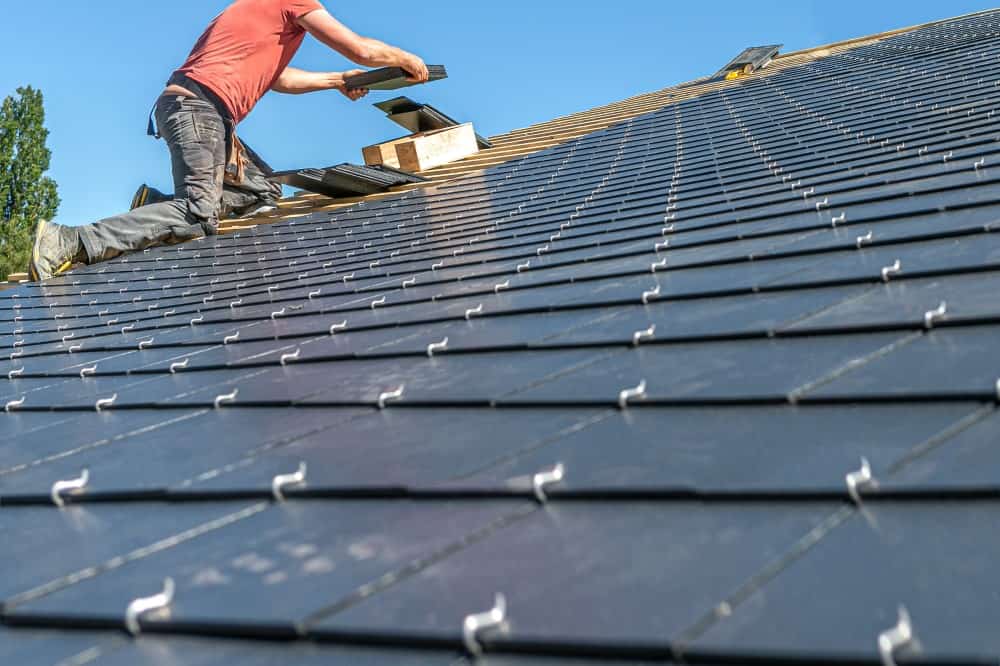 Slate roofs come in several varieties, each with its own characteristics and ideal uses.
Spanish slate is a popular choice. It has a smooth texture and consistent dark grey-blue colour. Spanish slate withstands weathering well. It's thicker and heavier than some alternatives, making it quite durable.
Vermont slate originates from quarries in the northeastern United States. Its high mica content provides a shimmering appearance. Vermont slate holds up well in freezing climates. It's also relatively lightweight. Homeowners often prefer its aesthetic appeal.
Chinese slate has gained favour for its competitive pricing. The quality can vary more than other types though. Chinese slate is best suited for drier climates as it absorbs more water. Careful inspection of each batch is advised.
Pennsylvania slate hails from quarries in the eastern USA. Its distinct purple and green hues add unique visual interest. Pennsylvania slate maintains its colours well over time. It may prove softer and less water-resistant than other options.
Choosing the right slate affects durability, weather resistance, and aesthetics. Consider climate, roof pitch, desired colour/texture, and budget when selecting slate. A reputable supplier can help recommend the ideal slate roofing material for your specific home.
Maintaining Your Slate Roof
Slate roofs require some periodic maintenance to maximize their longevity. With proper care, slate roofs can last 75-150 years.
Inspect your roof annually for any damaged or missing slates. Replace these promptly to prevent leaks. Use slate hooks and bib flashing to reattach any loose slates.
Remove any debris such as leaves or branches regularly. Blocked drainage can lead to water backing up under slates. Standing water causes deterioration.
Reapply protective sealants every 5-10 years. Sealants prevent water seepage and the growth of moss or lichen. Consult manufacturers for recommended products.
Repointing mortar joints may be needed every 30-60 years. Mortar cracking allows water intrusion and destabilizes flashings.
Avoid walking on your slate roof to prevent breakage. Use padding if access is required. Always employ qualified roofers for any major repairs.
With proper installation and periodic upkeep, slate roofs provide decades of beauty and protection. Regular maintenance identifies minor issues before they become major repairs.
Replacing A Slate Roof
While slate roofs can last over a century, there comes a time when full replacement is needed. Signs your slate roof needs replacing include:
Extensive damage or missing slates that go beyond spot repairs
Worn-out or corroded flashings allow consistent leaks
Persistent moisture issues like ice damming or soaked rafters
Visible cracks, curling or deterioration of the majority of slates
Regular repointing no longer stabilizes loose mortar joints
Not worth the cost of multiple extensive repairs
Replacing an entire slate roof is a major project but has benefits if your roof has reached the end of its lifespan. You'll get improved durability, weather protection and beauty with a new slate roof.
Be sure to hire an experienced roofing contractor as careful removal and reinstallation are required. Proper ventilation, flashing and underlayment installation are key.
The investment in a new slate roof will pay off for decades to come through enhanced longevity, energy efficiency and added property value.
FAQ
How long do slate roofs last?
Slate roofs typically need replacement every 75-200 years.
What is the major factor affecting the lifespan of slate roofs?
The biggest problem is breakage from weather events or foot traffic.
How long do slate roofs last when maintained?
Slate roofs can last 75-200 years with proper maintenance. A drawback is a heavyweight requiring reinforcement of the roof deck.
Conclusion
Slate is an incredibly durable roofing material capable of lasting over a century. With proper maintenance, a natural slate roof can typically survive 75-200 years, far exceeding the 25-year lifespan of a typical roof. Key factors influencing longevity include slate quality, climate, and upkeep. When cared for, slate roofs stand the test of time.