This article explores what worktop is best for cashmere kitchens and how to choose the right material for kitchen worktops.
What Worktop for Cashmere Kitchen?
Cashmere kitchens look best with lighter natural worktops like white, cream, light grey, or taupe quartz that complement their soft neutral tone.
Granite, marble, or white oak are also suitable options.
For contrast, consider deep blue or dark wood worktops.
Overall, white or cream quartz offers an elegant, durable, and easy-to-maintain worktop pairing.
Key Points
Lighter neutral tones like white, cream, light grey, and taupe quartz worktops pair elegantly with cashmere kitchens.
White or light natural stone like marble or granite also complements cashmere's soft tone.
Bolder shades of blue, green, red or dark wood provide contrast against cashmere cabinets.
Our Opinion
In my opinion as a kitchen designer, white or cream quartz countertops are the ideal choice for cashmere kitchen cabinets.
The soft, subtle veining in the quartz complements the warm neutral cashmere colour.
Quartz also provides durability and easy maintenance.
For a traditional Shaker-style cashmere kitchen, a white quartz worktop with straight clean lines creates a seamless elegant look.
Choosing the Right Material for Your Cashmere Kitchen Worktop
When designing a cashmere kitchen, the worktop is a key decision. The material you choose can complement or contrast with the soft, pale tones of a cashmere design.
Popular worktop choices for cashmere kitchens include:
White stone or quartz worktops with subtle grey veins – These pale worktops pair beautifully with cashmere, adding interest while keeping the look light and airy.
Wood worktops like oak, maple or cherry – Warm wooden worktops offset the cool cashmere tones. Opt for a traditional butcher block or a live-edge slab for rustic charm.
Engineered stone worktops in deep blue or mahogany – For a bold accent, bring in rich saturated hues. Deep blue or reddish-brown stone pops against soft cashmere.
Laminate worktops in muted red or cream – Budget-friendly laminate comes in endless colours. Go for a muted red or antique white for an affordable cashmere pairing.
The key is choosing a worktop in colours that complement cashmere – whether you want to match tones or create striking contrasts. Lighter, neutral hues tend to work best. But a dark, dramatic worktop can make for a stylish statement.
No matter what material you select, be sure to view samples in person. Seeing full slabs or large sections will help you visualize how the worktop will look installed in your new cashmere kitchen.
Granite Worktops – Elegance and Durability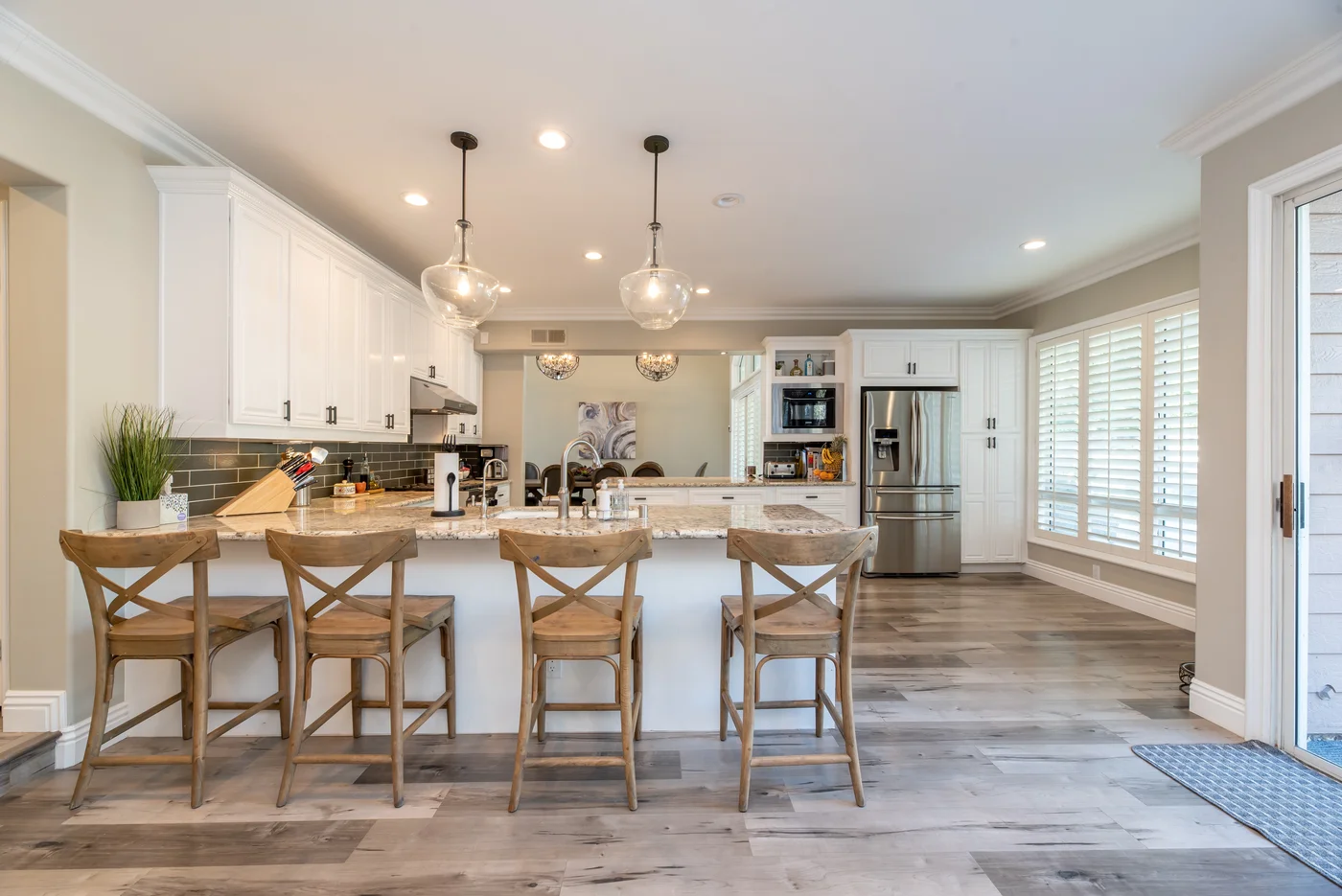 Granite is a classic choice that brings elegance and durability to any kitchen. The natural stone makes for an eye-catching worktop that withstands daily wear.
Pros of granite worktops:
Extremely durable and scratch-resistant
Easy to clean and maintain
Heat and stain-resistant
A wide range of colours and patterns are available
Can be custom-cut and shaped
Granite brings unique natural beauty to a kitchen. No two slabs are exactly alike – the stone is marked by striking veins, speckles, and swirls. Granite comes in diverse shades from bold blacks and rich browns to subtle creams and whites.
When choosing granite, pay attention to the finish. A polished finish offers a glossy look that reflects light beautifully. Meanwhile, a honed finish provides a soft matte look. A flamed finish has a textured feel that hides fingerprints.
Granite must be professionally installed and properly sealed to prevent stains. But with proper care, it can serve as a durable, stylish worktop for decades to come.
Quartz Worktops – Low Maintenance and Stylish
For a fuss-free yet fashionable worktop, quartz is an excellent choice. This engineered stone combines natural quartz with resin for a durable, stylish surface.
Benefits of quartz worktops:
Extremely low maintenance – no sealing required
Resistant to scratches, stains, and heat
Non-porous so does not harbour bacteria
Available in a wide range of colours and patterns
Can be fabricated into custom shapes and sizes
Quartz offers consistent colour and pattern throughout the slab, unlike natural stone. It comes in an array of hues from crisp whites to bold blues and everything in between. You can choose a solid colour or go for a stylish marble look.
One of the biggest perks of quartz is that it needs virtually no maintenance, unlike granite which requires periodic sealing. Just clean quartz occasionally with soap and water to keep it looking like new.
Quartz provides the look of high-end stone with incredible durability and easy care. For a kitchen worktop that can handle busy homes with minimal upkeep, quartz is a perfect choice.
Wood Worktops – Warmth and Character
For a worktop with natural beauty, wood brings unparalleled warmth and character to a kitchen. From rustic to modern, wood offers endless design possibilities.
Benefits of wood worktops:
A wide range of woods is available, each with distinct grain patterns and hues
Can be crafted into live-edge or more modern styles
Adds natural texture and visual interest
Softer on glassware and dishes than stone
Can be sanded and resealed to refresh over time
Wood worktops showcase the unique natural variations and knots within each piece. Opt for a light maple for an airy, Scandinavian look or choose a dramatic walnut for a rich, sophisticated style.
Proper sealing is key for durability and easy cleaning. Well-sealed wood withstands water, stains, and scrapes while highlighting the wood's inherent beauty. For a worktop that's distinctly you, wood brings an unmistakable warmth and charm.
With proper care, a woodworktop will last for years, becoming more beautiful as it ages. For those seeking a worktop with character, wood is the clear choice.
Composite Worktops – Affordable and Practical
For an affordable and low-maintenance worktop, composite is a practical choice. Made from quartz or solid surface materials, composite worktops offer durability at a reasonable price point.
Benefits of composite worktops:
More affordable than natural stone or granite
Extremely durable and scratch-resistant
Easy to clean and maintain
Seamless look, less prone to staining/etching
Wide variety of colours and patterns
Composite worktops replicate the look of stone while providing excellent stain, scratch, and heat resistance. This makes them suitable for busy kitchens.
With a huge range of colours, patterns, and finishes available, it's easy to find a composite worktop to suit your style. Opt for a polished look or choose a textured finish for added dimension.
While not as prestigious as granite or marble, composite worktops offer an affordable, low-maintenance solution. Their durability and extensive design options make them a practical choice for any kitchen.
If you seek an easy-care worktop that doesn't compromise on style or function, composite balances affordability with quality.
FAQ
What quartz worktops go with cashmere?
Quartz worktops in lighter neutral shades like white, cream, grey, and taupe pair well with cashmere kitchens. White quartz with subtle veining provides an elegant contrast.
What colours go with cashmere kitchens?
Light and soft colours like whites, creams, greys, taupes, and pale blues complement the warm neutral tone of cashmere kitchens. Darker blues and greens can add bold contrast.
What colour goes with cashmere cupboards?
Cashmere cupboards look best paired with neutral tones like white, cream, light grey, taupe, or soft blue. Darker shades of blue, green, red, or brown can provide a nice contrast.
What flooring goes with the cashmere kitchen?
Light natural stone or tile, white or light wood floors, and vinyl plank flooring in neutral tones all pair nicely with cashmere kitchen cabinets. Darker wood floors add warmth.
Conclusion
Cashmere kitchens are a warm, inviting neutral that pairs well with lighter natural tones like white, cream, light grey, and taupe for countertops and flooring. Contrast can be created with bolder shades of blue, green, red, or dark wood. The key is balancing the soft cashmere cabinets with colours that complement or subtly contrast with their tone. Ultimately, white or light quartz countertops are a popular choice for their durability, ease of maintenance and elegant pairing with the soft cashmere colour.