Cream kitchen cabinets can be paired with a variety of colours to create a stylish and inviting space.
But with so many options, how do you choose the right hues to complement your cream kitchen units?
What Colour Goes With Cream Kitchen Units?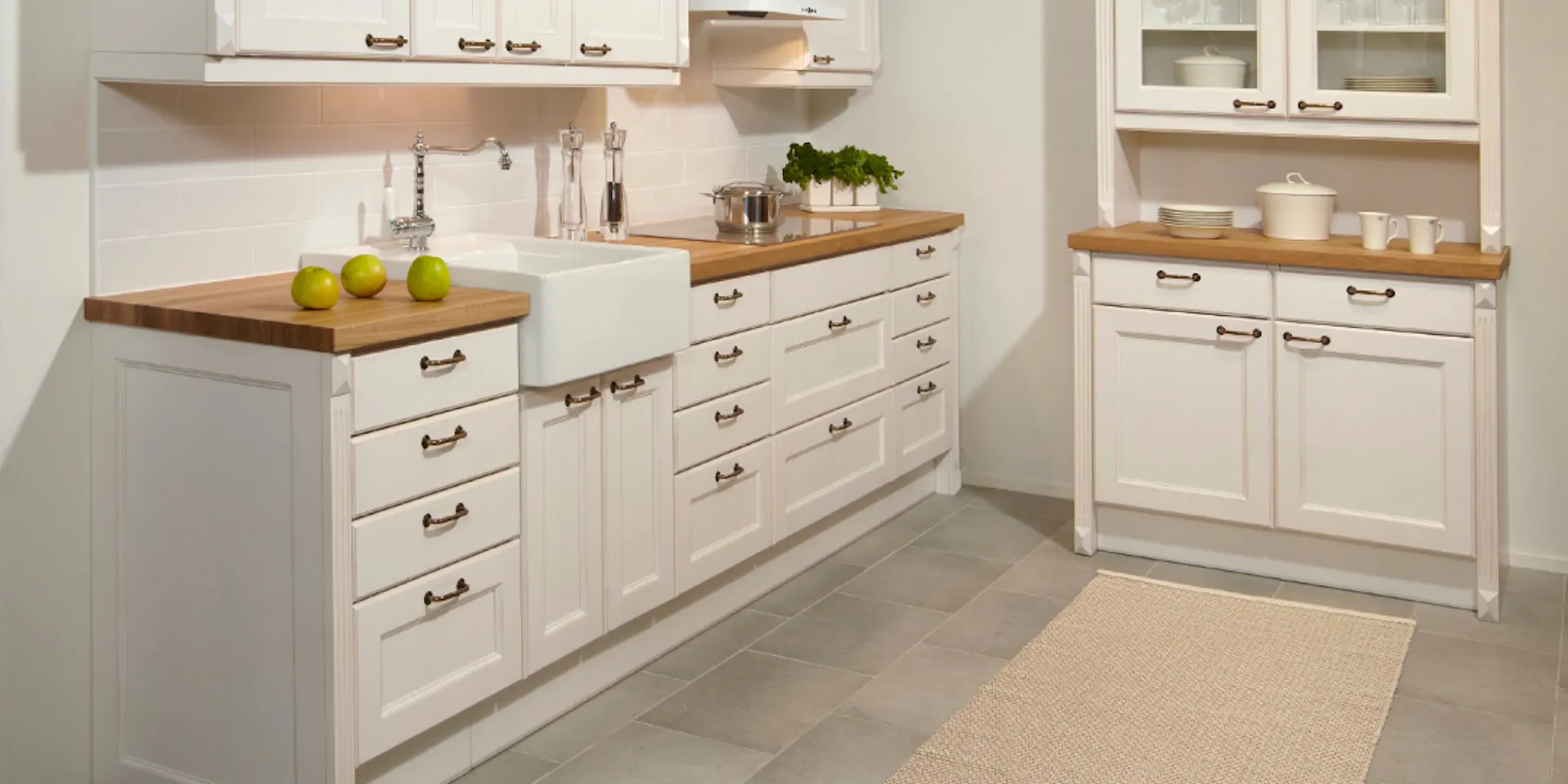 Cream kitchen units pair well with a variety of colours like blue, green, grey, and pink to create a stylish look.
Cooler tones complement the cream nicely while warmer colours make it feel more cozy.
Key Points
Blue, green, grey, and mauve are soothing accent colours for cream cabinets
Warmer tones like red, orange, and yellow also complement the cream
White, black, oak, or walnut worktops pair beautifully with cream cabinets
Our Opinion
In our opinion, the best colours to pair with cream kitchen cabinets are cooler tones like blue, green, and grey.
These colours provide an attractive contrast and bring out the warm, neutral tone of the cream beautifully.
For a more vibrant look, warmer colours like red and yellow can make a cream kitchen feel inviting and cosy.
The key is selecting colours that create the mood and aesthetic you want for your kitchen.
Which Colours Complement Cream Kitchens
When selecting colours for your dream kitchen, you'll want to consider both warm and cool tones. Here are some of the most popular colour schemes to try with cream kitchen units:
Blue – From pale sky blue to deep navy, blue is a classic yet calming choice to pair with cream. It creates a soothing, beachy vibe.
Beige & Taupe – Stick with cream's neutral palette by opting for beige or taupe walls. This will give your kitchen a light, airy feel.
Red – For a bold, vibrant look, red is a perfect contrasting colour for cream cabinets. Try a cherry red or burnt orange.
Black – For modern kitchens, black is an edgy foil to creamy cabinets. Use sparingly on an accent wall or island.
Green – From sage to emerald, green offers a nature-inspired colour pairing for cream. Olive green is especially on-trend right now.
Pink – For a soft, feminine touch, blush pinks and rosy hues complement cream beautifully.
The key is choosing colours with warm or cool undertones that play off the cream nicely. You'll also want to balance light and dark shades. Cream kitchens give you a neutral canvas to add pops of colour that reflect your style.
Warm Hues That Enhance Cream Cabinets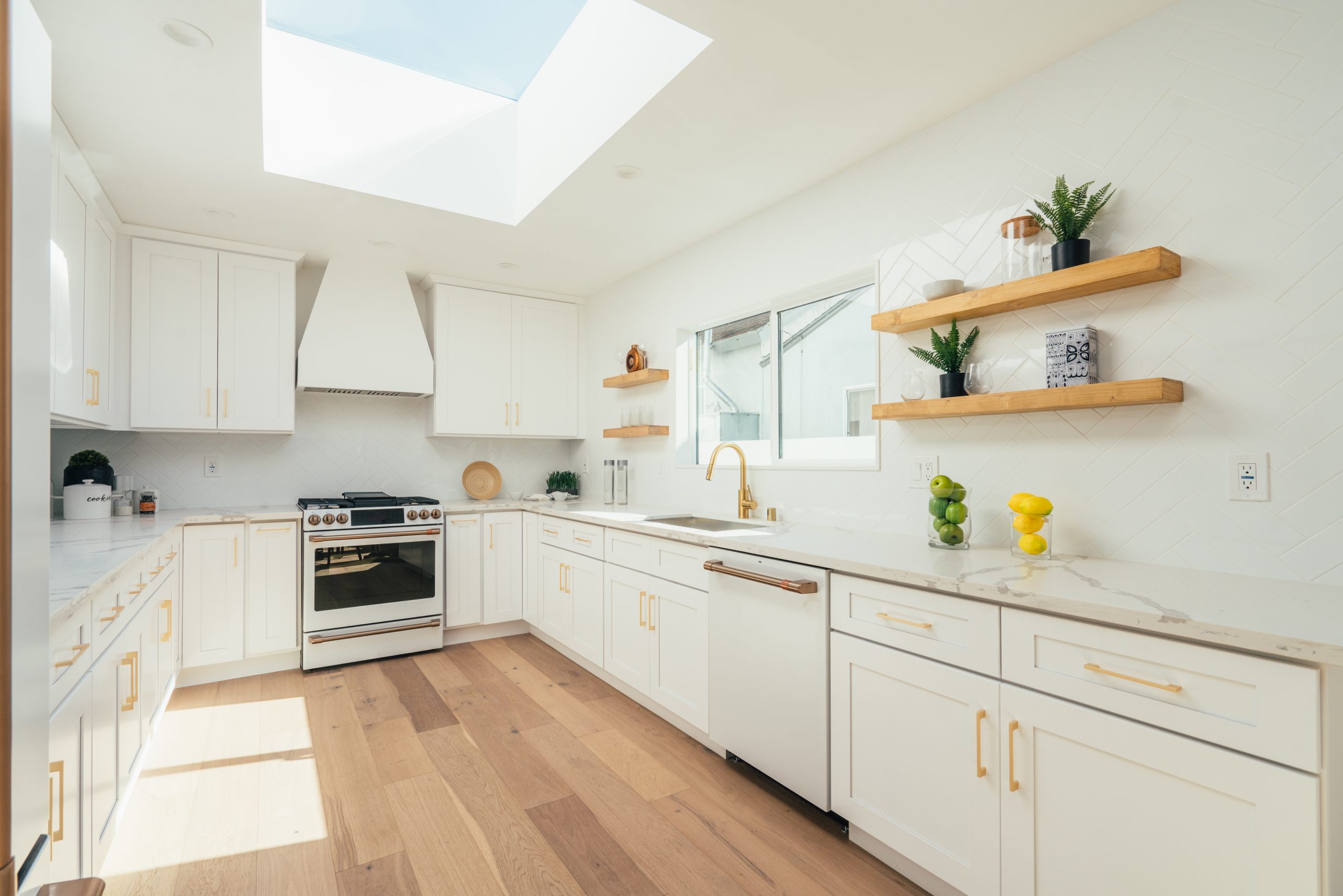 When looking for colours that complement cream kitchen cabinet units, warm hues are an excellent choice. The creamy undertones of the cabinets are enhanced by pairing them with shades that lean towards the red and yellow colour spectrum.
For a sunny, welcoming kitchen space, consider warm paint colours like:
Buttercup yellow – A bright, cheerful yellow that gives the room a cosy cottage feel.
Coral – From peach to salmon, these pinkish-orange hues lend a tropical vibe next to the cream.
Terracotta – Earthy terracotta is both rustic and sophisticated against cream cabinets.
Goldenrod – A sunny yellow that brings light and warmth into the kitchen.
Burnt orange – For an autumnal look, burnt orange makes a striking contrast with cream.
Warm paint colours aren't the only way to complement cream kitchen cabinets. Backsplashes and countertops in materials like granite, marble, and travertine also pair beautifully thanks to their tan, beige, and brown veining.
Just remember, a little warm colour goes a long way against a creamy backdrop. Use it sparingly on accent walls or smaller surfaces so it doesn't overwhelm the space.
Cool Tones That Contrast Cream Units
While warm shades blend nicely with cream kitchen cabinets, cool tones can provide an eye-catching contrast. Crisp, bright hues paired with creamy cabinets create a bold yet balanced look.
Some cool paint colours to consider include:
Ocean blue – From light powder blue to deep navy, blue offers a soothing contrast to cream.
Sage green – Earthy, yet bright, sage green pops against a cream background.
Lavender – Soft and elegant, pale purple provides a delicate contrast with cream cabinets.
Robin's egg – This pale turquoise is both retro and refreshing next to cream.
For countertops, cool-toned materials like quartz, soapstone, and laminate in shades of grey, blue, or green pair attractively with cream cabinets. Just be sure to balance out the crisp colours with some warm wood accents and lighting.
By thoughtfully combining cool tones with creamy cabinets, you can create a kitchen that's relaxing yet still lively.
Neutral Shades for a Calm Look
While vibrant colours can make a statement, neutral hues create a soothing, relaxed vibe. Pairing creamy cabinets with other natural tones results in a cohesive, calming look.
Some neutral shades that work beautifully include:
Warm white – A bit softer than stark white, warm white has a subtle glow next to cream.
Dove grey – This hazy, gentle grey complements the softness of cream cabinets.
Tan – From light camel to deep brown, earthy tan tones blend seamlessly with cream.
Mushroom – A rich, organic neutral that adds a cosy contrast to cream.
For countertops, try integrating natural materials like marble, concrete, butcher block, or quartz in creamy whites and light greys. Then bring in other earthy elements like rattan pendants, jute rugs, and wooden stools to complete the zen vibe.
By keeping your colour scheme neutral, your cream kitchen will emanate tranquillity.
Bold Colours that Stand Out
While neutral tones create a peaceful ambience, bold colours make a vibrant statement. The creamy backdrop of light cabinets allows bolder hues to take centre stage.
Some lively colours that pop against cream include:
Cobalt blue – From navy to royal, the depth of blue complements creamy tones.
Emerald green – Whether deep forest or light mint, green makes a refreshing contrast.
Golden yellow – From sunny daisies to warm ochre, yellow boosts light cabinets.
Ruby red – A playful pop of crimson or burgundy enlivens the cream palette.
Add pops of colour through mosaic tile backsplashes, brightly painted walls, or colourful appliances and décor. For a harmonious look, include cream in bolder shades, like in a blue and white geometric print or green and cream striped towels.
Vibrant hues against creamy cabinets create an invigorating, lively kitchen.
FAQ
What colours compliment a cream kitchen?
Blue, green, grey, and mauve are soothing colours that pair nicely with cream cabinets. Warm tones like red, yellow, and orange also complement the cream palette.
What colour worktop goes best with cream units?
Granite, marble, or quartz worktops in white, grey, or black pair beautifully with cream cabinets. Wood worktops in oak or walnut also complement the cream.
What worktop goes best with a cream kitchen?
White, grey, or black granite, marble, or quartz worktops pair nicely with cream cabinets. Oak or walnut wood worktops also complement a cream kitchen.
What colour walls go with ivory kitchen units?
Soothing blue, green, grey, or mauve walls pair well with ivory cabinets. Warm tones like red, yellow, or orange also complement ivory kitchen units.
Conclusion
Cream kitchen cabinets offer a warm, neutral backdrop that pairs nicely with a wide range of wall colours. Cooler hues like blue, green, grey, and mauve provide a soothing contrast, while warmer reds, oranges, and yellows make the space feel cosy and inviting. Granite, marble, quartz, oak, or walnut worktops also complement cream cabinets beautifully. When selecting a colour scheme for cream kitchen units, consider the mood you want to create and choose accent colours accordingly.