A Shaker kitchen is a timeless and practical style defined by clean lines, simplicity, and functionality.
This unfussy aesthetic originated with the Shaking Quakers, an offshoot of the Quakers religious movement, in 18th century America.
The minimalist principles and craftsmanship of Shaker furniture design soon spread to kitchen cabinets and layouts.
Today, the Shaker style remains one of the most popular and enduring kitchen designs.
What Is a Shaker Kitchen?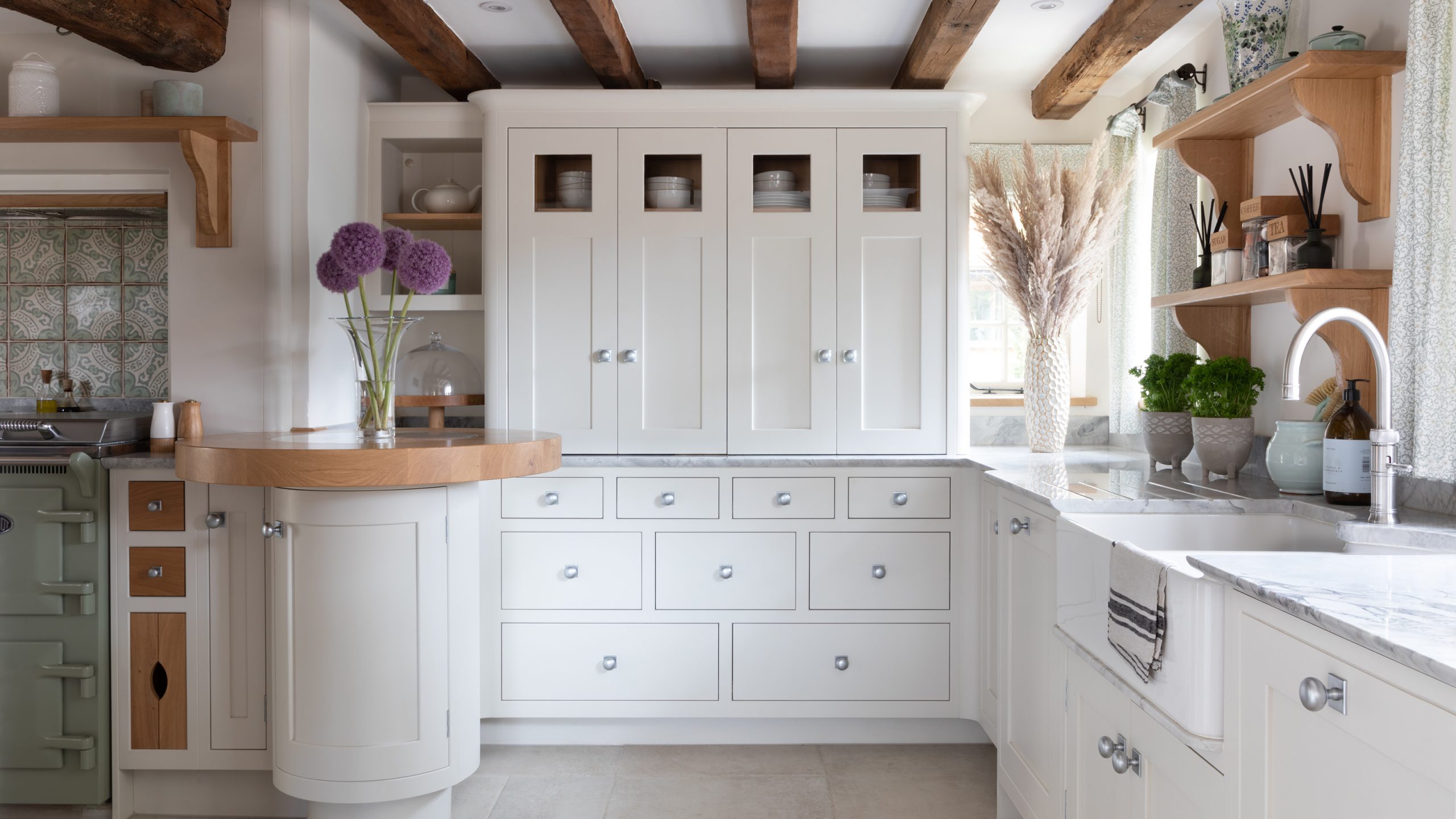 A Shaker kitchen is a minimalist, functional style focused on clean lines, simplicity, and practicality.
It features symmetrical cabinetry with flat, recessed panels and square edges, often made of natural wood.
The minimal adornment and lack of ornate details create an unfussy, streamlined look. Shaker kitchens embody a "less is more" aesthetic that celebrates subtle beauty and utility.
Key Points
Originated with the Shakers, a religious group that valued simplicity and craftsmanship
Features flat, recessed cabinet panels and square edges
Minimalist style focused on functionality over ornamentation
Our Opinion
In our experience, Shaker kitchens offer an elegant, versatile, and timeless style.
The clean lines and lack of embellishment create a lightweight feel that suits both traditional farmhouses and modern apartments.
While some may find minimalism boring, we think a Shaker kitchen allows the beauty of natural materials and quality craftsmanship to shine.
The simplicity provides an orderly, peaceful ambience that can offset the hectic pace of everyday life.
We highly recommend the Shaker style for those seeking an unfussy, functional kitchen design.
What is a Shaker Kitchen?
A Shaker kitchen embodies simplicity, utility, and understated elegance. The focus is on practicality and order, with little to no decoration. Key features include:
Symmetrical cabinetry with flat recessed centre panels and square edges, creating clean lines
Unadorned doors and drawers – usually slab, flat panel, or recessed panel
Neutral colours like white, grey, black, or natural wood tones
Orderly layout with plenty of storage space
High-quality durable materials like wood, granite, or quartz
Exposed hardware in matte black, brass, nickel, or iron
Open shelving and glass cabinet doors to prevent a cluttered look
Timeless, unfussy aesthetic suitable for both modern and traditional homes
The simplicity of the Shaker style provides an antidote to modern clutter and busyness. A Shaker kitchen is elegant yet welcoming, blending traditional principles with contemporary elements for a functional and organized space.
History of the Shaker Style
The Shaker style originated with a religious sect called the United Society of Believers in Christ's Second Appearing, who were nicknamed the Shakers due to their ecstatic worship practices. In the 18th century, the Shakers emigrated from England to America seeking religious freedom.
Living in tight-knit, rural communities, the Shakers developed a signature aesthetic valuing simplicity, functionality and craftsmanship. Their furniture combines clean lines with ingenious storage solutions, designed to avoid clutter in small living quarters.
Early Shaker kitchens featured built-in cabinets and shelving, peg rails, and large wooden tables. Clever space-saving designs included fold-away ironing boards, spinning corner cabinets, and tall food storage bins.
The Shakers took a minimalist, form-follows-function approach, focusing on practicality and durability over ornamentation. Their distinct style spread beyond furniture to architecture, equipment, and kitchens.
By the 1900s, the Shaker movement was in decline but their principles lived on. The 20th century saw a revival of the Shaker style, which remains popular today for its timeless, unfussy aesthetic perfect for contemporary life.
Many modern kitchens apply Shaker elements like neutral tones, recessed panel doors, and functional organization. The Shaker's commitment to simplicity and craft endures as a pillar of classic American style.
Defining Features of a Shaker Kitchen
While the Shaker style has evolved, several key characteristics define the quintessential Shaker kitchen.
Clean lines and a minimalist aesthetic are hallmarks. Cabinets have flat recessed or raised panel doors, often made of wood like maple, cherry or oak. Drawers and storage solutions maximize usable space.
Shaker kitchens emphasize function through clever designs like pull-out shelves, spinning corner cabinets, and built-in ironing boards. Peg rails, hooks and ceiling-high pantries keep cooking essentials organized and close at hand.
Natural materials and finishes create warmth. Wood countertops and butcher block islands bring organic texture. Neutral tones like off-white, beige and grey keep the look subtly rustic.
Thoughtful craftsmanship shows in dovetailed drawers, sturdy joinery and handmade quality. While streamlined, the Shaker style values durable construction and artisanal details.
Integrated appliances, apron-front sinks and exposed beams maintain the seamless flow and harmony. Every element serves a purpose in a true Shaker kitchen's uncomplicated, intentional functionality.
This practical approach continues to influence contemporary kitchen design. Shaker style balances vintage appeal and modern living through its timeless integration of form, function and high-quality craft.
Shaker Kitchen Cabinet Styles
When designing a Shaker-style kitchen, the cabinetry sets the tone. From door profiles to finishes, cabinet elements create a cohesive aesthetic.
Flat recessed cabinet doors with a square centre panel deliver an uncomplicated, vintage-inspired look. Some designers use slab cabinet doors lacking any decorative detail for a more modern feel. Simple flat or raised panels in rich wood grains bring warmth and texture.
Standard Shaker cabinets have visible face frames with visible joinery contributing to the handcrafted charm. Frameless cabinet construction results in a more contemporary, streamlined appearance.
Unadorned drawer fronts maintain the pared-back Shaker vibe. Sturdy dovetail joinery and smooth-gliding metal runners enable durable, quality craftsmanship.
Painted cabinets in white, cream or light grey emphasize clean lines. Stained wood cabinets highlight natural materials and artisanal appeal. Both approaches keep the look light and airy.
Open shelving, glass-front cabinets and interior lighting create visual interest while displaying favourite dishware. Thoughtful details like spice drawers, cookie sheet holders and tilt-out bins improve functionality.
Adaptations like arched tops or unique handle hardware provide character while remaining true to Shaker principles. The cabinets anchor the space with heritage style and seamless organization.
Design Ideas for a Shaker Kitchen
When planning a Shaker-inspired kitchen design, consider how to incorporate signature elements for a cohesive look.
For flooring, light natural wood, tile, or stone complement the simplicity of Shaker cabinets. Darker woods or busy patterns tend to clash.
Countertops in materials like quartz, marble, or butcher block keep surfaces unfussy. Avoid flashy solid surfaces or heavy stones. Integrated sinks maintain clean lines.
Backsplashes in classic subway tile, beadboard, or tongue-and-groove contribute to the vintage character. Or go backsplash-free for a super minimalist look.
For appliances, panel-ready refrigerators and dishwashers integrate seamlessly into cabinetry. Freestanding professional-style ranges make a statement. Stainless steel finishes give a modern edge.
Pendant lights over islands or bare bulbs over sinks keep lighting uncomplicated. Sconces flanking windows or above open shelves provide task lighting.
Uncluttered open shelving styled with pretty dishware makes a big decorative impact. Otherwise, keep accessories minimal. Let the craftsmanship and materials shine.
With thoughtful cabinet selection and complementary elements, it's easy to create a Shaker kitchen that balances form and function in a fresh, livable way.
FAQ
What is the difference between a Shaker kitchen and a traditional kitchen?
Shaker kitchens feature minimalist, clean-lined cabinetry with flat panels and square edges. Traditional kitchens often have more ornate cabinets with decorative mouldings, carved accents, and curved details. Shaker kitchens aim for simplicity, while traditional kitchens embrace more embellishment.
What does Shaker mean in kitchens?
The term "Shaker" refers to the Shaker religious sect that originated in England in the 18th century. Shaker style emphasizes simplicity, functionality, and craftsmanship. Shaker kitchen cabinets have a flat recessed panel design, square edges, and minimal decoration.
What are the disadvantages of Shaker cabinets?
Potential disadvantages of Shaker cabinets include limited customization options since the style is so minimalist; restricted color/finish choices compared to more ornate cabinetry; and a more basic, utilitarian look that some may find boring.
Why are Shaker kitchens so popular?
Shaker kitchens are popular for their clean, contemporary look. The pared-down style provides a lightweight, airy feel and showcases the beauty of natural materials. Shaker kitchens have an efficient, organized aesthetic that appeals to modern sensibilities. The simplicity also makes them quite versatile.
Conclusion
Shaker kitchens offer a streamlined, unfussy style focused on practicality and subtle beauty. Originating from the utilitarian principles of the Shakers, Shaker kitchens feature minimalist cabinetry with flat recessed panels, square edges, and little ornamentation. This clean-lined, functional aesthetic creates an orderly, uncluttered look perfect for contemporary homes. With their emphasis on craftsmanship and quality materials, Shaker kitchens provide timeless, understated elegance. Their simplicity and versatility allow them to work in many settings, from modern urban apartments to cosy country cottages. For those seeking an efficient, fuss-free kitchen that focuses on utility and restrained beauty, a Shaker-style kitchen is an excellent choice.