Tudor houses were constructed between the late 15th and early 17th centuries during the Tudor dynasty in England.
Their roofs were made from various materials that reflected the evolution of building techniques over this period.
What Were Tudor Houses Roofs Made Of?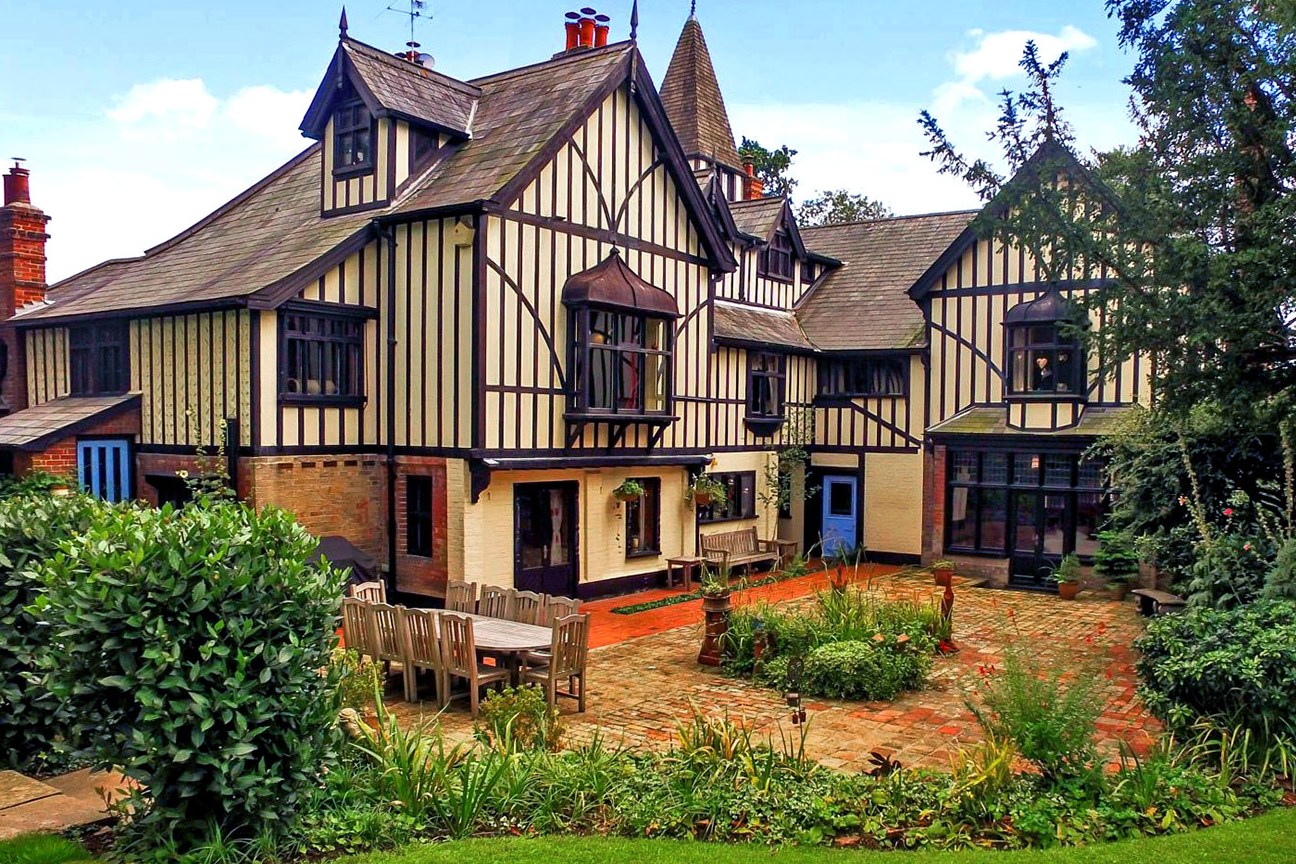 Tudor houses in England generally had steeply pitched roofs covered in clay tiles or thatch.
Thatched roofs using reeds or straw were especially common on older Tudor homes.
Clay tiles laid on top of roof boards became more popular later in the Tudor period.
The steeply angled gable roofs with decorative chimneys create the recognizable look of a classic Tudor house.
Key Points
Tudor roofs were often made from thatch (straw or reeds)
Clay tiles laid on boards were also very common
Roofs had a steep pitch with decorative chimneys
Our Opinion
The materials used on Tudor roofs give us insight into the architecture and lifestyle of the era.
Studying the thatch and clay tiles helps us understand how these iconic homes were constructed using local materials.
The steep pitches allowed rain to run off easily in England's wet climate.
Overall, Tudor roofs were practical yet beautiful elements of English heritage.
What Materials Were Used for Tudor House Roofs?
In the early Tudor period (1485-1547), most roofs were thatched using bundles of straw or reeds piled onto a roof frame. Thatch provided excellent insulation and was readily available. However, it was also highly flammable. Thatched roofs required regular maintenance as the organic materials degraded over time.
From the mid-16th century onwards, tile started to replace thatch on many Tudor buildings. Clay tiles provided better fire resistance but were more expensive. Stone tiles were also sometimes used. Older Tudor houses still often retained their original thatched roofs. The pitch or steep angle of Tudor roofs helped rainwater run off thatched and tiled surfaces quickly.
Other common Tudor roof features included:
Tall brick chimneys to vent smoke from fireplaces and kitchens.
Decorative half-timbering on gable ends.
Dormer windows to let light into attic spaces.
By the late Tudor period, slate was being used for some higher-status buildings. So, Tudor roofs evolved from organic materials like thatch to clay tiles and stone, culminating in slate by the early 17th century.
Thatch Roofs in Early Tudor Houses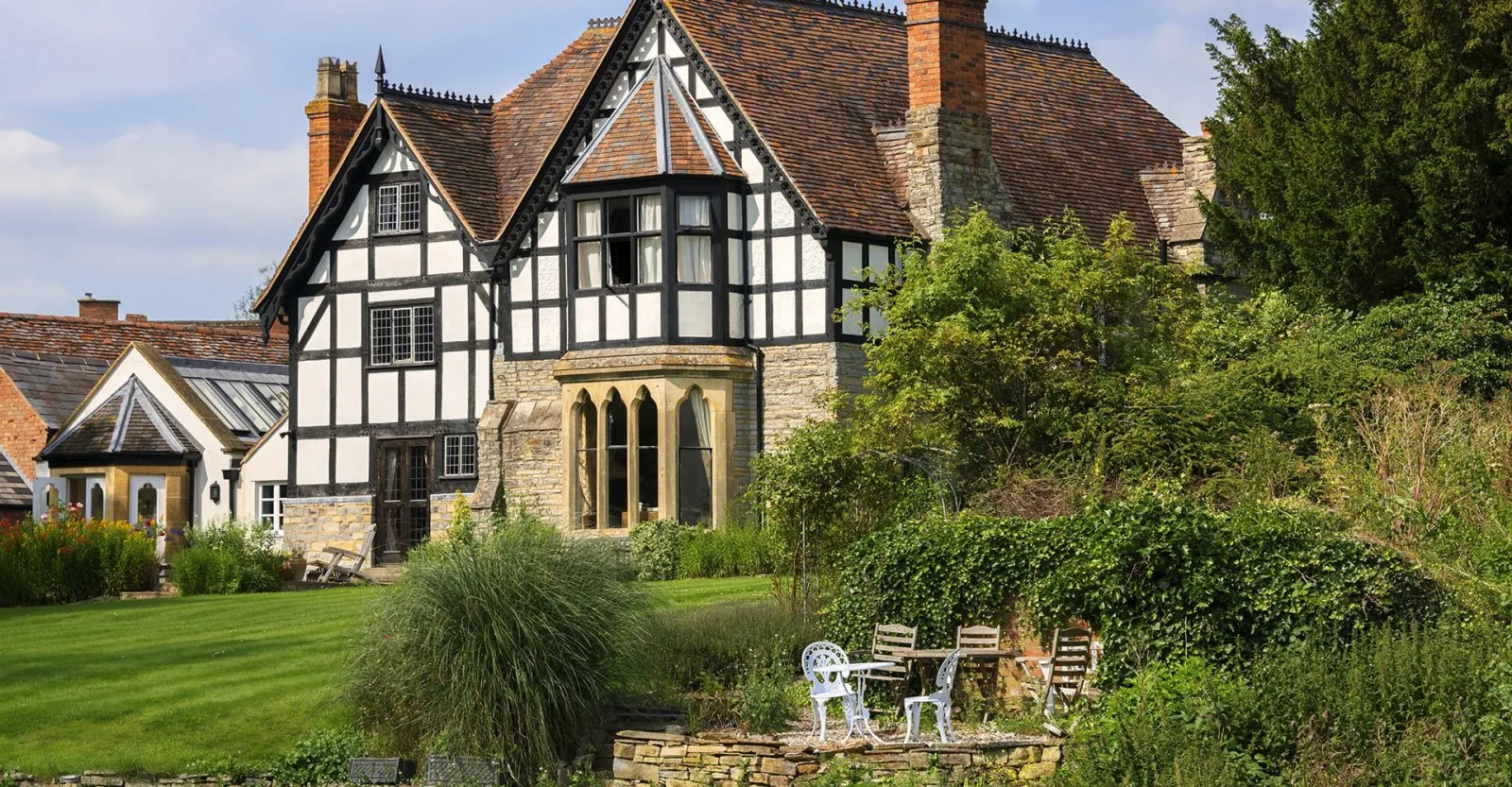 Thatch was the most common roofing material in the early Tudor period. It was made from bundles of reeds or straw piled layer upon layer to form a waterproof surface. Norfolk reed and long straws were used in different parts of England.
Thatch provided excellent insulation to keep houses warm in winter. It was also readily available and cheaper than tile. However, thatched roofs needed replacing every 30-50 years as the organic materials degraded. They were also a major fire risk, with stray sparks from chimneys easily setting roofs alight.
Thatching was a skilled craft, done by specialist thatchers. They used techniques like ridge capping to protect the apex of the roof. Decorative thatching patterns adorned higher-status buildings. Despite the fire risk, many Tudor houses retained their original thatched roofs well into the 17th century.
The steep pitch of Tudor roofs aided rainwater run-off and reduced the likelihood of dampness penetrating a thatched surface. Wide overhanging eaves also stopped the rain from splashing onto walls. Overall, thatch remained a defining feature of Tudor vernacular architecture.
Clay Tile Roofs
Clay tiles started replacing thatch as the roofing material of choice for wealthier Tudor homes. Tiles provided better protection against fire and weathering than thatch. They lasted over 100 years when properly maintained.
Tile roofs were a mark of high status. Plain flat tiles were the most common. More decorative options included crested tiles, hollow tiles, and curved tiles. Tiles overlapped each other so water ran off the surface. They were nailed to timber battens over a boarded roof.
The switch from thatch to tile changed the appearance of Tudor roofs. Tile roofs had less pronounced gables and edges than deeply thatched cottages. The roofline became flatter and simpler. Tile hanging on gable ends was popular. This involved covering the triangular gable wall with decorative tiles.
Good quality clay tiles were more expensive than thatch. Production was localised, with distinctive regional styles emerging. But tile gradually replaced thatch as the most desirable roofing through the Tudor period and beyond.
Stone Tile Roofs
In some areas, stone tiles were used instead of clay tiles for Tudor roofs. Stone tiles provide excellent weather resistance and longevity. They were an alternative for regions without local clay tile production.
Slate was the most common stone tile. It was readily available in parts of England and Wales with slate geology. Cornish slate was traded across Britain. Stone slate tiles were rectangular and often very thick and heavy.
Stone tiles were laid the same way as clay tiles, overlapped and nailed to battens. They required a robust roof structure to support the weight. Stone roofs were confined to regions with suitable local stone. Transporting heavy stone tiles over long distances was not practical at the time.
Stone and clay tiles had their advantages and disadvantages. Clay tiles were lighter and easier to produce locally, but stone lasted longer. The choice depended on geology and transport. But both provided a more durable roofing material than thatch for Tudor houses.
The Process of Making Tudor Roofs
Building a Tudor roof was labour-intensive and required skilled craftsmanship. First, large oak beams were lifted into place to form the roof structure. These had to be carefully cut and joined to create the shape of the roof.
Then, the roof structure was covered with thin oak boards called sarking. This provided the base for the roof covering. Battens were nailed across the sarking, to provide a fixing point for the tiles.
The tiles were hung on the battens using either pegs or nails. Working from the bottom of the roof upwards, each course of tiles slightly overlapped the row below. At the ridge and hips of the roof, special ridge tiles were used to cover the joint.
Chimneys were incorporated into the roof structure during construction. Lead flashing was used to weatherproof joints around chimneys and roof edges. It took great skill to create weather-tight roofs with smoothly graduated tiles.
Thatched roofs used a similar process, with reed thatch used instead of tiles. But thatch required even more maintenance to remain watertight. Tudor roofs were built to last, providing shelter for generations.
FAQ
What are Tudor house roofs made of?
Tudor houses typically had steeply pitched roofs covered with clay or stone tiles. Some older Tudor houses had thatched roofs made from straw or reeds.
What type of roof does a Tudor house have?
The most common roof type in Tudor houses was a steeply angled gable roof covered in clay tiles. Thatched roofs were also sometimes used, especially on older Tudor homes.
What were Tudor house roofs made of for kids?
Tudor house roofs were often made from straw or reeds (called thatch) piled onto wooden roof frames. Clay tiles laid on top of roof boards were also very common.
What does a Tudor roof look like?
Tudor roofs are very steeply pitched, with two sides that meet at a centre ridge. They often have decorative chimneys and are covered in clay tiles or thatch.
Conclusion
In summary, Tudor houses in the UK typically had steeply angled roofs covered in clay tiles or thatch. Thatched roofs using straw or reeds were more common in older Tudor homes. The steep pitch and decorative chimneys gave Tudor roofs their distinctive look. Understanding what materials were used is key to appreciating the architecture of these iconic English homes.