This article provides creative ideas and expert tips for styling open kitchen shelves.
From achieving a cohesive look to adding visual interest, it covers various ways to make the most of this popular kitchen feature.
What to Put on Kitchen Shelves?
Open kitchen shelves can hold dishes, glasses, spices, cookbooks, plants, and decorative items.
Prioritize visibility and access for frequently used cooking items.
Create a clean, cohesive look using neutral colours.
Add visual interest with different shapes, sizes, and materials.
Key Points
Store often-used cooking and dining items on open shelves for convenience.
Incorporate decorative accents like plants, artwork, and textiles for visual appeal.
Keep a neutral colour palette for a clean, cohesive look.
Our Opinion
Open shelves are a great way to add storage and display space to your kitchen.
Carefully curating what goes on the shelves creates an organized, aesthetically pleasing accent.
Focus on usability and style to maximize this unique storage option.
How to Style Open Kitchen Shelves
When it comes to styling open kitchen shelves, start by creating a neutral foundation. Opt for white dishes, wooden cutting boards and creamy containers. This provides a clean backdrop to build upon.
Next, inject personality with a thoughtful mix of items. Display cookbooks, trailing plants or antique cake stands. Just be sure to keep things tidy so shelves don't appear cluttered.
Here are some other ideas for styling open kitchen shelves:
Hang a shelf above the stove for oils, spices and utensils. This adds function and visual appeal.
Create a drinks station with glassware, cocktail mixers and bar tools. It's perfect for entertaining.
Showcase your favourite ceramics, platters, or handmade pottery. The items tell a story.
Incorporate ambient lighting, like under-cabinet lights or mini pendant lamps. This highlights the shelves beautifully.
Fit shelves into an alcove or recess. Built-in shelving looks polished.
Add pops of greenery with potted herbs or trailing ivy. This brings life to the space.
With an artful mix of items and strategic use of lighting, you can create stunning open kitchen shelves. Have fun playing with different looks until you find one that suits your style.
Ideas for Organizing Kitchen Shelves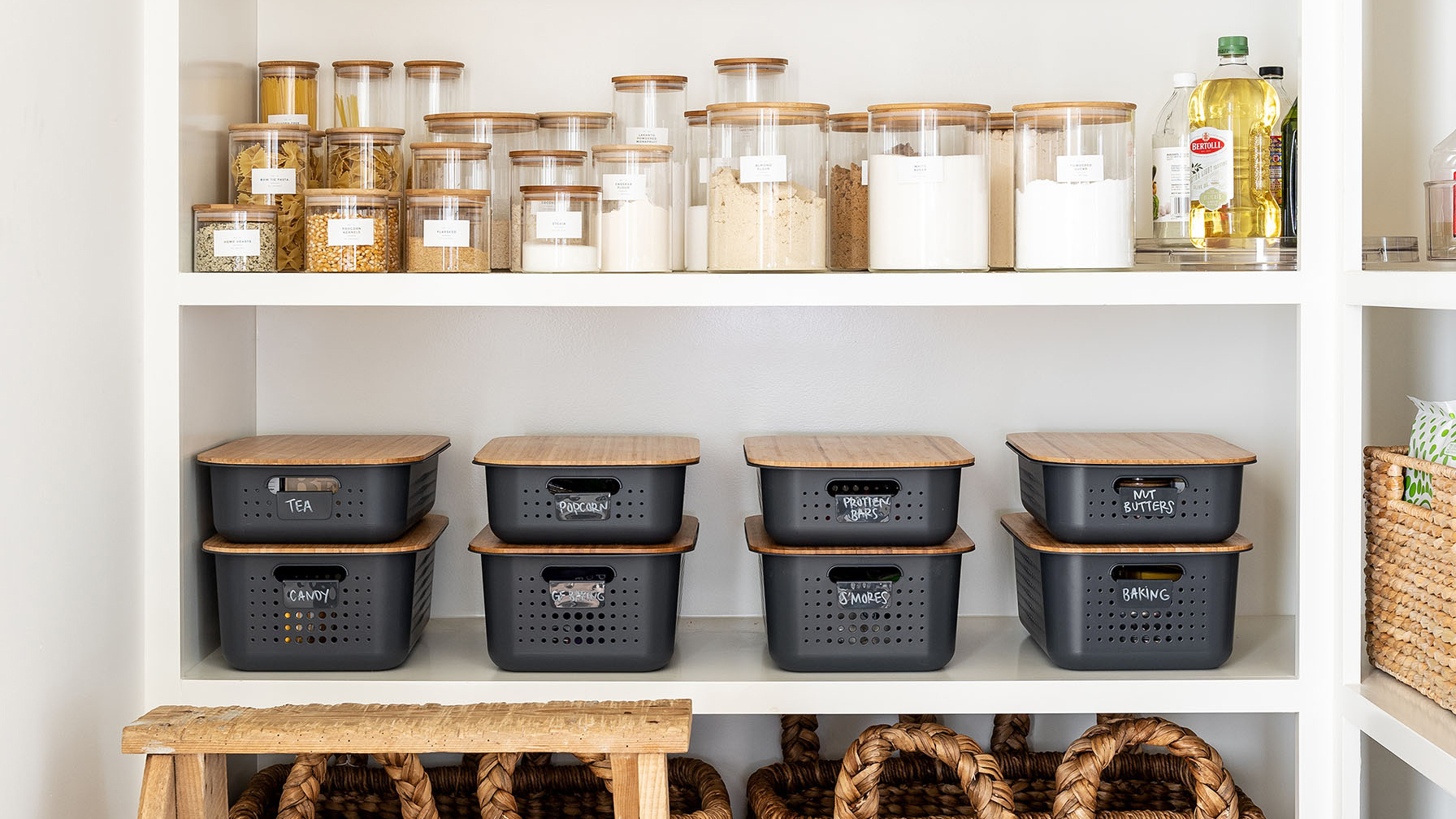 After styling your open kitchen shelves, it's important to keep them organized. Cluttered shelves look messy and make it hard to find what you need. Here are helpful tips for keeping shelves neat and functional:
Group like items together – have a baking zone, spice zone, drinkware zone, etc. This creates order.
Use shelf dividers or small bins to corral smaller items. This prevents things from toppling over.
Label any storage containers or jars. You'll know what's inside at a glance.
Store lesser-used items up high or down low. Reserve prime shelf real estate for everyday essentials.
Put daily appliances like the coffee maker or toaster on a shelf near the countertop. This allows for easy access.
Install extra shelves or risers to separate items. More surface area means less crowding.
Edit out items you rarely use to free up space. Donate or repurpose them.
Wipe down shelves regularly to keep them free of dust, grease and grime.
With some strategic organization, your beautifully styled shelves will stay neat. Embrace these tips to keep your kitchen looking its best.
Best Things to Display on Kitchen Shelves
Once your shelves are neatly organized, it's time for the fun part – decorating! Carefully curating pretty yet functional items to display can make your shelves a focal point in your kitchen. Here are great ideas for styling your shelves with items you'll love looking at and using:
Cookbooks or recipe books – prop them up vertically or stack them horizontally. Not only decor but also useful.
Pretty canisters, jars or bowls – filled with baking staples, snacks or utensils.
Frames with inspiring quotes, family photos or art prints. Make it personal.
Trays or cake stands to corral small appliances like a stand mixer. Looks cohesive.
Vases of fresh flowers or faux botanicals. Add pops of colour.
Baskets lined with tea towels or napkins. Looks tidy and cosy.
Potted herbs or plants like succulents or air plants. Brings nature indoors.
Unique coffee or drinkware for an instant display. Shows off your style.
Candles, diffusers or incense for ambience. Engages the senses.
Take time to thoughtfully style your open shelves. With beautiful, functional displays, they become an inviting feature.
Tips For Creating Beautiful Displays on a Budget
Styling your kitchen shelves doesn't have to cost a fortune. Here are tips for creating gorgeous displays on a budget:
Thrift stores and flea markets are treasure troves for vintage finds like ceramic canisters, woven baskets and unique cake stands.
Check dollar stores for inexpensive frames, vases, jars, trays and coffee mugs perfect for displaying.
Use found objects from around your home – stack old books, float blooms from the garden in a pitcher, and display grandma's antique dishes.
DIY driftwood, a branch from your yard or a piece of raw wood makes an organic-looking shelf sitter to prop up cookbooks.
Rotate seasonal items like pinecones or eucalyptus in winter and sunflowers or lavender bundles in summer.
Print free art – inspirational quotes, favourite photos or kids' artwork – and frame simply.
Group items by colour scheme. Mismatched blue and white looks cohesive yet collected over time.
Elevate everyday items – prop up a colander or teapot, stack colourful mixing bowls, and display neatly rolled dish towels.
With creativity and thriftiness, you can style charming kitchen shelves that reflect your style on a budget.
Common Mistakes to Avoid When Styling Open Shelves
Open shelving can give your kitchen a light, airy feel, but it also comes with some pitfalls. Here are common mistakes to avoid:
Clutter. The contents of open shelves are fully exposed, so be selective about what you display. Pare down to your most-used and visually appealing items.
Dust and grease buildup. Wipe shelves down frequently, and consider using shelf liners to protect your surfaces. Glass shelving is easier to keep clean.
No storage plan. Carefully consider what will be stored where so things don't end up in an unsightly jumble. Use baskets or other organizers to corral loose items.
Too many heavy items. Glass shelves in particular have weight limits. Stick to mostly lightweight cookware and serving pieces to avoid accidents.
Forgetting lighting. Illuminate shelves with under-cabinet lighting or pendant lights to highlight your displays.
Neglecting styling. Rotate items seasonally, and keep collections looking curated. Add interest with greenery, linens, or artwork.
With smart storage strategies and frequent cleaning, open shelving can be a beautiful, functional element in your kitchen rather than a maintenance headache.
FAQ
What goes on kitchen shelves?
Kitchen shelves are great for storing frequently used items like dishes, glasses, mugs, spices, canned goods, etc. Prioritize easy access and visibility.
What to put on kitchen shelf decor?
For decor, use bookends, plants, baskets, and trays to corral items. Incorporate artwork, vases, bowls, and other decorative pieces for visual interest. Neutral colours create a clean, cohesive look.
How do you display items on a kitchen shelf?
Display items upright and facing outward for visibility. Use risers or staggered levels to add dimension. Group like items together and keep the most used items at eye level for convenience.
What do you store on top kitchen shelves?
Top shelves are ideal for items not used daily like fancy dishware, overflow pantry items, small appliances, or decorative items. Use top shelves to store light items since reaching up high is inconvenient.
Conclusion
Open shelves in the kitchen provide both storage and display space. Focus on frequently used dishware, cooking tools, pantry essentials, and decor items. Create visual interest with textures, colours, and dimensional levels. Symmetry and simplicity also keep open kitchen shelves looking cohesive and organized.