Deciding on the right number of spotlights for your kitchen can be tricky.
This article provides practical advice to help you achieve optimal lighting.
How Many Spotlights Are in a Kitchen?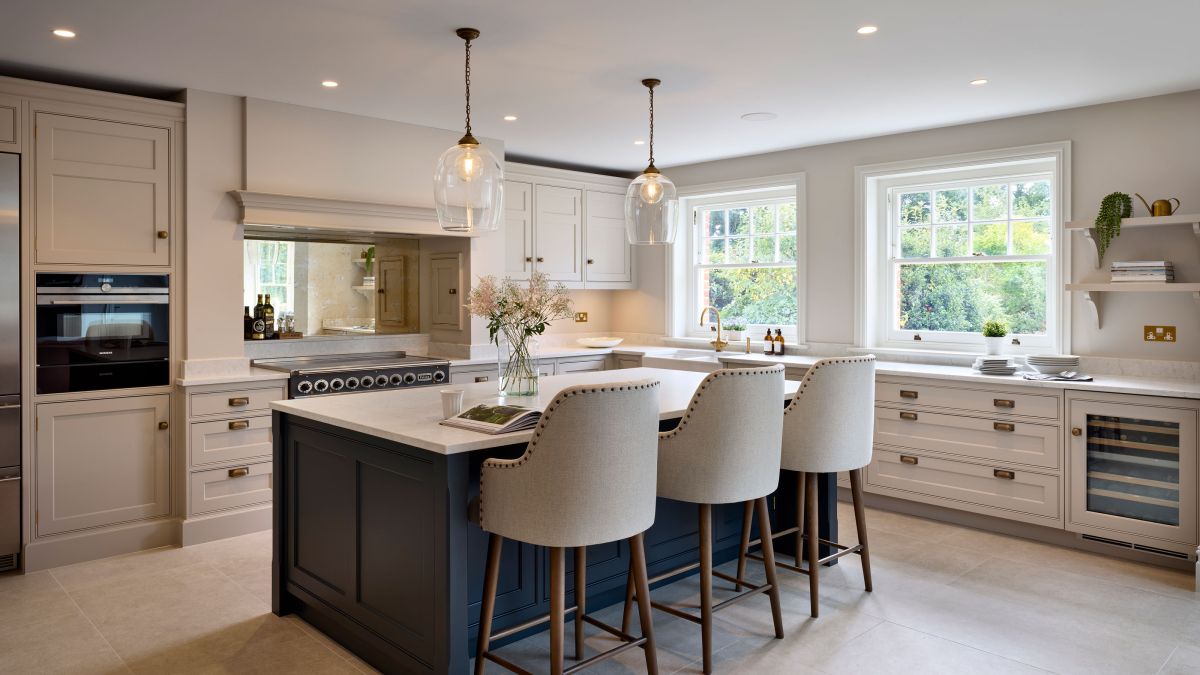 The ideal number of spotlights for a kitchen is typically one light for every 4-6 square feet of floor space.
So, in a medium-sized kitchen of around 150 sq ft, you would need 4-5 spotlights spaced evenly apart.
The lumen output of the spotlights and kitchen layout are also factors.
Key Points
Plan for 1 spotlight per 4-6 square feet of kitchen space
Space spotlights evenly over key zones like counters and sink
Lumen output and kitchen layout also impact the number of lights needed
Our Opinion
In my expert opinion, installing sufficient spotlights in your kitchen is crucial for creating a bright, functional space.
Following the guidelines of 1 light per 4-6 square feet and spacing them evenly provides ideal illumination for cooking, cleaning, and dining safely.
We recommend layering ambient and task lighting and using dimmers to control different lighting scenarios.
How Many Spotlights for the Average UK Kitchen?
When installing spotlights in your kitchen, the general recommendation is to use one spotlight for every 4 to 6 square feet of space. So, for a typical 3m x 3m (roughly 10ft x 10ft) kitchen, you would need around 6 spotlights.
Here are some more tips on choosing spotlights for your kitchen:
Look for LED spotlights that emit between 300-500 lumens each. This provides enough brightness for cooking and food prep.
Space the spotlights evenly 4-6 feet apart for consistent lighting throughout the room.
Aim for around 300 lux illumination on your countertops and work surfaces. You can supplement overhead lighting with under-cabinet lights.
Consider your kitchen layout – more lights may be needed for larger, open-concept kitchens.
If your kitchen has dark floors or not much natural light, increase the number of spotlights.
Every kitchen is unique, so speak to a qualified electrician if you need help deciding on the optimal number and placement of spotlights. With smart planning and quality LED spotlights, you can create the perfect lighting for cooking, dining and entertaining.
Choosing the Right Lumens and Beam Angle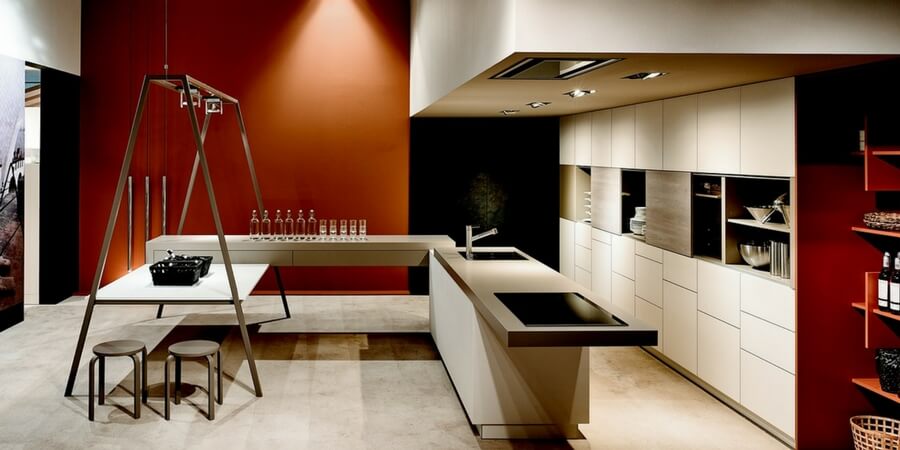 When selecting spotlights, consider lumens and beam angle to get the right amount and spread of light.
Lumens indicate how bright the spotlight is. For kitchens, look for spotlights with:
300-500 lumens for ambient lighting during food prep and cooking.
600-900 lumens for task lighting over key work areas like islands and sinks.
1000+ lumens to highlight decorative features or brightly illuminate dining areas.
The beam angle determines the width of the spotlight's beam. Narrow spotlights focus light in a small area. Wide floodlights spread illumination across a broader space. For kitchens, a happy medium is best:
25–40-degree beam angle provides directed task lighting.
60-90 degrees cast ambient lighting over counters and work zones.
Mixing spotlights with different lumens and beam angles creates visual interest and functional lighting. Consult a lighting designer if needed to find the perfect balance for your kitchen.
Calculating the Number of Spotlights by Square Footage
When deciding how many spotlights you need in your kitchen, consider the room's size and layout.
As a general guideline, plan for:
1 spotlight per 4 square metres for ambient lighting.
1 spotlight per 2 square metres for task lighting over key work zones.
However, the exact number depends on your specific space. Here are some tips:
For galley kitchens, install spotlights in a single line to evenly light the narrow area.
Include extra spotlights over islands and peninsulas to illuminate these high-use spaces.
In open-concept kitchens, extend spotlights into adjacent dining areas to provide cohesive lighting.
Take measurements and create a lighting plan for the most accurate spotlight quantity. Position spotlights strategically to avoid shadows or dark zones. With smart planning and placement, you can achieve both aesthetic appeal and optimal illumination with the right number of spotlights.
Perfect Spotlight Layout Tips
When installing spotlights, placement is key for maximizing light coverage. Here are some layout recommendations:
Space spotlights evenly for consistent illumination. But avoid overly rigid symmetry for a more organic look.
Layer ambient and task lighting. Use ambient lights to wash the space in a soft glow and add task spotlights to highlight work zones.
Include lighting on both sides of peninsulas or islands to reduce shadows.
Incorporate directional spotlights over sinks and stoves to spotlight cooking and cleanup areas.
Add accent lighting over architectural features or display zones to highlight decorative elements.
Also, consider mounting options. Recessed lights provide an unobtrusive built-in look. Track lighting offers flexibility to adjust spotlights. And pendant lights incorporate stylish fixtures into the layout.
Experiment with spotlight placement before finalizing your design. Adjust their direction and spacing to achieve the coverage and visual appeal you desire. The right layout can make your kitchen shine.
Converting Lux to Lumens for Kitchen Lighting
When planning your kitchen lighting, you may come across light measurements in lux or lumens. But what's the difference, and how do you convert between the two?
Lux measures the amount of light falling on a surface. Lumens measure the total light output from a source. So, Lux takes into account the size and distance of your room, while Lumens does not.
To convert lux to lumens, you'll need to calculate the area being illuminated.
Here's the formula: Lumens = Lux x Area in square meters
For example, if you need 300 lux over your 4-meter x 3-meter kitchen island, that's: 300 lux x 4m x 3m = 3,600 lumens
So, aim for 3,600+ lumen lights over the island. Meanwhile, use lower-lumen ambient lighting for the rest of the kitchen.
You can find recommended lux levels for various kitchen zones online. Use these along with room measurements to determine target lumens for task, ambient and accent lighting.
With the right balance of lighting types and intensities, you'll create a kitchen filled with functional illumination and visual appeal.
FAQ
How many spotlights do I need in the kitchen?
The number of spotlights needed depends on the size of the kitchen and the lumens of the spotlights. As a general guideline, plan for 1 spotlight per 4-6 square feet of kitchen space.
Where should spotlights be placed in the kitchen?
Spotlights should be evenly spaced apart and placed over key kitchen zones like the sink, stove, countertops, and dining area. Avoid only lighting the perimeter and ensure light reaches the centre of the room.
Do you need spotlights in the kitchen?
Yes, spotlights are an important addition in kitchens to provide directed task lighting over key work areas. They supplement ambient lighting from other sources like pendant lights.
How do you calculate how many spotlights?
First measure the square footage of the kitchen then divide by 4-6 to determine how many spotlights are needed. Also factor in lumens output, ceiling height, and kitchen layout when calculating.
Conclusion
In conclusion, the number of spotlights needed in a kitchen depends on the size and layout of the space. As a general rule of thumb, plan for 1 spotlight fixture per 4-6 square feet of kitchen space, spaced evenly apart to provide sufficient lighting overall key zones. Most standard kitchens require around 4-8 spotlights with 500-lumen output. Properly lighting a kitchen with spotlights creates a brighter, more functional cooking and dining space.