This blog post explores the best colour combinations to pair with cashmere kitchen units.
Cashmere is a warm, versatile neutral that works well with a variety of hues from bold brights to soft neutrals.
Read on for colour scheme ideas to make your cashmere kitchen shine.
What Colour Goes with Cashmere Kitchen Units?
Cashmere kitchen units have a soft, neutral tone that pairs well with shades of grey, white, blue, and brown.
Cool colours like slate grey and navy blue contrast nicely with cashmere's warmth.
Warm wood tones also complement the subtle reddish undertones of cashmere.
Key Points
Cashmere works well with other neutral tones like grey, beige, and taupe
Deep blues and greens provide a colourful contrast to cashmere
Wood floors bring out the subtle warmth of cashmere cabinets
Our Opinion
In our experience, neutral greys and blues are the best colours to pair with cashmere kitchen cabinets.
A light grey island contrasts nicely with cashmere cabinets for a cohesive two-tone look.
Or try deep navy lower cabinets with cashmere uppers for a bold, elegant colour combination.
Pair Deep Blue with Cashmere for a Bold, Dramatic Look
Deep blue is a classic pairing for cashmere kitchen units. The rich navy hue contrasts beautifully with cashmere's subtle reddish undertones to create a bold, dramatic look. Here are some ideas for integrating deep blue with cashmere kitchens:
Paint lower cabinets or an accent wall a deep blue like Hague Blue or Pantone 19-4052 Classic Blue. Keep upper cabinets and the majority of the kitchen cashmere for a striking colour block effect.
Use deep blue on kitchen island bases or peninsulas to define those spaces. Surround with cashmere cabinets for cohesion.
Pick deep blue for kitchen hardware like knobs, pulls, and light fixtures. These pops of colour stand out against neutral cashmere.
Incorporate blue glass backsplashes, deep blue granite or quartz countertops, navy range hoods, or bold blue upholstered bar stools.
With so many ways to integrate it, deep blue is a versatile pairing for what colour goes with cashmere kitchen units. It allows you to add drama and interest to a cashmere scheme.
Create a Warm, Inviting Kitchen with Mahogany Brown Cashmere Units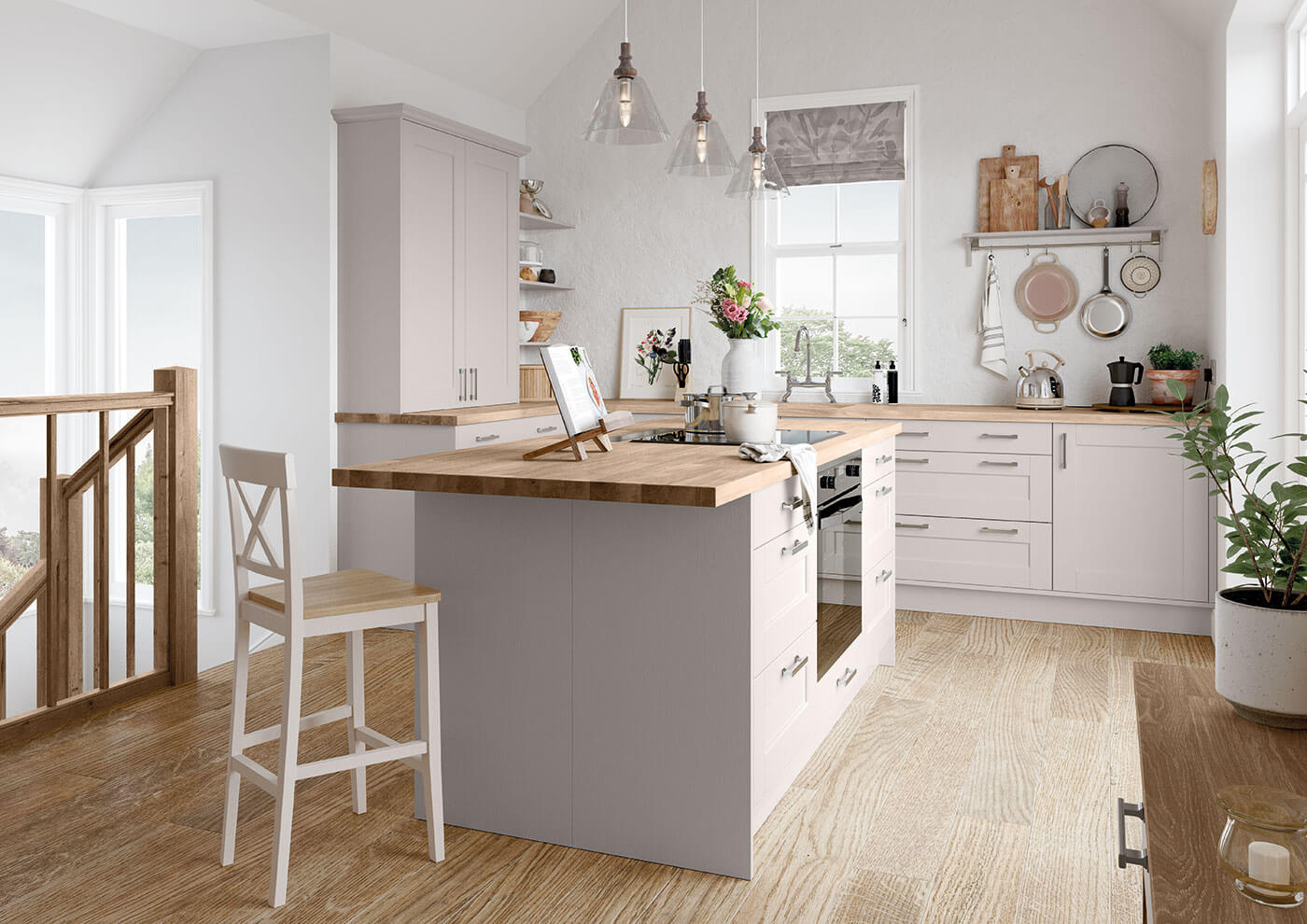 For a cosy, welcoming kitchen environment, consider pairing your cashmere units with rich mahogany brown tones. The combination evokes the warmth of a ski lodge or mountain retreat.
There are several ways to incorporate mahogany brown:
Paint the lower cabinets a deep reddish-brown mahogany hue. Coupled with creamy cashmere uppers, this two-tone look exudes rustic charm.
Use mahogany laminate on the kitchen island or peninsula for a natural wood accent.
Select a mahogany-coloured granite countertop with grey and brown veining. This resembles natural stone and pairs beautifully with cashmere.
Incorporate mahogany leather bar stools, a wooden butcher block countertop or a rustic wood dining table.
With rich mahogany brown, you can create a welcoming, organic look that feels like home. It's the perfect complement to cashmere kitchen units for farmhouse flair.
Make a Statement with Muted Red on Cashmere Cabinetry
Looking to add a pop of colour to your cashmere kitchen? Consider using a muted red. This sophisticated hue will make your cabinets stand out while still feeling refined.
Some ways to incorporate muted red:
Paint the island or a set of lower cabinets in a deep terracotta or oxblood red. This eye-catching accent will contrast beautifully against creamy cashmere uppers.
Use a muted red backsplash tile like brick or unpolished terra cotta. Pair with warm white grout for a rustic vibe.
Select a muted red granite countertop with tan, brown and grey accents. This natural stone look complements the warm cashmere tones.
Bring in a muted red leather finish on the bar stools or dining chairs for a punch of colour.
With its earthy feel, muted red is perfect for rustic, farmhouse or Tuscan-inspired kitchens. It's a statement shade that warms up the soft colour that goes with cashmere kitchen units.
Keep It Light and Airy with Off-White Cashmere Kitchens
Want your kitchen to feel bright and spacious? Consider off-white cabinetry in a cashmere finish. This soft, pale tone will make your cooking space feel light and airy.
Here are some tips for designing with off-white cashmere:
Go for a warm off-white with a hint of cream or oatmeal rather than stark bright white. This will complement the subtle hue of cashmere cabinets.
Use white or light grey quartz countertops to maintain a soft, neutral palette.
Add visual interest with natural wood accents – an oak island or butcher block countertops will pop against the off-white.
Incorporate glass cabinet doors to enhance the sense of airiness and light.
Off-white cashmere kitchens feel tranquil and timeless. Accent with light wood tones and plenty of natural sunlight streaming in through large windows. The result is a gorgeous, airy space perfect for cashmere kitchen units.
Go For an Earthy Vibe with Olive Cashmere Cabinetry
Want a cosy, nature-inspired kitchen? Consider olive green cabinetry in a soft cashmere finish. This rich, earthy hue brings the essence of the outdoors in.
Tips for designing with olive cashmere:
Pair it with natural materials like wood counters and backsplashes for an organic look.
Add pops of colour with terracotta, yellow or teal accents.
Incorporate rattan baskets, woven placemats and ceramic tableware for texture.
Use brass hardware and lighting for a hint of shine.
With its warm, welcoming vibe, olive cashmere cabinetry transforms your kitchen into a calming sanctuary. Accent with wood and woven textures for an earthy oasis. Looking for what colour goes with cashmere kitchen units? Go green with olive for a serene, nature-inspired space.
FAQ
What colour goes with cashmere cupboards?
Cashmere cupboards pair well with neutral colours like grey, beige, and white to create a soft, elegant look. Deep blues and greens can also complement cashmere for a more colourful scheme.
What goes with cashmere colour?
Cashmere works nicely with other neutral, earthy tones like tan, light brown, and taupe. Cool tones like grey, navy, and slate blue also complement cashmere.
What flooring goes with cashmere kitchen units?
Light natural stone or wood floors help bring out the subtle warmth of cashmere kitchen cabinets. Concrete, tile, and vinyl floors in grey tones are also suitable pairings.
What colour is close to cashmere?
Colours close to cashmere include light taupe, warm greys, almond, and oatmeal. Soft muted shades like these match cashmere's neutral palette.
Conclusion
Cashmere is a versatile neutral colour for kitchen cabinets, pairing well with shades of grey, blue, brown, and white. When choosing colours to go with cashmere kitchen units, key factors are opting for neutral, earthy tones and cool colours that complement the warm undertones. Flooring options like wood, tile, and stone help ground the soft cashmere hue. Overall, cashmere kitchen cabinets offer a warm, inviting look for a variety of colour schemes.