Grey kitchen units offer a stylish, modern look for any home.
But choosing the right accent colours to pair with grey cabinets can make all the difference in creating a cohesive, inviting kitchen design.
This article explores the best colour combinations to complement grey kitchen units.
What Colour Goes With Grey Kitchen Units?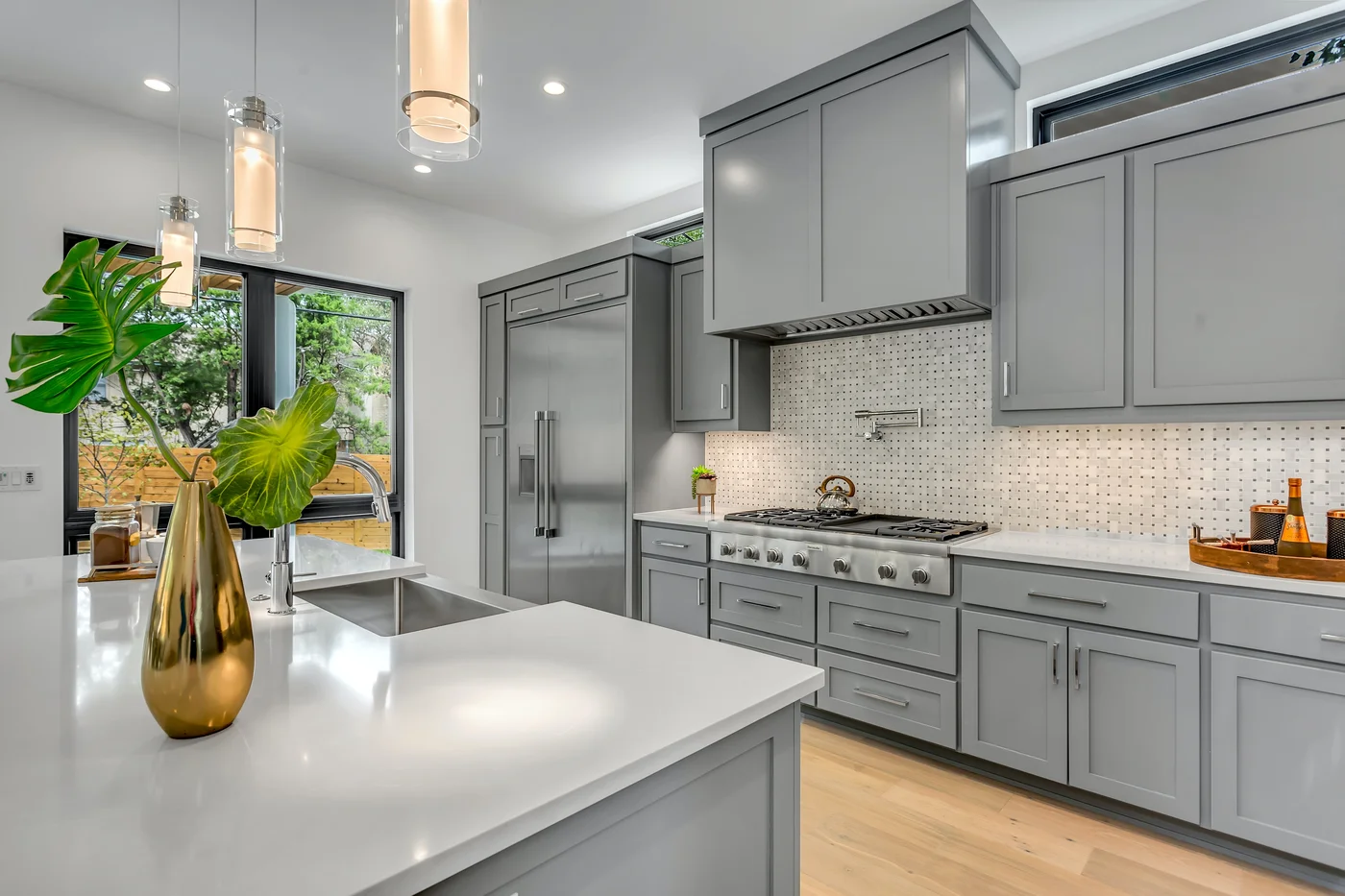 Grey kitchen cabinets pair well with a variety of colours.
Popular choices are crisp whites, sunny yellows, minty greens, and deep forest greens.
Key Points
Yellow, white, and green are vibrant colours that complement grey kitchen units
Navy blue, forest green, and metallics like gold add sophistication
Consider the mood and aesthetic you want when choosing colours
Our Opinion
In my opinion, the best colours to pair with grey kitchen cabinets are white and mint green.
White keeps the space looking bright and fresh, while mint green adds a subtle pop of colour.
Together, these two colours create a timeless and inviting kitchen with grey units as the neutral base.
Colour That Goes With Grey Kitchen Units?
When deciding what colour goes with grey kitchen units, think about the mood you want to create. Light, bright colours like yellow, green and blue inject energy and vibrancy. While neutral tones like white, beige and wood add warmth and balance. Here are some top colour combinations for grey kitchen cabinets:
Yellow – Cheerful yellow is a perfect pairing with light grey cabinets. It creates a fresh, sunny look. Try pairing it with buttery yellow walls or sunshine yellow accessories.
Green – Sage green or mint green adds a refreshing accent to grey. Deep forest greens work well with darker grey cabinets. Add greenery with plants and herbs.
Blue – From navy to sky blue, different blue tones complement grey cabinets nicely. Navy blue especially brings out the sophisticated side of grey.
White – An easy, timeless combination. Crisp white walls and tiles allow grey cabinets to take centre stage while keeping things neutral.
Wood tones – Natural wood finishes, like oak or walnut, add warmth and texture to a grey kitchen. Great for a modern rustic look.
Metallics – Copper, bronze and other metallic accents (light fixtures, hardware) pop against the grey and provide a glam touch.
When using grey in a kitchen, limit accent colours to one or two for a cohesive look. And remember – vary tones and textures, like mixing glossy and matte finishes, to add visual interest.
Neutral Colour Combinations for Grey Kitchens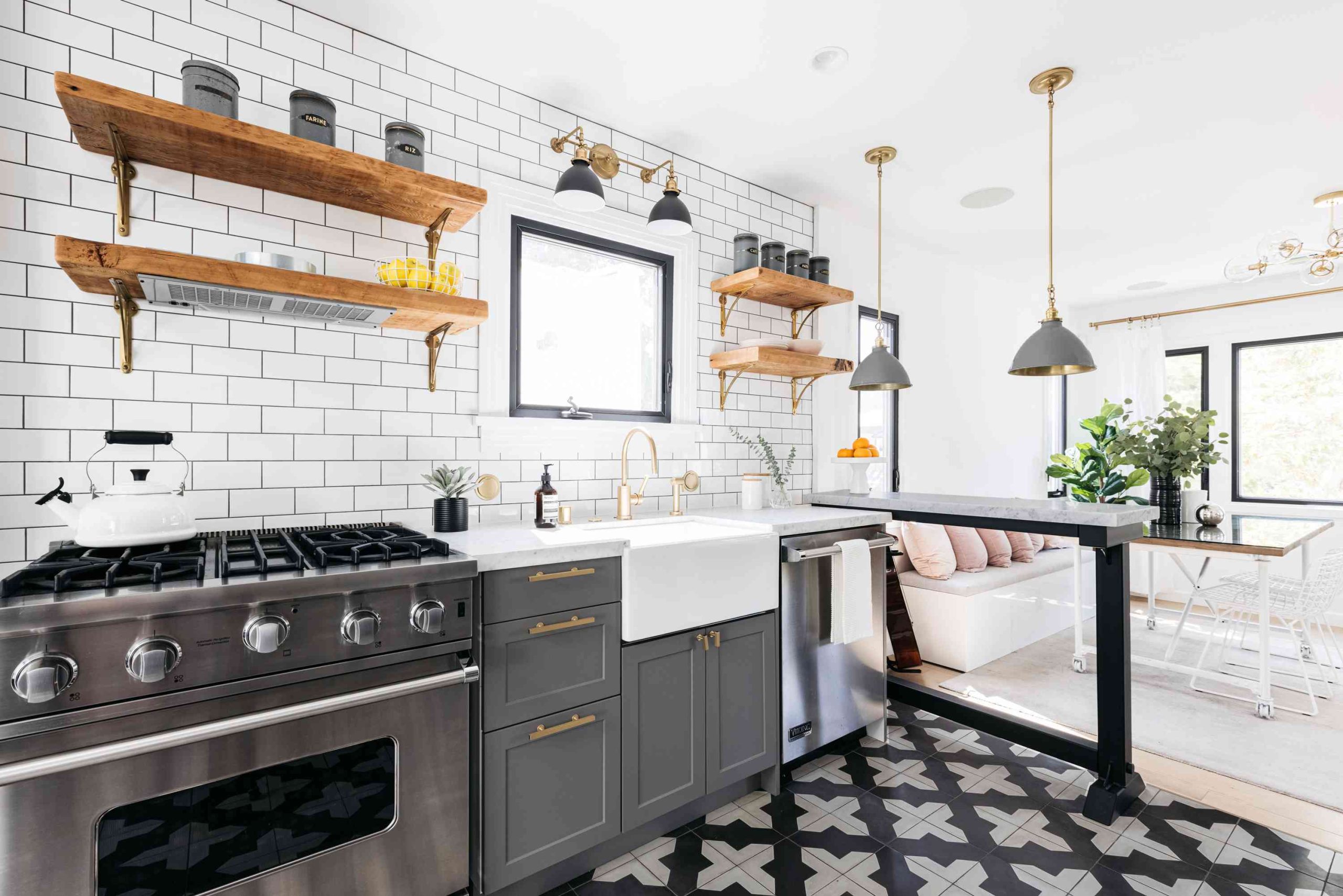 If you want to keep things neutral in your grey kitchen, there are several elegant colour combinations to consider:
Grey and white – As mentioned above, this classic pairing looks clean and timeless. Try white walls with grey lower cabinets or vice versa.
Grey and beige – Warm up cool grey cabinets with earthy beige walls or tiles. Taupe and greige (grey-beige) work nicely too.
Grey and black – Striking and modern, charcoal or black contrasts with light to mid-grey cabinets. Use black for dramatic accents.
Grey and wood – Natural wood cabinetry, floors and butcher block countertops bring warmth to grey kitchens. Oak, walnut and bamboo work well.
Grey and marble – Elegant marble countertops or backsplashes complement grey while adding natural pattern and texture.
Grey and brick – Exposed brick walls pair beautifully with grey cabinets, especially in modern or industrial spaces.
When combining different neutral elements, vary textures and tones for visual interest. Add personality with metallic accents, plants and decorative ceramics in muted tones.
Vibrant Colour Pairings for Grey Kitchens
While neutral colours create a soothing vibe, bold hues can make a grey kitchen pop. Here are some lively combinations to consider:
Grey and yellow – Cheerful yellow walls or accessories enliven cool grey cabinets. Try buttery or mustard tones.
Grey and green – Earthy sage green is a soothing complement to grey. Mint and lime add a retro pop of colour.
Grey and blue – Go for a striking contrast with navy blue walls or appliances, or try powder blue for a more subtle look.
Grey and red – From cherry red to burgundy, any shade of red makes grey kitchen cabinets stand out. Use sparingly.
Grey and orange – Warm orange walls, stools or decor create a lively yet cosy vibe against grey cabinets.
Grey and purple – Regal purple adds a touch of drama to a grey kitchen. Try pale lilac or bold eggplant.
When combining grey with vibrant colours, stick to one or two bold hues so the space doesn't feel overwhelming. Use colour in moderation on accent walls, islands, backsplashes or decor.
Accent Colours That Work with Grey Kitchen Units
Grey kitchen cabinets offer a flexible backdrop that pairs nicely with a variety of accent colours. Here are some stylish options:
Warm metallics like brass, copper and gold add a glamorous touch and create a nice contrast against cool grey.
Crisp white trim, tiles or appliances keep a grey kitchen feeling fresh and bright. Add pops of white through the decor.
Charcoal or black granite countertops and backsplashes make grey cabinets stand out while also feeling sleek.
Natural wood accents bring warmth and texture to a grey kitchen. Try oak or walnut shelves, stools or butcher block surfaces.
Glossy lacquered cabinets in bold primary colours like red, yellow or blue make a vibrant style statement against the grey.
When choosing accent colours, opt for tints and tones that complement the grey rather than compete with it. Muted jewel tones and earthy neutrals work especially well. Just be sure to avoid too many competing colours and patterns for a cohesive look. Most importantly, select accent shades you love to create a grey kitchen that reflects your taste and style.
Examples of Perfect Colour Palettes for Grey Kitchens
With so many options for accentuating grey kitchen cabinets, it helps to look at some complete colour schemes for inspiration. Here are a few fabulous palettes to consider:
Grey and white kitchen – Pair grey cabinets with bright white countertops and backsplash. Add warmth with light wood flooring and brass accents.
Grey, green and wood – Earthy sage or olive green on lower cabinets or an island contrasts nicely with grey uppers. Natural wood finishes tie it together.
Grey, black and brass – For dramatic contrast, try matte black lower cabinets with grey uppers and unify them with metallic brass fixtures and hardware.
Grey and blue – Go for a beachy vibe with soft blue walls and lighter grey cabinets. White trim keeps it fresh.
Grey, red and stainless steel – Make a bold statement by pairing rich red lower cabinets with sleek grey uppers, stainless appliances and chrome fixtures.
When building a cohesive palette, limit yourself to 3 core colours plus metallic accents like brass or chrome. Varied textures are important too – mix up glossy and matte cabinets, add tile backsplashes, and incorporate natural wood finishes for depth. Most importantly, embrace your taste – a grey kitchen can take on many stylish looks.
FAQ
What colour goes best with grey kitchen units?
For a cheerful and sunny look, consider pairing light grey kitchen units with vibrant yellow accents. Yellow adds a pop of colour and energy to a light grey kitchen.
What flooring goes with grey kitchen units?
Neutral colours like crisp white or creamy shades also go well with grey cabinets, creating a stripped-back and traditional aesthetic. Grey and white is a classic combination that naturally goes together and provides a timeless look.
What colour appliances look best with grey cabinets?
Pale grey kitchen units can be paired with light mint green for a fresh finish, while darker shades of grey can be complemented with luscious deep green tiles.
Conclusion
In summary, many colours complement and look great with grey kitchen units. Vibrant yellows or mint greens add pops of colour, while neutral white provides a clean, timeless look. Deep greens like forest or navy blue bring sophistication. Metallics like gold and silver add shine without too much contrast. When choosing what colour goes with grey kitchen units, consider the mood and aesthetic you want to achieve. Combinations like grey and white or grey and yellow create a bright, cheerful kitchen space.