This article provides helpful tips for preventing and reducing bothersome condensation in bathrooms.
Moisture buildup leads to dampness, mould growth, and even structural damage, so it's important to control humidity levels.
We'll explore methods like using dehumidifiers, opening windows, running fans, and more to limit condensation and keep surfaces dry.
How to Stop Condensation in the Bathroom?

The most effective ways to prevent bathroom condensation are to open a window while showering, always use an extractor fan, and wipe down surfaces frequently.
Keeping the door closed and using a dehumidifier can also help reduce moisture in the air.
Key Points
Open windows and run extractor fans to ventilate moisture
Wipe down surfaces regularly to prevent dripping
Use dehumidifiers, anti-condensation paints and panels
Our Opinion
In my experience as a home improvement expert, the best ways to reduce bathroom condensation are proper ventilation and frequent wiping down of surfaces.
Installing a good extractor fan that runs during and after showering is the most effective solution.
Also be sure to open windows, use dehumidifiers if needed, and keep the bathroom door closed when showering.
Staying on top of wiping down tiles, mirrors, and other surfaces prevents moisture from settling and dripping down walls or ceilings.
With some simple preventative steps, it is possible to have a bathroom free of excessive condensation and dampness.
Use a Dehumidifier to Reduce Moisture
Using a dehumidifier can be an effective way to remove excess moisture from the air in your bathroom. When shopping for a dehumidifier, look for one made specifically for smaller bathrooms that can extract at least 10 litres of water per day. Place it in a corner on the floor, away from the shower.
Run it for at least an hour after bathing to lower humidity. Keep the bathroom door closed while it's operating to concentrate its effects. This will prevent water vapour from spreading condensation issues to the rest of the house. Just be sure to empty the water reservoir regularly.
Some key tips for using a dehumidifier in the bathroom:
– Choose a unit sized for small spaces
– Place it in a corner on the floor
– Operate it for 1+ hours after showering
– Keep the bathroom door closed while running
– Empty water tank frequently
With consistent use, a dehumidifier can significantly cut down on dampness, limiting mould growth and condensation buildup on surfaces. It helps maintain lower humidity levels and keeps surfaces dry.
Improve Bathroom Ventilation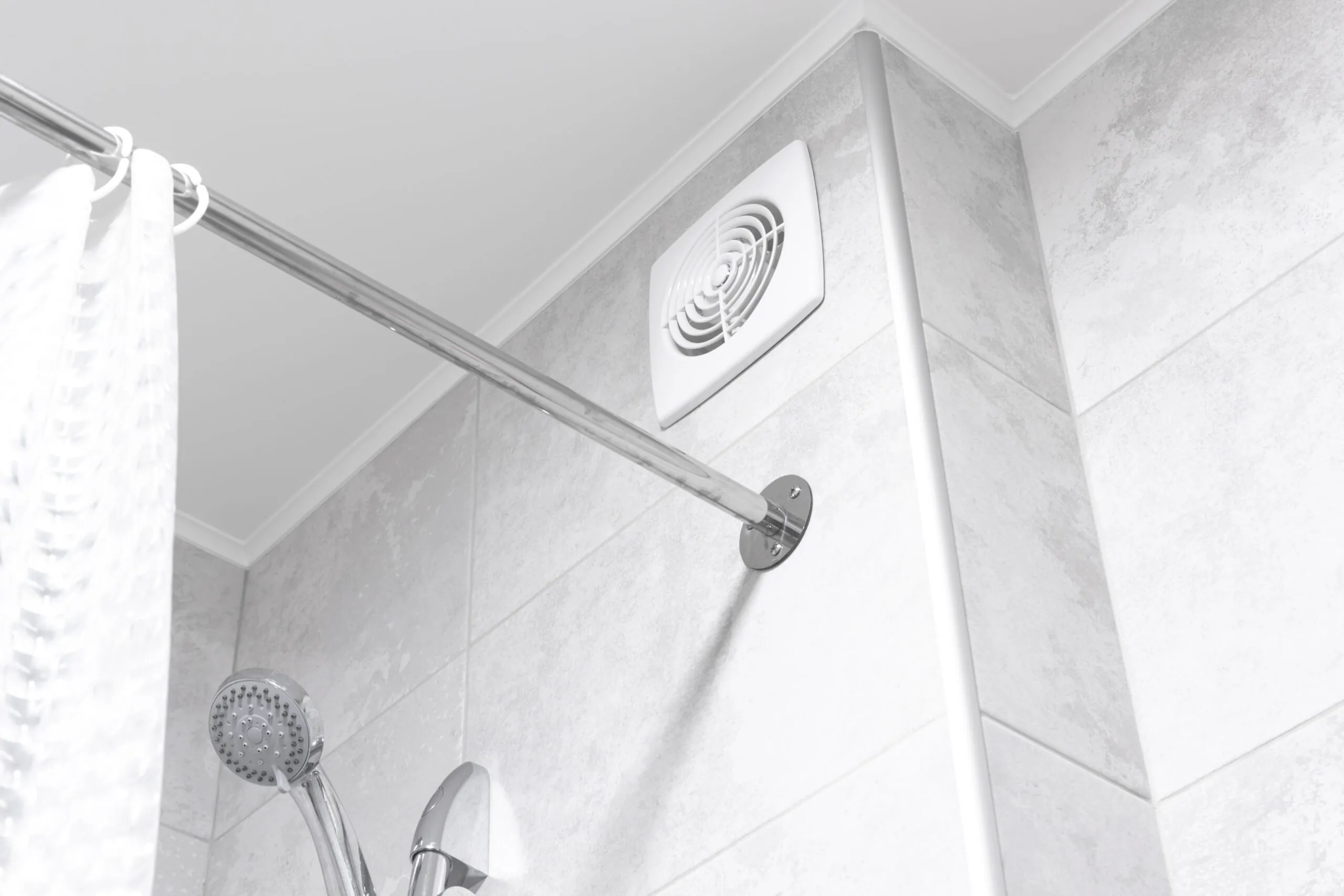 Increasing air circulation is vital for controlling humidity and condensation in the bathroom. There are a few ways to improve ventilation:
Open a window after bathing to let out steam. Even cracking it open for 10-15 minutes helps exchange moist air for drier air.
Install or upgrade to a more powerful exhaust fan. Look for a fan with a higher CFM rating that can quickly ventilate the room.
Run the exhaust fan for longer periods. Let it operate for 30 minutes or more after showering before turning it off.
Add a ventilating skylight or ductless fan to supplement your main exhaust fan. This doubles airflow.
Ensure vents aren't blocked by objects or dust buildup. This optimizes airflow.
Replace any old vents with new ducting to maximize venting efficiency.
Taking steps to increase bathroom ventilation removes lingering humidity from the air and reduces condensation. It's one of the most effective ways to keep bathroom surfaces dry and discourage mould growth.
Wipe Surfaces Dry to Prevent Condensation
In addition to improving ventilation, it's important to wipe down bathroom surfaces after showering or bathing. Water left sitting on tiles, mirrors, walls and windows leads to condensation and dampness over time.
Get into the habit of using an absorbent microfiber cloth or squeegee to wipe surfaces dry. Pay special attention to:
– Shower walls and doors
– Bathtub rims
– Sinks and counters
– Mirrors
– Windows and windowsills
Quickly soaking up water droplets prevents them from evaporating into the air. This removes excess moisture right at the source.
Pair thorough wiping with running your exhaust fan and you'll keep condensation at bay. It only takes a minute after bathing but makes a big difference in controlling humidity.
Establishing a simple wiping routine helps cut down on surface condensation. Just remember – wipe it dry to say goodbye to dampness!
Install Underfloor Heating to Raise the Temperature
Adding underfloor heating is an effective way to reduce condensation in the bathroom. It raises the floor temperature, preventing surfaces from dropping below the dew point where water vapour condenses.
There are two main types of underfloor heating:
– Electric systems with heating cables or mats
– Hydronic systems with hot water pipes
Both works well, providing a comfortable radiant warmth right from the floor up. This helps combat cold surfaces and maintains a higher ambient temperature.
Underfloor heating installation does require some renovation work. Hydronic systems need to be installed under the floor itself. Electric mats can go under tile or be embedded in a self-levelling floor compound. The expense is worth it though for warm floors and reduced condensation.
Just be sure to pair underfloor heating with proper ventilation. Remove humid air through exhaust fans and allow drier air in through windows or air bricks. This balanced approach provides the best protection against dampness and mould growth.
Apply Condensation-Reducing Paint
Applying a special paint containing compounds that reduce surface condensation is another useful step. These paints work by allowing water vapour to pass through the coating rather than condensing on the surface.
Look for paints advertised as "anti-condensation" or "humidity resistant" at your local hardware store or online. Top options include:
– Dulux Kitchen & Bathroom Paint
– Johnstone's Anti-Condensation Paint
– Leyland Trade Anti-Mould Paint
Follow the manufacturer's instructions carefully. Typically, 2-3 coats are needed for full effectiveness. Allow proper drying time between coats.
Apply to any problematic cold surfaces prone to sweating and dampness issues. This includes exterior facing walls, pipes, windows and windowsills. Condensation-reducing paint helps maintain a drier surface, preventing mould growth.
Combining moisture-resistant paint with proper ventilation, insulation, and dehumidification provides a robust defence against condensation and mould in the bathroom.
FAQ
What causes excessive condensation in the bathroom?
Condensation in bathrooms is often caused by warm, moist air that meets cold surfaces like windows and tiles. Taking hot showers and baths releases a lot of moisture into the air. If the bathroom has poor ventilation, this moisture can't escape and condenses on surfaces.
Will an extractor fan stop condensation?
Yes, installing a good-quality extractor fan that runs during and after showering/bathing is one of the most effective ways to stop condensation. Extractor fans remove moist air from the bathroom and allow drier air to enter, preventing condensation build-up.
How do I stop condensation in my bathroom without windows?
In windowless bathrooms, condensation can be reduced by using a dehumidifier to remove excess moisture from the air. Also, run the extractor fan longer, keep the bathroom door closed, and wipe down surfaces frequently to stop moisture dripping and settling.
Conclusion
To prevent and reduce bathroom condensation, it is important to allow proper ventilation through measures like opening windows, running extractor fans, and installing dehumidifiers. Wiping surfaces down regularly, using anti-condensation paints and wall panels, and maintaining a warm bathroom temperature can also help minimize moisture build-up and dripping. Taking preventative steps allows bathrooms to stay mould-free and drier.