This informative blog post gives a detailed guide on how much to renovate a kitchen.
With prices ranging from budget renovations to luxury bespoke designs, it provides key details on what factors into the total price.
The article is worth reading for homeowners considering a kitchen remodel, as it offers a helpful breakdown of typical costs.
How Much to Renovate a Kitchen?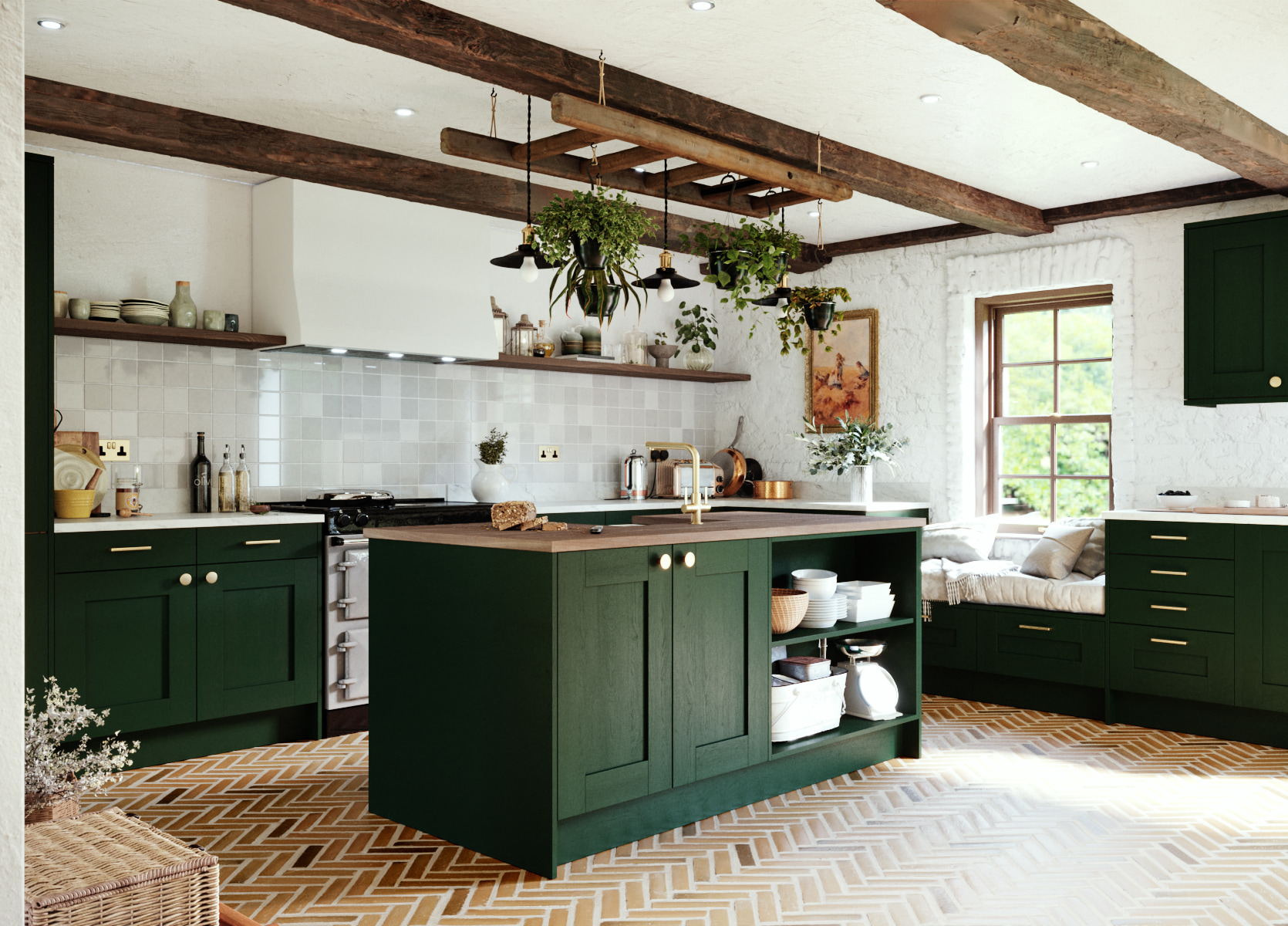 The average cost to fully renovate a kitchen in the UK ranges from £5,700 to £17,100 depending on the size of the kitchen, materials used, and the extent of the remodel.
Mid-range renovations often cost between £8,000 and £15,000.
Key Points
Full kitchen renovations cost £5,700 to £17,100 on average
Budget renovations start from around £6,200
Kitchen remodels can add significant value to a home
Our Opinion
When considering how much to budget for a kitchen renovation, it's important to get quotes tailored to your specific kitchen size and layout.
While you can renovate a kitchen on a budget, investing in quality materials and appliances will maximize your return on investment.
We recommend working with an experienced kitchen designer to create a remodel within your budget that will significantly improve the functionality and aesthetic of your kitchen.
Average Cost to Remodel a Kitchen in the UK
The cost to renovate a kitchen in the UK can vary greatly depending on the size of the space, materials used, and extent of the remodel. Here is an overview of average prices:
– A minor cosmetic update such as painting cabinets or replacing appliances may only cost £1,200-£3,000.
– For a medium renovation of a standard 15m2 kitchen, expect to pay £2,500-£5,800 just for materials and £5,700-£17,100 including installation.
– A major remodel involving knocking down walls, moving plumbing, and installing high-end counters/appliances generally ranges from £22,000-£46,000.
Kitchen remodels can fit any budget. Basic DIY updates cost less, while bespoke luxury kitchens with stone counters and top appliances run upwards of £30,000.
When budgeting for your remodel, be sure to get quotes from multiple companies. And remember — a well-designed kitchen adds significant value to your home.
Factors That Influence Kitchen Renovation Costs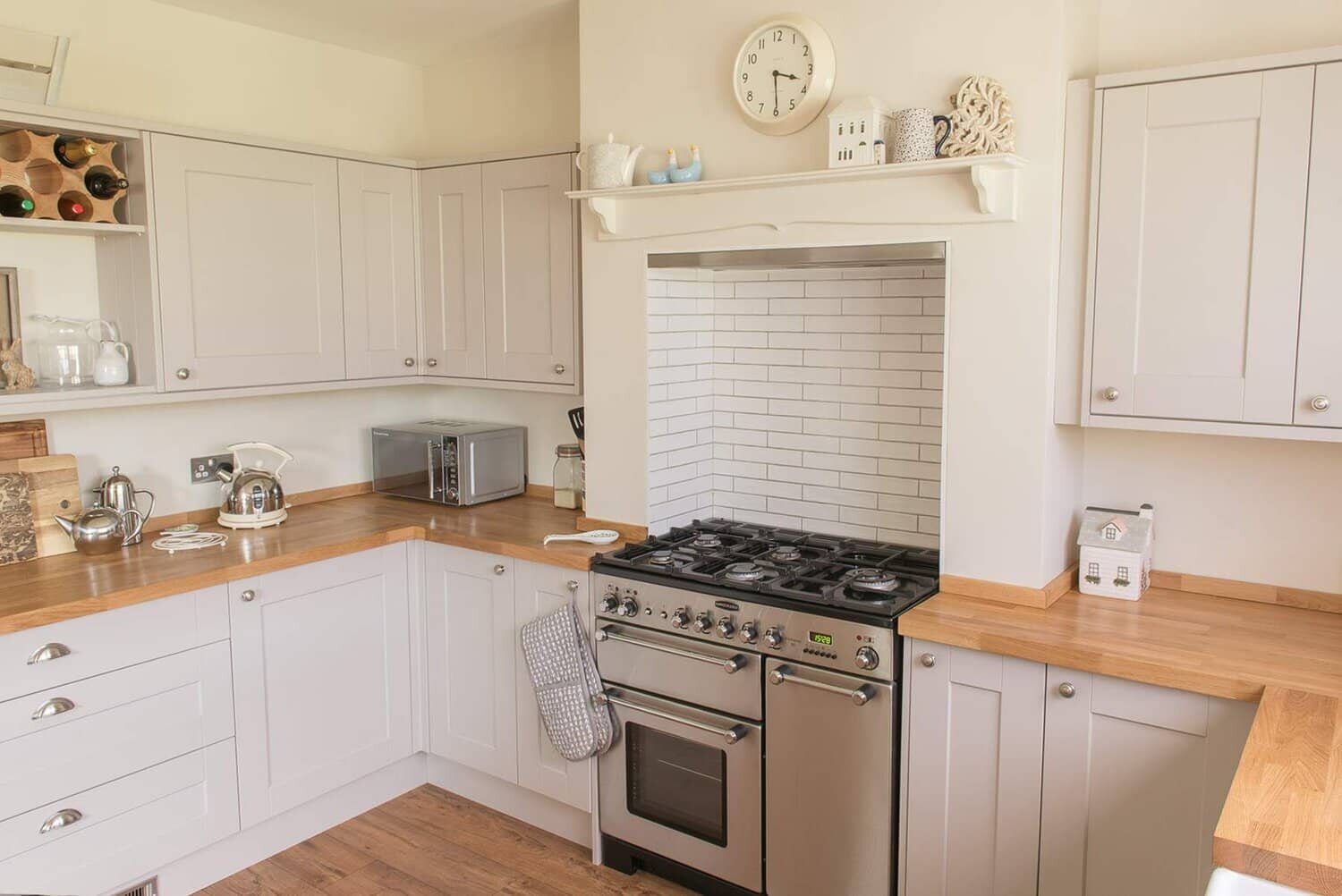 Many elements factor into the overall price tag for remodelling a kitchen. By understanding what drives costs, you can make informed decisions when planning your project.
The main considerations include:
Layout changes – Knocking down walls, moving plumbing and electrical, and reconfiguring the floor plan costs more upfront but can greatly improve workflow and storage.
Cabinets – Custom or solid wood cabinets are pricier than stock or laminate. More cabinets mean higher costs.
Countertops – Materials like granite, quartz, marble, and concrete score higher for durability and aesthetics but add expense over laminate.
Appliances – Pro-style and built-in appliances provide luxury but come at a premium over standard models.
Flooring – Natural stone, hardwood, and tile raise the budget versus vinyl or laminate options.
Also factor in costs for lighting, sink fixtures, hardware, demolition, disposal, labour, and contracting fees. Carefully weighing your must-haves versus nice-to-haves keeps spending aligned with your budget and goals.
Now that you know what goes into a kitchen remodel, you can better estimate costs and shop contractors armed with the right knowledge.
Breakdown of Typical Kitchen Renovation Expenses
When budgeting for a kitchen overhaul, it helps to know where your money will be spent. While costs vary from project to project, the largest expenses often include:
Cabinetry – 30-50% of total budget
Countertops – 10-15%
Appliances – 5-15%
Labor – 10-20%
Flooring – 5-15%
Other typical costs are:
Plumbing and electrical work
Demolition and disposal fees
Drywall, painting, trim
Lighting fixtures
Sink, faucet, hardware
Permits and contractor fees
While you may be tempted to cut corners, quality materials and skilled labour ensure the longevity of your renovation. Focus spending on elements that matter most, like durable countertops and storage-maximizing cabinets. With careful planning and prioritization, you can design the kitchen of your dreams within your budget.
Tips for Reducing Your Kitchen Renovation Budget
Looking to cut costs on your kitchen remodel? Here are some savvy ways to get the most bang for your buck:
Keep the existing footprint – Moving walls or plumbing substantially increases labour and material costs.
Retain appliances in good condition – Simply giving them a cosmetic facelift saves thousands.
Install laminate counters – At a fraction of the price of stone, laminate looks sharp yet cuts no corners on durability.
Use stock cabinets – Opt for in-stock versus custom-built for big savings.
DIY demolition – Knocking down walls and cabinetry yourself reduces labour fees.
Buy flooring remnants – Specialty stores offer leftover materials at a discount.
Use backsplashes selectively – Limit to protect the budget instead of tiling the whole wall.
With strategic planning and resourceful choices, you can transform your kitchen beautifully while sticking to your budget. Focus spending on essential elements like durable surfaces and ample storage. With a little creativity, you can have the stylish, functional kitchen of your dreams for less.
Hidden Costs to Watch Out for When Renovating a Kitchen
When budgeting your kitchen renovation, beware of hidden costs that can quickly escalate the price:
Permits and inspections – Building permits and subsequent inspections can tally hundreds of pounds.
Additional plumbing – Moving sinks or adding fixtures like pot fillers requires plumbing modifications.
Electrical work – Improved lighting, added outlets and appliance hookups may need rewiring.
Ventilation – Proper ventilation like range hoods is crucial and requires ductwork.
Flooring prep – Subfloor repairs, underlayment, and demolition fees apply before installing new floors.
Trim and moulding – Decorative details add up faster than expected.
Debris removal – Dumpster fees and hauling away old materials cost more than you'd think.
Carefully account for all potential hidden costs upfront. Get contractor quotes in writing to avoid budget creep. With diligent planning and a detailed budget, your kitchen redo will stay on track financially.
FAQ
How much does the average kitchen refurb cost in the UK?
The average cost to fully refurbish a kitchen in the UK is between £5,700 and £17,100 depending on the size, materials and fittings chosen.
How much does it cost to update a kitchen in the UK?
The cost to update a basic kitchen in the UK starts from around £6,200 for a budget renovation with standard materials and appliances. More extensive updates with higher-end finishes can cost upwards of £22,000.
How much does it cost to revamp a kitchen?
The average cost to revamp a medium-sized kitchen measuring around 15m2 is between £2,500 and £5,800 just for materials. With installation, a kitchen revamp can cost anywhere from £5,000 to £10,000+
Does renovating the kitchen add value to a UK property?
Yes, renovating a kitchen can significantly add value to a property in the UK. A high-quality kitchen renovation typically recoups 60-70% of costs when selling.
Conclusion
In summary, the cost to renovate a kitchen in the UK can vary greatly, with most full kitchen remodels costing between £5,700 and £17,100 on average. Factors like size, layout changes, materials and appliances used impact the overall cost. Kitchen renovations can add significant value to a home, making it a worthwhile investment for many homeowners. When budgeting for how much to renovate a kitchen, it's important to get quotes tailored to your specific project.