Fitting new kitchen worktops can completely transform the look and feel of your kitchen.
But before embarking on this project, it's important to understand the costs involved.
This guide breaks down the average price to supply and fit kitchen worktops in the UK.
How Much to Fit Kitchen Worktops?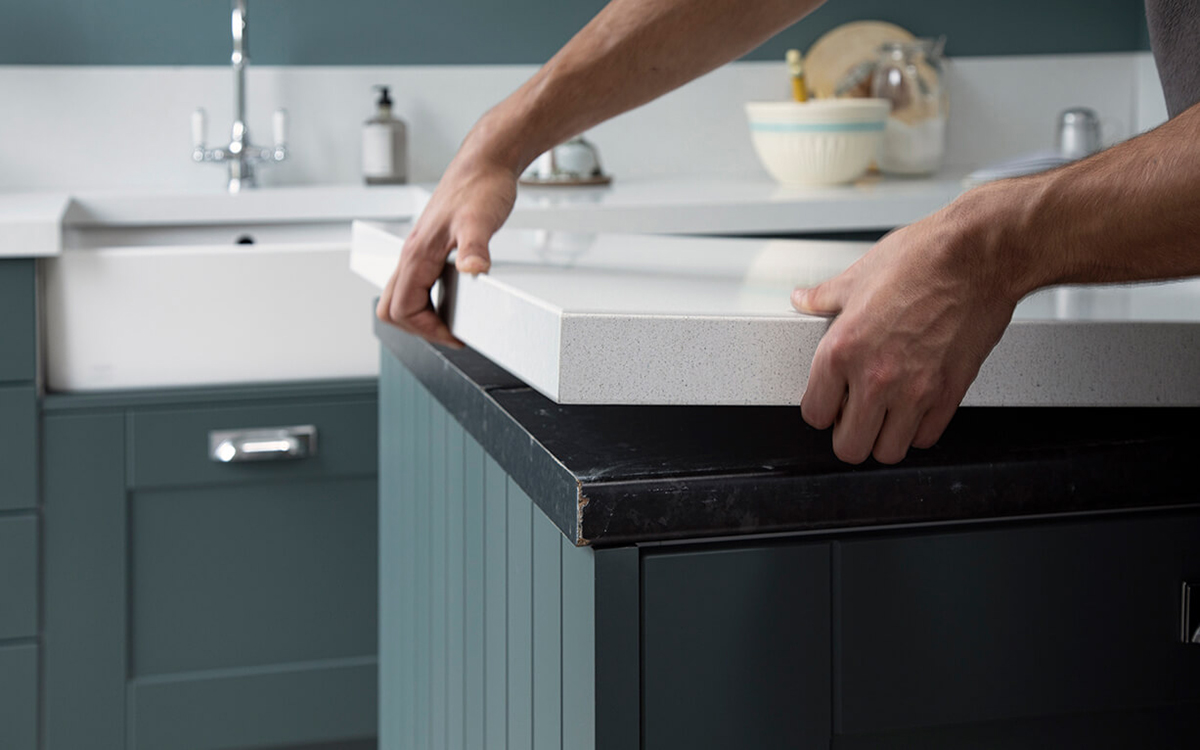 The cost to fit new kitchen worktops in the UK generally ranges from £500 to £2,000 depending on the size of your kitchen and the material you choose.
Laminate worktops on the low end cost around £500 for fitting, while higher-end materials like granite can cost over £2,000 for installation.
For most standard-sized kitchens, expect to pay £800-£1,200 for fitting new worktops.
Get quotes from worktop fitters to compare prices.
Key Points
Total cost ranges from £850 to £3,000 for materials and professional fitting
Laminate is the most affordable material starting at £20/metre
Installation typically takes 1-2 days for a standard-sized kitchen
Our Opinion
Replacing worn or damaged worktops is one of the most effective ways to update the look and functionality of your kitchen.
While granite and quartz are beautiful, laminate worktops provide an affordable option for most budgets.
We recommend getting quotes from at least 3 reputable worktop fitters before making your decision.
This will allow you to find a high-quality installer at a competitive price.
With some smart shopping, you can give your kitchen a fresh new look without breaking the bank.
Average Cost to Fit Kitchen Worktops
When looking at the total cost of new kitchen worktops, you need to consider both the price of the worktop itself and the installation charges. Here's a rough breakdown of average costs:
Laminate worktops – £20 to £40 per linear metre supplied and fitted
Solid wood worktops – £100 to £200 per linear metre
Granite worktops – £200 to £400 per linear metre
Marble worktops – £200 to £600 per linear metre
Quartz worktops – £300 to £500 per linear metre
So, for a typical 3-metre run of laminate worktops, you may pay around £120 for materials and £120 for fitting, bringing the total to approximately £240.
For more expensive materials like granite, the total cost for 3 metres of worktops could easily exceed £2,000.
A good rule of thumb is that the installation costs are often similar to the cost of the worktop itself. So, when budgeting, remember to double your material costs to get an accurate price for the complete job.
The exact price will depend on factors like:
The size and layout of your kitchen
The type of material you choose
The complexity of the job
Your location in the UK
But in most cases, you can expect to pay somewhere between £850 and £3,000 to fit kitchen worktops, including both supply and installation.
Factors Affecting Kitchen Worktop Installation Costs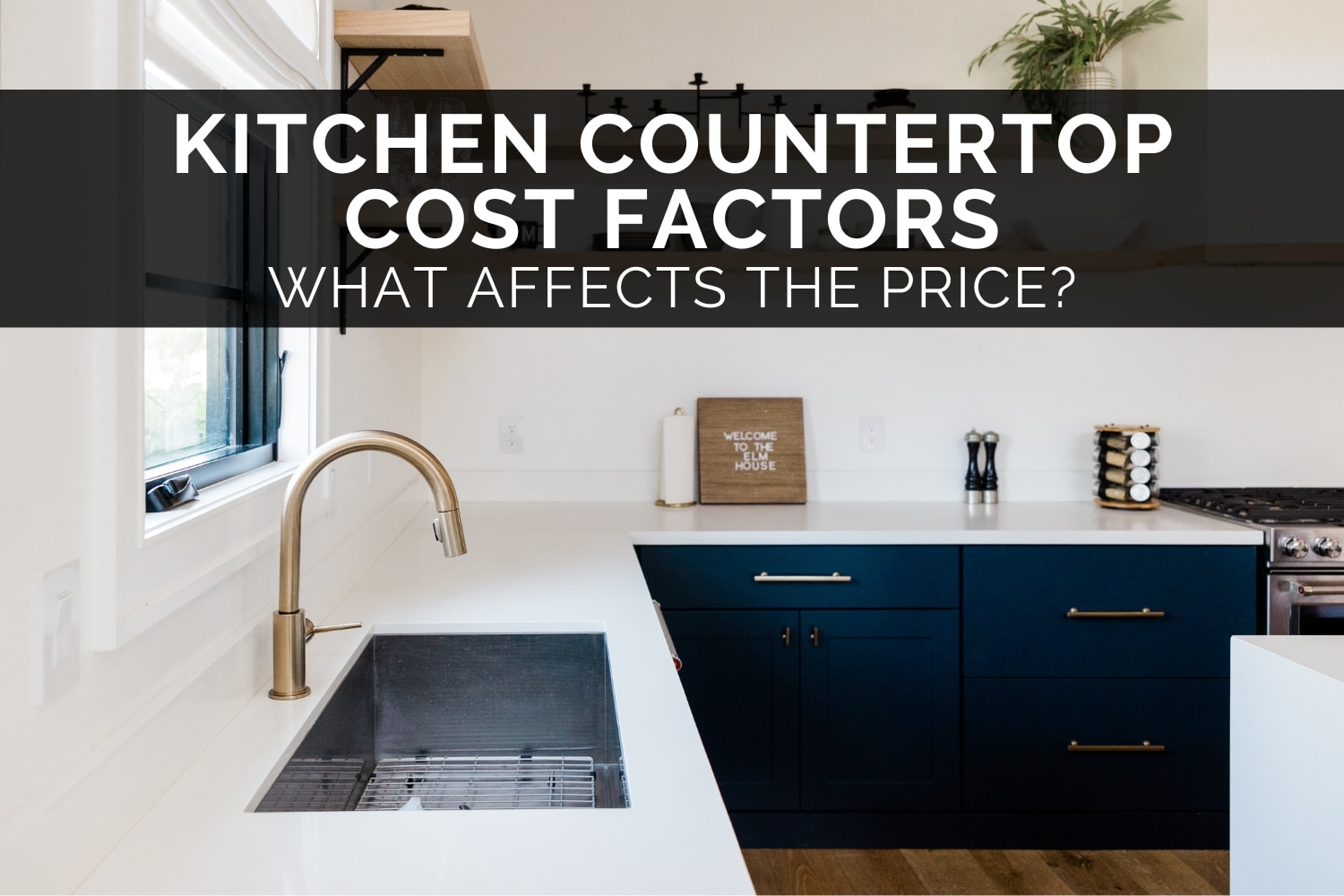 When getting quotes for fitting new kitchen worktops, several variables can impact the overall price you'll pay. Being aware of these key factors can help you budget more accurately.
The main elements that influence installation costs are:
Type of material – More premium materials like granite, quartz, and marble will be more expensive to buy and install than laminate or wood.
Number of joints – The more seams and joints in your worktops, the more complex the installation and the higher the labour costs.
Worktop thickness – Thicker worktops are more robust and can handle overhangs, but cost more.
Extra fabrication – Adding features like drain grooves, cut-outs, and edge profiles will increase material waste and labour time.
Access to the kitchen – Fitting worktops in hard-to-access spaces will take more time and skill.
Removal of old worktops – Taking out and disposing of existing worktops adds to the installation costs.
Your location – Labour rates may be higher in some regions, especially in and around London.
When getting quotes, find out exactly what is included so you understand what is driving the price. And remember, cheaper isn't always better — investing in quality materials and experienced fitters is worth it for a kitchen you'll enjoy for years to come.
Granite Worktop Prices
Granite is one of the most popular materials for kitchen worktops. Its natural beauty, durability, and prestige come at a cost.
For 30 mm thick granite worktops expect to pay:
£100 – £150 per linear metre for basic granite
£200 – £400+ per linear metre for premium granite
The wide range in granite prices reflects the many types available. Lower-cost granites like Baltic Brown or Galaxy Black cost less than luxury options like Black Galaxy or Blue Pearl.
You'll also pay more for special finishes like polished, flamed or leathered. And thicker granite tops (40 mm+) can increase the price but provide extra strength.
Your location also impacts costs. London and surrounding areas typically have the highest granite worktop prices.
When getting quotes, look beyond just the price per linear metre. Factor in other costs like fabrication, installation, seams, cut-outs, edging, sink mounting and more.
While granite is an investment, with proper care it can last a lifetime. Its timeless beauty and resilience make it a worthwhile choice for many homeowners.
Quartz Worktop Prices
Quartz worktops combine natural stone with resin for a durable, low-maintenance surface. Costs are competitive with granite but generally more affordable.
Expect to pay:
£50 – £100 per linear metre for basic quartz
£150 – £250+ per linear metre for high-end quartz
Entry-level quartz like Caesarstone Motivo or Silestone Lyra starts under £100 per metre. Premium options like Silestone Eternal range from £200-250+ per metre.
Thickness also impacts price. 20 mm quartz is the most affordable at £50-150 per metre. 30 mm is ideal for most homes at £100-200 per metre. 40 mm+ is best for heavy-use areas and costs £150-250+ per metre.
Beyond the per metre cost, factor in fabrication, installation, seams, edges, cut-outs and sink mounting. These extras typically add £150-300 to the total project cost.
With a huge range of colours, patterns and prices, quartz offers something for every budget and style.
Laminate Worktop Prices
Laminate worktops provide an affordable option starting around £20 per linear metre.
Prices typically range from:
£20 – £40 per linear metre for basic laminate
£40 – £70 per linear metre for mid-range laminate
£70 – £100+ per metre for high-end laminate
Laminate worktops consist of a chipboard core covered with a laminate surface. Thicker worktops around 40 mm are more durable and cost £30-60 per metre.
Expect to pay extra for professional cutting, installation, joints, edging, and other customizations. These extras often add £100-200 to the total cost.
With countless colours and patterns available, laminate offers an affordable worktop solution for any style or budget.
FAQ
Do kitchen fitters cut worktops?
Yes, kitchen fitters will cut worktops to size during the installation process using specialized tools. This is done on-site to ensure a precise custom fit.
What is the cheapest way to replace kitchen worktops?
The cheapest option for new kitchen worktops is laminate, followed by wood and vinyl. Laminate worktops start around £20 per linear metre.
How long does it take to fit worktops?
For a typical-sized kitchen, fitting new worktops usually takes 1-2 days. The time varies based on the size of the kitchen and the complexity of the job.
Do B&Q fit kitchen worktops?
Yes, B&Q offers an installation service for the kitchen worktops purchased in their stores. The fitting is done by their network of approved fitters.
Conclusion
Replacing worn or outdated kitchen worktops can completely transform the look and feel of your kitchen. When deciding on new worktops, laminate, wood, granite, marble, and quartz are popular options at varying price points. Overall, the total cost to supply and professionally fit new kitchen worktops ranges from £850 to £3,000. Key factors determining the final cost include the worktop material, the size of your kitchen, and labour charges for installation. With some savvy shopping and an experienced fitter, you can give your kitchen a fresh new look within your budget.