Looking to give your kitchen a stylish update on a budget?
This article explores just how much an IKEA kitchen costs to determine if it is the most cost-effective option for your needs.
How Much Is an IKEA Kitchen?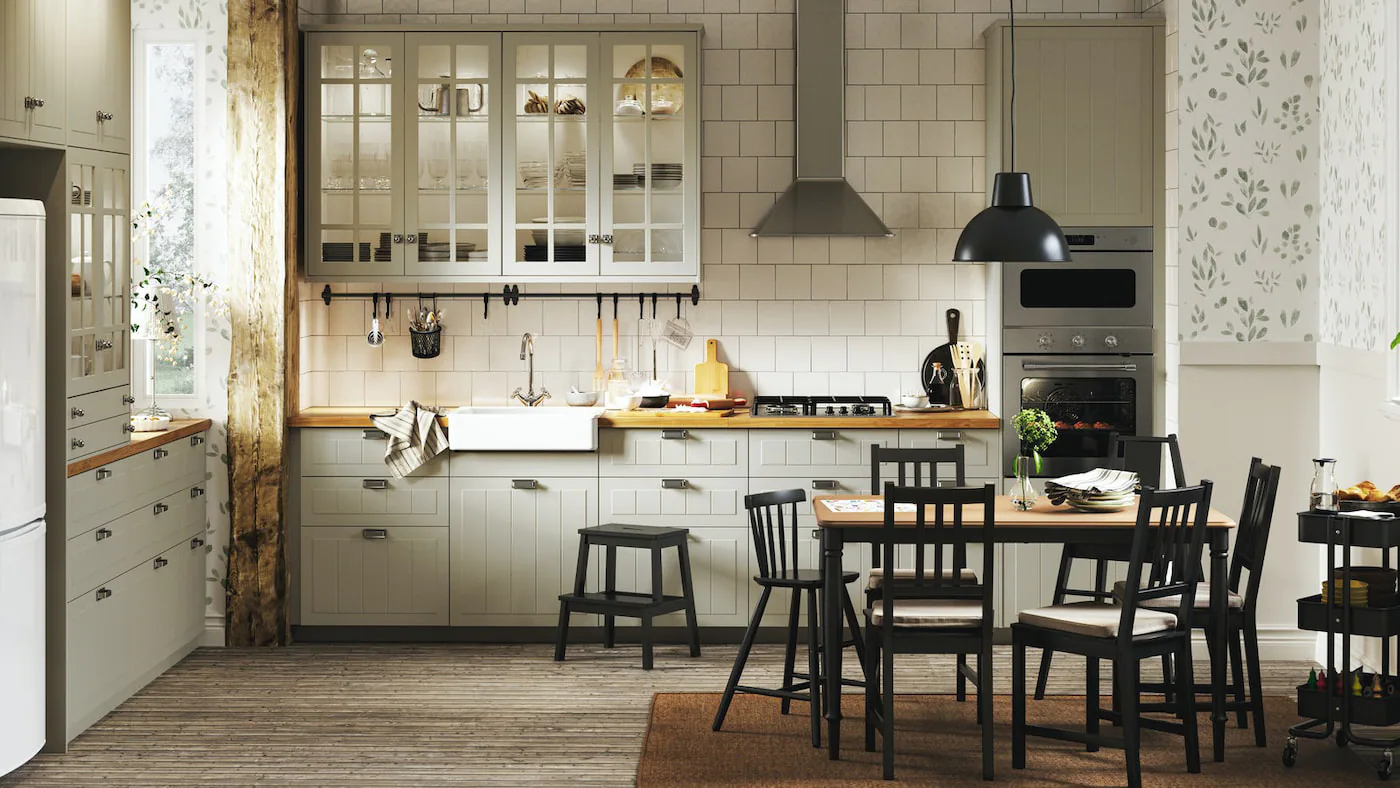 The average total cost of an IKEA kitchen is between £7,000 and £15,000.
This includes the cost of IKEA units, which start from around £100 per linear foot, as well as countertops, installation, appliances, and other expenses.
While IKEA cabinets are very affordable, the overall renovation cost for an average-sized kitchen can still be significant.
Carefully planning and budgeting is key.
Key Points
IKEA kitchen units start from around £100 per linear foot
Total costs average between £7,000 – £15,000 for installation, countertops, appliances, etc.
Cheaper than custom kitchens but require DIY or hired assembly
Our Opinion
While IKEA offers great value on budget-friendly units, the total cost of an IKEA kitchen remodel can still be high due to additional expenses.
We recommend carefully planning your design to avoid any hidden costs.
Consider all factors like plumbing and electrical work, countertop materials, and appliances to determine if it is the most cost-effective option for your needs.
Getting quotes for installation and additional services is advised.
How Much Do IKEA Kitchen Cabinets Cost?
IKEA offers a range of cabinet options to suit different budgets and styles. Here are some typical costs:
The total cost of cabinets depends on the size of your kitchen and layout. For a small galley kitchen with 10 base cabinets and 5 wall cabinets, expect to pay £1,500-£3,000 just for the cabinetry.
You can save money by repurposing existing cabinets or choosing open shelving instead of upper cabinets. IKEA also frequently runs sales on units, so keep an eye out for deals.
What Is the Cost of IKEA Kitchen Countertops?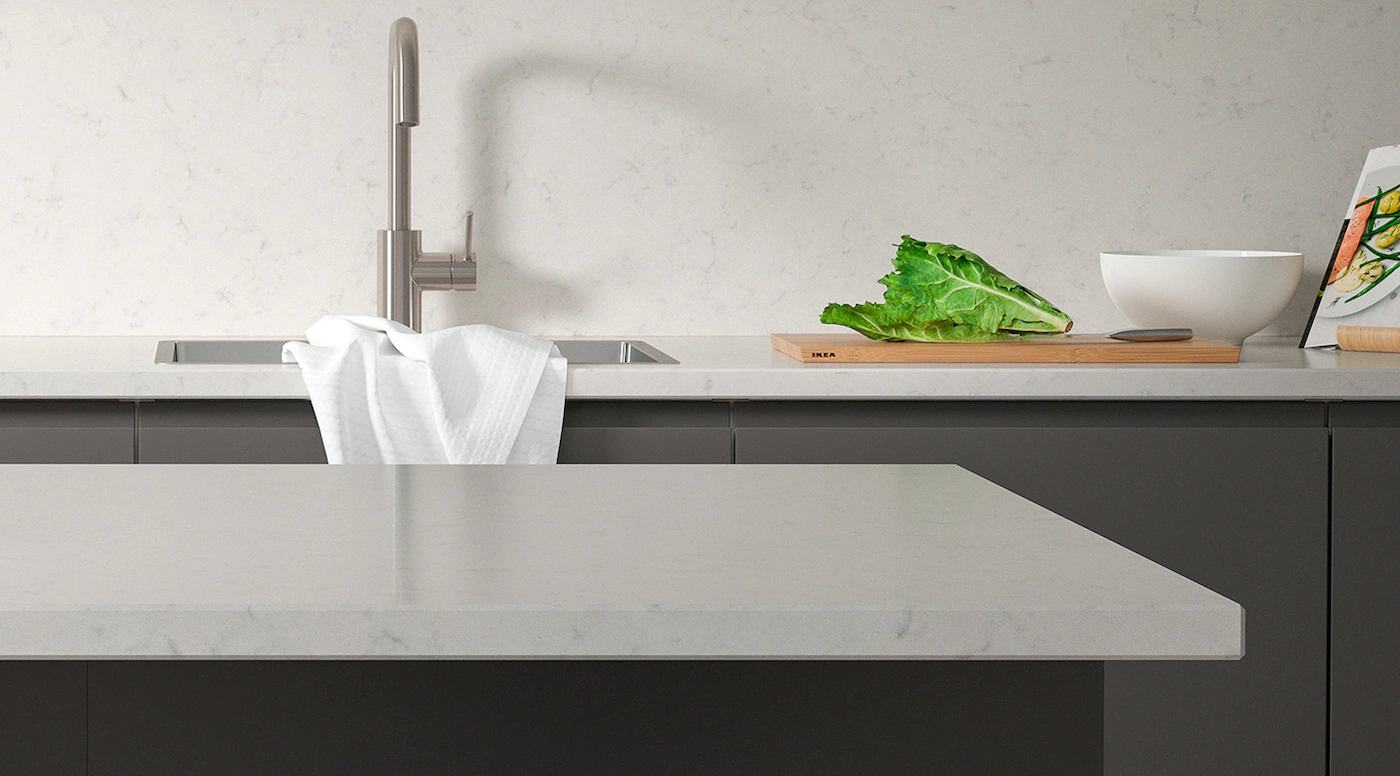 Choosing the right countertop is key to pulling your IKEA kitchen together. Here's an overview of IKEA countertop costs:
Laminate countertops like EKBACKEN start at £30 per linear foot.
Butcher block style BEECH worktops cost £55-£65 per linear foot.
Quartz counters like SÄLJAN run £100-£200 per linear foot installed.
Natural stone counters like MARBELLA granite can cost £200-£400 per linear foot.
Keep in mind you'll need 25-30 linear feet for a typical 10×10 kitchen. And additional costs like cutting, edging, and installation can add £200-500 to your total. But IKEA's affordable countertop options keep costs low compared to custom counters.
How Much Are IKEA Kitchen Fixtures and Appliances?
Outfitting your kitchen with fixtures and appliances helps balance the budget. Here are the estimated costs for key elements:
Sinks like FÖRSIKTIG run £50-100 depending on size and materials.
Taps like MOSJÖEN cost £50-150 for the faucet itself.
Lighting like the NYMÅNE pendant runs £15-50 per light.
Ovens like the TILLREDA slide-in gas range are £500-800.
Fridges like PORSLIN cost between £350-700 depending on capacity.
By mixing affordable IKEA basics with splurges on key appliances, you can outfit your kitchen nicely on a £2,000-4,000 budget.
What Are the Additional Costs for Installation?
When budgeting an IKEA kitchen, remember to account for delivery, installation, and any customization. Here's what to expect:
Delivery fees range from £29 for smaller orders up to £79 for large kitchen purchases.
Installation costs about £2,000 for a 10×10 ft kitchen. Independent contractors may charge less.
Custom cabinet fronts, handles, and modifications can add £500-2,000 to tailor the look.
Countertop installation is £200-500 depending on materials and complexity.
Plumbing and electrical work can cost £500-2,000 if contracted separately.
With planning, you can install an IKEA kitchen for £3,000-5,000 including appliances. Get quotes for installation and customization to help estimate costs.
What Is the Total Budget for an IKEA Kitchen Remodel?
Remodelling your kitchen with IKEA products can be an affordable way to get a fresh, updated look. Here's a breakdown of typical budget ranges:
Cabinets and hardware: £2,000 – £5,000
Countertops: £500 – £2,000
Appliances: £1,000 – £5,000
Sink and faucet: £200 – £1,000
Flooring: £500 – £2,000
Installation labor: £2,000 – £5,000
You can remodel a 10×10 kitchen for £6,000 – £15,000. Optimize your budget by mixing IKEA cabinetry with higher-end appliances and custom touches. Planning everything out and shopping sales can help cut costs too.
Focus your IKEA spend on essentials like storage and cabinetry. Then splurge on statement pieces like your sink, faucet or countertops. This balances affordability with the custom look you want.
FAQ
How much does it cost a kitchen in IKEA?
The average cost of an IKEA kitchen is around £2,950 for cabinets and countertops. However, total costs can range from £3,000 to £15,000 depending on size, materials, and appliances. IKEA offers affordable pricing, but the DIY assembly can add hidden costs if hiring a professional.
What is the average cost of an IKEA kitchen in the UK?
The average cost in the UK is between £ 5,000 and £15,000. This includes cabinets, countertops, appliances, installation and other costs. IKEA cabinetry starts at around £100 per linear foot.
Is IKEA or B&Q cheaper for kitchens?
IKEA is generally cheaper than B&Q for kitchen cabinets and countertops. The average cost is £2,950 while a comparable B&Q kitchen starts at around £4,000. However, B&Q offers installation services while IKEA's products require DIY or hired assembly.
Are IKEA kitchens cheaper than custom?
Yes, IKEA kitchens are significantly cheaper than custom-built kitchens. The average cost is £2,950 while a custom kitchen can cost £15,000 to £30,000. However, custom kitchens allow more flexibility in design, materials, and quality.
Conclusion
The average cost of an IKEA kitchen is around £2,950 for cabinetry and countertops, making it a budget-friendly option. With careful planning, it can be installed for under £5,000 total. Key factors in the total cost include size, choice of units, countertop materials, and appliances. While affordable, IKEA kitchens require assembly and lack customization. Weigh up quotes and get advice to find the best value kitchen for your needs.