This article provides a helpful breakdown of the average cost of adding a kitchen extension to your home in the UK.
With prices ranging widely based on size and quality, it's important to understand what goes into pricing this popular home renovation project.
How Much for Kitchen Extension?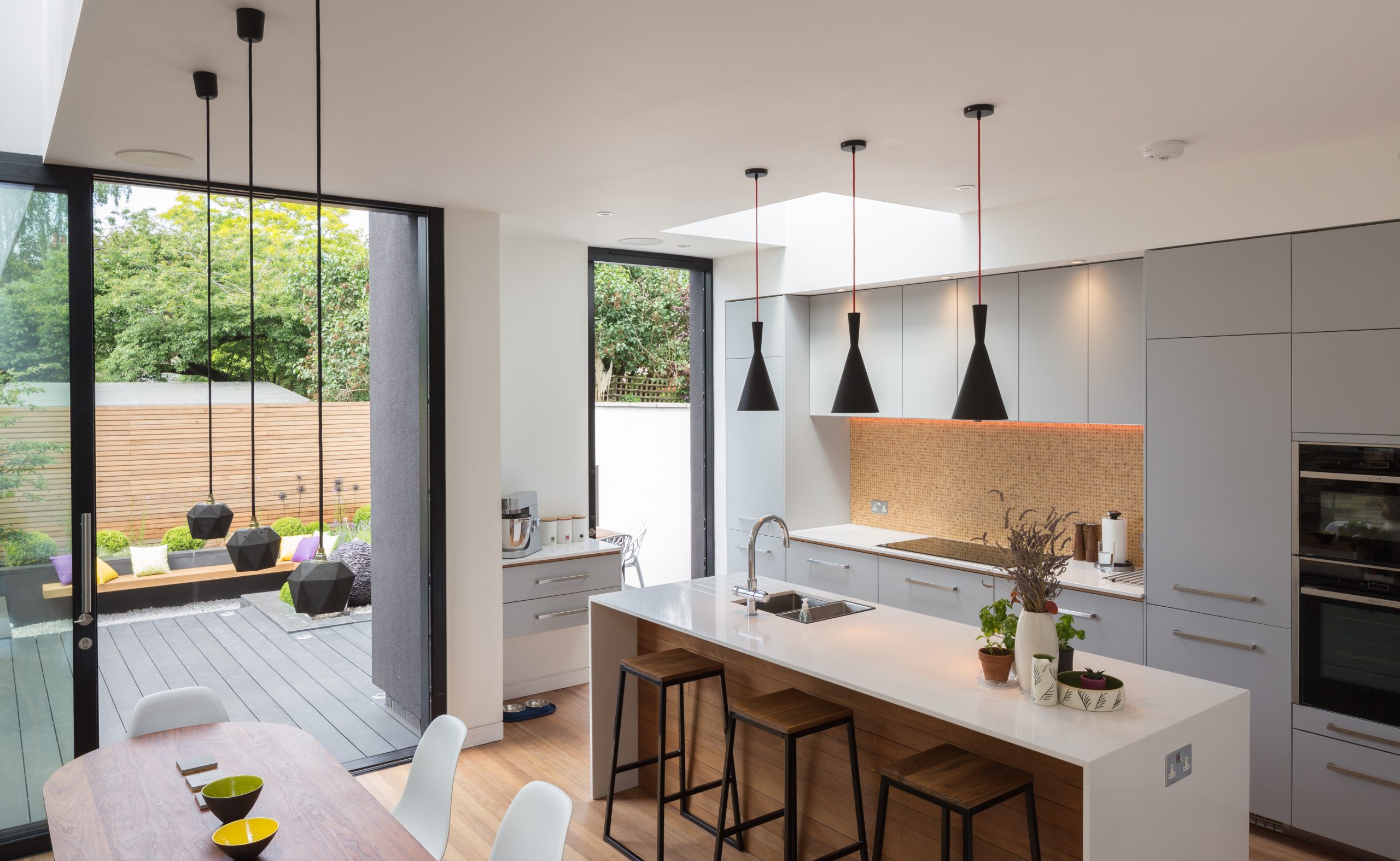 On average, a kitchen extension costs between £30,000 and £50,000 in the UK.
The final cost depends on the size, specifications and location of the extension. In London and the South East, prices are typically higher.
When budgeting, expect to pay around £1,100 to £1,400 per square metre for the build costs alone.
Key Points
Average cost is £30,000 to £50,000
Size, quality and location impact price
£1,100 – £1,400 per sqm for building costs
Our Opinion
Based on typical costs, we think most homeowners should expect to pay around £35,000 for a good quality, average-sized kitchen extension.
While a basic extension may cost less, it's worth investing more for better fixtures, appliances and layouts that will increase your enjoyment and home value.
Consider getting quotes from 3 builders to find the best deal.
Average Cost of a Kitchen Extension
The average cost of a kitchen extension in 2022 is around £30,000. However, prices can vary greatly depending on several factors:
Size – A small, basic extension can cost as little as £12,000, while a larger, bespoke extension with high-end finishes could cost up to £100,000.
Location – In London, expect to pay £25,000-£55,000. Costs are generally higher in the capital and South East.
Quality – The more luxurious the materials and appliances, the higher the price tag. Opting for high-end fittings rather than basic ones can add tens of thousands.
Labour – Builder rates can impact the overall cost. Paying for a general contractor vs. doing it yourself makes a difference.
Some key factors in determining price per square metre:
Building costs range from £1,100-£1,400 per m2
A kitchen diner extension can cost £1,500-£2,000 per m2
Architect and design fees average £2,250 per m2
For a 30 m2 extension, you may budget:
£30,000-£42,000 for construction
£5,100 for design
£4,320 for architectural services
Overall, for an average-sized kitchen extension in the UK, expect to invest around £30,000-£50,000+, with higher prices in London and the South East. Carefully weighing your must-haves versus wants will help guide your budget.
Factors Affecting Kitchen Extension Costs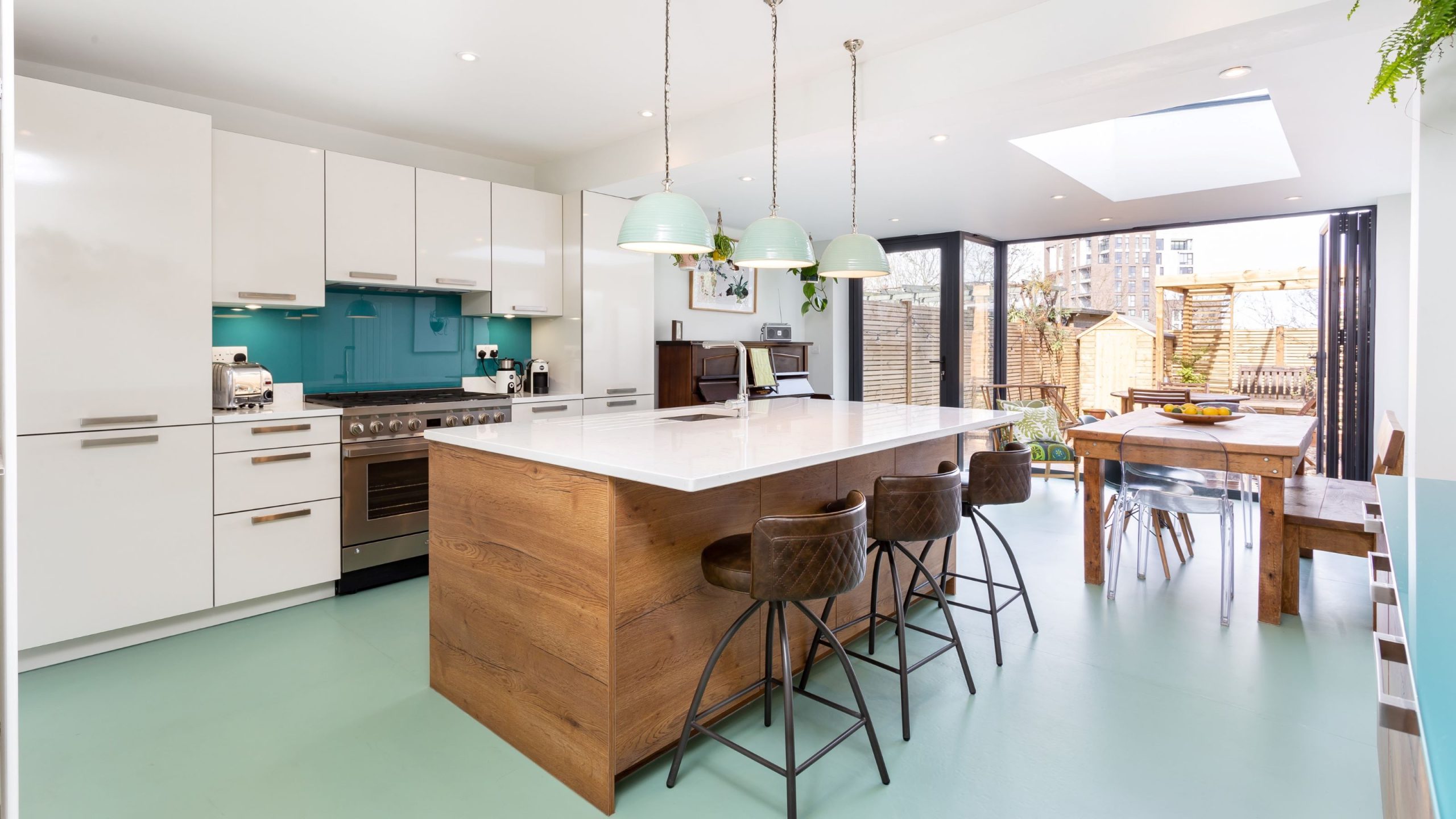 Many elements influence the total price tag for adding a kitchen extension. Being aware of these key considerations can help you plan and budget accordingly:
Size – The larger the extension, the more it will cost. Even a few extra square metres can add thousands.
Foundations – Extending onto a concrete base is simpler than digging new foundations, which adds significant expense.
Roof – A flat roof is usually cheaper than a pitched alternative, which requires added labour and materials.
Windows – More windows mean higher costs, especially if adding glazed doors or skylights. Opt for standard sizes.
Electrics – Rewiring, adding sockets, and installing new lighting add to the bill. Manage costs with LED bulbs.
Plumbing – Moving appliances and sinks plus installing waste pipes and water lines impact the budget.
Flooring – Tile and stone are pricier than laminate or vinyl. Look at remnant deals for bargains.
Appliances – Integrated or built-in appliances are convenient but cost more than freestanding.
Carefully thinking through your must-haves and making some thrifty choices where possible will help control expenses. Getting quotes from several builders is also wise to find the best value.
Budgeting For Your Kitchen Extension
Setting a realistic budget is key when adding a kitchen extension to your home. With careful planning, you can avoid cost overruns and keep the project affordable.
As a general guideline, a basic single-storey extension with a flat roof can be done for £15,000 – £25,000. More complex projects with larger dimensions, pitched roofs, and higher-end finishes can cost £2,000 – £3,000 per square metre.
To determine a ballpark figure, get quotes from builders outlining all projected costs. Be sure to factor in:
Construction materials
Labour and trade fees
Architect and planning permission expenses
Contingency funds for unforeseen costs
You may be able to trim expenses by supplying your appliances or doing basic prep work like demolishing old walls. Opting for more affordable finishes like laminate over stone can also help control costs.
Securing financing in advance is prudent to cover all projected amounts. Budget carefully and you can successfully transform your kitchen within your financial means.
Financing Your Kitchen Extension
Funding a kitchen extension can be daunting, but with the right approach, you can secure the money needed without breaking the bank.
If you have equity in your home, a home equity loan or line of credit is an option to tap into cash for the project. The interest rates are usually lower than other financing options.
Compare rates on personal loans from banks and credit unions. This lump sum can give you flexibility in how the funds are used.
0% interest credit cards offer 12-18 months to pay for the work interest-free. Just be sure to pay off the balance before the promotional period ends.
Remortgaging your home is another route to generate funds by increasing your existing mortgage. The lower interest rate could save money long-term.
Government schemes like the Green Homes Grant provide vouchers towards energy-efficient improvements like insulation, potentially lowering your overall costs.
Every financial situation is different. With research into the best financing options for your needs, you can make your dream kitchen extension a reality.
FAQ
How much does the average kitchen extension cost in the UK?
The average cost for a kitchen extension in the UK is around £30,000. However, prices can vary greatly depending on the size and specifications.
How much is it to extend your kitchen?
Extending a kitchen typically costs between £12,000 for a small, basic extension to £100,000 for a high-end bespoke extension. The average price is around £30,000.
How much does a kitchen extension cost in the UK in 2023?
In 2023, the average cost for a kitchen extension in the UK is expected to be around £32,000. This factors in inflation and rising material costs.
How much does a 30m2 extension cost in the UK?
A 30 square metre kitchen extension in the UK costs around £33,000 to £42,000 on average. This is based on average build costs of £1,100 to £1,400 per square metre.
Conclusion
In summary, the cost of a kitchen extension can vary greatly, with the average UK price being around £30,000. Key factors determining cost include the size, quality of materials and fittings, and location. When budgeting, expect to pay at least £30,000 for an average extension, with higher prices in London and the South East. Carefully evaluating your needs and obtaining quotes can help find the best value.