This blog post explains why moss tends to grow on roofs, especially in damp, shaded areas.
It outlines the conditions moss needs to thrive and spread and the potential problems it can cause for roof structures.
Why Does Moss Grow on Roofs?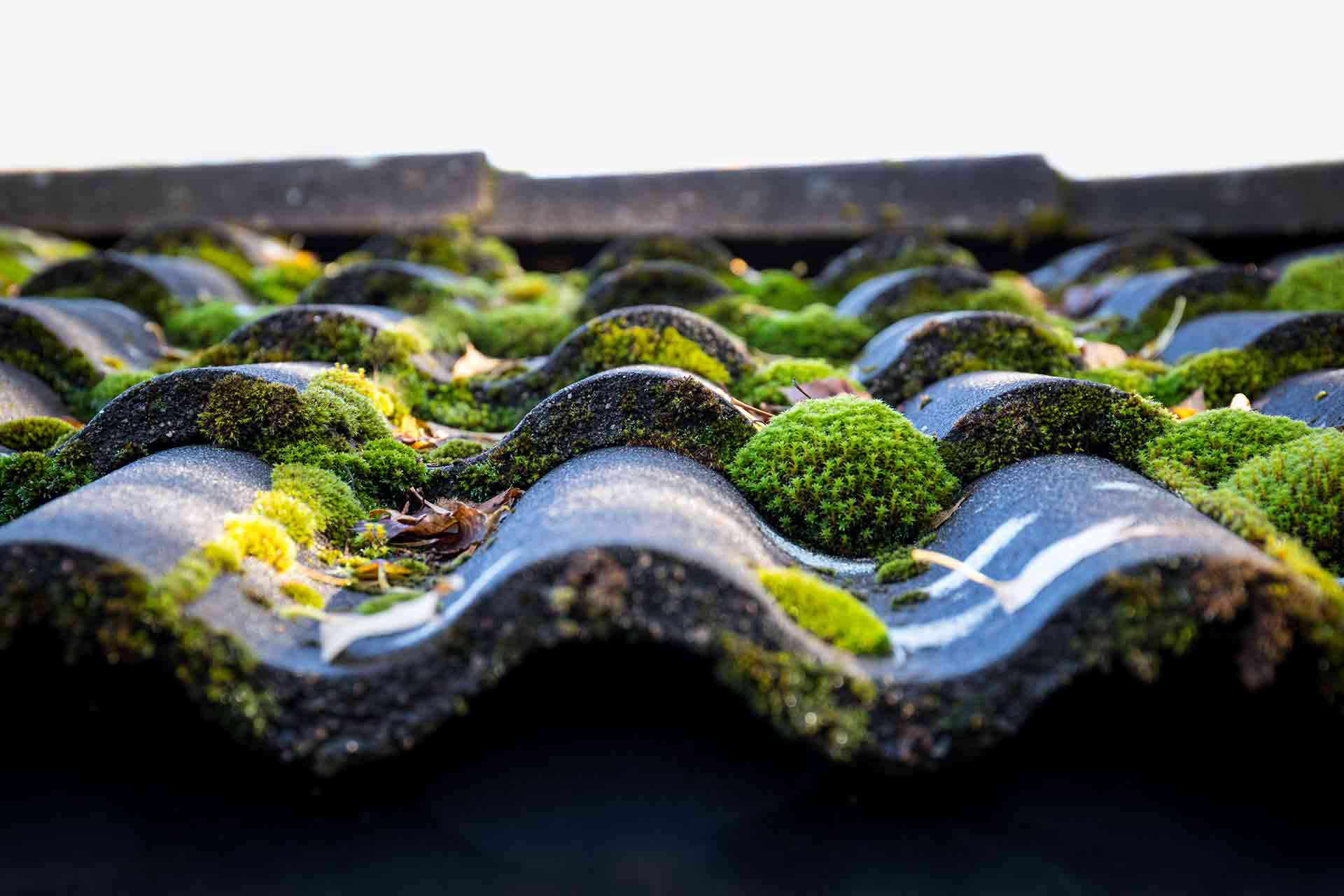 Moss growth on roofs is more likely to occur on damp, cool surfaces that receive little sunlight, particularly on north-facing tiled roofs. Moss, along with algae and lichen, can reach roofs through various means —carried on twigs, dropped by birds, or blowing from overhanging trees.
Once present, moss thrives due to the presence of moisture and organic debris. It spreads easily in wet, cold areas through spores. Moss particularly flourishes in shaded environments with high moisture levels.
However, moss on roof tiles can lead to multiple problems:
It can cause wood rot and block drainage points.
It weakens the roof structure and makes it look unattractive.
It is prone to spreading on concrete or clay roofs.
In summary, moss tends to grow on roofs with damp, dark conditions perfect for its growth and spread. Preventing moisture buildup and excess shade can help stop moss in its tracks.
Conditions That Cause Moss on Roofs
There are a few key conditions that create an environment ripe for moss growth on roofs.
Firstly, dampness and moisture are essential for moss to thrive. Roofs that tend to collect water or condensation provide the wet conditions moss needs. Flat or low-pitched roofs in particular can accumulate moisture.
Secondly, shaded areas of roofs with little direct sunlight allow moss to flourish. North-facing roofs or sections shaded by overhanging trees are prone to moss.
Thirdly, organic debris like leaves, twigs and dirt collects on roofs, giving moss nutrients to grow. Gutters clogged with debris create moist, nutrient-rich areas for moss.
Finally, certain roof materials like wood, concrete and clay provide good surfaces for moss to adhere to and spread across. Old or damaged roofing also allows moss to take hold.
In summary, dampness, shade, debris accumulation and porous roof materials together create prime conditions for moss growth on roofs. Controlling these factors can help prevent moss from gaining a foothold and spreading.
Problems Caused by Moss on Roofs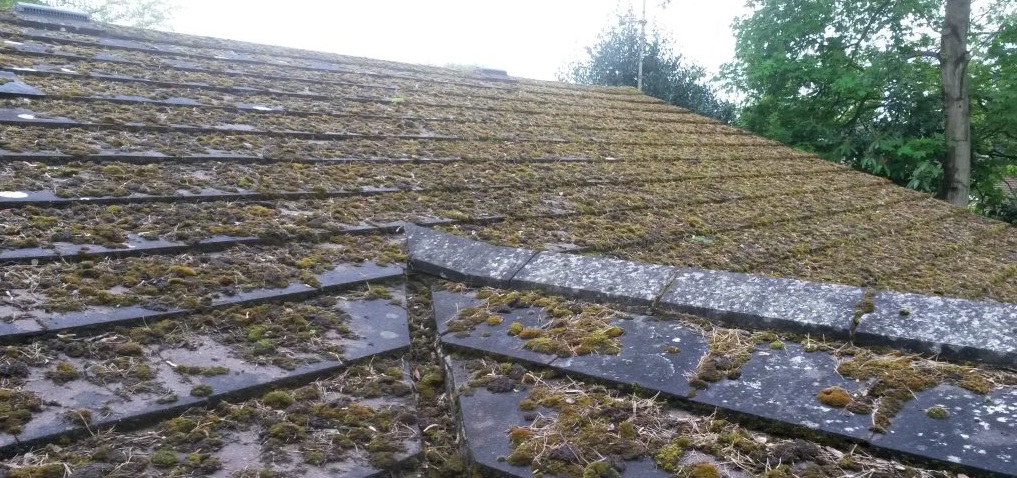 While moss may seem harmless, it can lead to several issues if left unchecked on your roof.
For one, moss retains moisture against the roof surface, which can cause rot and deterioration over time. This is especially problematic for wood shake or shingle roofs.
Moss also has abrasive rhizoids that dig into roofing materials, slowly damaging the surface. This creates entry points for water that can lead to leaks.
The added weight from moss growth places strain on roofs. This extra load can cause weak points or sagging.
Moss obscures issues below it, masking any cracks or damage. This prevents early repairs.
Thick moss layers hinder proper drainage, allowing water to pool. Standing water accelerates deterioration.
Finally, moss spores and debris falling from roofs can stain exterior walls and clog gutters. Overall curb appeal suffers.
In summary, neglected moss growth leads to accelerated roof wear, leaks, drainage problems, and a dingy appearance. Staying on top of moss removal protects your roof's integrity and aesthetics.
Removing Moss from Roofs
Once moss takes hold on your roof, removing it completely can be challenging but is important for roof health. Here are some tips to tackle moss removal:
Start by gently sweeping or raking away any loose moss and debris. This prepares the surface for treatment and removes some moss immediately.
Use a moss killer containing either zinc sulfate or iron sulfate. These chemically kill and loosen moss for easier removal. Apply evenly across the moss growth.
After allowing the treatment to work fully, use a stiff brush or broom to scrub off the dead moss. Sweep debris from the roof regularly while scrubbing.
For stubborn areas, carefully use a pressure washer on a low setting to blast away the remaining moss without damaging the roofing. Wear protective equipment.
Once the roof surface is clear, apply moss prevention solutions. Solutions like zinc strips inhibit regrowth. Re-apply yearly.
Maintain vigilance through regular roof inspections and moss removal. Catching regrowth early prevents heavy buildup. A moss-free roof is possible with diligence!
With the right tools and techniques, you can fully rid your roof of troublesome moss. Stopping regrowth is key for long-term roof health and beauty.
Preventing Moss Growth on Roofs
Once you've removed existing moss from your roof, it's crucial to take steps to prevent moss from returning and re-establishing itself. Here are some useful prevention tips:
Firstly, address areas where moisture collects and lingers. Improve drainage and gutter systems so water flows off the roof quickly. Fix any leaks promptly as well.
Prune back overhanging trees and branches. This increases sunlight exposure and airflow, creating a less hospitable environment for moss.
Install zinc or copper strips along ridges, edges and valleys. The metal releases ions that inhibit moss growth.
Apply moss-retardant solutions to the roof surface. Solutions containing zinc sulfate create an inhospitable pH balance for moss.
Remove debris from the roof regularly. Leaves, dirt and other matter trap moisture if allowed to accumulate.
Inspect the roof frequently, at least twice a year, for any small patches of new moss growth. Remove them promptly before they spread.
With vigilance and preventative measures, you can stop moss from taking over your roof again. A few simple steps can keep your roof healthy, moss-free and functioning at its best.
FAQ
How to stop moss growth on roofs?
Stop moss growing by improving ventilation, clearing debris, installing zinc strips, applying moss-killer chemicals or having the roof cleaned professionally.
What are the problems caused by moss growth?
Moss on roofs is a problem as it can damage roof tiles, cause leaks, block gutters and damage the roof structure over time.
Why does moss grow on roofs?
Moss growing on a roof usually indicates the roof is damp and shaded, providing an ideal environment for moss growth.
What are the conditions that cause moss on roofs?
In damp climates, moss can build up on roofs within 1-2 years if conditions are ideal for growth.
Conclusion
Moss tends to grow on roofs due to damp, shaded conditions. North-facing roofs are especially prone to moss growth. While moss may seem harmless, it can damage roof tiles and structures over time. Controlling moss growth through improved ventilation, clearing debris, chemical treatment or professional cleaning helps prevent leaks, rot and other problems.