This informative article tackles a common concern for UK homeowners — does moss damage roof tiles?
With insightful details on the problems moss can cause and how to prevent damage, it's a must-read for any homeowner dealing with moss growth on their tiled roof.
Does Moss Damage Roof Tiles?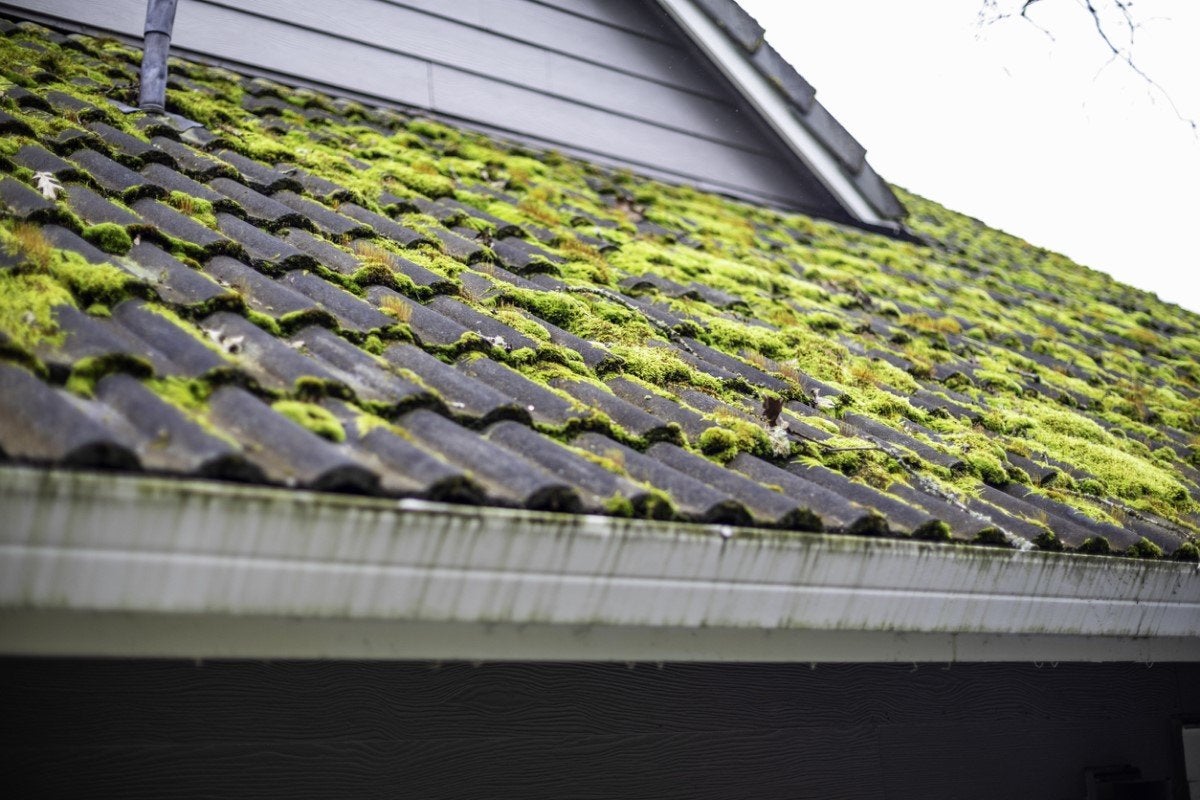 Moss itself does not directly damage roof tiles.
However, moss holds moisture against the roof, which can cause rot and deterioration of the wood under the tiles over time.
Moss can also clog gutters, leading to moisture issues.
So, while most won't directly damage or break roof tiles, the moisture and rot it causes can lead to tile damage down the line if left untreated.
Key Points
Moss holds moisture against the roof, causing rot and deterioration over time
Moss can clog gutters, leading to moisture damage
Rot and moisture issues can eventually cause tile damage
Our Opinion
In my professional opinion as a roofer, moss may not directly damage roof tiles, but it can lead to underlying issues that cause tile damage over time.
The moisture and rot from moss growth can deteriorate the roof structure and lead to leaks, broken tiles, and costly repairs down the road.
Hence, I always recommend having moss professionally removed from roofs to prevent avoidable damage and extend the roof's lifespan.
Taking care of moss growth quickly can save homeowners a lot of money and headaches in the long run.
How Moss Can Damage Roof Tiles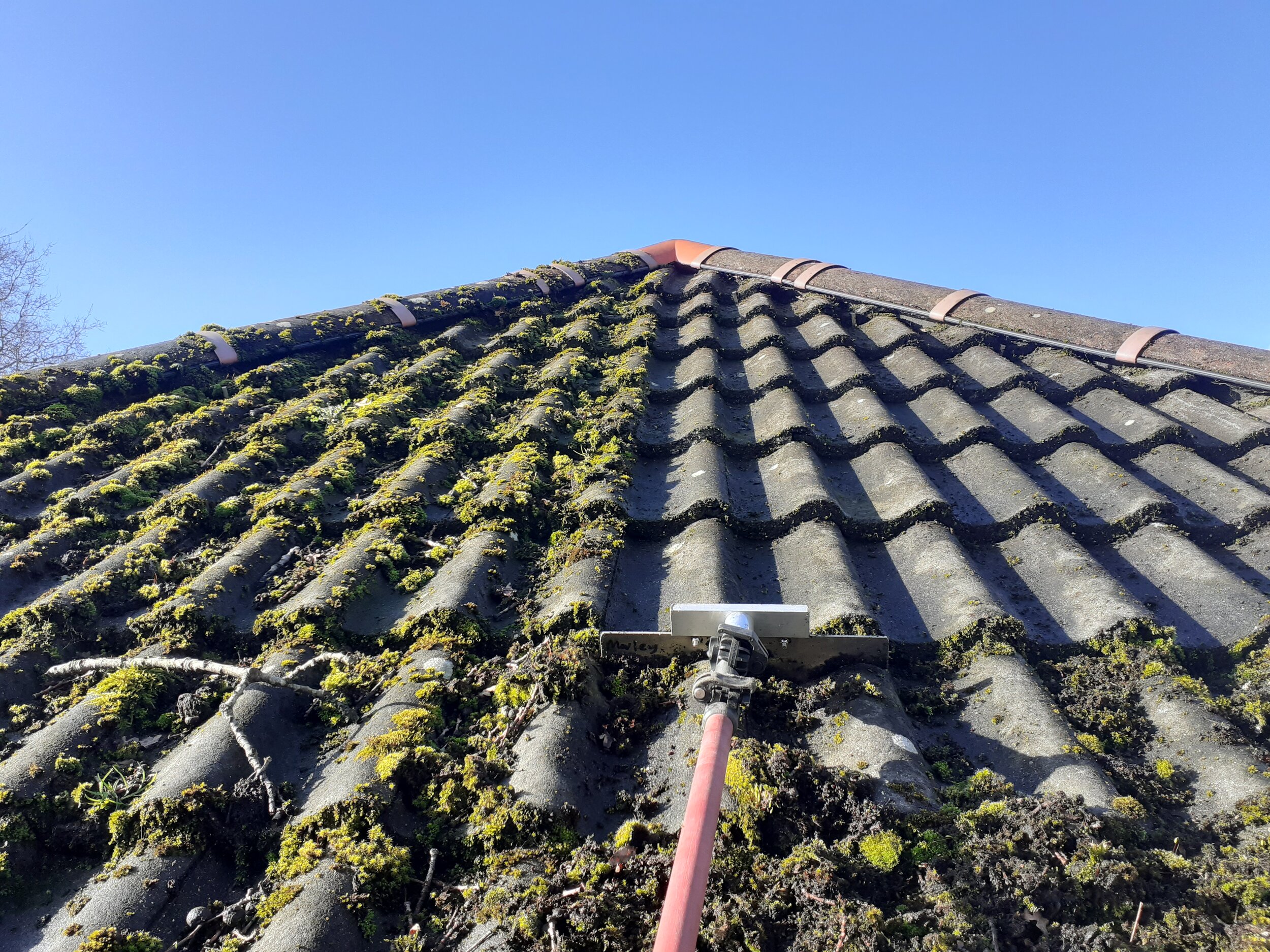 Moss itself does not directly damage or break roof tiles. However, untreated moss growth can lead to serious issues that reduce the lifespan and integrity of your roof.
Here are some key points on how moss causes secondary damage to tiled roofs:
Moss holds moisture against the roof, which can cause rotting and deterioration of the tiles, rafters and roof deck.
Thick moss growth blocks gutters and downspouts, preventing proper drainage. This can lead to moisture damage and leaks.
Moss spreads spores sticking to the roof, ruining its aesthetic appearance.
Removing moss improperly can damage tiles, especially if the moss has grown into the pores of the tiles via rhizoids.
Left untreated, moss can spread under tiles and cause leaks into the attic or inside walls.
So, while most won't directly break or crack roof tiles, it can still cause serious and costly problems. Preventing moss growth is crucial for extending the lifespan of a tiled roof and avoiding damage.
It's important to have moss removed by an experienced professional to avoid damaging the tiles during removal. They can also apply treatments to prevent the moss from quickly returning.
Preventing Moss Growth on Tiled Roofs
With some diligence, you can stop moss from taking over your tiled roof and avoid costly repairs down the road.
Here are effective ways to prevent moss growth:
Trim back any overhanging tree branches to increase sunlight and airflow. Moss thrives in shady, moist conditions. Improving ventilation keeps the roof surface drier.
Clean the roof at least once a year, either by yourself or by hiring a professional. Carefully remove any existing moss, debris and buildup without damaging the tiles. Spot treat problem areas with moss killer.
Apply a moss-inhibiting roof treatment after cleaning the tiles. These products contain zinc or copper sulfate which discourages moss growth. Reapply as needed per the manufacturer's instructions.
Keep gutters and downspouts clear of leaves and debris so rainwater can properly drain off the roof. Stagnant water feeds moss growth.
Inspect the roof regularly for any new moss growth and remove it before it spreads. Early intervention is key to successful moss prevention.
Installing zinc- or copper-based ridge tiles can also inhibit moss. The metal ions leach onto the roof and prevent spores from taking hold.
With vigilant maintenance and moss treatment, you can stop it from getting established and avoid major roof damage down the line.
Removing Moss from Roof Tiles
If moss has already taken hold on your roof tiles, taking action to remove it is important to prevent damage.
Here are some effective methods:
Use a stiff brush or broom to sweep debris and loose moss off the tiles. This takes care of surface growth and allows you to spot and treat more stubborn areas.
Apply moss killer to the remaining moss and allow it to penetrate for a few days before scrubbing with a brush. Repeated applications may be needed for thick moss.
For extremely heavy moss growth, a pressure washer can be used to blast it off the tiles. Take care not to damage the roof in the process. Adjust the pressure and test a small area first.
Scrubbing by hand with a tile scrubbing brush or abrasive pad also works to remove moss. Use a ladder to safely access all areas of the roof.
When moss removal is complete, apply a moss-inhibiting treatment to discourage regrowth. Copper or zinc strips can also be installed along ridges and edges.
Stay vigilant in checking for new moss growth and treat it early before major removal is needed again. Keeping your roof free of moss will extend its life and prevent costly repairs.
When To Call a Professional for Moss Removal
While DIY moss removal is possible in many cases, there are times when calling in a professional roofer is the best option.
If the moss growth on your roof tiles is extensive and has been neglected for some time, a professional may be better equipped to tackle the job. Thick moss that has embedded itself deep into the tiles can be difficult to fully remove through DIY methods.
Professionals have industrial-strength moss killers and specialized tools like rotating bristle brushes that can scrub tiles clean more effectively. They also have experience knowing how much pressure can be applied without damaging roof tiles or slate.
For moss removal at height or on a steeply pitched roof, professionals have the right safety gear and equipment to access all areas without risk of injury or falling. They can set up scaffolding as needed.
If there are signs of leaks, cracks, missing tiles or other damage that may have been caused by heavy moss growth, a roofer's assessment can identify issues needing repair.
To prevent moss from returning quickly, professionals can apply long-lasting moss inhibitor treatments. They can also install zinc or copper strips in vulnerable areas.
The investment of hiring a professional can pay off in completely clearing stubborn moss growth and restoring your roof's condition. Their expertise makes moss removal safer and more effective for severe cases or difficult access.
FAQ
Is it OK to leave moss on roof tiles?
No, moss should be removed from roof tiles. Left untreated, moss can cause issues like wood rot, blocked gutters, reduced roof lifespan, and damage from spreading spores. Moss also absorbs moisture which can lead to leaks.
Is it worth having moss removed from the roof?
Yes, having moss removed from your roof is worth it to prevent damage and issues like leaks, wood rot, blocked gutters, and reduced lifespan. Removing moss can extend the life of your roof.
Should moss be removed from roof tiles in the UK?
Yes, moss should be removed from roof tiles in the UK. Moss can cause issues like wood rot, blocked gutters, and damage. Removing moss helps prevent leaks and extends the roof's lifespan.
How do you get moss off roof tiles?
You can remove moss from roof tiles using a moss killer spray or scrub the moss off with a stiff brush. Power washing the roof with a pressure washer is also effective. For heavy moss growth, seek professional roof cleaning services.
Conclusion
In summary, moss growth on roofs is a common problem that should not be ignored. While moss itself does not damage roof tiles, leaving it untreated can lead to issues like wood rot, blocked gutters, reduced roof lifespan and leaks. It is recommended to have moss removed by professionals to prevent damage to the roof during the removal process. Henceforth, taking action to kill and remove moss will extend the lifespan of your roof.