Installing artificial grass in your garden can transform it into a lush, green space.
But before laying the turf, it's crucial to prepare the base properly for stability and drainage.
Here's a guide to levelling and compacting the ground for a successful artificial lawn.
What to Put Under Artificial Grass?
Silica sand infill and a crushed stone sub-base are recommended under artificial turf.
Weed barrier fabric and shock pads can also be used.
Proper drainage is key.
Key Points
– Crushed granite stone provides a stable sub-base layer
– Silica sand infills the blades to support and stabilize
– Weed barrier fabrics prevent unwanted growth
– Foam pads add cushioning under the artificial grass
Our Opinion
In my experience as a landscaper, a crushed stone sub-base and silica sand infill are the best options under artificial grass.
The stone supports the weight while allowing drainage, and the sand stabilizes the blades.
Using a high-quality weed barrier fabric is also advised to prevent unwanted growth.
With the right base and preparation, artificial turf can look great for many years.
Level and Compact the Ground
The base under your artificial grass needs to be smooth, firm and level. Any bumps or dips will show through the turf and make it uneven.
Start by removing any existing grass, plants or debris. Use a spade or garden fork to dig down 2-3 inches and loosen the soil. Break up any large clumps of earth with a rake.
Next, add a layer of sharp sand – this helps level the ground. Rake it out evenly across the lawn area, filling any hollows. Use a heavy roller to flatten down the surface.
Compact the ground by tamping it down with a plate compactor. This vibration packs the earth firmly. Go over the whole area several times to leave an even, flattened base.
Finish by raking over the compacted sand again. Use a straight-edge board to check for any remaining bumps or hollows. Fill in any gaps with more sand, re-raking and compacting until you have a perfectly smooth finish.
With the ground prepared, you can start laying the artificial turf. Having a stable, level base will give your new lawn a professional look and feel.
Add a Porous Aggregate Base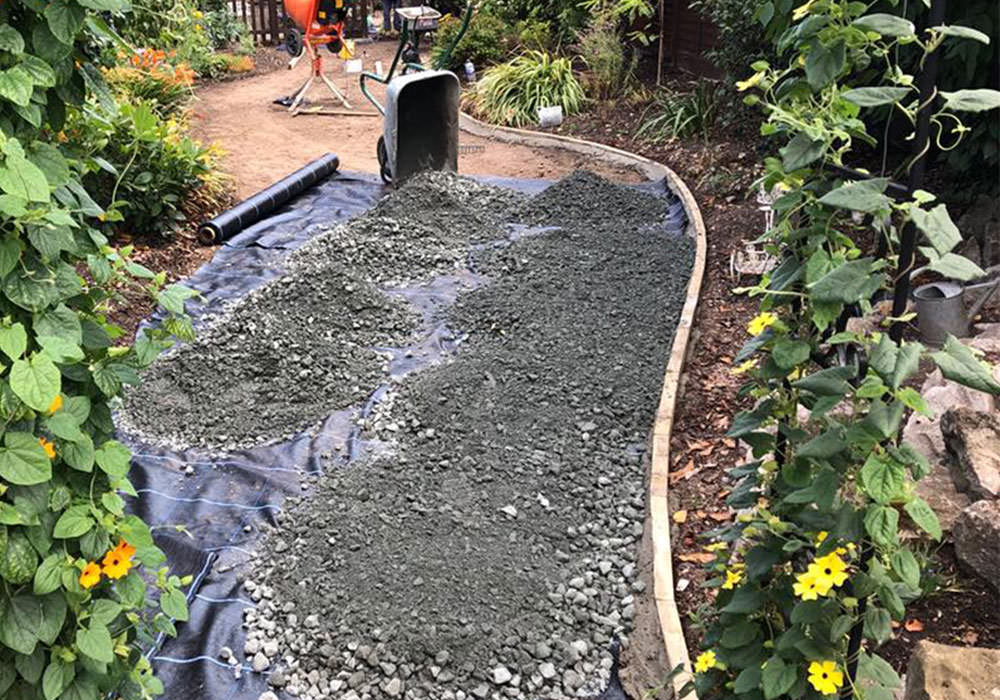 After levelling the ground, add a layer of porous aggregate like gravel or crushed stone. This will improve drainage under the artificial grass.
Spread the aggregate out evenly across the prepared base to a depth of 1-2 inches. Use a rake to smooth it out. Compact it down firmly with the plate compactor again.
The aggregate base creates gaps that allow rainwater to drain away, preventing puddles or flooding on your artificial lawn. It also provides extra stability and cushioning.
Be sure to use angular gravel or stone so the pieces interlock when compacted. Rounded pebbles may shift around under the artificial turf over time.
Adding this porous base layer is an important step before laying your artificial grass. Proper drainage will keep your lawn looking great for longer.
Install Edge Restraints
Once the base is prepared, it's time to install edge restraints around the perimeter of your artificial grass area. These help keep the turf in place.
You can use treated timber boards, concrete curbing, plastic or metal lawn edging. Bury this border about 1 inch into the ground around the edges.
For a natural look, opt for curved timber borders. Or for a modern garden, try sleek aluminium or steel edging strips. Concrete provides a sturdy edge but can look rigid.
The edging should be secured firmly in place. You can use steel pins or stakes to hold timber boards down. Concrete or plastic borders need glueing for stability.
Leave a gap of at least 2 inches between the restraints and any walls, fences or obstacles. This allows room for a seamless fit when laying the artificial turf.
Properly installing these restraints prevents the edges of the grass from lifting or shifting over time. It gives your new lawn a neat, tidy finish.
Add a Geotextile Membrane
The next step is to put down a geotextile membrane over the prepared base. This acts as a barrier to stop weed growth underneath the artificial grass.
Look for a membrane made of tightly woven polypropylene fabric. It should be porous to allow drainage but fine enough to block out light and stop plants from growing up through the turf.
Roll the membrane out across the base, leaving 2-3 inches extra around the edges. Overlap the joins by 6 inches and secure with staples or adhesive tape.
Avoid puncturing or tearing the fabric – any gaps could let weeds through. Carefully cut holes for drainage pipes or cables coming up through the base.
The membrane stops your lovely new lawn from becoming infested with weeds. It also prevents the drainage layer from becoming clogged over time. Well worth the small extra effort!
Final Checks Before Installing Turf
With the base prepped and the membrane installed, it's time for a final inspection before laying the artificial grass.
Do a walkover to check for bumps or hollows. Fill any dips with extra aggregate and compact it down. Level off any raised areas.
Ensure the entire area has a slight gradient to allow rainwater to drain away. Aim for at least a 1 in 100 falls across the lawn.
Check there are no sharp objects or stones that could damage the underside of the turf or affect how it lies. Remove any debris.
Make sure edge restraints are all fully secured. They will stop the grass from shifting around later on.
Finally, give the base a really good sweep to remove any remaining dust or dirt before you start to lay the turf. Now you're ready for the exciting bit – installing your lush new artificial lawn!
FAQ
What is the best base to put under artificial grass?
Silica sand is commonly used as an infill between blades of artificial grass to provide stability. Crushed granite is often used as a base layer under the turf.
What should you put down before laying artificial grass?
It's recommended to install a weed barrier fabric and/or shock pad under artificial turf before installation. This helps prevent weed growth and provides cushioning.
Do you put anything under artificial grass?
Yes, artificial grass requires a base layer like crushed stone or gravel and often has infill material like sand between the blades. Weed barrier fabric and foam pads can also be installed under artificial turf.
How do you prepare the ground for artificial turf?
The ground should be levelled, compacted and cleared of any debris or vegetation. Install a weed barrier fabric first, followed by a crushed stone base layer. The artificial grass can then be rolled out and secured. Infill material is brushed between the blades.
Conclusion
When installing artificial grass, proper base preparation is key. Using crushed granite stone as a sub-base provides stability. Weed barrier fabrics prevent unwanted growth. Infill materials like silica sand support the blades. Shock pads add cushioning. Ensuring proper drainage under the turf is also essential. With the right base layers and preparation, artificial grass will look great for years.