Choosing the right paint for your bathroom can seem overwhelming with so many options available.
This guide breaks down everything you need to know about picking the perfect paint to withstand moisture and prevent mould in your bathroom.
What Paint to Use in a Bathroom?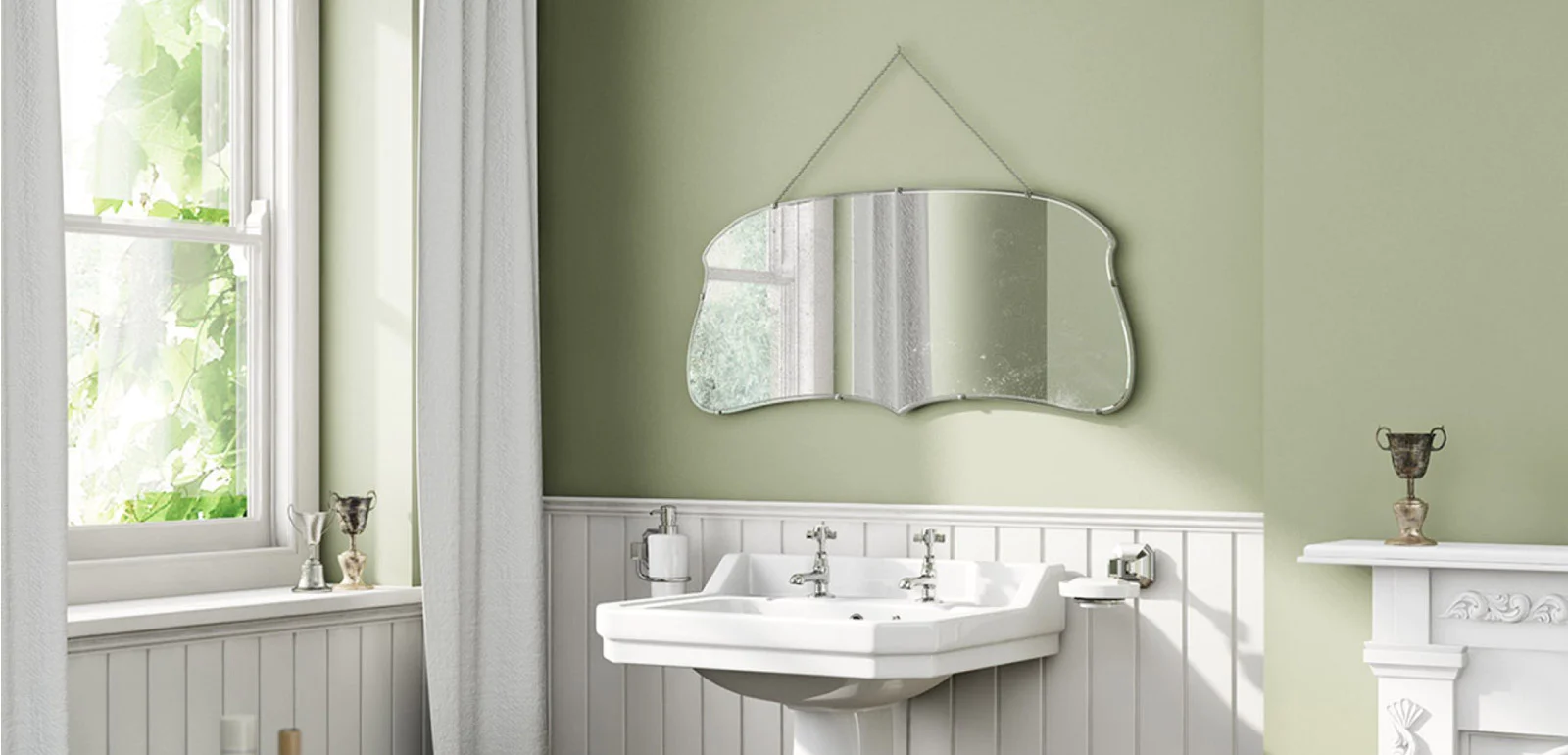 A satin or semi-gloss paint with mildew-resistant additives is the best choice for painting bathrooms.
The higher sheen allows moisture to bead up and these finishes are scrubable. Look for acrylic paints made specifically for high-humidity bathrooms.
Key Points
Use satin, semi-gloss, or gloss paint in bathrooms
Look for mildew-resistant bathroom paints
Higher sheen paints withstand moisture better
Our Opinion
In my opinion as a painting expert, semi-gloss acrylic paint is the top choice for bathrooms.
It resists moisture, cleans up easily, and has a nice smooth finish.
Be sure to prep surfaces properly and opt for mould-resistant bathroom paint for best results.
Proper prep and the right paint will give you a bathroom that has been freshly painted for years.
What Type of Paint to Use in a Bathroom
When it comes to picking paint for a bathroom, you'll want to choose a finish designed specifically for high-moisture areas. The best options include:
Satin – This soft sheen helps hide flaws in the walls while still being easy to clean. It's a great middle ground between flat and gloss.
Semi-Gloss – With a bright, shiny finish, semi-gloss reflects light and resists moisture, making it ideal for damp areas. It's easy to clean but shows imperfections.
Gloss – The most moisture-resistant option, gloss paint creates a shiny, light-reflecting surface. It highlights any flaws in the walls and can feel slick when cleaning.
No matter which finishes you choose, look for paint labelled as "bathroom" or "kitchen" paint, as these will contain mould/mildew-resistant additives. Acrylic latex paints also hold up well in steamy rooms. And don't forget the primer – it will help the paint adhere better.
Consider where each type of paint works best. Satin is suitable for walls and ceilings, while semi-gloss can be used for trims, windows and doors. Gloss highlights features like cabinets and tiles. Choose the right finish for each surface.
With preparation and the proper paint, you can achieve a fresh, moisture-proof look in your bathroom. Just take your time and opt for products designed specifically for high-humidity environments. The right paint will withstand the test of time.
Best Paint Finishes for Bathrooms
When selecting a paint finish for your bathroom, you'll want to consider how each option stands up to moisture, condensation and mould. Here's a closer look at the best paint finishes for bathrooms:
Eggshell – With a soft, velvety appearance, eggshell resists moisture well. It also hides imperfections in walls and ceilings. Easy to clean and touch up.
Satin – The most popular paint finish for bathrooms. Satin withstands humidity while still being scrubbable. It reflects some light to resist mould and mildew.
Semi-Gloss – Its high sheen resists condensation and steam. Semi-gloss is ideal for trim, doors, windows and other high-wear areas. Shows flaws in the walls.
For best results, use satin or eggshell paint on walls and ceilings, and semi-gloss for trim and fixtures. Make sure to prep surfaces thoroughly – sand, patch holes, and prime. This helps the paint adhere.
Look for mould/mildew-resistant paints made specifically for bathrooms and high-humidity areas. Top brands like Dulux, Leyland and Crown offer quality bathroom paints. An acrylic latex formulation is your best bet.
With the right prep work and paint finish, your bathroom surfaces will stay looking fresh. The key is choosing a style that can withstand moisture and frequent cleaning.
When selecting paint for your bathroom, it's crucial to choose a moisture-resistant formula. Here are some of the top options:
Dulux Bathroom+ – This waterproof, mould-resistant paint comes in different sheens like eggshell and soft sheen. It's designed to withstand steam and condensation.
Leyland Trade Steracryl – An acrylic emulsion paint made specifically for bathrooms and kitchens. Its anti-mould formula prevents walls from harbouring mould and mildew.
Crown Trade Clean Extreme – This versatile paint has BioCote technology to inhibit mould growth. It's available in matte, eggshell and semi-gloss finishes.
Tips When Selecting Paint for Bathrooms
Look for paints labelled as "bathroom" or "kitchen & bathroom" paint. Check that they offer mould/mildew resistance and waterproofing abilities. An acrylic or acrylic emulsion formula works best.
For super moisture-prone areas like around the tub or shower, some painters recommend using bathroom tile sealants over paint. This added protection prevents moisture damage.
Investing in the right moisture-blocking paint for your bathroom helps ensure surfaces stay looking fresh and clean. With fewer touch-ups needed, it saves you time and hassle in the long run.
When selecting bathroom paint, you'll also need to decide between oil-based and latex (water-based) paint.
Oil-based paints provide excellent adhesion and durability. However, they take longer to dry, have a strong odour, and require mineral spirits for cleanup. Latex paints dry faster, have a low odour, and clean up with water. But they may not adhere as well in steamy bathrooms.
Here are some tips for choosing between the two:
For high-moisture areas like around tubs and showers, oil-based paints resist moisture better.
For painting previously coated surfaces, latex paint works well.
For painting cabinets and trim, oil-based paints provide a harder finish.
If you need to paint during colder months, latex may not cure properly below 50°F.
Consider priming first, then using latex paint for easier cleanup. Or use an oil-based bathroom paint with built-in primer. Test paint swatches first to ensure proper adhesion.
The right prep work and paint formulation will provide a durable, moisture-resistant finish for your bathroom surfaces. Consult with knowledgeable paint specialists for product recommendations.
Top Recommended Paint for Bathrooms
When selecting the right paint for your bathroom, you'll want to consider some of the top brands recommended by painting professionals.
Dulux and Crown are two trusted British paint brands that offer quality latex and oil-based bathroom paints. Dulux's Diamond Eggshell is a popular mid-sheen latex option, while Crown's Bathroom Emulsion is formulated to withstand humidity and condensation.
Farrow & Ball estate paints are an upmarket choice, with options like Modern Emulsion providing a durable and scrubbable finish. Little Greene offers an extensive collection of traditional and modern paint colours if you want something more unique.
For budget-friendly options, B&Q's brand of bathroom paints offers good value without compromising on quality. Look for their bathroom emulsions which are designed to cope with moisture and humidity.
When researching brands, check reviews and product details to ensure the paint is specially formulated for high-condensation areas like bathrooms. Consider finish – eggshell or satin is often recommended. And don't forget the prep work – make sure surfaces are properly cleaned and primed first.
Choosing the right trusted brand along with proper prep will give you a bathroom paint job that withstands the steamy conditions. Consult with knowledgeable paint specialists for recommendations on brands and products.
FAQ
What type of paint is best for bathrooms?
A satin, semi-gloss, or glossy finish paint with a mildew-resistant additive is the best type of paint for bathrooms. These paint finishes stand up well to moisture and are easy to clean.
Do you need special wall paint in the bathroom?
Yes, it's best to use bathroom-specific paint that has moisture-resistant properties and additives to prevent mildew growth. Regular wall paints are not formulated for the humidity of bathrooms.
Can you use normal emulsion in a bathroom?
Using regular emulsion paint in a bathroom is not recommended. The humidity will cause it to peel and flake off the walls. An acrylic emulsion bathroom paint is a better choice.
Can I use normal Matt paint in the bathroom?
No, regular matt paint absorbs moisture and will not hold up well in a bathroom environment. Use a bathroom-specific matt paint with mildew-resistant additives instead.
Conclusion
When choosing paint for a bathroom, look for a finish designed to withstand high humidity and moisture levels. Satin, semi-gloss, and gloss paints create a protective barrier that prevents peeling and mildew growth. Be sure to use mould-resistant bathroom paints formulated for steamy environments to get the best results.