This blog post delves into what rendering in construction means, how the process works, and how it differs from plastering.
What Is Render in Construction?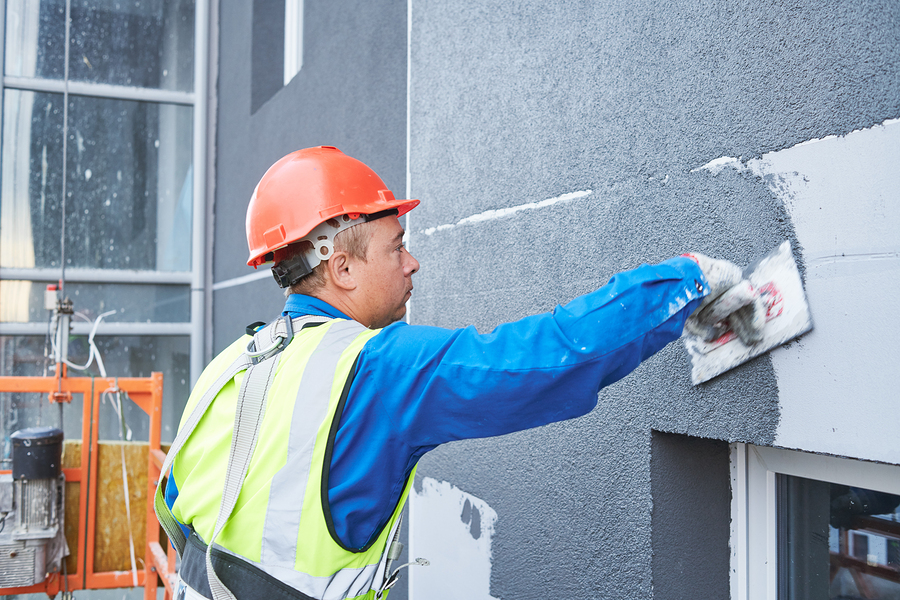 Rendering involves applying a cement-based mortar mix to the exterior or interior walls of a building.
It serves as a protective coating and decorative finish. Externally, render provides weatherproofing and insulates the walls.
Internally, it creates a smooth, seamless surface. The main ingredients in render are cement, sand, lime and water.
The render is applied in one or two coats to level the surface.
Key Points
Render is a mortar mix of cement, sand, lime and water used as a coating on walls
It provides weatherproofing, fire resistance and an attractive finish
Render is applied to the exterior and sometimes interior walls of buildings
Our Opinion
Render is an extremely useful building material that has been used for centuries around the world.
It is a versatile and cost-effective way to improve the appearance and durability of any building.
Hence, we highly recommend rendering for creating a protective finish on external brickwork or concrete.
With the right preparation and application, rendered walls can last for decades.
Rendering in Construction
Render is a cement-based coating applied to the exterior walls of a building. It provides a decorative, protective finish, and weatherproofing qualities. Render consists of a sand and cement mix, sometimes with a dash of lime added. Then, water is combined to form a plaster or mortar consistency that can be trowelled onto the wall surface.
Applying render is a common technique in construction and renovation. It serves several purposes:
Creates a smooth, textured or patterned finish over brick, concrete or stone walls
Seals the wall from water penetration
Provides an extra layer of insulation
Enhances the aesthetic appeal of a building
The exterior cement render is often finished with a lick of paint, typically in white or pastel shades. However, you can also achieve different looks by using natural, tinted or acrylic finishes. Render gives a uniform surface and neat appearance to patchy or imperfect walls.
Generally, rendering the outside walls of a building is a common technique in new builds and renovation projects. It's applied as a two-coat system, with the base coat providing most of the weatherproofing and strength. Thus, the top "finishing" coat creates a decorative finish.
Why Is Render Used in Construction?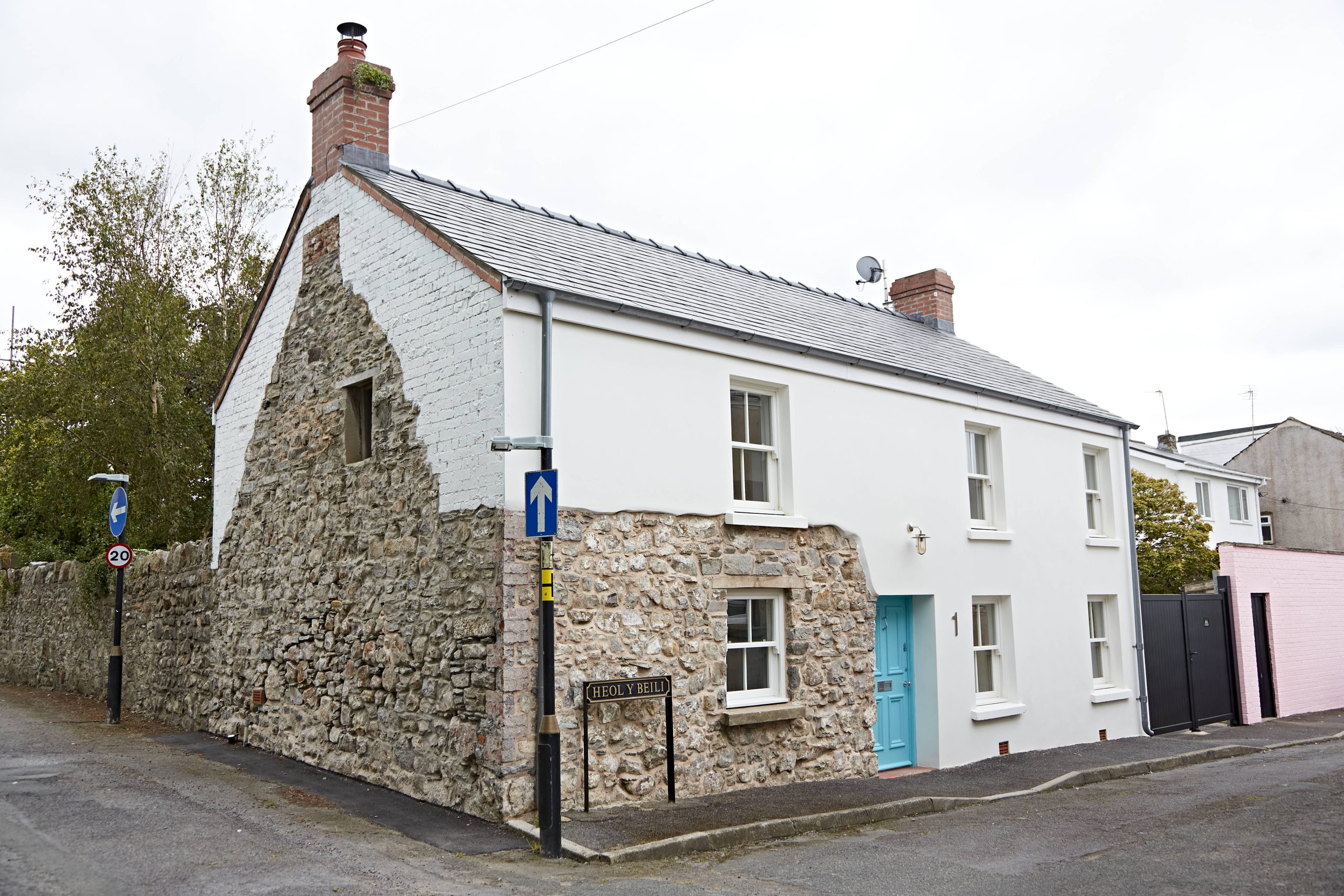 There are several key reasons render is commonly used in construction projects:
It creates an attractive, uniform finish – Render provides a consistent decorative look to exterior walls. The smooth rendered surface can be painted any colour or finished with decorative techniques such as bagging or textured rollers.
Weatherproofing – The cement-based render forms a water-resistant barrier, protecting the building from wind and rain penetration. This helps prevent damp issues.
Insulating qualities – The extra rendered layer adds thermal mass, helping regulate interior temperatures. This also improves energy efficiency.
Durability – Once cured, cement render is very durable and low maintenance. It withstands weathering better than bare brick or blockwork.
Versatility – Render can be applied to almost any type of wall construction, including concrete, stone, brick and hollow blocks. It provides a uniform finish over uneven surfaces.
Fire resistance – Cement render is non-combustible, so it increases a building's fire rating.
In summary, render is one of the most versatile and commonly used finishes in construction. Its decorative, protective and insulating properties make it an ideal solution for exterior walls. Render provides long-lasting aesthetics and improved building performance.
How Does the Rendering Process Work
Applying render is a multi-step process that requires some skill to get right.
Firstly, the substrate needs to be prepared properly. This involves cleaning the walls, fixing any cracks or holes, and applying a render base coat. The base coat provides a key for the render to adhere to.
Then, the render itself is mixed. Traditionally, this was done with sand and cement, but premixed polymer-modified renders are common today. These have improved flexibility and adhesion. The render mix is blended with water to a workable consistency.
Finally, once the final layer has cured, the render can be finished in different ways. You may apply a simple paint or texture, or more decorative finishes like pebble-dash, bagging, stippling or scraping. Careful finishing work is needed to create a uniform appearance.
Rendering is labour-intensive and requires some skill, so it's usually best left to experienced tradesmen. Correct product selection and application are crucial to achieve a long-lasting, quality render finish.
What Are the Different Types of Exterior Eender?
There are a few main types of render used on external walls in the UK.
Cement renders consist of cement, lime, sand, and water. They provide good weather resistance but are prone to cracking. Adding polymer modifiers improves flexibility and adhesion.
Acrylic renders contain acrylic polymers instead of cement. They are highly flexible, water resistant, and faster drying. However, they can be more expensive.
Silicone renders use silicone resins for an extremely waterproof finish. They have excellent resistance to algae and fungi but require expert application.
Monocouche renders are pre-mixed, one-coat renders that combine cement and polymers. They are quick and easy to apply. Colour can also be added to avoid the need for painting.
Brick slips or stone cladding provide a traditional facade. Real or reconstituted brick or stone pieces are fixed over a backing render.
Difference Between Rendering and Plastering
Your choice depends on budget, appearance, performance needs and application type. Many factors like substrate, exposure and detailing affect suitability.
Render and plaster serve similar purposes in construction but have some key differences.
Renders are applied to external surfaces while plaster is used internally. Renders have higher durability to withstand weathering. They also contain aggregates for strength and texture.
Plaster provides a smooth decorative finish on walls and ceilings inside. It relies more on lime or gypsum binders rather than cement. The finishing coats are finer with no aggregates.
Application techniques also vary. Plastering involves several coats from coarse base coats to fine finish coats. Renders are generally single-coat systems or two coats maximum.
Renders can be applied to a wider range of backgrounds compared to plaster. Blockwork, concrete, stone and sheeting can all be rendered.
Performance requirements differ too. Renders need good weatherproofing while plasters focus on appearance, fire resistance and sound insulation.
While renders and plasters share some qualities, their differing uses mean formulation, application and appearance can vary significantly.
FAQ
Is render just cement?
No, render is a mixture of cement, sand, lime and water. The exact ratio depends on the type of render.
What is the difference between render and plaster?
Render is a thicker, coarser coat used on external surfaces. Meanwhile, plaster is a finer coat used for internal surfaces.
Is render just sand and cement?
Render contains sand and cement, but usually also lime and water. The lime helps the render set and provides more flexibility.
Is render the same as mortar?
No, mortar is used to bind bricks or blocks together. Render is a surface coating applied on top of the bricks or blocks.
Conclusion
In summary, rendering is an important process in construction for protecting and decorating exterior walls. It involves applying a thick coat of mortar made from cement, sand, lime and water. Render provides a weatherproof, fire-resistant and attractive finish. It is an alternative to brick or other types of cladding. So, understanding the differences between render, plaster and mortar is key. Render is a versatile, hardwearing building material used globally in both modern and traditional architecture.