This article explains what rainscreen cladding is, its key components, and the benefits it offers over traditional cladding methods.
What Is Rainscreen Cladding?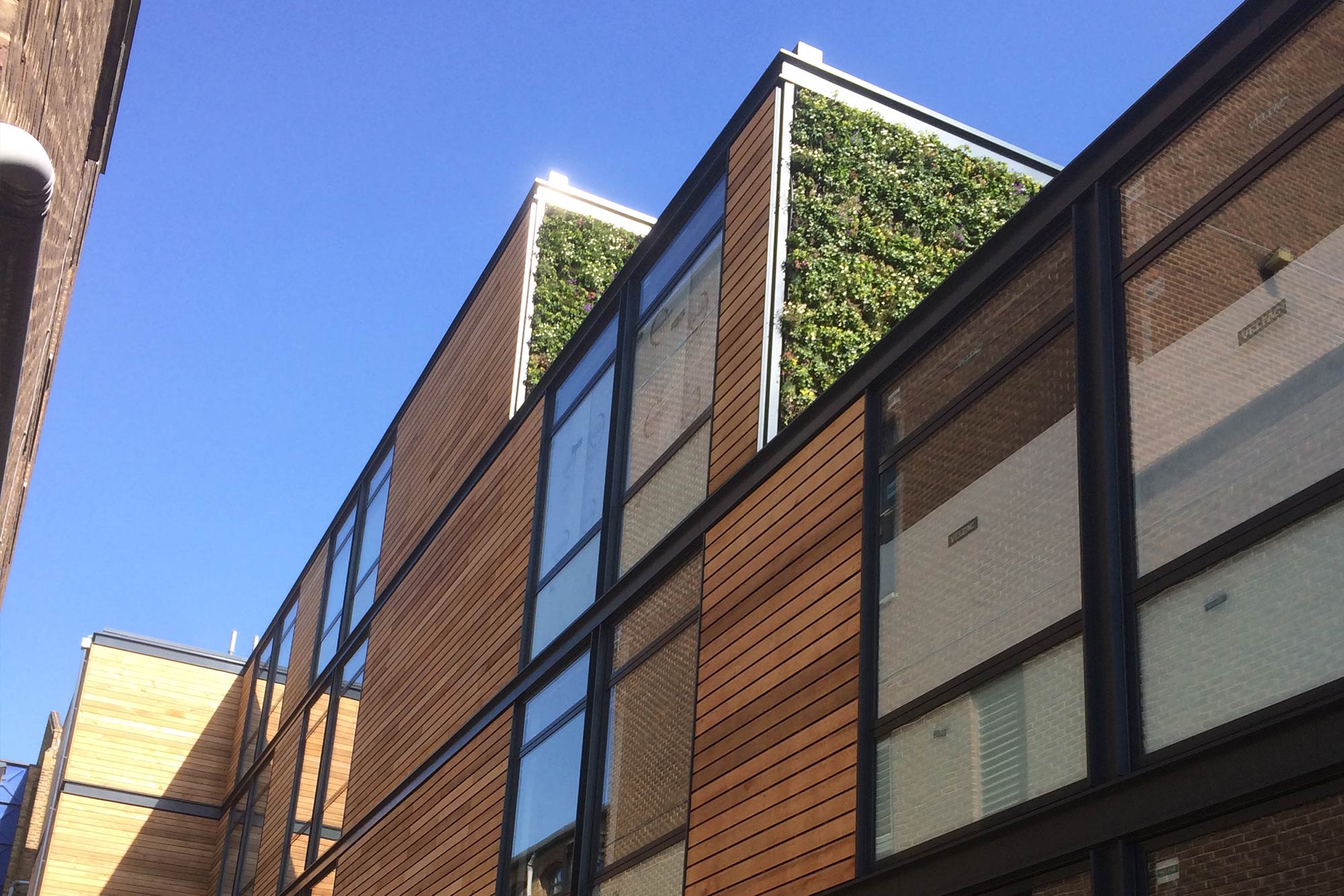 Rainscreen cladding is an external double-wall façade system that protects buildings from weather and moisture.
An inner layer forms an airtight insulated backing wall.
An outer layer of panels creates a ventilated cavity that allows water drainage.
Key Points
Rainscreen cladding consists of an outer decorative layer and an inner airtight layer.
It creates a ventilated cavity that allows moisture drainage.
Rainscreen systems provide weather protection and thermal benefits.
Our Opinion
In my opinion, rainscreen cladding is an excellent choice for modern construction.
The ventilated design effectively controls rain penetration and humidity.
Rainscreen facades also allow creative use of materials like metal, stone, and composite panels.
While more expensive than traditional cladding, rainscreen systems save costs over time through durability and energy efficiency.
I would recommend rainscreen cladding for many building types, especially in damp climates.
What Is a Rainscreen Cladding System?
Rainscreen cladding refers to an external double-wall façade system where the outer cladding panels are separated from the inner building wall by an air cavity. The panels are attached to rails or brackets to create a ventilated, pressure-equalized cavity between the cladding and the inner insulated wall. This double-skin façade construction protects buildings from wind, rain and sunlight.
— The outer cladding panels, made of materials like metal, glass, timber or terra cotta, form a decorative, water-shedding surface. They shield the main wall from rain penetration.
— The ventilated cavity behind allows any moisture or condensation to drain out. It also equalizes the air pressure to reduce wind loads on the façade.
— The inner insulated wall provides an airtight, thermally efficient backing to control heat loss or gain.
This layered rainscreen system is superior to conventional façades. The ventilated cavity moderates external temperatures before they reach the inner wall. This cooling effect improves energy efficiency. Rainscreen construction also protects interiors from moisture damage and prevents surface staining.
Rainscreen systems are commonly seen on modern high-rise buildings but can be adapted for residential projects too. They allow great design flexibility with a choice of materials for visual impact. When installed correctly, rainscreen façades are durable and low maintenance.
How Does Rainscreen Cladding Work?
Rainscreen cladding relies on an ingenious, multi-layered construction to protect buildings. Here's a look at how the different components work together:
— The outer cladding is the first line of defence. It sheds water effectively using overlapping panels, gaskets and clever detailing. The ventilated cavity provides a drainage plane behind the panels.
— Airflow behind the cladding equalizes wind pressure. This alleviates wind suction stresses on the panels. The cavity depth and ventilation openings are designed to optimize this effect.
— The airtight inner wall acts like a thermal blanket. Insulation minimizes heat loss/gain and prevents interstitial condensation within the rainscreen cavity.
— The cavity between the cladding and the inner wall acts as a moisture buffer. Any residual moisture is carried away through drainage channels at the base of the wall. This keeps the main structure dry.
— The cladding rails anchor the system securely to the inner wall. Thermal isolators on the brackets minimize cold bridging through the rainscreen system.
Proper detailing and integration of all these elements is crucial for optimum rainscreen performance. When designed and installed correctly, rainscreen façades provide effective weatherproofing, outstanding thermal efficiency, and moisture control.
Benefits of Rainscreen Cladding
Rainscreen cladding offers many advantages over conventional façades:
— Superior weather resistance. The ventilated cavity handles wind-driven rain far better than exposed walls or barrier systems. Multi-layer construction provides exceptional redundancy against water ingress.
— Improved thermal performance. Insulation is uninterrupted and continuous in rainscreen systems. This prevents thermal bridging through the structure. Airflow behind the cladding enhances insulation effectiveness.
— Better moisture control. Any residual moisture is quickly drained out of the cavity. This maintains a dry condition around structural elements, preventing degradation.
— Lighter and faster construction. It is possible to use lighter materials because the outer cladding is non-load bearing. Installation is simple and rapid too.
— More design freedom. Rainscreens accommodate a vast range of cladding looks and materials. Curved shapes, angled facades, metal panels, terra cotta, composite materials and more are all possible.
— Lower life cycle costs. Rainscreen walls need minimal maintenance over decades of service. Thermal efficiency also reduces HVAC costs. Overall, rainscreen cladding provides outstanding value for money.
Key Components of Rainscreen Cladding
A complete rainscreen cladding system is made up of several key components:
— The outer layer of cladding. This can be metal panels, glass, natural stone, composite materials, terracotta, fibre cement, and more. Through brackets and rails, the cladding is attached to the underlying structure.
— Insulation placed behind the cladding. Mineral wool and rigid foam boards are common choices offering excellent thermal performance.
— Air and moisture barriers. These membranes prevent airflow into the wall cavity and block liquid water penetration.
— Sheathing boards. Cement fiberboards provide a smooth backing surface for the various barriers and insulation.
— The metal framework. Aluminium rails and brackets provide adjustable support for the cladding while creating the ventilated cavity.
— Structural wall system. This is commonly a steel or concrete frame. Mass timber and masonry are also used in some buildings.
Proper detailing and installation of these components are crucial for rainscreen walls to function as intended. Consult qualified architects and cladding contractors when planning your project.
Selecting Materials for Rainscreen Cladding
When selecting materials for your rainscreen cladding, you have numerous options to create the desired aesthetic. Some of the most popular choices include:
— Metal panels made from aluminium, zinc, copper, stainless steel, and coated steel. These offer sleek, modern visuals and high durability.
— Terracotta or ceramic tiles provide a classic, handcrafted appearance. Glazed and unglazed finishes are available.
— Fiber cement boards give a stucco-like look while resisting moisture damage. Paints and stains allow for colour customization.
— Composite materials like aluminium composites, high-pressure laminates, and fibre-reinforced polymers blend properties of multiple materials into one cladding.
— Natural stone veneers bring elegance with options like granite, limestone, and sandstone. Performance coatings guard against weathering.
— Glass panels, either glazed or textured, deliver unique translucency and visual depth. Backlighting creates intriguing nighttime effects.
— Wood planks can be an attractive sustainable choice. Proper treatment and maintenance for exterior use are required.
The rainscreen principle allows considerable flexibility in materials. Consult designers to select the ideal cladding for your specific project goals and location.
FAQ
What does rainscreen cladding do?
Rainscreen cladding creates a ventilated cavity behind the exterior cladding panels to allow moisture to drain out. This protects the building from water penetration.
What is the difference between rainscreen cladding and cladding?
Rainscreen cladding has an air gap between the exterior panels and the interior wall, while regular cladding attaches directly to the sheathing or studs. The air gap allows moisture to drain.
What material is rainscreen cladding?
Rainscreen cladding can be made from metal, natural stone, terracotta, fibre cement, composite, or high-pressure laminate panels. The most common are metal and cement fibre boards.
What are the two types of rainscreen cladding?
Ventilated rainscreen systems which use an open joint design and drained and back-ventilated rainscreens which use a baffle system are the two main types. Both allow airflow and drainage.
Conclusion
Rainscreen cladding is an exterior wall system that controls rain penetration and moisture. It uses an inner weather-resistant layer and an outer layer of cladding panels, with an air cavity in between. This ventilated gap allows water to drain out. Rainscreen systems provide benefits like improved thermal performance, weather protection, and contemporary architectural styles. Understanding the principles of rainscreen cladding helps architects, builders, and homeowners select the best system.