This blog post explores what an upstand in a kitchen means and whether it is a worthwhile investment in any new kitchen installation.
What Is an Upstand in a Kitchen?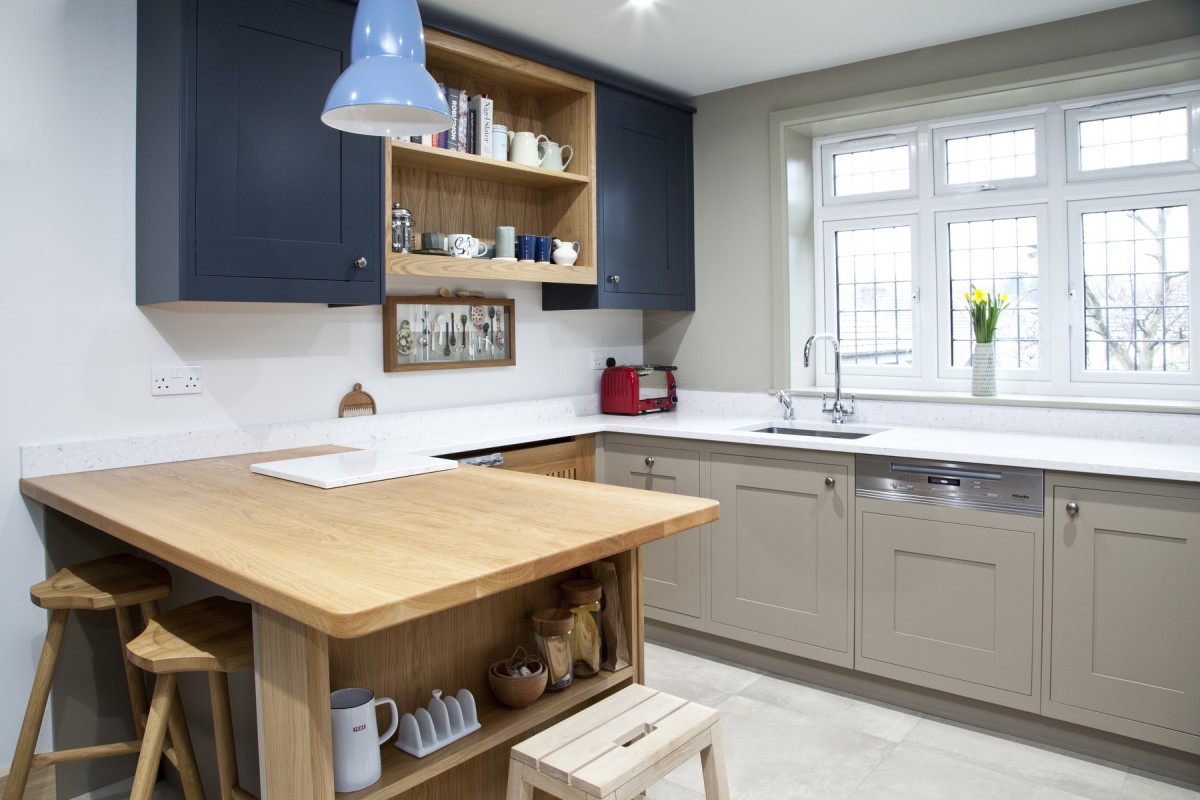 An upstand is a 6-12 cm high vertical strip along the edge of a kitchen countertop that rises against the wall.
It creates a seal between the counter and wall to prevent liquid from seeping through and provides a smooth finished edge to the countertop installation.
Key Points
Creates barrier between countertop and wall
Protects walls from splashes and moisture
Provides decorative finish to edges of the countertop
Our Opinion
In our experience, upstands are a worthwhile investment in any new kitchen installation.
They neatly finish off the edges where counters meet walls and prevent messy splashes from damaging paintwork.
The moisture barrier they form is also important to prevent water ingress.
We would recommend upstands to all our customers for both practical and aesthetic reasons.
What is an Upstand in a Kitchen?
An upstand is a small vertical strip that runs along the back of a kitchen worktop, usually 50-100 mm high. It serves both aesthetic and functional purposes in a fitted kitchen.
Upstands create a smooth, seamless transition between the worktop and wall. This thin border finishes off the kitchen design and provides a neat edge. Upstands also form a seal between the worktop and wall to catch any splashes or spills while cooking. This helps protect walls from grease and flying food.
— Upstands are typically made from the same material as the worktop to match the kitchen decor. Popular options include laminate, granite, quartz, or wood.
— Homeowners often choose an upstand colour and finish that coordinate with their cabinetry and tiles.
— Upstands are easy to wipe down after preparing food. Their smooth surface deters mess and traps moisture.
So, in summary, an upstand is an aesthetic and functional finishing strip that borders the kitchen worktop. It creates a tidy transition, protects the walls, and matches the kitchen style.
Purpose of an Upstand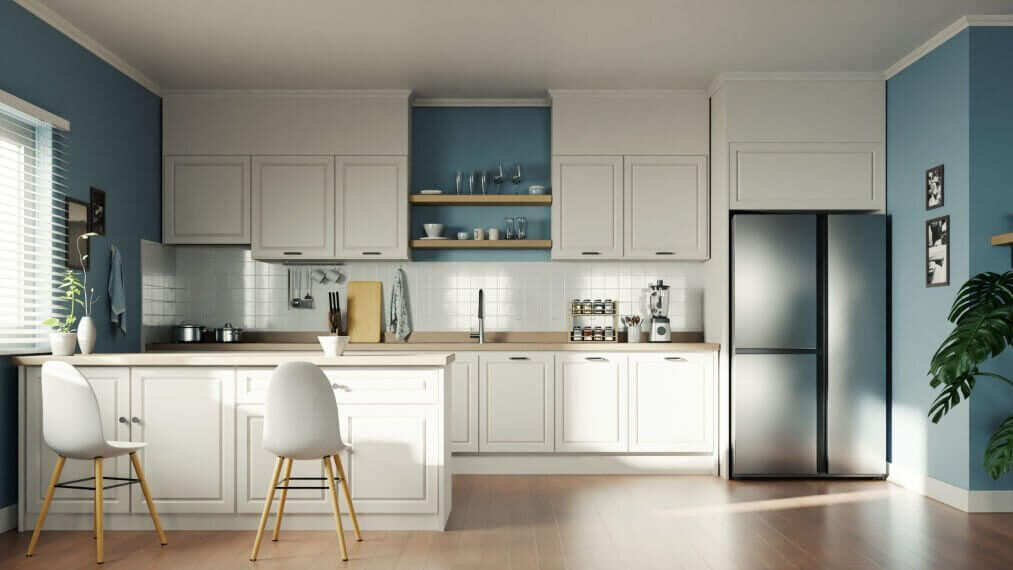 Upstands serve several helpful purposes in kitchen design and function.
Primarily, upstands prevent water, oil, food debris and other messy splashes from landing on the walls. Their vertical barrier contains leaks and drips. This protective quality is especially useful behind sinks, stoves and areas prone to spills. Upstands preserve clean walls.
Upstands also neatly bridge the gap between worktops and walls. Their trim finish gives a streamlined look. Upstands boost aesthetics by concealing any rough edges, cracks or unfinished wall areas. They frame the worktops attractively.
In addition, upstands strengthen the joints between surfaces. They seal and stabilize the edges to form a more rigid, sturdy kitchen setup. Upstands reinforce the purity of the installation.
Upstands are an integral aspect of a kitchen's functionality and appearance. Their splash-proofing ability, decorative edge and structural support all contribute to a tidy, robust kitchen space.
Materials Used for Upstands
Several practical materials work well for upstands in modern kitchens.
Stainless steel is a sleek option. It has a smooth, uniform look and is easy to clean. Stainless steel upstands suit contemporary, minimalist kitchens.
Tile or glass upstands also have a streamlined appearance. Their hard surfaces resist damage from heat and spills. Glass types allow light to reflect attractively off the upstand.
Wood upstands offer a traditional, softer look. Timber varieties like oak or walnut can coordinate with cabinetry and warm up a space. Wood must be properly sealed to withstand moisture.
Plastic and acrylic upstands are affordable choices. They are moldable for customized shapes. Plastic lacks the finesse of other materials but suits budget kitchens.
Upstand material impacts aesthetics and durability. Consider the kitchen's style, usage and budget when selecting. Proper installation is key to maximising upstand performance.
Styling an Upstand
Several design factors affect the look of an upstand in a kitchen.
Upstand height shapes visual impact. Standard heights range from 100-150 mm. Shorter upstands blend discretely into the wall. Taller options make a bolder style statement.
Upstands come in varied colours and finishes. Glossy upstands reflect light for a sleek look. Matte or textured finishes provide a softer contrast. Matching upstand and countertop colours creates a streamlined aesthetic.
The upstand profile also contributes to style. Square-edged upstands have a minimalist vibe. Coved or curved profiles soften lines for a more traditional effect. Ogee-shaped upstands add ornate detail.
Creative upstand materials like metal mesh, cracked glass or timber veneer allow for unique designs. Inset lighting or texture can increase visual appeal.
Upstand styling impacts the kitchen's overall aesthetic. Simple, well-integrated upstands keep the focus on other design elements. Bold upstand choices make a decorative statement.
Pros and Cons of Upstands
Upstands offer benefits but also have potential drawbacks to consider.
On the plus side, upstands protect walls from moisture damage. They also prevent crumbs and spills from accumulating where the counter meets the wall. An upstand can hide unsightly caulking lines or gaps.
However, upstand installation takes skill to get right. Poor caulking or sealing can accentuate imperfections. Upstands also reduce the workable surface area of the countertop slightly.
The main aesthetic advantage of upstands is they create a finished, integrated look. But some dislike how upstands interrupt the counter's clean horizontal lines. Non-matching upstand colours or textures can appear disjointed.
Upstand preferences come down to intended use and personal taste. For heavy-use kitchens, upstands provide practical protection. Those wanting a sleek, contemporary look may prefer countertops without upstands.
Considering all factors allows you to choose the best upstand approach for your kitchen.
FAQ
Are kitchen upstands a good idea?
Upstands are highly recommended in kitchens as they provide an attractive finish to the edges of countertops and help protect walls from moisture and splashes. The seal they create prevents liquid from getting behind cabinets or down between the counter and wall.
What is the point of an upstand?
The main purposes of an upstand are to create a smooth transition between the countertop and wall, protect the wall from moisture and splashes, and provide a decorative finish to the kitchen. Upstands also cover any gaps between uneven walls and straight countertops.
What is the difference between splashback and upstand?
A splashback covers a larger area of the wall behind a countertop while an upstand is a smaller vertical section along the edge where the countertop meets the wall. Splashbacks protect larger areas from splashes while upstands create a barrier at the countertop-wall junction.
Do you put splashback on top of the upstand?
No, a splashback sits on the wall behind the upstand. The upstand should be installed first as it creates a finish along the countertop edge, and then the splashback can be added above it to protect the wall behind.
Conclusion
In conclusion, an upstand in a kitchen is a vertical section of material that runs along the joint between the countertop and wall. Upstands are typically 50-100 mm high and match the countertop material. They serve an important purpose by sealing the gap between the counter and wall to prevent liquid from seeping through. Upstands also provide an attractive finish and protect walls from cooking splashes and grease. Key features are their decorative effect, moisture protection and ability to bridge any gaps between uneven walls and straight countertops.