This article provides practical tips on how to accessorize a kitchen counter to create a stylish and organized workspace.
It focuses on decluttering, adding pops of colour and nature, maximizing storage, and including statement pieces for visual interest.
The advice can help you improve the look and feel of your countertop.
How to Accessorize a Kitchen Counter?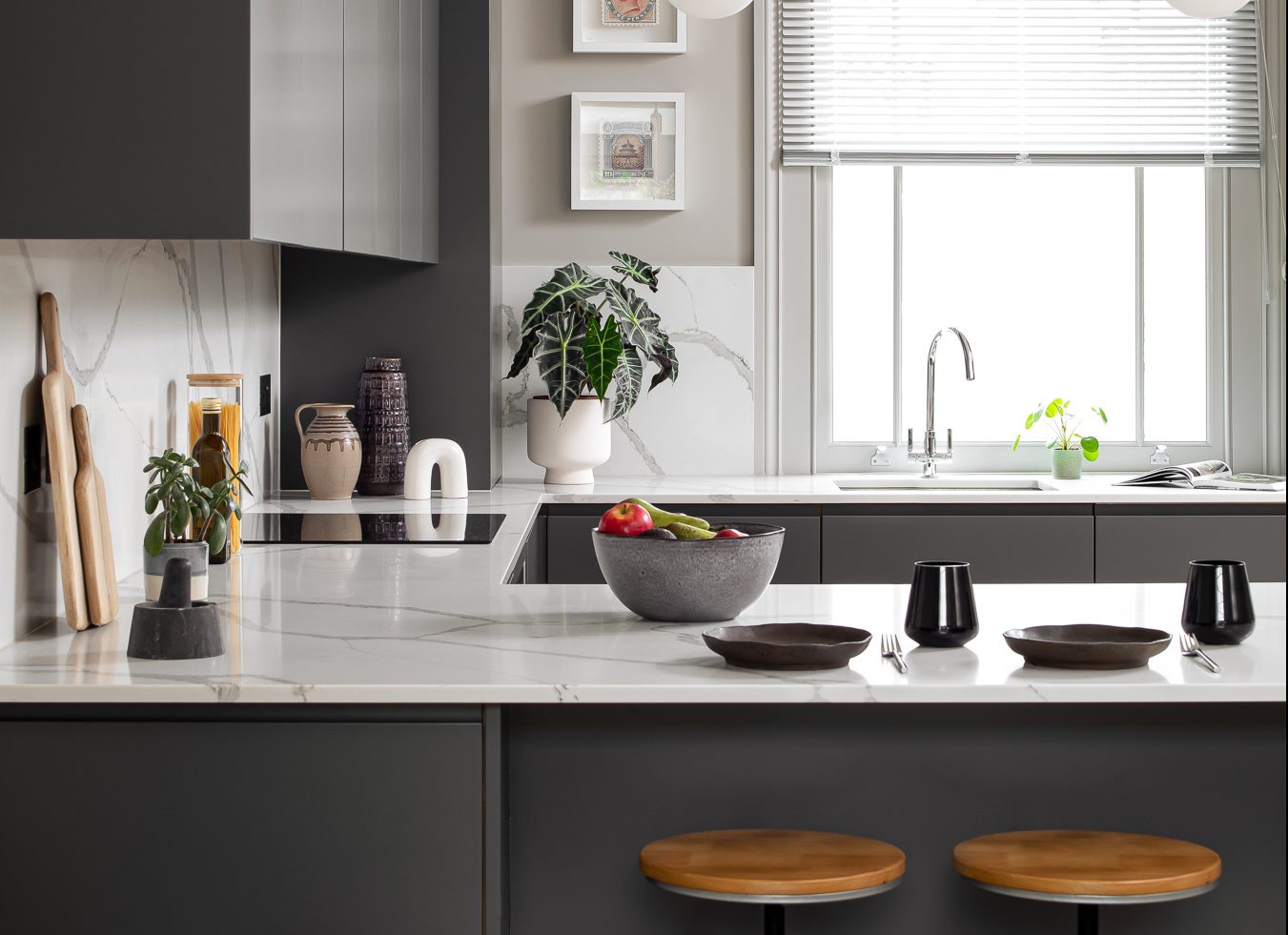 Keep your counter clean and decluttered.
Add plants, fruit bowls, or herbs for a natural touch.
Use shelving for extra storage.
Group items into organized zones.
Add pops of colour with dishware, placemats or runners.
Display frequently used items for easy access.
Key Points
Declutter counters and clean regularly
Use decor like plants, fruit bowls, trays
Maximize storage with shelves and cabinets
Our Opinion
In my experience, the key to accessorizing kitchen counters is keeping them clean and organized.
Start by removing unnecessary items and decluttering.
Then, add small decor pieces like plants or fruit bowls for pops of colour.
Use organizational tools like spice racks or lazy Susans to keep items accessible but tidy.
The finishing touch is a decorative runner or placemats to tie the whole look together.
Choose Functional Accessories for Your Kitchen Counter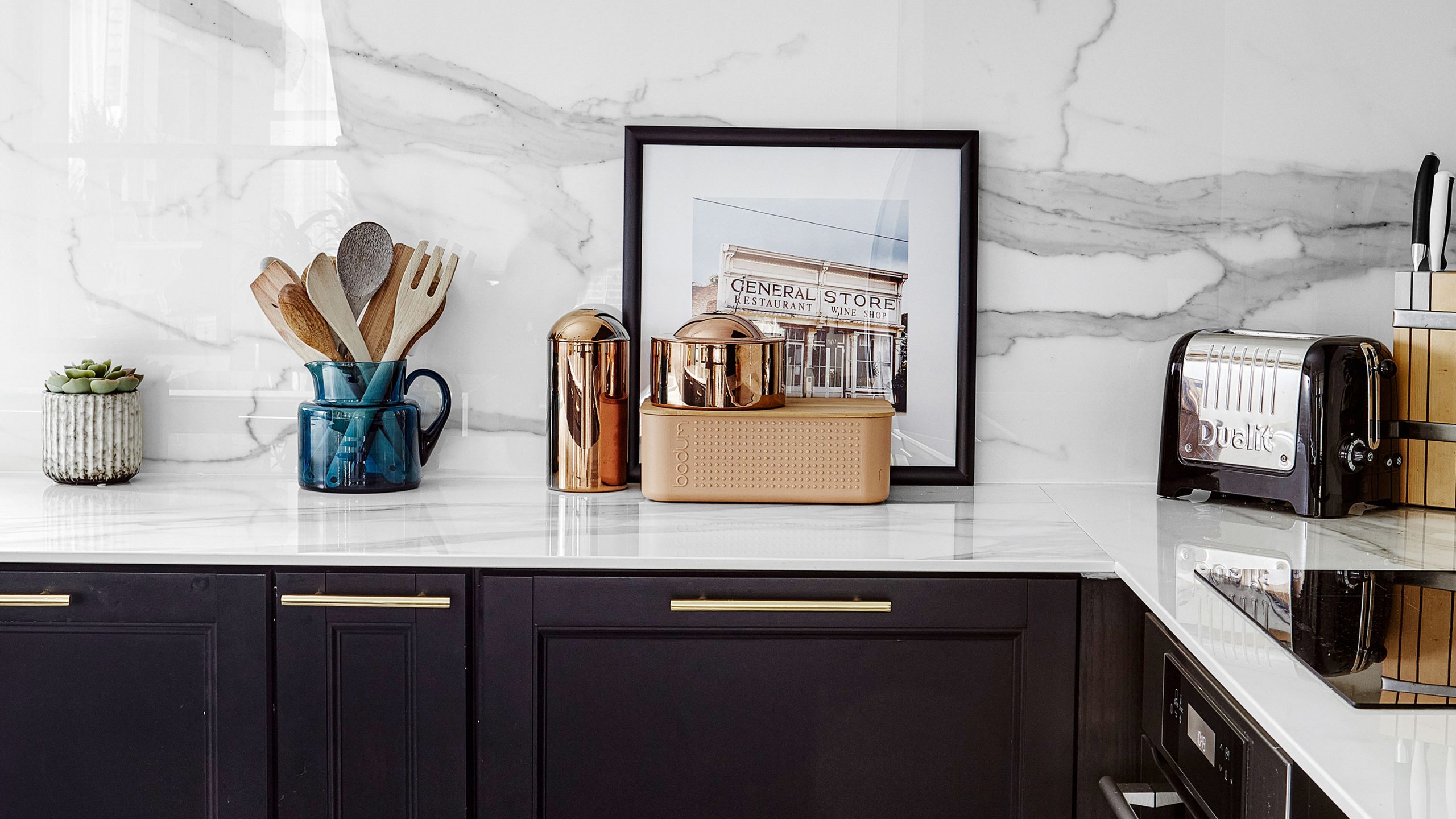 When you accessorize your kitchen counter, focus first on a function to create an efficient workspace. Here are some tips:
Group similar items like spices or baking supplies together in trays or baskets to keep your countertop organized and decluttered.
Use tiered stands, risers, or wall-mounted rails to display and store frequently used items for easy grab-and-go access.
Add extra storage like hanging utensil racks, mounted paper towel holders, and sliding drawer organizers under your counter.
Install a lazy Susan or turntable in a corner to maximize the use of your countertop real estate.
Keep cleaning supplies nearby like a brush, sponge, and dish soap to maintain a tidy, hygienic sink area.
Once you've optimized storage and workflow, accessorize for style:
Incorporate greenery with potted herbs, succulents, or a mini flower arrangement.
Display a colourful fruit bowl or accent piece like a cake stand or decorative spoon rest.
Use your favourite containers like ceramic canisters or pretty jars to corral staples.
With these tips, you can accessorize your kitchen counter in a practical yet stylish way. Grouping similar items, adding extra storage, and including pops of colour and nature will make your countertop both functional and inviting.
Add Style with Decorative Accents
Once your kitchen counter is organized and functional, inject personality by accessorizing with decorative accents that express your taste. Some ideas:
Display cookbooks or ceramic pie birds upright for quick recipe references and charming flair.
Incorporate metal, glass, or wooden trays as catchalls for small items like keys or mail.
Choose an attractive paper towel holder or mount a roll on the wall to save space.
Add a vase of fresh flowers or an essential oil diffuser for pleasant scents.
Use pretty containers like galvanized buckets or baskets for stashing larger supplies.
Set out a cute salt and pepper shaker set or ramekins for condiments.
The options are endless for personalizing your countertop with decorative accents that suit your taste and style. Have fun expressing your personality through functional yet stylish accessories.
Organize Your Kitchen Counter for Efficiency
An organized kitchen counter helps you work more efficiently. Start by clearing clutter and donating unused items. Next, categorize what remains into zones:
Set up a food prep area with cutting boards, knives, measuring tools, and small appliances like a blender or mixer.
Create a landing zone for keys, mail, and other items coming into the kitchen.
Designate an area for cooking tools like wooden spoons, spatulas, tongs, and potholders.
Include space for appliances you use daily like a coffee maker, toaster, or instant pot.
Stash cleaning supplies together for easy access when tidying up.
Optimize your layout by keeping items you use most frequently near the front and items used less often toward the back. Store lesser-used items in cabinets or drawers to keep counters clutter-free. A clean, organized kitchen counter helps you work more efficiently and makes cooking more enjoyable.
Personalize Your Kitchen Counter with DIY Projects
After optimizing your kitchen counter for efficiency, add personal touches with do-it-yourself projects. Upcycling and repurposing items are an affordable way to customize your space.
Display collections in unconventional ways. Turn vintage silverware into napkin holders or use mason jars to hold utensils. Upcycle old crates or baskets to corral fruits and vegetables.
Add warmth with a runner or placemats made from fabric scraps. Sew simple curtains to hide clutter. Paint or decoupage canisters for a pop of colour.
Install open shelving above the counter to show off glassware or cookbooks. DIY a chalkboard for writing grocery lists and recipes. Use pegboard and hooks to hang frequently used tools.
The options for personalizing your kitchen counter are endless. DIY projects allow you to add function and style on a budget. A customized counter makes cooking at home more enjoyable and reflects your taste.
How to Maintain Personalized Kitchen Counter
After personalizing your kitchen counter, maintain the space so it stays clean and organized. Wipe down surfaces frequently to prevent buildup and grime.
For counters with knives or sharp tools, install a magnetic strip to neatly store and protect blades. Store appliances you use often, like a coffee maker or toaster, directly on the counter for easy access. Keep lesser-used items in cabinets or drawers to minimize clutter.
Clean small appliances after each use and store them properly. Wipe down canisters, jars, and containers periodically to keep them looking their best. Maintain potted herbs by watering and trimming regularly.
Routinely edit accessories that no longer serve a purpose. Donate or recycle items you rarely use. Freshen up placements by rotating pieces in and out seasonally.
Caring for your customized kitchen counter ensures it stays tidy and functional. Wipe spills quickly to avoid stains. Use coasters for hot pans and appliances. With regular maintenance, your personalized space will withstand daily use while retaining its unique style.
FAQ
How can I make my kitchen counter look nice?
Keep your counters free of clutter and regularly clean. Organize items into zones. Add small decor pieces like plants, fruit bowls or herb gardens. Use shelving and cabinets to store less used items.
What should be on top of kitchen counters?
Essentials like a knife block, utensil holder, and small appliances. Decor like plants, fruit bowls, or trays. Frequently used ingredients. Avoid clutter by keeping only necessary items on the counter.
How to decorate the top of kitchen counters?
Use runners, placemats or trays to add colour/texture. Display cookbooks, jars of ingredients or a knife block. Add small plants, flowers or bowls of fruit. Use organizational pieces like paper towel stands, spice racks or lazy Susans.
How do you accessorize kitchen worktops?
Declutter and clean regularly. Group similar items into zones. Add decor like plants, fruit bowls, and trays. Use shelving for extra storage. Display frequently used items. Add pops of colour with runners, mats or dishes.
Conclusion
Accessorizing your kitchen counters can add style and organization to your space. Keep counters decluttered and clean. Use decor pieces like plants, trays and fruit bowls. Maximize storage with shelves and cabinets. Group similar items into zones. Add pops of colour with dishware, runners or placemats. Following these tips will help you accessorize your kitchen counter perfectly.