Replacing or repairing old, worn-out roofing felt is a common home improvement project for UK homeowners.
While a new roof can cost upwards of £5,000, refelting provides a more affordable way to restore and protect your roof without replacing the whole thing.
But how much does it cost to refelt a roof in the UK?
Here's a quick guide to the typical costs and considerations.
How Much to Refelt a Roof?
The cost to refelt an average-sized roof in the UK is typically between £3,000 and £7,000.
The exact price depends on the roof size, pitch, accessibility and whether the tiles need removal.
For a semi-detached or mid-terrace house, expect to pay £2,250 to £4,500 for a roof refelt.
Detached houses with larger roofs may cost £4,500 to £7,200. Shed roof felts cost less at around £250 to £1,200.
Key Points
Replacing roof felt costs between £2,250 – £7,200 for a typical house
Shed roof felts cost £250 – £1,200 to replace
Factors like roof size, pitch and tile removal affect the price
Our Opinion
Refelting a roof is an important maintenance job that should be done every 10-15 years.
Investing in a quality roof felt and professional installation will pay off long term by preventing leaks, dampness and more serious roof damage.
Although refelting is a major expense, repairs needed from leaving worn felt too long can end up costing even more.
It's worth getting quotes from local roofers to find the best price, but don't compromise too much on materials.
Overall, keeping the roof in good condition is essential for protecting your property.
How Much Does Roofing Felt Cost?
The cost of roofing itself ranges from about £30 to £45 per square metre for decent quality materials. For a medium-sized domestic property or shed, you can expect to pay:
However, the felt materials are only part of the total project cost. To refelt a roof, the existing tiles usually need to be removed and then replaced afterwards. This labour significantly increases the overall price. Some additional costs to keep in mind:
Removing and replacing tiles
Repairing or replacing any damaged roof timbers
Installing new flashing
Scaffolding may be needed for access, at around £200-£400 per week
For a full roof refelting job on a typical domestic property, expect to pay in the region of £2,000 to £7,300. Repairing a small patch of felt and a few cracked tiles will be at the lower end of this range, while completely redoing the felt and tiles on a large roof could cost over £7,000.
When getting quotes for refelting work, look out for any extra charges on top of the quoted price, such as VAT and disposal fees for the old materials. And remember that location can also impact costs due to regional variations in labour and material prices across the UK.
What Are the Labor Costs to Refelt a Roof?
The cost of labour makes up a significant portion of the total expense for a roof refelting project. Prices can vary depending on your location, roof size and accessibility.
On average, labour costs range from £100 to £200 per day for a roofing contractor. A small porch or shed may only take 1-2 days, while a full roof refelt on a two-story house could take 3-5 days depending on the complexity. Scaffolding rental will add £200-£400 or more to the labour fees if needed.
Some additional variables that can impact the labour fees:
Pitch and height of the roof
Number of chimneys, skylights or other protrusions
Ease of access to the roof area
For a more accurate estimate, get multiple quotes from roofing contractors who will inspect your specific roof. They will assess the pitch, sizing, layout and access to determine the time required.
Ask contractors what is included in their labour rates – some may charge extra for materials disposal, travel fees or scaffolding. And check references or reviews to ensure they have experience with refelting projects.
With an experienced roofer, proper materials and fair weather, refelting a typical home can usually be completed within 3-4 days. Streamlining the project to minimize labour hours is key to controlling costs.
Factors That Influence the Cost of Refelting a Roof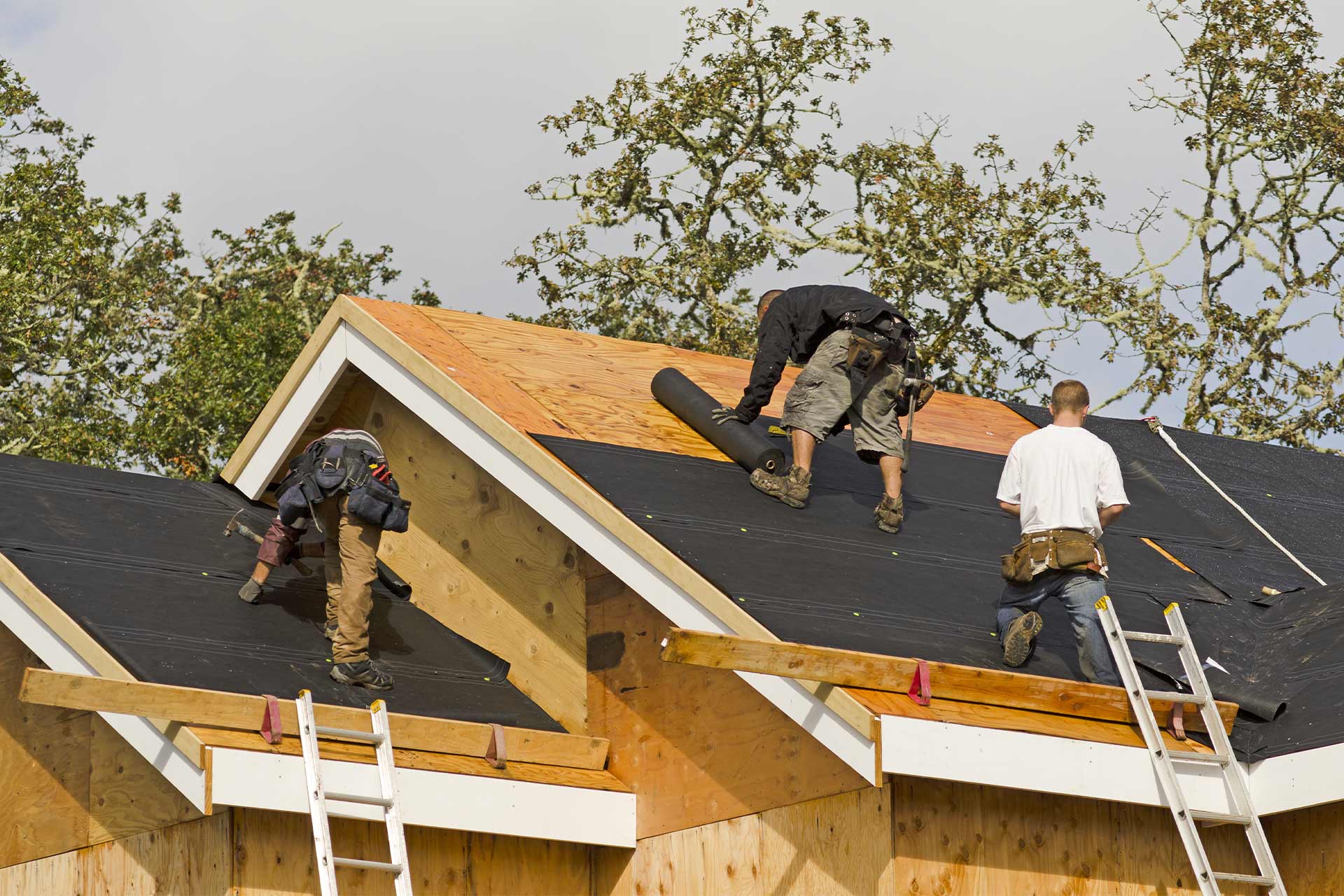 When budgeting for a roof refelt, there are a few key factors that determine the overall project cost.
The size of your roof is the main driver of material and labour expenses. Larger roofs require more felt rolls and person-hours to complete. Even on a simple ranch-style house, expect to pay more compared to a small garage or porch area.
Access is another big consideration. Steeply-pitched or multi-level roofs are more challenging and dangerous to work on. Scaffolding or other equipment may be needed to safely access all areas, adding to the job costs.
Roof complexity also boosts the price. Lots of protrusions like chimneys, skylights and vents take extra time and material to work around. Special flashing and seals are needed to properly integrate these elements.
Finally, your location plays a role. Labour rates for roofers are higher in some regions. Material costs can also vary in different areas.
The condition of your existing roof is a wildcard. The rotted decking may need replacing. Tearing off old shingles vs. felting over them affects the project scope and price as well.
Getting multiple quotes is advised to compare rates. And ask what factors are driving the price to avoid surprises down the road. Understanding these cost drivers can help you budget realistically.
Getting Quotes for Refelting Your Roof
With so many variables affecting the cost, getting multiple quotes is key to finding the best value on your roof refelt.
When reaching out to roofing contractors, be sure to provide details like the roof size, pitch, and access issues. Mention any complexities like skylights and chimneys as well. This allows them to give an accurate estimate.
You'll commonly get a range rather than a single dollar figure. This accounts for potential unknowns that could arise once work begins. Press for the high end of the range so you can prepare for the maximum cost.
Ask what is included in the quote – some contractors may leave out items like dump fees for old materials. Make sure permits, flashings, and other ancillary costs are accounted for.
Compare the product specs as well. Two bids could be far apart if one uses economy-grade felt while the other opts for a premium product. Understand what you're getting for the price.
Don't decide on price alone. Check reviews and credentials too. An extremely low quote may indicate cut corners or inexperienced crews.
Be wary of quotes given without an on-site inspection. Estimating sight unseen often leads to change orders down the road when the full scope is revealed.
Getting multiple quotes takes extra time upfront but gives you the information needed to make the best decision. Comparing bids on your specific project is the only way to accurately budget for a roof refelt.
5 Tips to Reduce the Cost of Refelting a Roof
Refelting your roof can be a major expense. Here are 5 tips to help lower the cost:
Choose a basic 3-layer felt system. The standard-grade mineral felt provides adequate waterproofing at the lowest price point.
Opt for self-adhesive underlayment instead of using hot bitumen. The cold application method speeds up installation and requires less labour.
Use roofing nails instead of clips to attach the felt. Though not as secure, nailing is significantly cheaper than using proprietary clips.
Select standard laps rather than triple laps. The standard 100mm side lap and 150mm end lap meet building codes for most homes.
Schedule the work for your roofer's off-peak season. Slow times of year often come with discounts from eager contractors.
With smart material choices and strategic timing, you can refelt your roof without breaking the bank. Carefully weigh the options during quoting to find the most cost-effective solution.
FAQ
How much does it cost to refelt a tiled roof?
Replacing the felt under tiles on a typical semi-detached or detached house will cost between £2,250 and £4,500. Larger houses may cost between £4,500 and £7,200.
How often should you refelt a roof?
On average, roofing felt should be replaced every 10-15 years. Factors like weather exposure, roof slope, and quality of materials impact lifespan. Inspect regularly for tears, bubbles, and deterioration.
How much does it cost to refelt a shed roof?
For a small garden shed, expect to pay £250-£450 to refelt the roof. Medium sheds around 15-30 sqm will cost £450-£850. Larger sheds may cost up to £1,200.
How do I know if my roof felt needs replacing?
Look for cracking, blistering, curling edges, holes, and deterioration of the mineral surface. Leaks, damp patches and loose tiles can also indicate problems with old felt. An inspection by a roofer is recommended if you see any issues.
Conclusion
Replacing old and worn roofing felt is an important maintenance job to prevent leaks and more serious roof damage. How much it costs to refelt a roof depends on factors like the roof size, pitch, access and whether tiles need removing. For a typical semi-detached house, expect to pay £2,250 to £4,500. Sheds cost less at around £250-£1,200. Look for signs of deterioration like cracks and blisters, and get the felt replaced every 10-15 years. Investing in good quality materials for a long-lasting roof refelt will save money in the long run.