This blog post details how much overhang should you have on your kitchen worktop and helps you find the ideal size for your overhangs.
How Much Overhangs on Kitchen Worktop?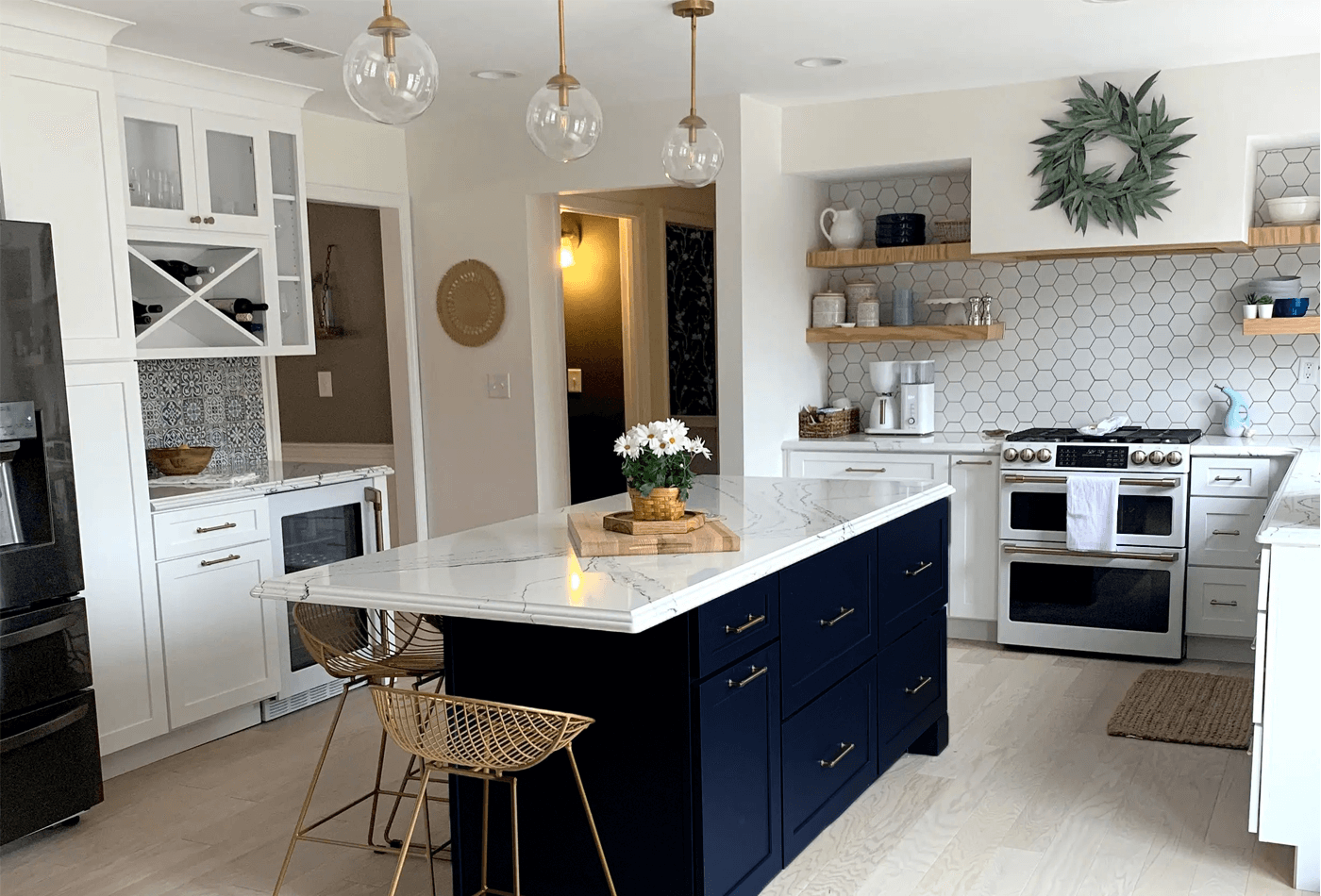 The recommended overhang on a standard kitchen worktop is 1-1.5 inches (25-38 mm).
This provides a slight lip while keeping most of the worktop sturdily supported.
For kitchen islands, a larger overhang of 8-12 inches (20-30 cm) gives seating space.
The overhang should not exceed 30% of the total depth.
Key Points
Standard overhang is 1-1.5 inches (25-38 mm)
Islands can have 8-12 inches (20-30 cm) overhang for seating
Overhang should not exceed 30% of the total worktop depth
Our Opinion
In my experience, the ideal overhang is around 1.5 inches.
This gives you a bit of extra space for handling items without compromising stability.
For islands, I prefer a 10-inch overhang – enough for seating but not so much that legs are bumping the cabinets below.
Following these guidelines will provide the most usable overhang for your kitchen design.
What Is the Standard Overhang for Kitchen Worktops?
When installing new kitchen worktops, one of the key considerations is determining the ideal overhang. The overhang refers to the portion of the worktop that extends past the front of the base cabinets. So what's the recommended overhang for kitchen counters?
The standard overhang measurement is generally between 1 and 1.5 inches (2.5-3.8 cm). This leaves enough exposed worktop to provide a small lip or edge while not being so deep that it seems unsupported.
Some key factors to keep in mind when deciding on your worktop overhang:
The overhang should not exceed 30% of the total depth of the countertop. So, for a 25 cm deep worktop, aim for an overhang of 7-8 cm maximum.
Thicker countertop materials like granite can accommodate a slightly larger overhang than thinner laminates.
Island worktops often have a longer overhang of 20-30 cm to provide seating space.
Handleless cabinet doors may require a 35 mm overhang clearance.
Getting the overhang right ensures your worktops are functional, accessible and have a seamless custom finish. Aim for the standard 1-1.5 inches for most applications, adjusting as needed based on your cabinets and overall kitchen design.
Why Does Overhang Matter on Kitchen Worktops?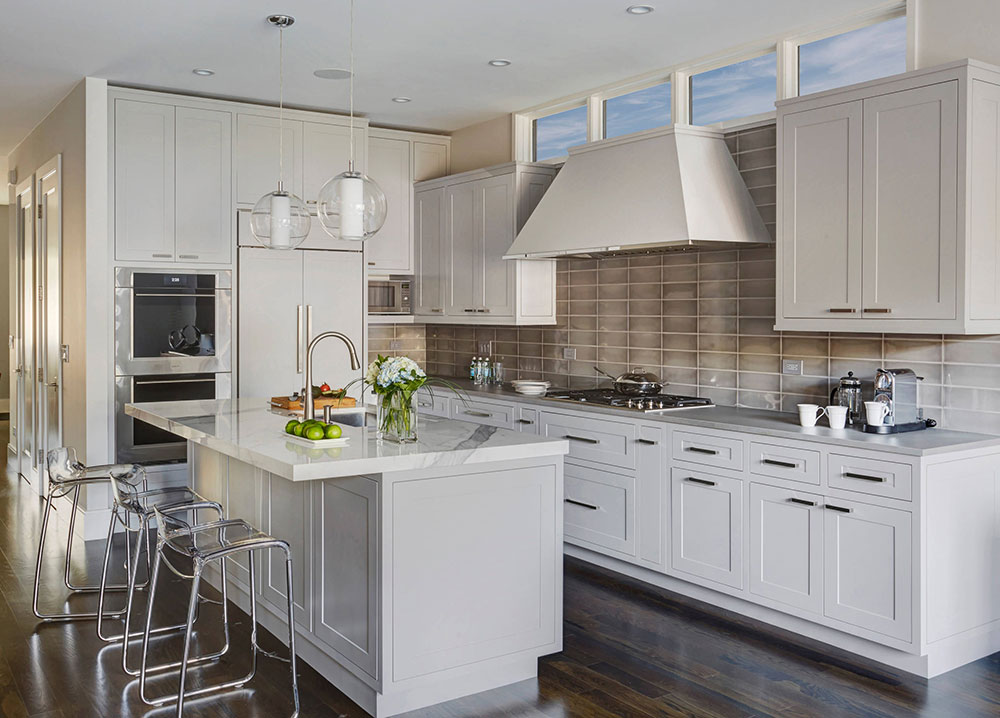 The overhang on kitchen worktops may seem like a small detail, but it can make a big difference in both form and function.
A sufficient overhang serves several purposes:
It creates a lip or edge to prevent items from sliding off countertops during food prep and cooking.
It provides space for bar seating on islands or peninsulas.
It gives a finished, built-in look by covering the front edges of the base cabinets.
It allows clearance so cabinet doors and drawers can open unobstructed.
Going too shallow with your overhang can result in limited workspace and clearance issues. Going too deep can make your counters feel precarious and unsupported.
The ideal overhang – typically between 1 and 1.5 inches – creates a usable lip while maintaining structural integrity. It ensures your counters are both practical for prepping, cooking and cleaning as well as aesthetically pleasing.
Consider the overhang early in your kitchen design process. Measure your existing cabinets or consult with your kitchen designer so your new worktops enhance both the form and function of your space.
How Many Overhangs for Different Kitchen Styles?
While the standard overhang is 1 to 1.5 inches, the ideal measurement for your kitchen depends on your design style and needs.
Here are some overhang guidelines for popular kitchen layouts:
Contemporary, minimalist kitchens tend to use a shallower overhang of around 1 inch.
This sleeker look maximizes counter space.
Traditional kitchens often opt for a wider 1.5-inch overhang. The subtle lip enhances the classic, built-in look.
Islands and peninsulas for dining benefit from a 2-inch overhang or more to accommodate seating. Just ensure adequate support.
Tight galley kitchens may need to limit overhang to gain every bit of workspace possible.
Consider your typical cooking style and the way you use your kitchen. Do you regularly need extra prep space or seating? Keeping these needs in mind as you measure overhang will help maximize both aesthetic appeal and practical function.
A qualified kitchen designer can recommend the ideal overhang for your particular layout and style. They can ensure your new worktops are both visually pleasing and highly functional.
When it comes to islands, the worktop overhang rules change slightly.
Kitchen islands often serve multiple purposes — extra prep space, a casual dining area, or a spot to enjoy morning coffee. To accommodate these functions, a standard 1-inch overhang may not suffice.
Tips on Island Worktop Overhangs
Here are some tips on island worktop overhangs:
For seating, allow a 2-inch overhang or more. This gives guests adequate legroom.
If the island will mainly be used for food prep, opt for 1.5 to 2 inches. The minor increase boosts the workspace.
Take the island's location into account. An island near walkways may need a smaller overhang to avoid bumps.
Consider rounded or curved edges for a softer look. This also reduces sharp corners.
The key is finding the right balance between aesthetic appeal and practicality. An experienced kitchen designer can help determine the ideal overhang for your lifestyle and taste.
With some planning, your new kitchen island can be delivered on all fronts – extra seating, prep area, and style.
Deciding on the Perfect Overhang Size for Your Worktop
When deciding on the perfect overhang size for your worktop, it's helpful to consider the pros and cons of different lengths.
A shorter overhang of around 1 inch offers several benefits:
Minimizes the risk of bumping into or catching edges
Creates a sleek, streamlined look
Ideal for smaller kitchens where space is limited
However, a longer 2-inch overhang also has advantages:
Provides more room for meal prep and cooking tasks
Accommodates seating at breakfast bars and islands
Offers a more contemporary, stylish appearance
Ultimately, the right overhang length will depend on your kitchen layout, work style, and aesthetic preferences. Consider your day-to-day use of the space and where you need more room to work or dine comfortably. An experienced kitchen designer can help you strike the perfect balance.
FAQ
Is 2 2-inch countertop overhang too much?
A 2-inch overhang is generally considered too much for a standard countertop. The recommended overhang is between 1 and 1.5 inches. More than that can make the countertop feel unstable.
What is the overhang on a 20 mm quartz worktop?
On a standard 600mm deep worktop, a 20 mm overhang would be typical and within the recommended range of 10-30mm. This allows a slight overhang but keeps most of the worktop supported.
How much overhang do you need for a kitchen bar?
For a kitchen bar or island, a larger overhang of 20-30 cm (8-12 inches) is common to provide enough room for seating and leg clearance underneath.
How much overhang should a quartz worktop have?
The recommended overhang for a quartz worktop is 1-1.5 inches (25-38 mm). Quartz is very heavy, so you don't want too much-unsupported overhang. No more than 30% of the total depth.
Conclusion
In conclusion, the standard worktop overhang is generally between 1-1.5 inches (25-38 mm). For kitchen islands and bars, a larger overhang of 8-12 inches (20-30 cm) provides leg room for seating. The overhang should not exceed 30% of the total worktop depth. Quartz and granite can be used for overhanging sections if properly supported. Following these guidelines allows for a usable overhang while keeping the worktop stable and well-supported.