Do you know how much Wickes charge to fit a kitchen?
This article explores Wickes' fitting services, costs, and how they compare to other brands.
How Much Do Wickes Charge to Fit a Kitchen?
Wickes offers kitchen installation services starting from around £3,000 for a typical 10-unit kitchen.
This includes fitting the units, worktops, appliances, and other hardware.
The final cost will depend on the specifics of your kitchen design.
Key Points
The average cost to fit a standard 10-unit kitchen is £3,000-£4,000
Wickes offer installation from around £3,000
Kitchen fitters typically charge £35 per hour
Wickes provides free design service with the purchase
Our Opinion
Based on the typical cost of £3,000-£4,000 to fit a standard-sized kitchen, Wickes' starting price of around £3,000 for installation and fitting is very competitive.
Their free design service also adds value.
With a wide range of kitchens to choose from, Wickes provides a cost-effective option for a brand-new kitchen.
How Much Does Wickes Charge for a Basic Kitchen Fit?
Wickes offers a range of options when it comes to fitting your new kitchen. Their prices vary depending on the size and complexity of your kitchen project.
For a basic kitchen fit, you can expect to pay around £2,000-£3,000. This would cover fitting a standard range of Wickes units and worktops, including plumbing and electrics. Extra costs may apply for any additional units, appliances, or modifications needed.
Some key points on Wickes kitchen fitting:
Wickes provides two main fitting options — Ready to Fit and Fully Fitted. Ready to Fit means the units are assembled on-site and plugged together. Fully Fitted includes installation of worktops, doors, drawers and plumbing/electrics.
Fitting prices start from £155 per day for Ready to Fit, or £250 per day for Fully Fitted. The typical kitchen takes 2-3 days to install.
Optional extras like tiling, flooring, decorating and old kitchen removal can also be added at an additional cost.
For more complex projects with multiple appliances, island units or adjustments to plumbing/electrics, the fitting price is likely to be higher.
Wickes offers a range of quality kitchens like their Lifestyle and Bespoke ranges. More premium kitchens will also cost more to fit.
So, in summary, for a basic Wickes kitchen fitting you can expect to pay in the region of £2,000-£3,000. The exact cost will depend on the size of the kitchen, the units chosen, and any optional extras required. Wickes provides a quote service online or in-store to give you an accurate fitting price.
What's Included in Wickes' Kitchen Fitting Service?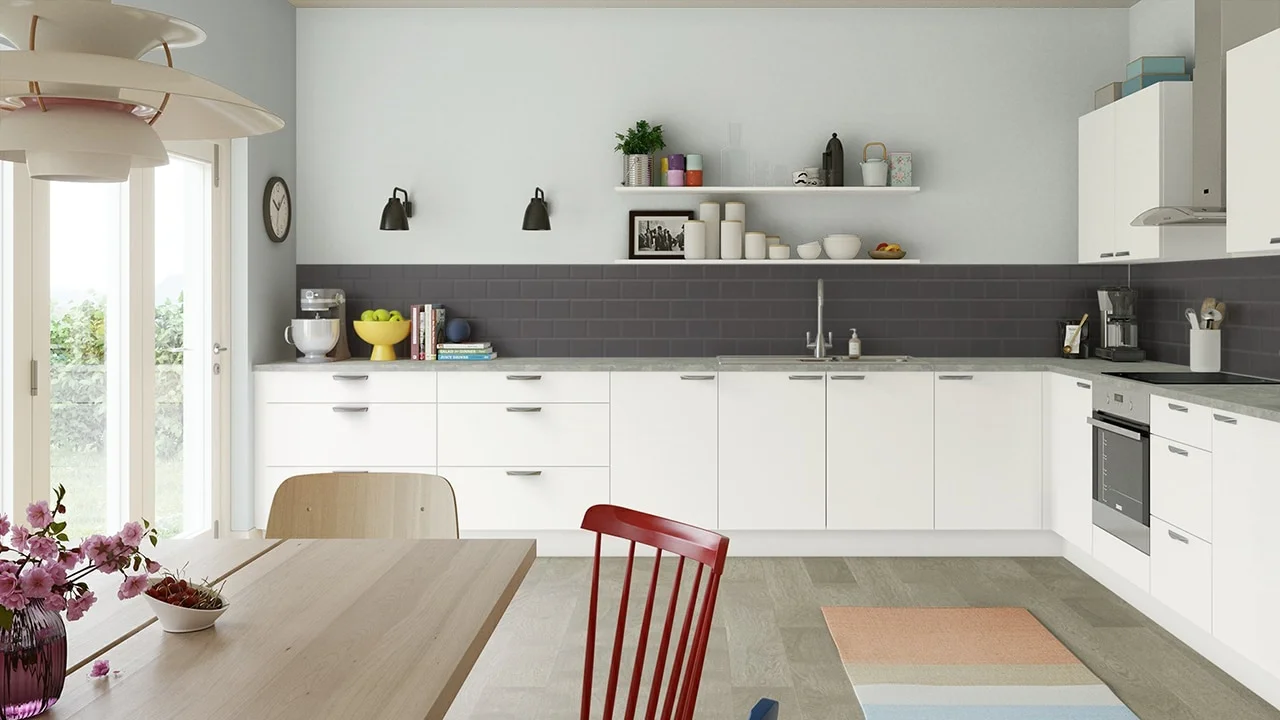 Wickes aims to make fitting your new kitchen as smooth as possible. Their kitchen fitting service is comprehensive and includes:
A pre-installation survey to take measurements and plan the layout.
Removal and disposal of your old kitchen if required.
Delivery of new units, worktops, appliances and other materials.
Installation and assembly of the new kitchen units and worktops. The exact fitting level can be chosen – Ready to Fit or Fully Fitted.
For Fully Fitted kitchens, they'll also install integrated appliances, sinks, taps, doors, drawers and handles.
Connection of plumbing and electrics within the kitchen area. It covers installing sinks, taps and kitchen appliances like dishwashers.
Optional tiling, flooring, decorating and lighting can also be added if needed.
All necessary materials and tools will be provided by the fitting team.
Cleanup of the site once the fitting is complete.
Wickes offers a fitting service for their full range of kitchens including their Value, Lifestyle and Bespoke collections.
So, in summary, their kitchen fitting service aims to provide a complete installation from start to finish, with different levels to suit your needs and budget. Speak to one of their design consultants to get a customised quote.
How Do Wickes' Kitchen Fitting Prices Compare to Other Brands?
When it comes to fitting a new kitchen, prices can vary quite a bit between different retailers and installers. Here's a look at how Wickes' charges stack up:
For a typical medium-sized kitchen, Wickes' Fully Fitted service starts from around £3,000. This includes installation of cabinets, worktops, appliances, sinks and taps.
This is very competitive compared to other major DIY retailers like B&Q, who charge upwards of £4,000 for similar kitchen fitting services.
Smaller or more basic kitchens can be fitted by Wickes for under £2,000. Larger and more high-end kitchens may cost £5,000 or more for fitting.
Independent kitchen fitters generally charge in the region of £150-£200 per day. For a medium kitchen, this can work out more expensive than Wickes' fixed price fitting.
However, bespoke kitchen companies that offer design and installation services often charge £10,000+ for high-specification kitchens. So, Wickes sits in the middle price.
Overall, Wickes offers very reasonably priced fitting for typical family kitchens. And you get the reassurance of their years of experience. It's worth getting a detailed quote to compare with other kitchen fitters in your area. But for kitchen fitting that won't break the bank, Wickes is likely to be competitive.
What Are the Additional Costs for Bespoke Kitchen Fittings?
Opting for a bespoke, custom-designed kitchen often comes with higher fitting costs than standard fitted kitchens. Here's what to expect:
Bespoke kitchens require much more in-depth design work, including multiple consultations to perfect the layout. Expect to pay £500 or more for the designer's time.
Any custom cabinetry and unique fittings will be priced higher than off-the-shelf components. Unique handles, storage and accessories add up.
Intricate cabinetry, curved worktops and integrated appliances often take far longer to neatly install. The complexity means more labour costs.
You may need to pay extra installation fees for any electrical, plumbing or structural work required to accommodate the new kitchen.
Luxury fixtures like granite worktops, underfloor heating and premium appliances have a higher supply and fitting cost.
The total fitting price for a bespoke kitchen often exceeds £15,000. While a significant investment, you're paying for the expertise required to create a kitchen that's tailored to your home and lifestyle. For those with the budget, a bespoke kitchen makes sense to get the look and functionality you want. Just be sure to get an itemised quote so you know what you're paying for.
Tips for Getting the Best Deal on a Wickes Kitchen Fit
Fitting a new kitchen can be costly, but there are ways to get the most value from your Wickes kitchen installation:
Time it right. Installations booked between October and December tend to be cheaper, as demand drops after summer.
Bundle services. Opting for Wickes to handle everything from design to installation and plumbing can secure discounts.
Avoid alterations. Modifying existing cabinetry or worktop sizes during fitting can add labour time and fees. Finalise plans first.
Compare installers. Get quotes from independent fitters before booking Wickes. Their rates could be more competitive.
Purchase appliances separately. You can often find better deals on appliances from other retailers. Have Wickes integrate them.
Negotiate. Don't be afraid to ask for a discount, especially if providing your cabinets or worktops.
Pay attention to extras. Small charges for plumbing, electrical work, skips and materials handling can quickly add up.
Get it in writing. Confirm the final quote and services covered before work begins to avoid surprise fees.
With smart planning and research, you can get the kitchen you want from Wickes while keeping within your budget. The key is knowing where you can compromise to save costs without sacrificing quality.
FAQ
What is the average cost to fit a kitchen in the UK?
The average cost to fit a standard 10-unit kitchen in the UK is between £3,000-£4,000. This can vary based on the size of the kitchen and the choice of units.
How much does a fitter charge to fit a kitchen?
The average hourly rate for a kitchen fitter in the UK is around £35 per hour. The total cost will depend on the time taken.
Is Wickes or B&Q cheaper for kitchens?
Wickes and B&Q offer kitchens at similar price points. Wickes may offer more flexibility on customization. B&Q provides installation services directly.
Do Wickes charge for kitchen design?
Wickes offers a free design service when you purchase a kitchen from them. There are no upfront charges for the design process.
Conclusion
The cost of fitting a new kitchen can vary greatly depending on the size, units chosen and fittings required. However, on average expect to pay between £3000-£4000 to fit a standard 10-unit kitchen in the UK. Wickes and B&Q offer competitively priced kitchen ranges and installation services, with Wickes providing greater customization options. Their design services are free with purchase. The hourly rate for a kitchen fitter is around £35.