Home insurance policies generally cover roof leaks caused by sudden damage, but not leaks from wear and tear.
This article looks at what your building insurance may or may not cover when it comes to roof leaks.
Does House Insurance Cover Roof Leaks?
Most standard home insurance policies in the UK will cover the costs to repair damage from roof leaks that are caused by sudden and unforeseen events, such as heavy storms.
However, leaks that occur due to lack of maintenance, wear and tear, or deterioration over time are usually not covered.
It's important to check your policy wording as coverage can vary.
Key Points
Storm damage is usually covered
Wear and tear leaks are often excluded
Check your policy wording for details
Our Opinion
In my experience as an insurance expert, roof leaks caused by severe weather like storms are generally covered under standard home insurance policies in the UK.
However, I always advise customers to thoroughly check their policy documents, as insurers differ in specific leak coverage.
Preventative maintenance is key to avoiding leaks due to deterioration, which are not covered.
Does Home Insurance Cover Roof Leaks?
If a roof leak is caused by a sudden and unforeseen event like a storm, most home insurance policies in the UK will cover the cost of repairs. Buildings insurance is designed to provide financial support to fix damage from severe weather events.
However, your home insurer will usually not cover a leak that results from normal wear and tear, ageing, or poor maintenance. They want to determine if the cause is a covered peril like storm damage or an uncovered issue like deterioration over time.
If the leak stems from an unexpected event like storm damage, your policy will typically cover the cost of repairing the roof itself. Your contents insurance may also help replace possessions damaged by the leak.
If the leak is due to ageing, wear and tear, or lack of maintenance, your insurer will not provide coverage to fix the roof or interior water damage.
The key is whether the roof leak results from sudden damage or gradual deterioration. Most insurers will only cover leaks caused by unforeseen, one-off events. Anything specifically excluded in your policy terms and conditions, like damage from a leaking roof, ageing, or poor maintenance, will not be covered.
What Causes Roof Leaks?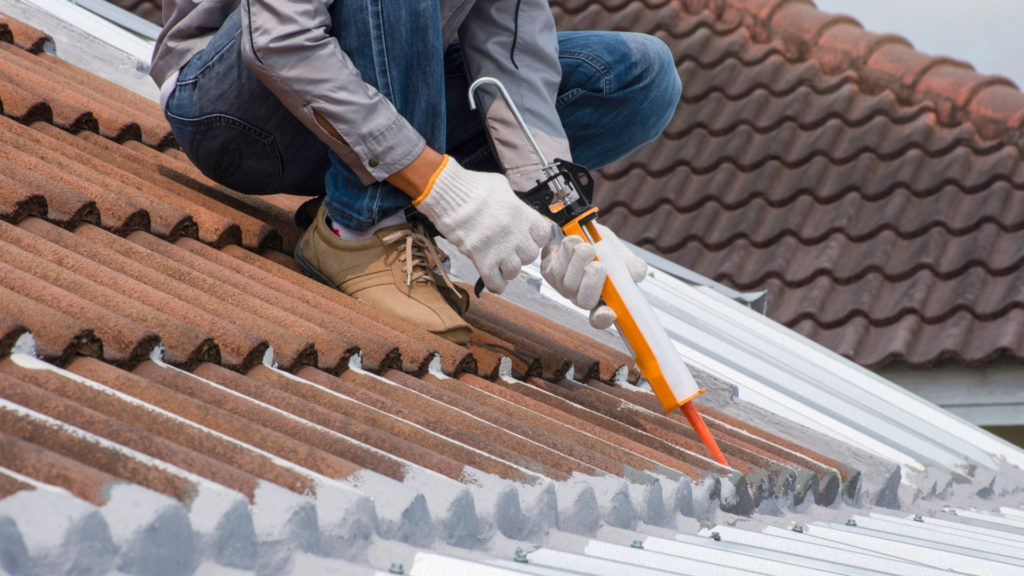 There are a few common causes of roof leaks that homeowners should be aware of:
Storm damage like high winds or hail can break, crack, or puncture shingles or tiles, allowing water to seep through.
Ice dams can form when snow melts and refreezes at the roof's edge, causing water to back up under shingles.
Clogged gutters or downspouts prevent proper drainage, allowing water to pool on the roof surface and leak through.
Loose or missing shingles/tiles are vulnerable spots where water can penetrate the roof covering.
Cracks or holes in flashing around chimneys, vents, and valleys allow water intrusion into the roof system.
Age and deterioration of roof materials like shingles, rubber, and sealants leads to leaks over time.
Improper roof installation or repairs can compromise the integrity of the roof surface.
A compromised or damaged underlayment allows moisture to penetrate the roof deck.
Being aware of these common causes can help homeowners identify issues early and prevent costly roof leaks from occurring. Regular inspections and maintenance are key to reducing leak risks.
Leaks From Wear and Tear vs. Sudden Damage
Roof leaks can occur gradually due to wear and tear over time or suddenly as the result of storm damage, and the cause will determine if house insurance covers roof leaks.
Leaks from aged materials like cracked shingles or deteriorated rubber are considered maintenance issues not covered by insurance. Wear and tear allow water to slowly penetrate vulnerable areas.
In contrast, sudden leaks after wind/hail damage that punctures shingles, or an overloaded tree branch crashing through the roof are typically covered events. The key is having comprehensive insurance to protect against such unexpected damages.
Other grey areas like ice dams or clogged gutters could potentially be covered if this leads to interior water damage. Photographic evidence showing damaged areas will strengthen an insurance claim.
Knowing whether a leak resulted from long-term wear or sudden damage guides the next steps. For gradual leaks, roof repairs and replacements may be needed at the homeowner's expense to prevent further water intrusion.
What To Do If You Have a Roof Leak
Discovering a roof leak can be stressful, but taking quick action minimizes damage. Here are tips if you notice water stains inside or identify the source of a leak:
First, mitigate active leaks. Place buckets under drips or cover damaged areas with plastic sheeting. Removing items below leaks prevents further ruin. Turn off the power if needed.
Document the leak with photos/videos showing its exact location and the surrounding damaged areas. This evidence can support insurance claims or contractor repairs.
Check if the leak resulted from a one-time event like storm damage or an ongoing issue like aged materials. This determines if repairs may be covered by insurance.
Consult your insurer on claim eligibility and recommended contractors. For uninsured repairs, get multiple quotes from reputable local roofers.
Once the leak is fixed, inspect for hidden moisture in walls or ceilings. Dry out any trapped water to prevent mould growth. Consider professional mitigation if major saturation occurs.
Be proactive about future leaks. Inspect the roof annually and after major storms. Keep gutters clean and make repairs at the first sign of damage. Protect your home today.
How to Prevent Roof Leaks
An ounce of prevention is worth a pound of cure when it comes to roof leaks. Stopping leaks before they start saves homeowners costly repairs and property damage. Here are proactive maintenance tips:
Inspect your roof at least twice per year, in spring and fall. Look for cracked, warped, or missing shingles/tiles, deteriorated flashing, and clogged gutters. Address any issues immediately to avoid leaks.
Have a professional roof inspection every 3-5 years. Contractors may spot underlying problems not visible from the ground. They can also assess when replacement is needed based on roof age and material.
Trim overhanging tree branches so they don't abrade the roof. Keep the roof surface clear of leaves, moss, and debris that retain moisture.
Reseal any penetrations like vents, skylights and chimneys which are common leakage points. Use roofing cement or urethane sealant.
Improve drainage and ventilation in the attic space. This prevents moisture buildup and rot under the roof surface.
When installing a new roof, choose materials rated for durability, wind/UV/thermal resistance, and longevity in your climate. Proper installation is also key.
Be diligent about preventative maintenance and you can stop roof leaks before they spiral into major headaches. Your home will be protected from the elements.
FAQ
Can I claim a leaking roof on insurance?
In most cases, you can claim on your home insurance policy if the roof leak is sudden and accidental, like storm damage. Wear and tear or lack of maintenance is not usually covered. Check your policy wording.
Will insurance cover a 20-year-old roof in the UK?
Insurance is less likely to cover leaks in an older roof. Age-based exclusions may apply after 15-20 years. Damage from a sudden event like a storm may still be covered, but not deterioration over time. Check with your provider.
Are house leaks covered by insurance?
Leaks caused by sudden events like storms are often covered, but not wear and tear. Damage to possessions may also be covered if caused by an insured event. Check your policy documents for details on leak coverage.
Does building insurance cover roof repairs in the UK?
Yes, buildings insurance will typically cover the cost of repairing roof leak damage caused by sudden, unforeseen events. Leaks due to lack of maintenance are not usually covered.
Conclusion
Most home insurance policies in the UK will cover the cost of repairs for roof leaks caused by sudden events like storms. However, leaks due to wear and tear or poor maintenance are often excluded. It's important to check your policy documents to see exactly what roof leak damage is covered. In summary, buildings insurance will typically cover repairs if the leak is caused by an unexpected event, but not if it is due to a lack of maintenance.