This informative article explains why pigeons flock to balconies and provides helpful tips for deterring them in a safe, humane way.
It's worth a read for any balcony owner struggling to keep pigeons at bay.
Why Do Pigeons Keep Coming to My Balcony?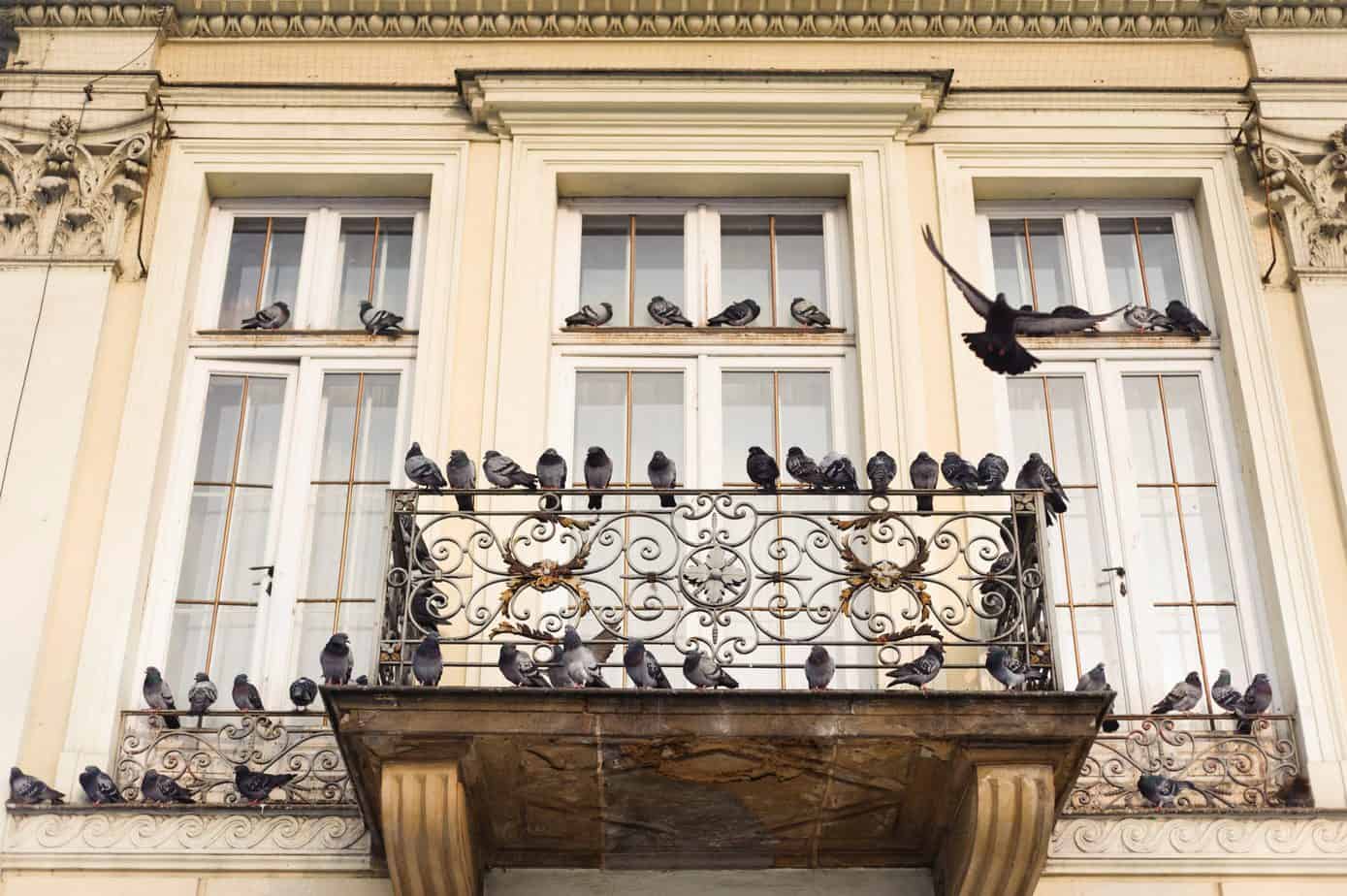 Pigeons are attracted to balconies because they provide easy access to food, water, and shelter.
Pigeons have a strong homing ability and will return to balconies where they have found these resources before.
To prevent pigeons from continually visiting your balcony, it's important to remove any food sources, standing water, and potential nesting spots.
Installing pigeon netting or spikes can also deter them from landing.
Persistent pigeons require modifying the balcony environment to make it less hospitable.
Key Points
Remove food sources like birdseed or crumbs from the balcony
Eliminate standing water and block access to nesting spots
Install physical barriers like netting or reflective tape
Our Opinion
The key to keeping pigeons off your balcony for good is understanding why they are attracted in the first place.
Pigeons have excellent homing instincts and will return to balconies that offer necessities like food, water and shelter.
By modifying your balcony to remove these attractants, installing deterrents, and blocking access, you can humanely prevent pigeons from continually visiting while still allowing other birds to enjoy your space.
A multifaceted approach works best for outsmarting persistent pigeons.
Why Pigeons Are Attracted to Balconies
Pigeons often gather on balconies for the food, water, and shelter these spaces provide. Balconies can resemble the ledges, eaves, and crevices that pigeons naturally nest in. A few stray breadcrumbs or a bowl of water left out for pets can be an open invitation.
To dissuade pigeons from treating your balcony as their nest, you'll need to remove their access to food, water, and shelter. Here are some tips:
Clean up any food scraps or spilt seeds. Pigeons can survive on surprisingly small crumbs.
Don't leave pet food or water bowls outside. Bring them in when pets are done.
Install pigeon netting or prickly bird deterrents to prevent landing and nesting.
Use harmless repellents like foil balloons, pepper powder, or wind chimes to scare off pigeons.
Place aluminium pie tins that reflect light and disorient birds.
With some diligence, you can humanely convince those pesky pigeons to relocate off your balcony and onto less inhospitable roosting spots.
Preventing Access to Food and Water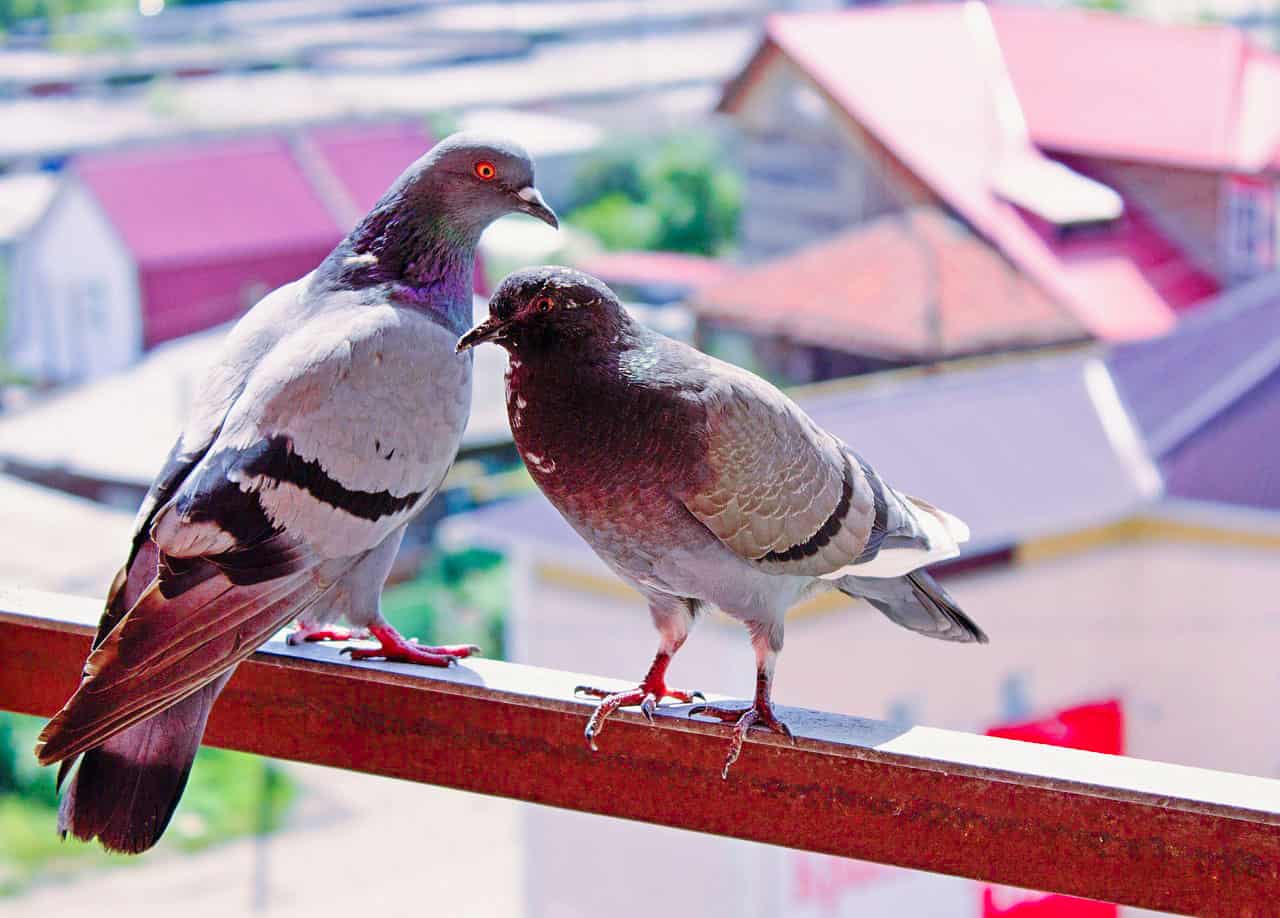 Pigeons are resourceful birds that can survive on remarkably little sustenance. A few stray breadcrumbs or a small puddle of water is all it takes to attract them. To discourage pigeon visitations, you'll need to meticulously eliminate any food sources or standing water on your balcony.
Start by cleaning up any leftover bits of seed, food scraps, or grease that may have dripped from the grill. Sweep, mop, or vacuum the balcony daily to remove any morsel pigeons that could scavenge. Don't leave pet food or water bowls outside when pets are not present. Bring them in as soon as your cat or dog is finished eating or drinking.
Installing pigeon deterrents like netting, prickly wire, or slope modifications can also prevent landing and access to food sources. Netting over drainage holes keeps pigeons from puddling up water to drink. Placing aluminium pie tins, mylar balloons, or flashing holiday lights creates movement and reflections that scare off birds.
With vigilant sanitation and proactive deterrents, you can cut off a pigeon's food and water supply on your balcony. Once the snacks and refreshments disappear, those winged moochers will look elsewhere to dine. Stay diligent, and your balcony can remain a pigeon-free zone.
Using Netting to Block Landing Spots
Pigeons are naturally inclined to perch and roost. Denying them a stable landing place is an extremely effective way to discourage them from visiting your balcony. Installing netting is a popular solution to obstruct preferred perches and landing spots.
Special bird control netting has small openings that allow air and light to pass through, but are too small for pigeons to grip or land on. Stretch the netting over railings, eaves, ledges, or any flat surfaces pigeons typically land on. For best results, install netting at an angle or slope so birds cannot gain stable footing.
Be sure to anchor the netting firmly and check it regularly for any gaps or openings. Over time, the netting can loosen or develop tears that allow pigeons access. Repair any compromised areas immediately to maintain efficacy.
Netting installation does require some handiwork, but it is a worthwhile long-term investment to make your balcony pigeon-proof. No landing zone means no roosting pigeons. By blocking their ability to land and perch, you eliminate the attractions drawing those nuisance birds to your balcony in the first place.
Removing Nests and Droppings
Pigeons are naturally inclined to return to spots they have occupied before. Allowing them to nest and roost enables this behaviour. Eliminating any evidence of their prior presence is key.
Regularly remove any nests built on your balcony or building exterior. Use gloves and masks when handling to avoid contact with bacteria, mites, and fungal spores. Dispose of the nesting materials promptly.
Thoroughly wash away all droppings, feathers, or other debris. Use a stiff brush and disinfectant to scrub the surface. Rinse afterwards.
Staying on top of this cleanup stops your balcony from smelling and looking like established pigeon territory. It removes inviting cues that tell pigeons they are welcome back.
Implementing pigeon deterrents like spikes, netting, or repellent gels will make nest removal much easier. With nowhere to land and roost comfortably, pigeons cannot occupy the space long enough to build nests and leave droppings.
Stay diligent in keeping your balcony clean and inhospitable. The less evidence of past pigeon presence, the less likely more will arrive.
Making Balconies Less Appealing to Pigeons
Pigeons are drawn to balconies and other man-made structures as convenient substitutes for the rocky cliffs and crevices they nested on historically. However, some simple changes can make your balcony a less attractive roosting spot.
Eliminate or block potential perches. Install pigeon spikes, sloped sheets, or coil springs on railings, ledges, and other flat surfaces. This denies them a place to comfortably land and rest.
Use netting or wire screens above balconies and windows to prevent access from above. Ensure there are no gaps where birds can slip through.
Remove outdoor food sources. Don't leave pet food or bird seed outside. Promptly clean up any food spills or leftovers. Use covered bins for waste. Starving them of an easy meal makes pigeons less eager to visit.
Install motion-activated sprinklers. These will gently spray trespassing birds when triggered. The surprise deters them from landing while avoiding harm.
With some creative modifications, you can make your balcony unappealing to pigeons seeking sites to loiter. They will move on to easier and more suitable areas for roosting and nesting.
FAQ
How can I stop pigeons from coming onto my balcony?
You can deter pigeons from your balcony by removing any food sources, installing physical barriers like netting or spikes, or using repellents like shiny objects or ultrasonic devices. It's also important to block potential nesting spots and eliminate standing water.
What does it mean when pigeons come to your balcony?
Pigeons are likely visiting your balcony because they have found food, water, or suitable nesting sites there. Their presence doesn't necessarily mean anything other than that your balcony has resources they find attractive.
Why do pigeons keep coming back?
Pigeons are creatures of habit and will return to locations where they've found food, water and shelter before. They also have strong homing abilities, allowing them to remember and revisit previous nesting and roosting spots. Removing these attractants is key to preventing pigeons from returning.
Should you scare away pigeons?
It's fine to gently scare away visiting pigeons through tactics like noisemakers or harmless repellents. However, simply scaring pigeons without removing the incentives that draw them in will not provide a long-term solution. A combination of deterrents and modifying the balcony environment is most effective.
Conclusion
Pigeons are persistent birds that can become nuisance visitors if they find your balcony accommodating. By eliminating food sources, access to water, and potential nesting spots, you can make your balcony far less appealing. Physical barriers like netting and repellents will also discourage pigeons from landing. With some simple modifications, you can humanely prevent pigeons from continually visiting your balcony. Understanding why pigeons are drawn to balconies in the first place is key to keeping them away for good.