When renovating a kitchen, choosing the right paint is crucial for creating a stylish and functional space.
The perfect kitchen wall paint should be durable, stain-resistant, and easy to clean.
This article discusses the best options for kitchen wall paints and finishes.
What Paint is Best for Kitchen Walls?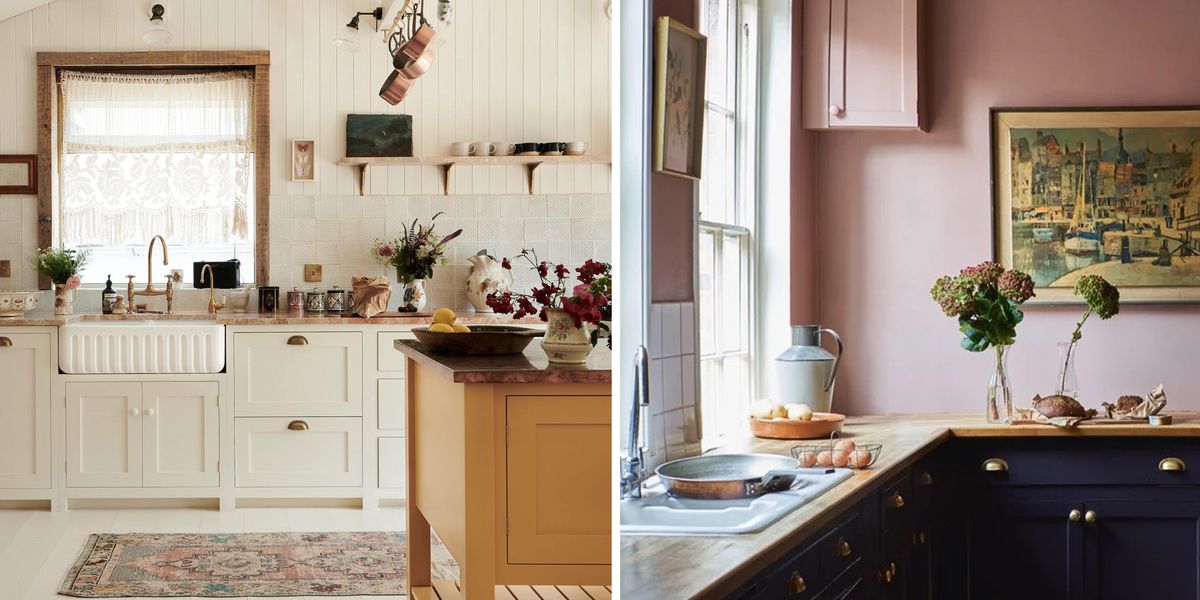 The best paint for kitchen walls is interior acrylic paint with an eggshell, satin, or semi-gloss finish.
These offer stain resistance and easy cleanup.
Popular brands include Crown Clean Extreme and Johnstone's Cleanable Matt.
Key Points
Use interior acrylic paints that are washable and moisture-resistant
Choose eggshell, satin or semi-gloss finishes for easy cleaning
Popular options include Crown Clean Extreme and Johnstone's Cleanable Matt
Our Opinion
In my experience as a painting contractor, I highly recommend using interior acrylic paints with eggshell, satin, or semi-gloss finishes on kitchen walls.
The slight sheen of these finishes makes them easier to clean and resist stains better than flat paints.
Brands like Crown Clean Extreme and Johnstone's Cleanable Matt are excellent choices that can withstand frequent cleaning and cooking splatters.
Applying two coats and priming first results in a durable, washable surface that will keep your kitchen walls looking fresh for years.
What Paint Finishes Are Best for Kitchen Walls?
For kitchen walls, paint finishes that range from matte to semi-gloss are ideal. These include options like eggshell, satin, and semi-gloss:
Eggshell has a soft, velvety appearance and stands up well to cleaning. It's a great choice for kitchen walls.
Satin has a pearl-like sheen, resists stains, and is easy to wipe down. It's excellent for high-traffic kitchen walls.
Semi-gloss has a medium-gloss look and is very scrubbable and stain-resistant. Use it for kitchen walls near cooking areas.
Backsplash areas can handle a higher gloss like gloss or high-gloss paint. Avoid flat or matte paints for kitchen walls since they stain easily.
Some top-rated kitchen wall paints in eggshell, satin, and semi-gloss finishes include:
Johnstone's Kitchen & Bathroom Emulsion Paint – Hardwearing eggshell paint.
GoodHome Kitchen Paint – Stain-resistant eggshell from B&Q.
Dulux Easycare Kitchen Paint – Scrubbable satin paint.
Crown Trade Clean Extreme – Anti-bacterial semi-gloss ideal for kitchens.
For cabinets, satinwood paints like Dulux Trade Quick Dry Satinwood and Dulux Trade Diamond Satinwood are top choices. Shellac primers also make kitchen walls more durable and grease-proof.
Most Durable Kitchen Wall Paints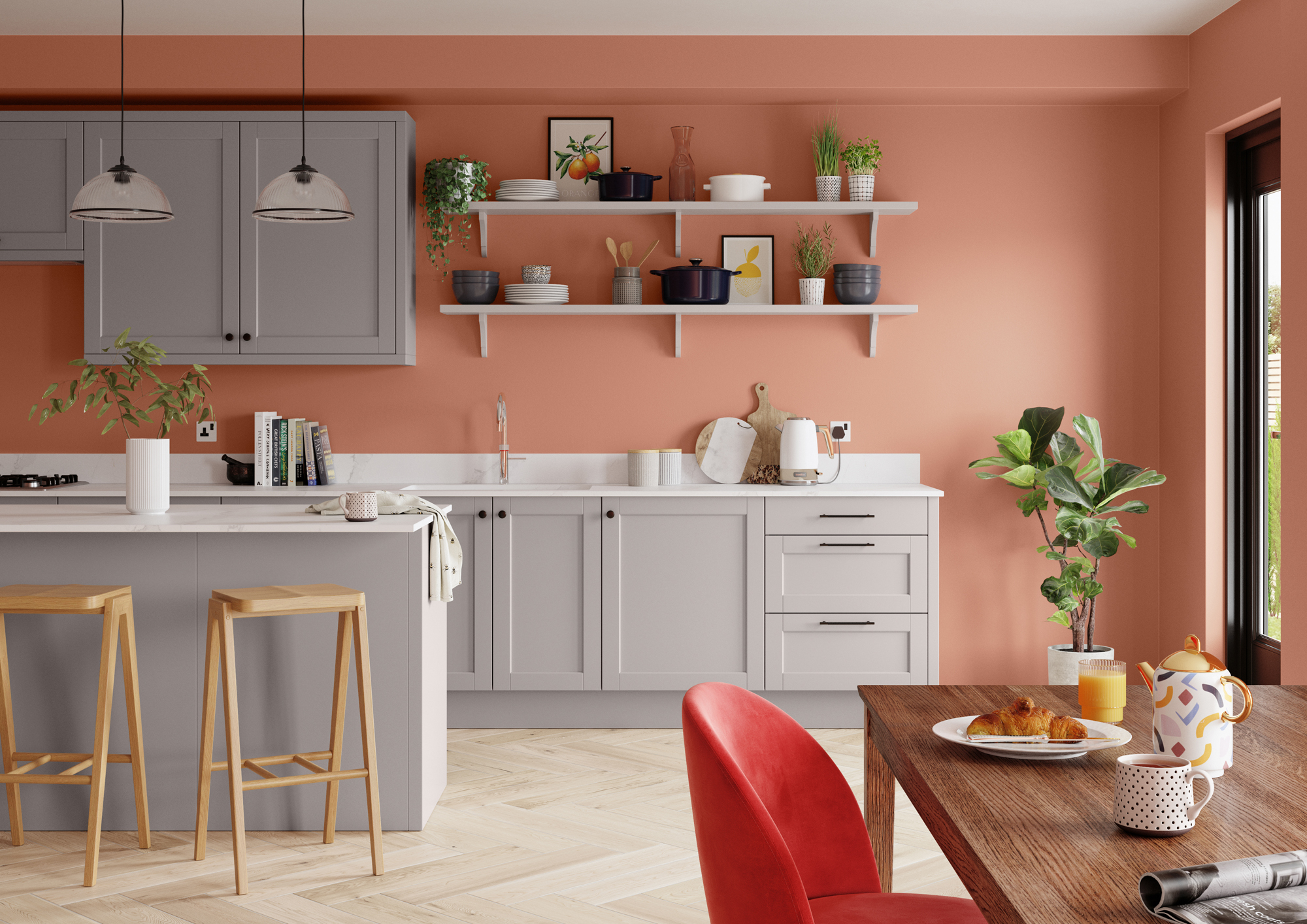 When selecting paint for kitchen walls, durability is key. The finish needs to stand up to moisture, grease, and regular cleaning. Here are some of the most durable options:
Epoxy paint creates an extra-tough, plastic-like coating that resists stains and moisture. It's ideal for high-traffic kitchen walls.
Alkyd/oil-based paints form a strong, glossy film that repels water and stains. Brands like Farrow & Ball Modern Emulsion are top choices.
Acrylic paints are water-based but offer excellent adhesion and durability. Behr Premium Plus Ultra and Benjamin Moore Advance are recommended.
Polyurethane paints like Polane provide an extremely scratch and stain-resistant finish.
Factors like primers, number of coats, and proper surface prep also impact the durability of any kitchen paint. Using high-quality roller sleeves and brushes ensures an even, consistent coating.
Look for kitchen paints that specifically mention stain resistance, washability, and scrubbability. And don't forget to check the manufacturer's recommended drying times between coats for maximum toughness.
Easiest Kitchen Wall Paints to Clean
After durability, easy cleanability is a top priority for kitchen wall paints. Grease splatter and food stains are inevitable, so you'll want a finish that wipes clean with minimal effort. Consider these options:
Satin or semi-gloss acrylics have a subtle sheen that resists moisture, stains, and mildew. Brands like Behr Premium Plus Ultra and Benjamin Moore Aura are known for their scrubbability.
Epoxies form a ceramic-like coating that can handle harsh cleaners. Rust-Oleum's EpoxyShield is formulated for kitchens and bathrooms.
Primers like KILZ help paint adhere tightly for added scrubbability. Pair them with a durable topcoat.
Look for paints described as "scrubbable", "washable", or "stain-resistant" on the label. Stay away from flat finishes, which are harder to clean. Proper prep and priming are also key for long-lasting results.
When wiping down painted kitchen walls, use mild cleaners and soft cloths to avoid damaging the finish over time. And don't forget to check the paint manufacturer's instructions for any cleaning guidance.
Best Budget Paints for Kitchen Walls
Painting your kitchen doesn't have to break the bank. Several budget-friendly options still offer good quality and performance:
Glidden's Essentials line provides basic interior paints starting at around £20 per gallon. Opt for satin or semi-gloss sheens.
Valspar Reserve offers paint + primer formulas for under £30 per gallon. The "scrub-able" finish stands up well in kitchens.
For deep discounts, check out retailer house brands like B&Q's GoodHome and Homebase's ColourMatch. Prices often start around £10 per gallon.
At hardware stores, you can get gallons of Behr, Valspar, or Glidden paints for under £20 if you watch for sales.
No matter your budget, don't skimp on prep. Properly cleaning and priming the walls will help inexpensive paints last longer. And invest in good brushes/rollers – it makes a difference in the final finish.
With some smart shopping and elbow grease, you can get a fresh, durable kitchen paint job without breaking the bank. Just be sure to choose products designed for high-traffic areas.
Best Eco-Friendly Kitchen Wall Paints
If you're looking for environmentally friendly kitchen paint, there are several excellent options to consider:
Many top brands like Benjamin Moore and Sherwin-Williams now offer low-VOC and zero-VOC options.
Ecos Organic Paints are made from plant oils and natural ingredients – no VOCs or toxic chemicals.
For milk-based paint, try Mythic Paint. It's made from casein (milk protein) and clay.
Graphenstone paints are carbon-negative and made from crushed limestone and graphene.
When researching eco-friendly paints, look for certifications like Green Seal or EcoLogo. This ensures sustainability across production methods and ingredients.
Many eco-friendly paints are now as durable and long-lasting as traditional options. Just be prepared to pay a small premium. Protecting your health and the environment is worth the extra cost.
With the right eco-friendly paint, you can give your kitchen a fresh new look while keeping your home healthy and reducing environmental impact.
FAQ
How to clean kitchen wall paints?
Do not use regular wall paints in the kitchen. Opt for interior paints that are washable and moisture-resistant. Eggshell, satin, and semi-gloss finishes are easier to clean. Popular options include Crown Clean Extreme, Johnstone's Cleanable Matt, and Zinsser Permawhite. For cabinets, choose paints like Dulux Quick Dry Satinwood or Diamond Satinwood.
What paint finishes are best for kitchen walls?
Matt finishes hiding imperfections well but requires gentle cleaning. Silk finishes add shine but may show flaws. Both work for walls. Matt is better for high-traffic areas. Silk is good for accent walls.
Which kitchen wall paints are the easiest to clean?
Water-based acrylic paints are best for kitchens. They resist stains, moisture and scrubbing. Oil-based paints are more durable but require mineral spirits for cleanup.
What makes kitchen wall paints durable?
Primers like shellac provide maximum stain blocking and durability. They help paint adhere to slick surfaces like tile and cabinets. Topcoat with acrylic paint.
Conclusion
When choosing paint for kitchen walls, opt for interior acrylic paints with eggshell, satin or semi-gloss finishes. These offer the right balance of stain resistance and easy cleanup. Popular options include Crown Clean Extreme and Johnstone's Cleanable Matt. For cabinets, quick dry enamels like Dulux Satinwood provide a durable and scrubbable surface. With the right prep and paint, you can give your kitchen walls a fresh new look that will withstand the wear and tear of daily cooking.