When renovating or building a new kitchen, one of the most important decisions is choosing the right worktop material.
With so many options available, it can be overwhelming to select the perfect surface for your needs and style.
What Is the Best Kitchen Worktop?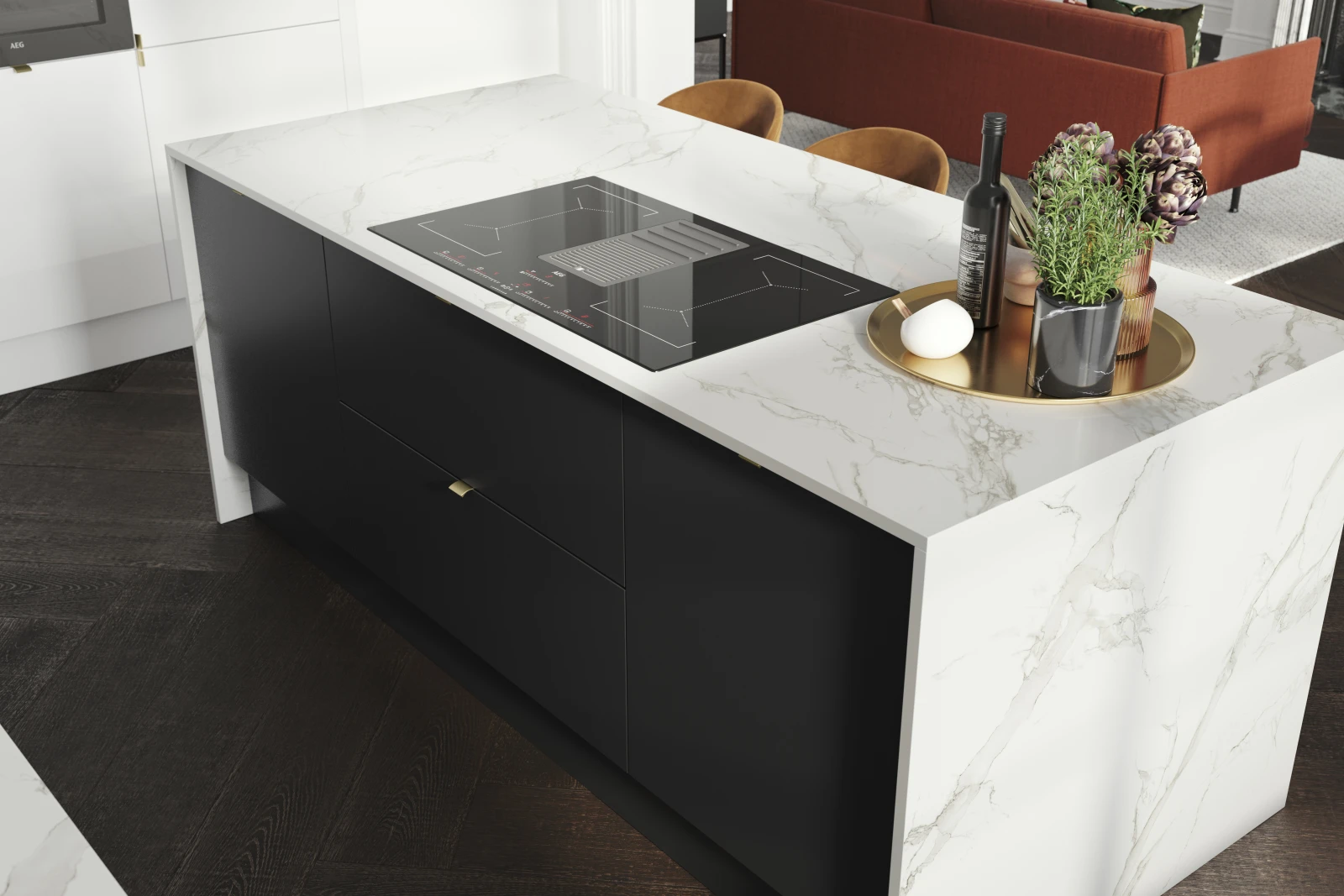 Quartz is one of the best options for kitchen worktops due to its durability, stain resistance, and low maintenance requirements.
It provides a beautiful look that resembles natural stone.
Key Points
Quartz and granite are very durable and resistant to scratches, stains, and heat.
Quartz requires less maintenance than granite.
Quartz offers an attractive stone-like look for kitchen worktops.
Our Opinion
In my opinion, quartz is the best choice for kitchen worktops. Its durability and low maintenance make it ideal for busy kitchens.
While more expensive than laminates, quartz will keep its beautiful appearance for years to come.
The investment is well worth it.
Granite Worktops
Granite is one of the most popular choices for kitchen worktops, and for good reason. This natural stone is highly durable, heat and scratch-resistant, and available in a stunning array of colours and patterns. Granite makes a gorgeous, high-end statement in any kitchen.
Some key advantages of granite worktops:
Extremely durable and long-lasting can last a lifetime with proper care
Available in a wide variety of colours from solid blacks to vibrant patterns
Resistant to heat, stains, and scratches
Easy to clean and maintain
Timeless, classic look that suits any kitchen style
While more expensive than man-made options, granite is an investment that can greatly increase the value and beauty of your kitchen. When professionally installed and sealed, granite worktops will retain their lustre for decades. For a high-end, luxury look, granite can't be beat.
Some popular granite worktop choices include Black Galaxy, Kashmir White, Emerald Pearl, and Blue Pearl. Be sure to view granite slabs in person before making a selection, as the unique colours and patterns can vary.
If you love the look of natural stone but want more affordable options, consider engineered quartz or marble worktops which replicate the beauty of granite for less cost. With the right granite worktop, you can add instant sophistication and timeless elegance to your kitchen.
Wooden Worktops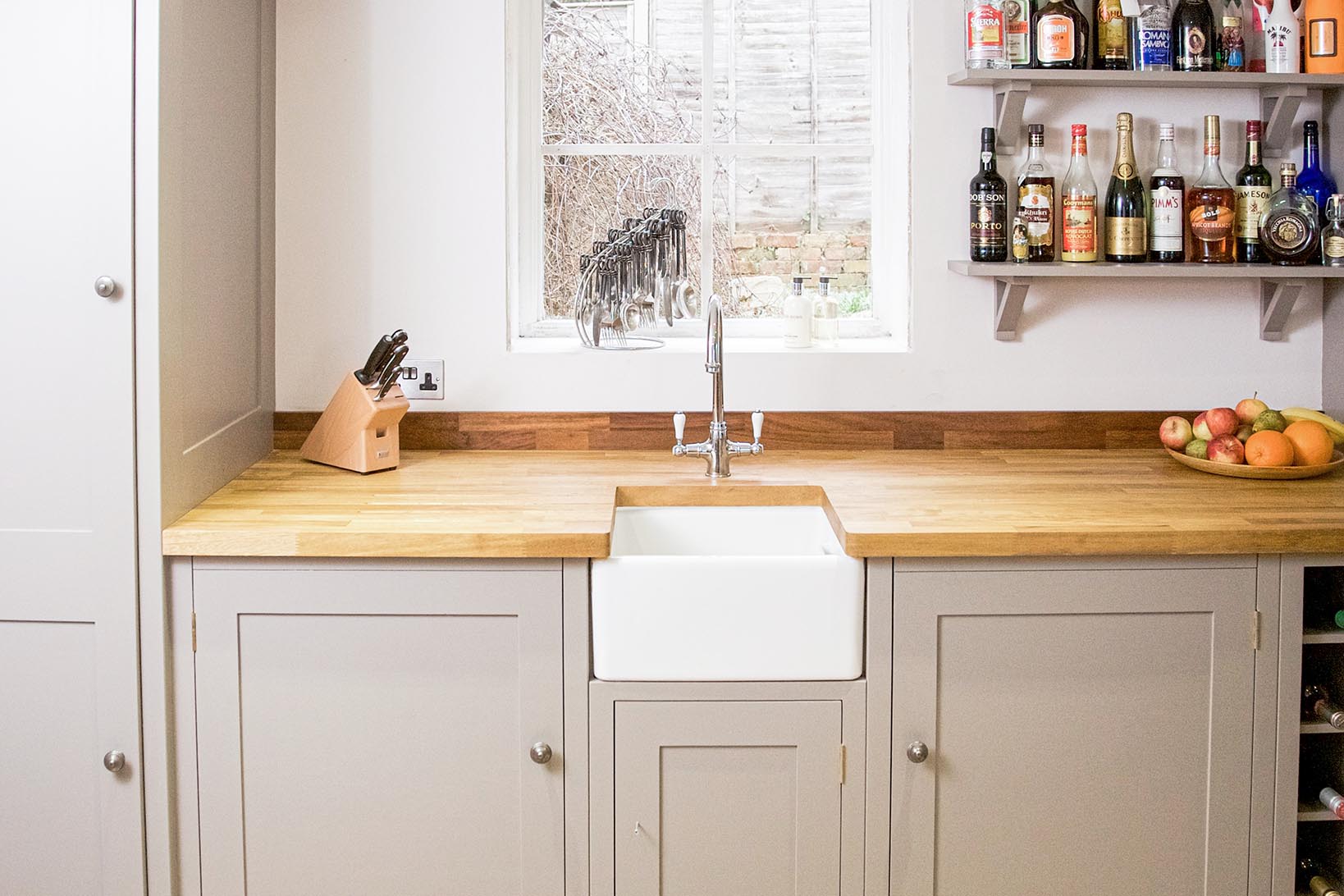 For a warm, natural look, wooden worktops can be an excellent choice. Wood brings a timeless, rustic feel that instantly warms up any kitchen.
Some of the benefits of wood kitchen worktops include:
Gorgeous natural patterns and colours
Softer and warmer than stone
Easier on glassware and dishes
Can be sanded and resealed when worn
Sustainable and environmentally-friendly
Popular wood types like oak, walnut, maple, and cherry can be used to create stunning worktops. Woods like teak and iroko are naturally water-resistant. Finish options include matte, satin, or high-gloss. Distressed, reclaimed wood adds rustic charm.
The main downsides of wood are its susceptibility to stains, scratches, and water damage. Frequent resealing is required. Burns and cuts can also be difficult to repair. And not all woods are durable enough for the demands of a kitchen.
With proper care and maintenance, a woodworktop can last many years. Using cutting boards, coasters, and sealers will help protect the surface. For an eco-friendly worktop with natural beauty, wood is a top choice. Just be prepared to give it some extra TLC.
Quartz Worktops
If you're after a low-maintenance yet stylish worktop, quartz is an excellent option to consider. Made from ground quartz stone combined with resin binders, quartz worktops offer durability and visual appeal.
Here are some of the pros of quartz kitchen worktops:
Extremely strong and scratch-resistant surface
Stain-resistant and easy-to-clean
Seamless appearance with no grout lines
Wide variety of colours and patterns
Doesn't require regular sealing
Quartz is nearly maintenance-free, unlike natural stone which needs frequent sealing. The non-porous material won't harbour bacteria and resists stains, heat, and scratches. While not fully indestructible, quartz is incredibly durable in the kitchen.
The downside is that quartz lacks the unique natural veining of stone. The manufactured patterns can look overly uniform. And the surface can be prone to fingerprints and watermarks. Quartz is also one of the pricier worktop options.
Overall, for a fuss-free worktop that can handle the rigours of daily kitchen use, quartz is hard to beat. With minimal upkeep needed, quartz offers convenience and versatility for modern kitchens.
Laminate Worktops
If you're looking for an affordable and low-maintenance worktop, laminate is a practical choice to consider. Laminate worktops, sometimes called Formica, have a durable melamine resin surface fused to a substrate.
Here are some of the benefits of laminate kitchen worktops:
Inexpensive compared to stone or quartz
Easy to clean and maintain
Wide range of colours and patterns
Resistant to scratches, stains, and heat
Can be cut and installed DIY
Laminate stands up well to heavy use and spills in a kitchen. The smooth surface wipes clean easily. Laminate is also lightweight compared to natural stone. And the cost is significantly less than quartz or granite.
The tradeoff is that laminate can chip or peel at the edges over time. Prolonged water exposure can cause swelling and warping. The patterns are also limited compared to natural materials. But for an affordable, user-friendly worktop, laminate is tough to beat.
If you're on a budget or want a temporary worktop solution, laminate offers convenience. With a little care, laminate worktops can provide years of service in the busiest kitchens.
Concrete Worktops
For a unique, industrial look in the kitchen, concrete counters are an intriguing option. Concrete worktops have risen in popularity for their rugged, raw aesthetic.
Here are some key advantages of concrete kitchen worktops:
Distinctive, contemporary appearance
Durable and heat-resistant
Stain-resistant with proper sealing
Can be customized with pigments and aggregates
Doesn't require extensive maintenance
Properly sealed concrete is impervious to scratches, stains, and heat up to 1800°F. It's an ideal surface for avid home cooks. The matte finish and cool tone lend an urban, loft-like vibe. Concrete can be stained in various hues or imprinted with an aggregate like glass or stone. This allows for one-of-a-kind worktops tailored to your style.
On the downside, concrete is porous and must be sealed to prevent damage from spills. Cracks can develop over time. And the weight requires extra structural support. For some, the industrial aesthetic may seem too cold. But if you love the urban look, concrete counters make a striking statement.
Concrete brings rugged durability and artisanal style to the kitchen. If you don't mind the industrial vibe, concrete worktops deliver originality and function.
FAQ
Which is the most durable kitchen worktop?
Quartz and granite are two of the most durable options for kitchen worktops. They are scratch, stain, and heat resistant.
What is the best worktop to avoid stains?
Quartz, granite, and solid surfaces like Corian are the best at resisting stains. Their non-porous nature makes them very stain-proof.
What is the most scratch-resistant worktop?
Quartz is the most scratch-resistant option for kitchen worktops. It's even more scratch-resistant than granite.
Is quartz worktop better than granite?
Quartz and granite both have their pros and cons. Quartz is more stain and scratch-resistant, while granite is more heat-resistant. Less maintenance overall is required for quartz.
Conclusion
When considering the best kitchen worktop, durability and maintenance should be top priorities. Materials like quartz, granite, and solid surfaces stand out for their scratch, stain, and heat resistance. Of these, quartz is arguably the best option for low maintenance while still providing an attractive, high-end look. With proper care, a quartz worktop can last for many years in a busy kitchen.