This insightful blog post explores what sustainability in construction means, what are the materials used, and why it is important.
What Is Sustainability in Construction?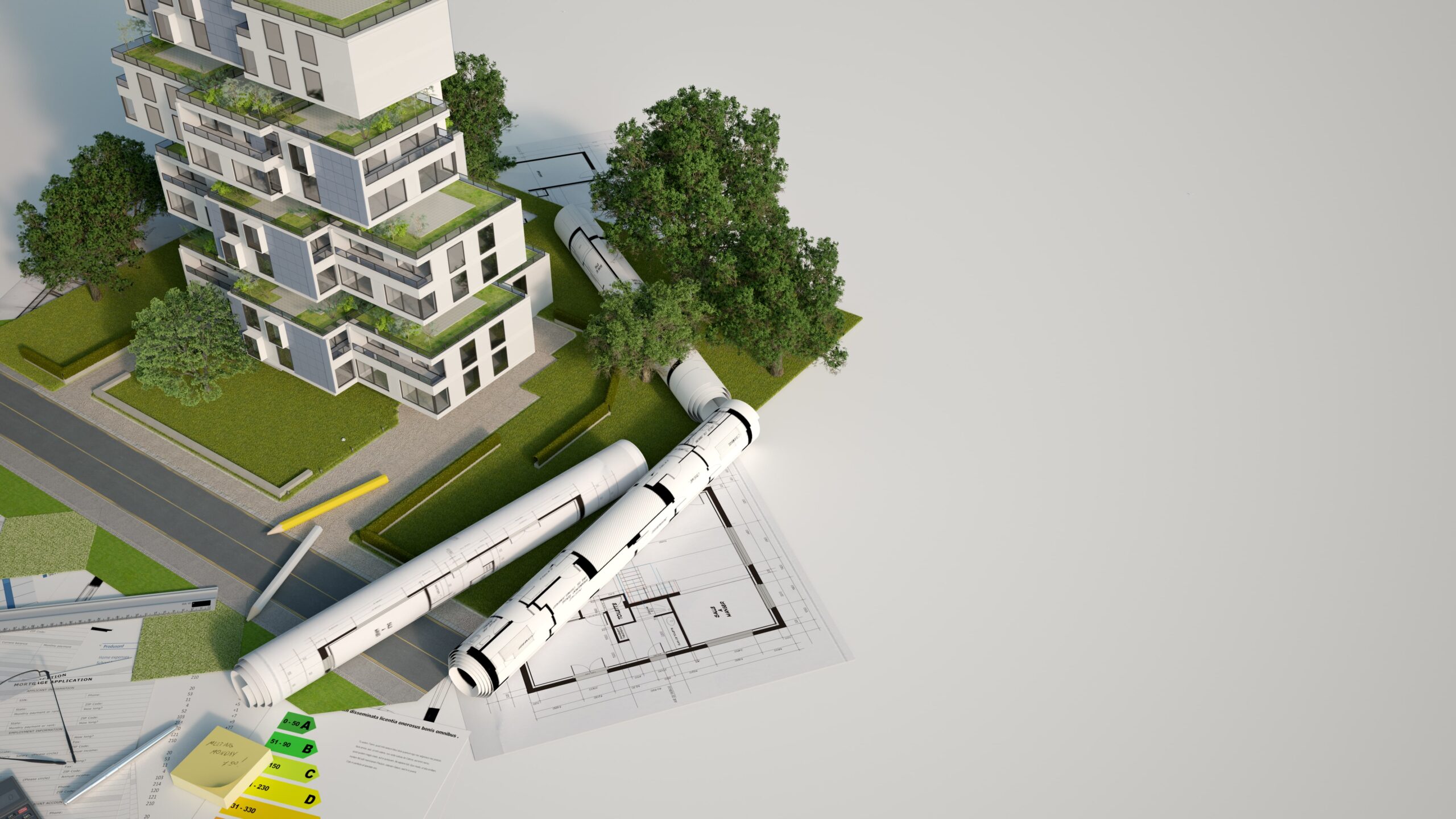 Sustainable construction refers to building practices that minimize environmental impact through energy efficiency, renewable materials, waste reduction, and other green measures.
The goal is to create environmentally responsible buildings.
Key Points
Sustainable construction aims to minimize the environmental impact of buildings.
It involves the use of renewable, recycled materials and reducing energy consumption.
Goals include reducing carbon emissions and waste from the construction industry.
Our Opinion
Sustainable construction is crucial for reducing the construction industry's large carbon footprint.
By implementing renewable materials and efficient practices, we can build healthier, greener buildings that benefit the environment.
Our company is committed to furthering sustainability in all of our projects.
What is Sustainable Construction?
Sustainable construction aims to create infrastructure and buildings that have minimal impact on the environment. This involves using renewable, recyclable materials, reducing energy consumption, and minimizing waste. The goal is to build assets that promote healthy living and workspaces while reducing carbon emissions.
Construction is a major consumer of natural resources and generates high carbon emissions. By implementing sustainable practices, the industry can contribute to a greener built environment.
— Companies are actively working to build more resilient and low-carbon assets.
— They are minimizing landfill waste and water usage on projects.
— Renewable materials like timber are being used instead of concrete and steel.
Sustainable construction considers the full lifecycle of buildings. From design to demolition, the aim is to reduce environmental impact at every stage.
Key elements of sustainable construction include:
— Energy efficiency – Using insulation, glazing, and renewable energy sources to cut energy needs.
— Water efficiency – Installing low-flow plumbing fixtures and rainwater harvesting systems.
— Materials efficiency – Selecting sustainable, locally sourced materials with low embodied carbon.
By implementing these practices, the construction industry can build greener and more resource-efficient assets. This is crucial as construction activities account for 39% of global carbon emissions.
Sustainable construction offers environmental and social benefits. It creates healthier buildings, reduces pollution, and makes better use of finite resources. As climate change continues, adopting sustainable practices will be vital for the construction sector.
Why is Sustainable Construction Important?
Sustainable construction methods are crucial for reducing the environmental impact of new buildings and infrastructure. With the global population expanding, the world is undergoing rapid urbanisation. This is increasing pressure on natural resources and carbon emissions.
Construction and buildings account for 39% of energy-related carbon dioxide emissions worldwide. As cities grow, the need for sustainable practices becomes more pressing.
Some key reasons why sustainable construction matters:
Preserves natural resources – Reduces demand for materials like sand, gravel, and metals through efficient design and use of renewable materials.
Cuts energy consumption – Green buildings use an average of 30-50% less energy through insulation, renewable energy, and efficient systems.
Reduces water usage – Low-flow plumbing fixtures, rainwater harvesting, and wastewater recycling lower potable water demand.
Creates healthier spaces – Improved ventilation, daylighting, and low-VOC materials enhance occupant health and productivity.
Lowers costs – Energy and water savings cut operating expenses over the building's lifespan.
Cuts waste – Reusing materials and efficient design reduces construction waste sent to landfills.
Promotes sustainability – Greener practices support the UN Sustainable Development Goals on climate action and responsible consumption.
With climate change accelerating, sustainable construction is vital. By minimising lifecycle impacts, the industry can build assets that support a green future.
What are the Benefits of Sustainable Construction?
Adopting sustainable practices in construction projects has many advantages beyond environmental benefits. Green buildings provide higher returns for developers, healthier spaces for occupants, and long-term savings for asset owners.
Key benefits of sustainable construction include:
Increased asset value – Green buildings typically have higher property values and rental incomes.
Enhanced productivity – Features like daylighting and fresh air boost occupant performance and well-being.
Lower operating costs – Efficient energy and water systems cut utility bills by up to 40%.
Improved resilience – Passive design strategies maintain comfortable conditions during power outages.
Reduced liability – Avoiding harmful materials like asbestos mitigates future health risks.
Enhanced reputation – Sustainable projects demonstrate social responsibility to clients and communities.
Compliance with regulations – Green buildings align with tightening sustainability codes and standards.
Optimised life cycle – Durability and adaptability maximise usefulness over decades.
Future-proofing – Resource efficiency insulates against rising energy and water costs.
The rewards of sustainable construction extend throughout a building's life cycle. By taking a green approach, the industry can create assets that support business success and human well-being for generations to come.
What Materials are Used in Sustainable Construction?
Sustainable construction utilizes innovative materials that are durable, non-toxic, and made from recycled content. Specifying eco-friendly materials is key to minimizing environmental impact.
Some of the top materials for green building projects include:
Recycled steel and concrete – Using recycled scrap and returned concrete reduces extraction and carbon emissions.
Renewable bamboo – Bamboo can replace wood for structural and finish applications with fast regrowth.
Natural linoleum – Made from linseed oil, pine resin, and cork, it avoids PVC and VOCs.
Wool insulation – Sheep's wool contains natural fire retardants and regulates moisture.
Cradle-to-Cradle carpets – Designed for full recyclability, C2C carpets keep waste out of landfills.
Low-VOC paints and finishes – These emit fewer harmful volatile organic compounds.
Local materials – Choosing regional materials reduces transport emissions and supports local economies.
Reused materials – Salvaging building components from deconstruction preserves embodied energy.
Rapidly renewable materials – Products like bamboo ply avoid depleting old-growth forests.
Natural stone and clay – Locally sourced stones and clay bricks have low carbon footprints.
By selecting sustainable options, projects can reduce lifecycle impacts and protect environmental and human health. The right material choices make a big difference.
What Methods Promote Sustainability in Construction?
In addition to material selection, utilizing certain techniques and strategies can dramatically improve the sustainability of construction projects.
Some effective methods include:
Passive solar design – Orienting buildings and incorporating glazing to maximize solar gain cuts energy use.
Rainwater harvesting – Collecting and reusing rain and stormwater reduces municipal water demand.
Low-impact foundations – Systems like helical piles minimize site disruption and avoid concrete.
Prefabrication – Assembling components off-site boosts quality control and reduces waste.
Waste management – Job site recycling and efficient cut plans minimize landfilled construction debris.
Healthy indoor air – Strategies like increased ventilation and low-VOC materials provide occupant well-being.
Adaptive reuse – Retrofitting existing buildings is often more sustainable than new construction.
Commissioning – Testing building systems ensures optimal energy performance during operation.
Grid-connected renewables – On-site solar PV, wind, and geothermal energy generation reduces grid reliance.
Sustainable landscaping – Drought-tolerant native plants and efficient irrigation conserve water.
Electric fleet vehicles – Using EVs for construction projects avoids fossil fuel emissions.
Leveraging innovative techniques like these allows projects to reduce environmental impacts and maximize sustainability from start to finish.
FAQ
What do you mean by sustainability in construction?
Sustainability in construction refers to the use of environmentally friendly materials, energy-efficient building practices, and minimizing waste during the construction process. The goal is to reduce the environmental impact of construction projects.
What is the main purpose of sustainable construction?
The main purpose of sustainable construction is to create buildings and infrastructure that have minimal negative impact on the environment. This includes reducing energy and water usage, using renewable materials, and implementing recycling practices to reduce waste.
What are the 3 pillars of sustainability in construction?
The 3 pillars of sustainability in construction are:
1. Environmental sustainability – Using eco-friendly materials, protecting ecosystems, and reducing pollution.
2. Economic sustainability – Ensuring projects are cost-effective over the entire lifecycle.
3. Social sustainability – Providing healthy environments for occupants and engaging local communities.
What are the basic principles of sustainability in construction?
The basic principles of sustainability in construction include:
– Reducing energy consumption through efficient building design.
– Conserving water resources by collecting rainwater and reusing greywater.
– Using renewable construction materials and minimizing waste.
– Protecting the natural environment around the construction site.
– Providing good indoor environmental quality for occupants.
Conclusion
Sustainable construction aims to create environmentally friendly, energy-efficient buildings by using renewable materials, minimizing waste, and reducing environmental impact. This involves considering the full lifecycle of buildings from design and construction to operation and eventual demolition. By implementing sustainable practices, the construction industry can reduce its significant resource usage and carbon emissions. Overall, the goal is to build resilient, low-carbon assets that promote healthy environments for occupants while protecting ecosystems. Sustainability is becoming an essential consideration for the construction industry.