Builder's tea is a beloved British staple.
This hearty, robust brew packs a punch with its strong flavour and high caffeine content.
Let's dive into what makes builder's tea so great.
What Is a Builder's Tea?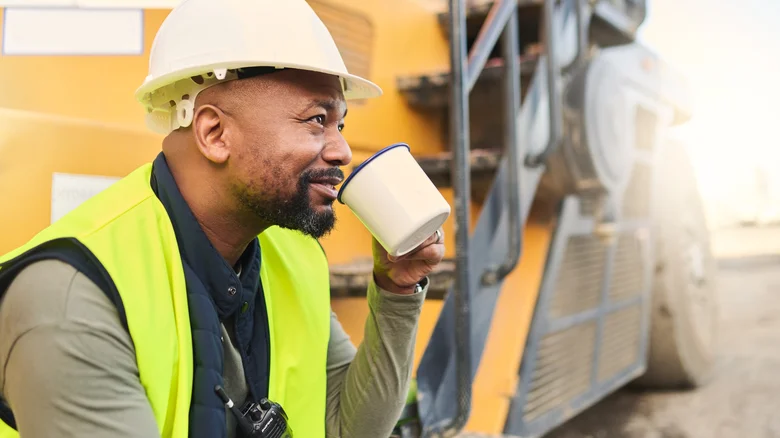 Builder's tea is a strong, malty black tea that is popular in the UK.
It is brewed with tea bags and typically includes milk and sugar.
Hence, builder's tea has a bold, robust taste enjoyed by many tradesmen.
Key Points
Builder's tea originated in the UK as a tea for builder's and tradesmen
It is made by steeping black tea bags longer to extract a strong flavour
Milk and sugar are added to balance the bitterness
Our Opinion
Builder's tea is the quintessential British brew.
Its hearty taste and simple preparation make it a comforting, energizing drink.
While less fashionable than posh teas, builder's tea holds a special place in British culture.
Especially, its no-fuss nature and bold flavour represent the hard-working attitude of the builder's and tradesmen who popularized it.
Undoubtedly, sipping a mug of this strong, malty tea is an authentic British experience.
What Is Builder's Tea?
Builder's tea is a cup of strong, milky black tea that's hugely popular in the UK. It's often referred to as a "builder's brew" or "gaffer's tea." This inexpensive, mug-brewed tea became a favourite of construction workers, hence the name. Here's a closer look at what defines this great-tasting tea:
It's made from black tea bags – often English or Irish breakfast tea blends.
It's almost always brewed strong, with lots of tea per cup.
It's served "dressed" in milk and sugar to sweeten and mellow the robust flavour.
It's brewed in a mug rather than a teapot for convenience.
It's inexpensive compared to loose-leaf or green teas – cheap tea bags keep costs down.
Correspondingly, builder's tea is a milky, sweetened, strong mug of black tea. It provides an affordable caffeine boost with a bold, comforting flavour. While it's fallen out of favour with some tea drinkers, builder's tea remains a tasty staple for many in the UK.
The History of Builder's Tea
Builder's tea has working-class roots in the UK. As the Industrial Revolution took hold in the 1800s, factory and construction workers wanted an inexpensive, invigorating hot drink. Therefore, strong, milky tea fits the bill perfectly.
Black tea was already popular but brewing it strong with extra leaves made it even more caffeinated. Adding milk tempered the bitter taste. Sugar provided energy. Serving it in big mugs meant easy sharing on job sites.
The cost of tea dropped as production increased in India and Ceylon. Affordable tea bags emerged in the early 1900s, making builder's tea fast and convenient to prepare. Additionally, thermos flasks allowed workers to take it on the go.
By the 1950s, builder's tea was firmly established as the hot drink of choice for manual labourers across Britain. It fueled the post-war rebuilding boom. It remains a nostalgic reminder of the country's industrial past at the present time.
While builder's tea may seem simple, its origins reflect Britain's history of empire, industry, and innovation. This strong, milky brew is also a distinctive legacy that continues to refresh and revive tea drinkers today.
How to Make Builder's Tea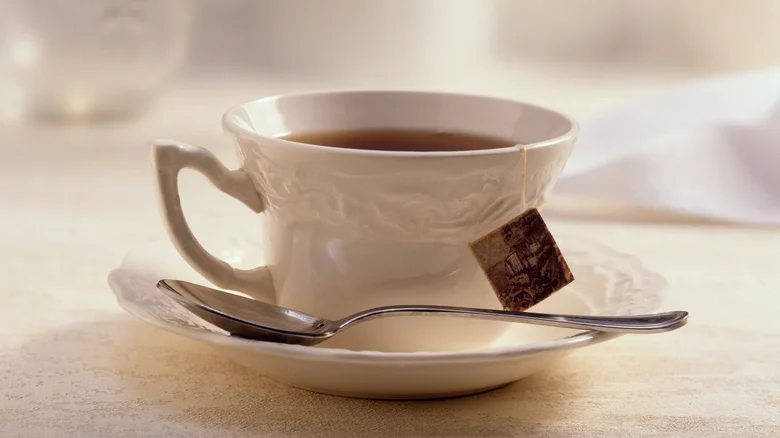 At this point, making a good cup of builder's tea is straightforward. Here are some tips:
Use a large teapot or mug. It means making a big brew to share.
Go with full-leaf tea, not bags if you can. Loose leaves allow the robust flavour to come through.
Use 2 or even 3 teaspoons of tea per cup. This more leaves make for a stronger brew.
Brew for at least 5 minutes. This gives time for the caffeine to infuse.
Add milk while the tea is still hot to prevent curdling. Splash in about half milk half tea.
Sweeten with white sugar or leave unsweetened based on preference. Some like a spoonful of sugar to balance the tannins.
Drink your builder's tea hot! The warmth is energizing and refreshing.
In like manner, customize your own builder's tea to taste. You may also play with different tea varieties, milk ratios, and sweetness levels. However, just keep it strong and milky for an authentic experience.
Background on the Term Builder's Tea
The term "builder's tea" refers to the fact that it's a tea traditionally enjoyed by builder's and other manual labourers in the UK. Here's some background on why it got this name:
Builder's and tradesmen needed a strong, energizing tea to fuel their physically demanding work. The extra-strong tea with milk thus provides a caffeine and sugar boost.
Tea breaks are a regular part of the workday on construction sites. Sharing a few mugs of tea gives workers a chance to take a break and socialize.
The large mugs used allow builder's to make a big communal pot to share. The tea is made strong, so it lasts through multiple refills of mugs.
Traditionally tea was likely the safer beverage option on sites compared to water which could be contaminated before modern plumbing.
The name distinguishes it from more delicate afternoon tea or tea served in finer cups. It is robust and served in mugs.
So, in summary, builder's tea refers to a strong, milky tea commonly brewed and enjoyed by builder's while they take tea breaks during their physical workdays. The name distinguishes it as a hearty brew made for fueling tough manual work.
Key Differences Between Builder's Tea and a Regular Cup of Tea
Builder's tea has some key differences from a regular cup of tea that make it uniquely suited to fuel a day of manual labour:
It's stronger. It is made with more tea leaves per cup and steeped longer, resulting in a bold, highly caffeinated brew.
More milk is added. The generous amount of milk tempers the strength and adds calories to the milk's protein and fat.
It's sweetened. Several teaspoons of sugar are standard to provide an energy boost.
Big mugs are used. A typical builder's mug holds 16-20 oz, allowing more hydration per cup.
It's brewed frequently. Builder's drink tea throughout the workday, with shared pots brewed fresh regularly.
The tea itself is basic. It is usually a simple black tea like English Breakfast, not a fancy loose leaf.
Generally, builder's tea stands out from a typical cuppa due to its hearty strength, liberal additions of milk and sugar, large mug size, and constant refilling all day long on the job site. It's brewed to be a high-caffeine, high-calorie drink that can keep workers fueled and hydrated.
FAQ
What type of tea is builder's tea?
Builder's tea is a strong black tea that originated in the UK. It's made to be hearty and robust.
What is builder's tea made of?
It is made from standard black tea bags, boiled water, milk, and sugar. Then, the tea bags are left to steep longer, resulting in a strong brew.
How do you make builder's tea?
To make builder's tea, add a tea bag to a mug and pour in boiling water. Then, let it steep for 5-7 minutes. Afterwards, remove the tea bag and add milk and sugar to taste. As a result, the tea should be very strong.
What does builder's tea taste like?
Builder's tea has a bold, malty taste. The tannins give it some bitterness. The addition of milk rounds out the flavour, while the sugar adds sweetness to counter the bitterness. Overall, it has a strong, hearty taste.
Conclusion
Builder's tea is a uniquely British tea that is loved for its strong, robust flavour. It is made by steeping standard black tea bags for longer, resulting in a powerfully brewed tea. Milk and sugar are added to balance the bitterness. This inexpensive, no-fuss tea has been popular with builder's, tradesmen, and other manual labourers in the UK for years. Hence, its bold taste makes it the perfect break-time brew. Overall, builder's tea is defined by its strength and full flavour.