This article explores what colours go with a sage green kitchen that brings a fresh yet calming vibe.
What Colours Go with Sage Green Kitchen?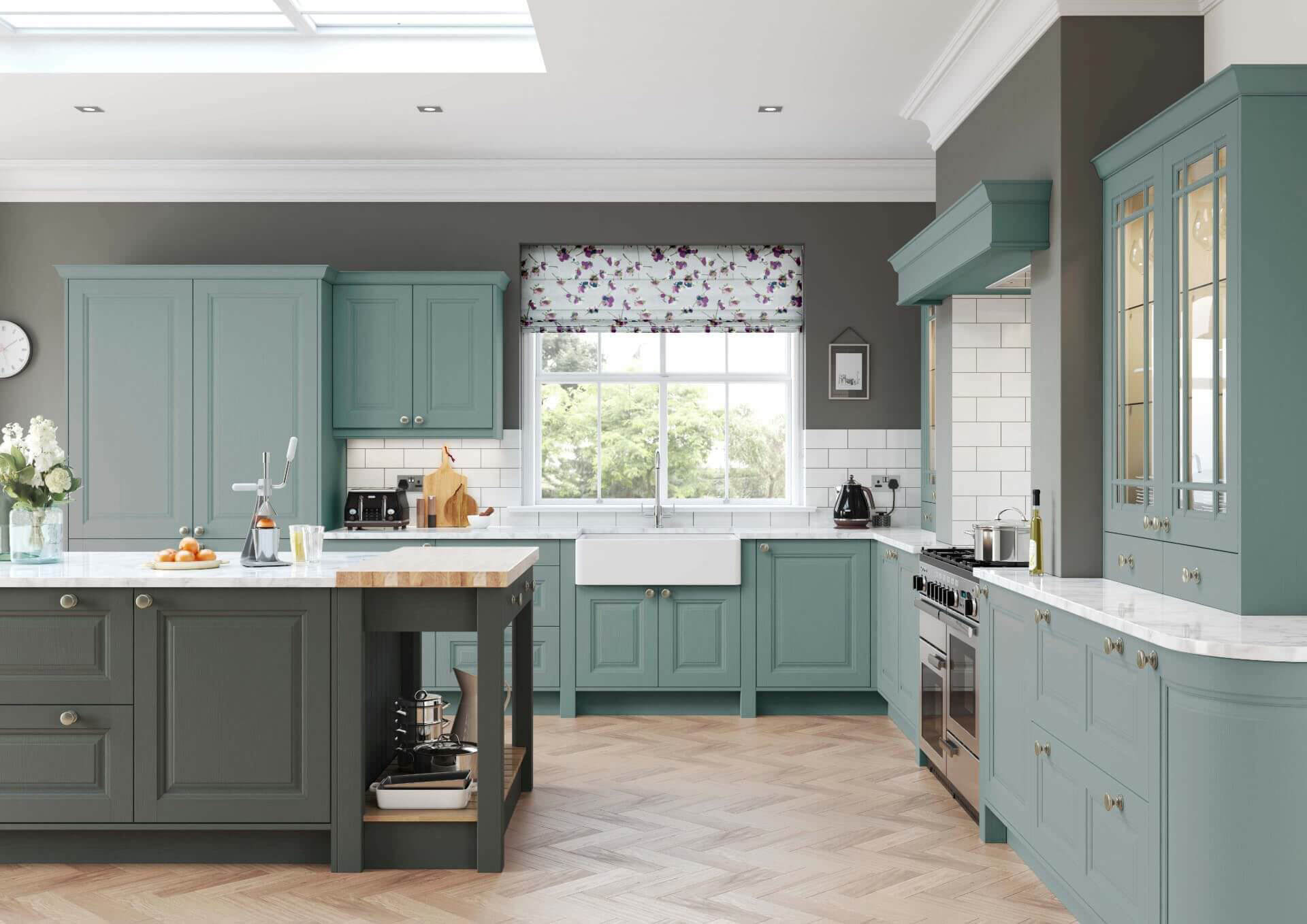 Sage green is a versatile colour that pairs well with shades like white, cream, light grey, navy blue, brass, and pink.
Red is also a classic complement.
Keep walls light and choose stainless steel or white appliances for a cohesive look.
Sage green brings a fresh yet calming vibe.
Key Points
White, cream, light grey, navy, brass, and pink complement sage green
Keep walls light and use stainless steel or white appliances
Sage green brings an earthy, calming vibe to kitchens
Our Opinion
In our experience, sage green is one of the most versatile, livable colour choices for a kitchen.
It has an organic, earthy feel that is both fresh and calming.
We recommend pairing sage cabinets with light walls and brass or stainless steel appliances.
Touches of navy, cream, or pink provide a beautiful contrast.
Sage green works with a variety of styles from modern to farmhouse.
It's a great way to bring nature inside.
Pair Sage Green with Navy Blue
Navy blue is a classic complement to sage green. The combination evokes a nautical vibe and a calming atmosphere. Sage green with navy blue works well for:
Cabinets, tiles or walls in sage green paired with navy blue backsplash or accent wall
Sage green lower cabinets with navy blue uppers
A mix of sage green and navy blue accessories like rugs, curtains, dishware etc.
Aim for a soft silvery-green sage paired with a deep navy for a sophisticated look. Olive-y sage greens also pair beautifully with navy's richness. For extra depth, incorporate neutral creams, whites or wood tones.
This happy colour pair keeps things grounded without being overbearing. Browse complete kitchens in sage green and navy blue for more inspiring ideas.
Complement with Soft Pink and Peach Tones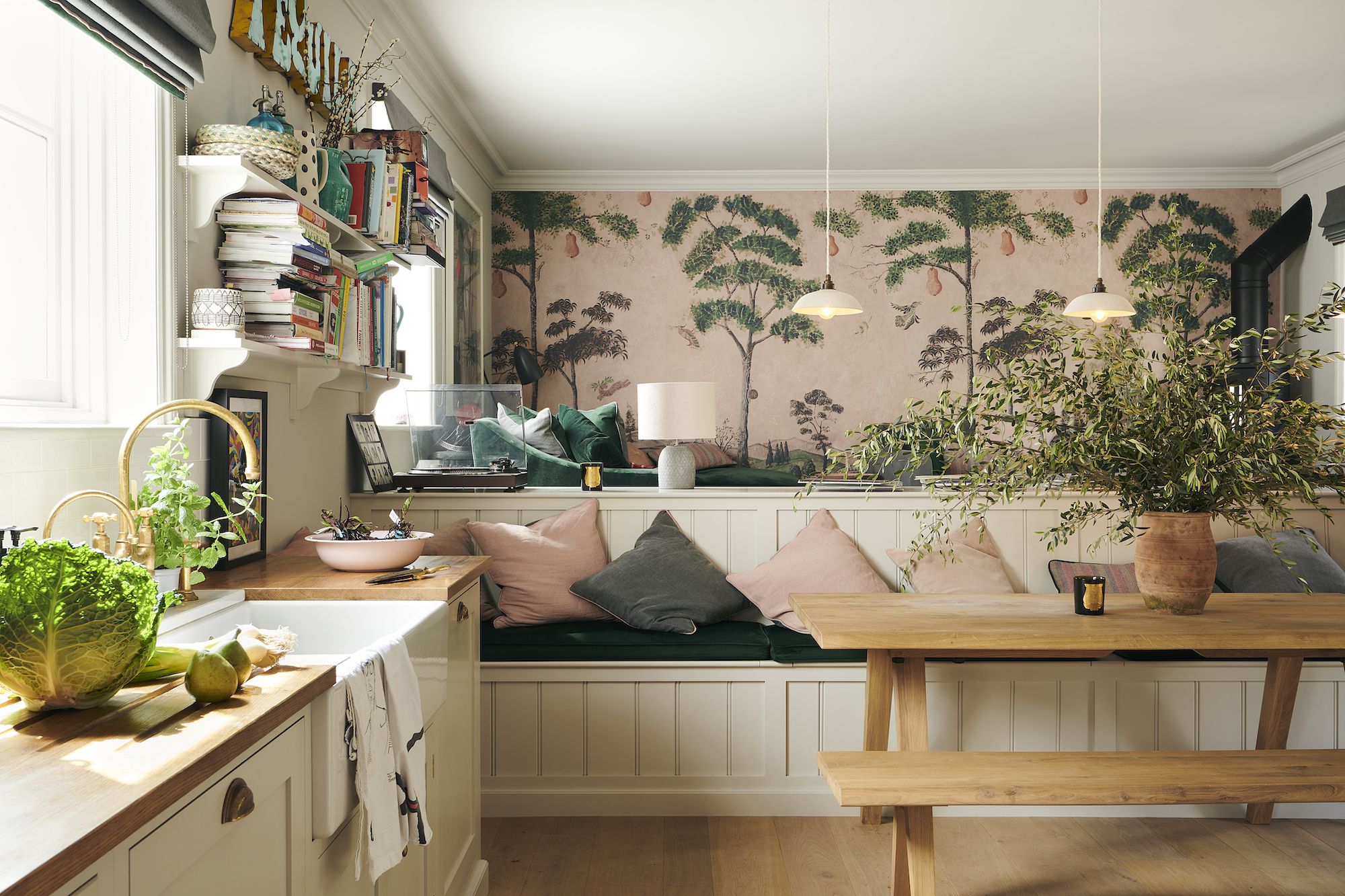 For a more feminine vibe, sage green pairs wonderfully with blush pink or peach shades. This combo evokes springtime and creates a bright, uplifting space.
You may consider:
Sage green lower cabinets with light peach or pink uppers
A peach, pink or blush backsplash against sage green walls
Sage green kitchen accessories like a rug, curtains or utensils mixed with peach and pink accents
Aim for muted, dusty shades rather than bright pinks, which could clash. Incorporate creams and whites to keep things fresh. Wood tones like oak or walnut also complement the palette nicely.
This charming colour scheme is perfect for cottage, vintage or shabby chic kitchens. Peruse photos of sage green and peach kitchens for delightful examples.
Contrast with Bright White
For a clean, vibrant look, pair sage green with crisp white. This high-contrast combo makes the green pop.
What to consider:
White cabinets and sage green walls
White backsplash tiles against sage green countertops
White kitchen island with sage green bar stools
Aim for true, bright white rather than off-whites or creams which won't create as striking a contrast. Add in natural wood accents and metal finishes like nickel or chrome to tie it together.
This scheme lends itself well to modern, contemporary and transitional kitchen styles. Browse images of white and sage green kitchens to spark ideas.
Add Warmth with Wood Tones
Wood brings natural warmth and texture to balance out cool sage greens. Opt for rich wood cabinets, floors, shelves or accents.
Consider:
Dark wood flooring with sage walls and ceiling
Wood countertops paired with metal sage green appliances
Exposed wood beams on the ceiling
Stained oak and walnut work well, bringing depth. Unfinished light woods won't have enough contrast. Go for wood with reddish, brownish or orange undertones to complement the green.
This cosy yet elegant look lends itself to traditional, farmhouse and cottage styles. Browse images of sage green kitchens with wood elements for inspiration on this organic pairing.
Incorporate Brass Hardware
Brass offers just the right amount of warmth to balance the cool green. Opt for brass hardware like cabinet knobs, pulls, lighting fixtures, faucets and accessories.
Brushed brass has a soft patina, while polished brass pops with glamour. Go for an aged look or high shine based on your style.
Mix metals like nickel and chrome as accents, but let brass be the star. It pairs beautifully with the green without competing.
Avoid gold tones, which may clash. Stick with brass, bronze or antique brass specifically to complement sage green in a sophisticated way.
Brass light fixtures can illuminate and bring life to the space. Add brass shelves or a pot rack for decorative flair. Even small details like brass sink drains can tie it all together.
FAQ
What colour go with a sage green kitchen?
Red, navy blue, white, and pink are great complementary colours for sage green kitchens. These colours create a balanced and harmonious look.
What colours go with sage green kitchen cabinets?
Try white, cream, or light grey on upper cabinets paired with sage lower cabinets for contrast. Gold and brass hardware also pairs nicely with sage green cabinets.
What wall colour goes best with sage green cabinets?
White, light grey, cream and light blue are ideal wall colours with sage green cabinets. Avoid going too dark on the walls, as you want the green cabinets to stand out.
What colour appliances with sage cabinets?
Stainless steel, black, or white appliances coordinate well with sage green cabinets without clashing. You can also opt for vintage-style appliances in chrome or brass.
Conclusion
Sage green is a versatile, natural colour choice for kitchens. It pairs nicely with shades like white, cream, light blue, and light grey for walls. Red, navy, brass, and pink also compliment sage green cabinets beautifully. Keep appliances like fridges and ovens in stainless steel, black or white. Overall, sage green brings a fresh, organic look that is both calming and invigorating.