This informative blog post explains what roof trusses are, how they work, and why they are an important structural component in many buildings.
What Are Roof Trusses?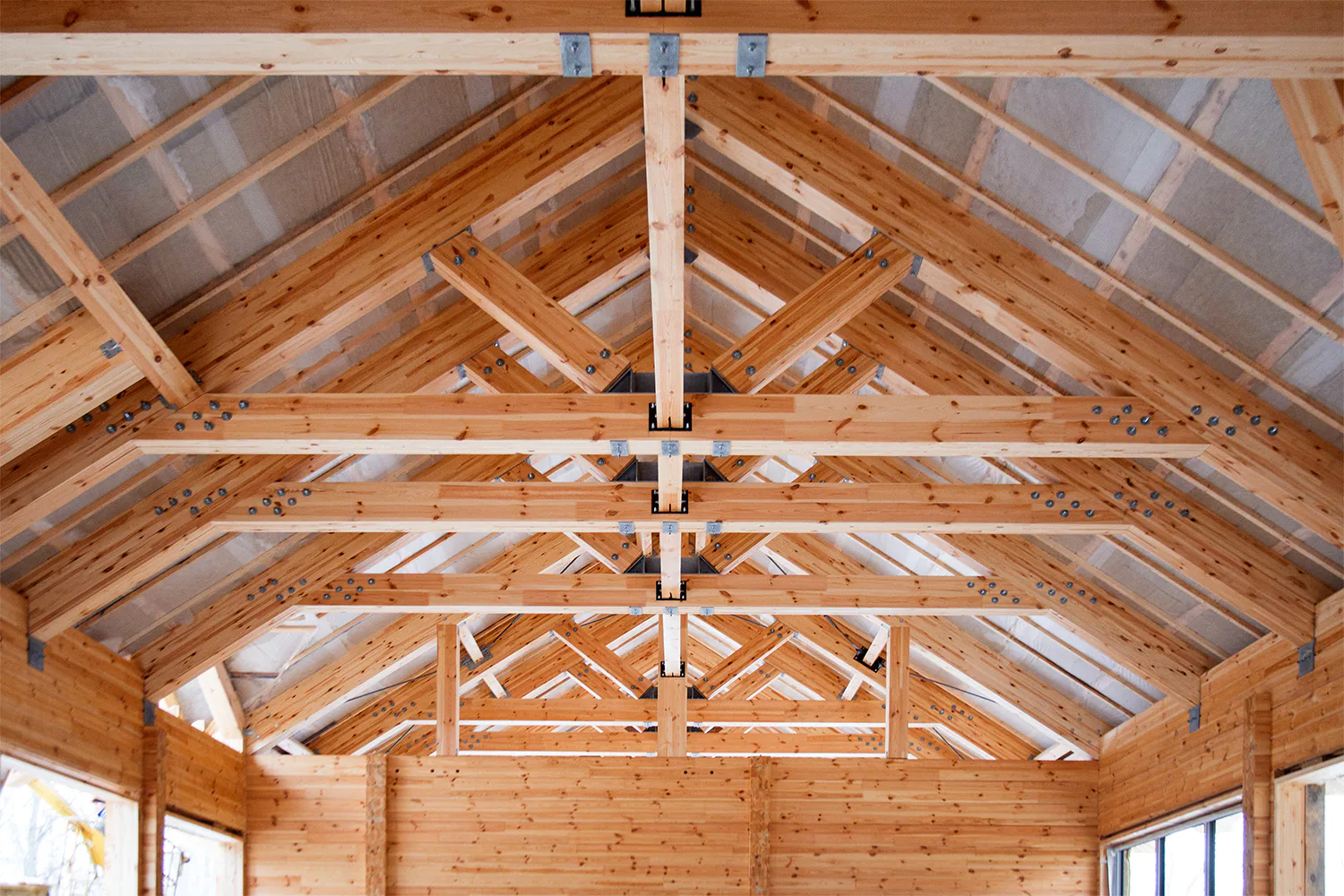 Roof trusses are prefabricated triangular frames made of wood that support the roof of a building.
Also, they consist of top chords, bottom chords, and web members connected by metal connector plates.
Roof trusses are installed to span the walls or load-bearing elements in a structure.
They transfer the weight of the roof to the exterior walls through compression and tension forces within each truss.
Thus, roof trusses provide an efficient and material-saving solution for constructing a roof system.
Key Points
Roof trusses are triangular-shaped frames made of wood or metal
They transfer the roof's weight to the walls and are spaced out across a building
Trusses use less material and attic space compared to roof joists
Our Opinion
As a roofing expert, roof trusses are one of the most important innovations in building construction.
They provide major advantages over other roof framing methods, like using individual rafters.
Trusses allow for more open attic space, use less lumber, are faster to install, and lower labour costs.
Thus, with proper engineering and installation, roof trusses are an excellent structural system for residential and commercial buildings.
Roof Trusses
A roof truss is a structural framework made of timbers that supports a roof. It consists of straight wood pieces joined together in triangular shapes to bear the weight of the roof. This type of roof can use up to 40% less material compared to other methods.
A roof truss typically includes top chords, bottom chords, internal web members, and steel connector plates at all junctions to connect the timbers. It serves as a bridge above a room and provides support for the roof. Roof trusses are carefully calculated, constructed, and assembled to provide both aesthetic and structural benefits for your house.
They are rigid and strong frameworks made from wooden members, fastened and held together by metal connector plates. These trusses transfer the load of the roof to the walls or columns, making them widely used in construction.
Prefabricated roof trusses are triangular frames made of softwood lumber in various lengths and sizes. They are also known as trussed rafters and are used to support the roof of a building.
Roof Truss Benefits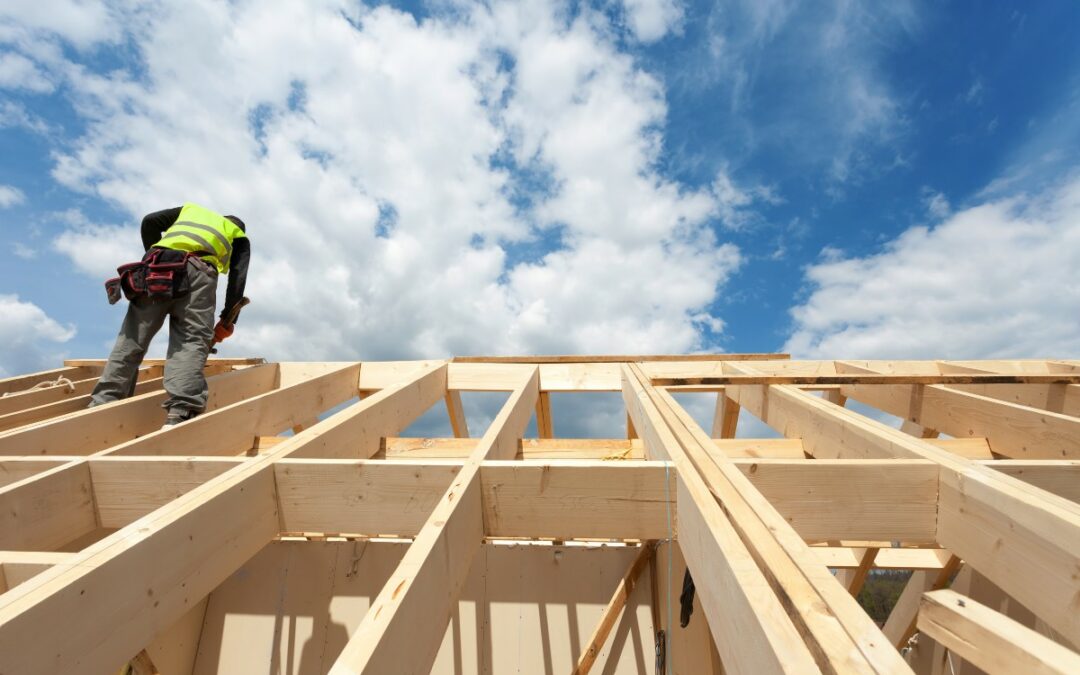 Using roof trusses offers many advantages over other roof framing methods:
Cost savings – Trusses require less lumber than stick framing, reducing material costs by up to 40%. The prefabricated nature also reduces labour costs.
Strength – The triangular design distributes weight efficiently, allowing trusses to span greater distances than typical rafters.
Versatility – They can be designed for many roof shapes, pitches and spans to suit your needs.
Space maximization – No attic space is lost to horizontal beams since trusses don't require load-bearing walls underneath.
Consistency – Trusses are pre-engineered to exact specifications, ensuring uniformity and precision.
Adaptability – They can be modified onsite for skylights, chimneys etc. The open web design also simplifies running ductwork.
In summary, roof trusses provide strength, cost-efficiency, design flexibility and space savings compared to other roof framing options. Their standardized production and modular nature also facilitate faster installation. If designed and installed properly, they form a robust structural base for your roof.
Roof Truss Design and Components
Roof trusses are engineered to order based on your building's size and design loads. Truss design involves optimizing the lumber dimensions, truss geometry and connector plates to withstand expected structural stresses like wind, snow and occupancy.
While there are many truss configurations, most residential trusses have a gable or shed shape. Gable trusses form the classic triangular roof profile, while shed trusses have a single-sloped top chord. Both types utilize the same basic components:
Top chord – The horizontal or sloped member that forms the peak of the truss.
Bottom chord – The lower horizontal member that connects the truss ends.
Web members – The diagonal and vertical parts between the top and bottom chords.
Connector plates – Metal plates used to join the members at joints.
The chords mainly handle bending forces, while the web members carry tension and compression. Connector plates utilize rows of teeth punched into the metal to grip the lumber. The number of teeth and plate thickness varies based on structural loads.
Proper truss design is crucial for performance and safety. So, always use a qualified truss engineering company to analyze design loads and wind uplift and specify connector plates and lumber sizes needed for your roof.
Roof Truss Installation Process
Once your roof trusses are delivered, you'll need to install them properly to ensure structural integrity. Here are the key steps:
Set up scaffolding or roof jacks for safe access.
Carefully lift and place each truss according to the layout plan.
Temporarily brace the first few trusses to hold them in position.
Secure truss ends to the wall top plates using hurricane clips or framing anchors.
Install permanent lateral bracing and cross bracing between trusses.
Inspect all joints to ensure connector plates are properly embedded.
Add roof sheathing, underlayment and shingles once all trusses are installed.
Proper bracing is critical – it prevents trusses from twisting, buckling or collapsing. Use 2×4 bracing at the ends and metal cross bracing at intermediate points. The goal is to form a rigid triangular structure.
Take your time during installation and don't cut corners. Improperly installed roof trusses can cause serious structural issues down the road. Hence, if in doubt, consult an engineer or building inspector.
Roof Truss Cost Considerations
When budgeting for your roof trusses, there are several cost factors to keep in mind:
Truss design – more complex designs require more engineering and material.
Span length – longer truss spans are more expensive.
Quantity – order in bulk to get volume discounts.
Material grades – higher grades have more structural capacity.
Metal connector plates – more plates mean higher cost.
Delivery charges – this can vary by supplier location.
Installation – factor in labour or DIY time and scaffold/crane rentals.
Request quotes from multiple truss manufacturers to compare pricing. And remember, don't sacrifice quality to save money on your roof trusses. Therefore, it's a key structural component that's not worth skimping on.
Discuss your budget and design requirements with your truss supplier early on. They can suggest cost-effective solutions while still meeting building standards. With planning, you can get roof trusses that are both affordable and high performing.
FAQ
What is the purpose of a roof truss?
A roof truss is a structural framework designed to support the weight of a roof. It transfers the load from the roof to the walls or other structural supports.
What are the trusses in a roof?
The trusses in a roof are prefabricated triangular frames made of wood or metal. They consist of a top chord, a bottom chord, and web members joined by connector plates. Moreover, the trusses are spaced out and installed to span the walls or beams of a structure.
What is the difference between a roof truss and a roof joist?
Roof trusses are triangular-shaped frames that support the entire roof. Roof joists are horizontal beams that run from wall to wall to provide support for the roof sheathing or decking. Joists transfer weight to the load-bearing walls while trusses transfer weight to the exterior walls.
What is the difference between a framed roof and a trussed roof?
A framed roof uses individual rafters installed at sloped angles to create the roof structure. Additionally, a trussed roof uses prefabricated trusses, comprised of triangular webs and chords, spaced out and installed to support the roof. Framed roofs require more lumber, are labour-intensive, and limit attic space. Overall, trusses use less material, are faster to install, and allow more usable attic space.
Conclusion
Roof trusses are an integral part of building construction and residential roof systems. Also, they are pre-engineered triangular frames made of wood used to support the weight of a roof. Hence, understanding what they are and how they function provides insight into their benefits over other roof framing methods. Key advantages include using less lumber, installing efficiently, and maximising attic space. In summary, roof trusses are structural components designed to transfer roof loads to the walls of a building.