This blog post explains everything you need to know about roof racks — what they are, how they work, and why they can be useful for carrying extra cargo on your vehicle.
What Are Roof Racks?
Roof racks are bars fitted to a vehicle's roof to carry items like bikes, cargo boxes, kayaks, and more.
They consist of a base and crossbars that fasten bulky loads securely.
Roof racks provide extra carrying capacity beyond the interior cabin space.
They allow you to transport gear for activities while keeping the inside of your vehicle free.
Key Points
Roof racks add cargo space to transport bulky items on a vehicle's roof
They're useful for hauling gear for activities like camping, cycling, and water sports
Roof bars mount to roof rails and allow accessories like crossbars to be attached
Our Opinion
We believe roof racks are extremely handy for drivers who need extra storage and versatility in transporting oversized loads like kayaks or ski gear.
The extra cargo space allows you to carry equipment securely without sacrificing the interior cabin room.
Roof racks are a great way to get more use out of your vehicle.
Key Components of a Roof Rack System
Roof racks are systems installed on top of vehicles to allow you to transport cargo that won't fit inside. They consist of horizontal bars mounted across the roof, which provide attachment points for various accessories like bike racks, cargo boxes, kayak holders, and more.
There are a few key components that make up a roof rack system:
Roof rails – These are the factory-installed rails running front to back on the roof. They serve as the foundation for mounting crossbars and accessories.
Crossbars – These horizontal bars attach to the roof rails, providing a base for tying down gear. They come in different lengths.
Towers – Vertical supports that join the crossbars to the roof rails. They allow you to adjust the position of the crossbars.
Fit kits – Custom mounts that securely attach the towers to your roof rails for a tailored fit.
With a solid roof rack system installed, you gain extra carrying capacity for hauling sports equipment, luggage, camping gear, and anything else you need to transport. They free up interior cabin space and provide a versatile platform for all your adventures.
Types of Roof Racks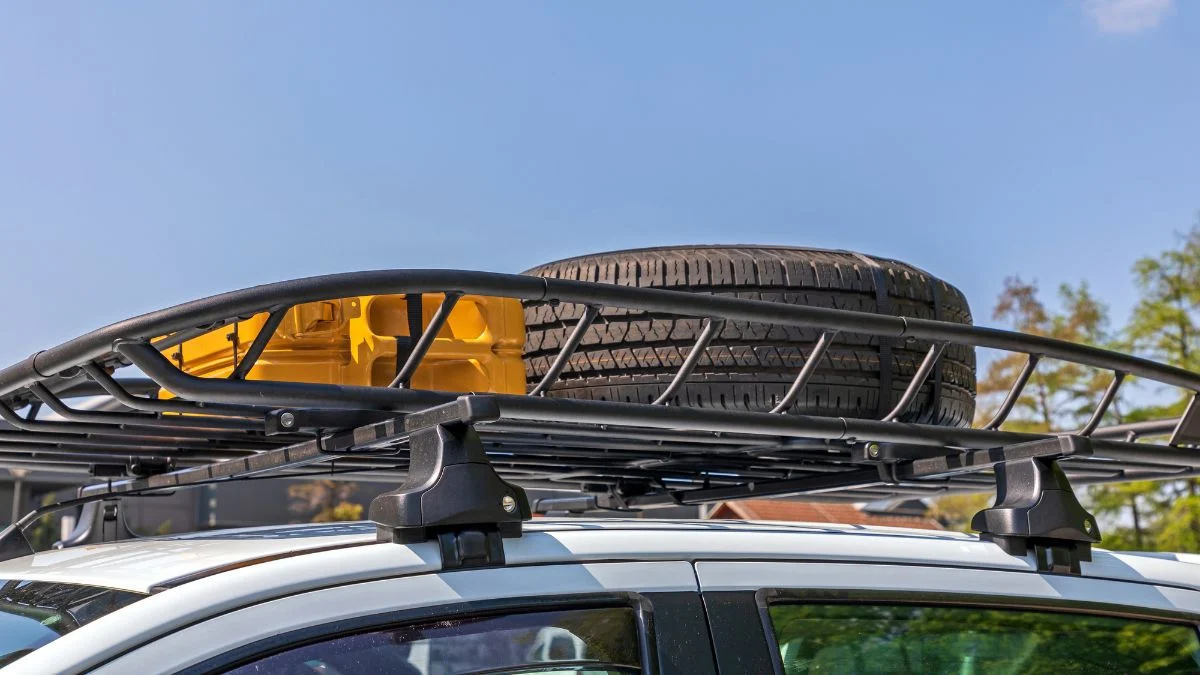 There are a few main types of roof rack systems, each with its advantages. Here's an overview of the most common options:
Basic roof racks – These economical systems consist of fixed crossbars that bolt directly onto the roof rails. They provide basic hauling utility but offer less flexibility compared to other designs.
Raised/elevated racks – These lift the crossbars several inches above the roof line to allow space for cargo on top. The elevated design improves aerodynamics.
Multi-sport racks – Versatile systems with towers that slide along the side rails to reposition the crossbars. Let you carry various loads like bikes, skis, etc.
Low-profile racks – Sleek, integrated designs where the crossbars sit nearly flush with the roof. Ideal for a clean look when not hauling cargo.
Consider the types of gear you need to carry and your budget when deciding on the best roof rack system for your needs. The range of adjustability and weight capacities also vary between rack types and brands.
With an adjustable multi-sport rack, you can reposition the crossbars to transport different loads on a single outing – like bikes to the trail and kayaks to the river. Low-profile racks maintain a smooth, aerodynamic profile when not loaded up.
Regardless of the type, roof racks expand your vehicle's cargo capabilities for all kinds of outdoor gear transport and travel.
How to Install Roof Racks
Installing roof racks on your car opens up more possibilities for outdoor adventures. While professional installation is recommended, you can DIY it if you're handy. Here are some tips:
Consult your owner's manual for model-specific instructions. Rack systems are precisely engineered for each car's roof design.
Purchase racks designed for your specific make and model. Check manufacturer fit guides for compatibility.
Gather the included mounting hardware – things like tower assemblies, clips, and screws.
Clean and degrease the roof side rails where towers will attach.
Position and loosely attach the tower assemblies at the proper width.
Tighten all mounting bolts and hardware to specified torque specs.
Attach and adjust crossbars per instructions.
Finally, test drive and regularly inspect racks to confirm everything remains properly secured.
Carefully following the installation guide helps ensure roof racks are firmly attached. This keeps loads secure and prevents any driving hazards or damage. Always double-check mounts before hitting the road.
Low-profile racks may slide into fixed points rather than bolt on. However the key steps of prepping the roof, positioning towers, and confirming fit still apply.
With racks installed, you've expanded cargo options. Now it's time to load up and head out for new adventures!
Using Roof Racks Safely
Roof racks provide more storage and transport options for larger gear. But anytime you add load weight up high, special care must be taken. Follow these tips to use roof racks safely:
Weight limits – Check your owner's manual and never exceed the roof weight capacity.
Load distribution – Spread weight evenly with heavier items lower. Avoid loading only one side.
Load security – Properly tie down all cargo. Use quality straps and tie-down points.
Loading height – Keep load height low for better handling and fuel economy.
Driving smooth – Accelerate and brake gradually. Take corners easy to avoid shifting loads.
Remove when empty – Always take racks off when not in use to improve MPG.
Also, take extra precautions with long or wide items. Flag and tie red reflective tape to anything overhanging the rear. And confirm bikes or boats are firmly held in place.
Carefully packing and securing the load is key. But also drive responsibly, being mindful of the extra weight up top. Limit speeds and avoid quick manoeuvres. Roof racks expand possibilities, but require extra caution.
With some common sense, roof racks can be used safely. Just focus on proper setup, loading and driving to keep you and your gear secure.
Where to Buy Roof Racks in the UK
Once you've decided to add roof racks, finding the right system can be tricky. Here are some top places to shop for roof racks in the UK:
Specialized auto shops – Halfords, kwik-fit and other car parts stores often stock roof rack systems or can special order.
Sporting goods – Outdoor recreation retailers like Go Outdoors, Blacks and Millets carry roof racks for transporting gear.
Online speciality shops – Websites like RoofBoxes.co.uk and RoofRackCentre.co.uk offer wide selections of name-brand racks and accessories.
Manufacturer websites – Thule, Yakima and Rhino-Rack all offer online shopping for their rack systems and compatible accessories.
When browsing, consider the make and model of your vehicle. Measure your roof length and door openings to ensure proper fit. And think about how you'll use the racks – for bikes, skis, cargo baskets? This will help narrow the options.
While shopping, look for complete rack systems with towers, crossbars and attachments included. Avoid flimsy racks that can't handle weight. And check locks and warranty coverage. With a variety of rack types and quality levels, carefully choose the right setup for your needs and budget.
From big box stores to specialist fitters, several options exist for sourcing roof racks in the UK. Do your homework to find the perfect system for your vehicle and plans.
FAQ
What is the purpose of a roof rack?
A roof rack allows you to transport bulky items like luggage, bikes, kayaks, and more on top of your vehicle. It provides additional cargo space beyond the cabin interior.
What's the difference between roof racks and roof bars?
Roof rails are standard fittings that run front to back on a car's roof and serve as attachment points. Roof bars mount onto the roof and allow you to attach various accessories. A roof rack consists of crossbars mounted to the roof bars to hold gear.
Why do you need a roof rack for your car?
A roof rack creates more cargo space, allowing you to haul oversized and odd-shaped objects you couldn't fit inside the vehicle. It's useful for transporting gear for activities like camping, cycling, and water sports.
Are roof racks necessary?
For extra cargo capacity, roof racks are handy. They provide versatility in transporting bulky or excessive loads securely. Roof bars are necessary even if your car has roof rails, as accessories mount to the bars.
Conclusion
Roof racks are made up of bars secured to a vehicle's roof to transport items like luggage and recreational gear. They provide valuable extra cargo space when you need more capacity. Roof rails are factory fittings that run front to back, while roof bars mount onto the rails and allow accessories to be attached. Roof racks with crossbars are useful for carrying gear securely for activities like camping trips. Overall, they give you versatility in hauling oversized loads.