When choosing lighting for bathrooms, it's important to consider the IP rating, as this indicates the fixture's level of water and dust protection.
This article explores whether IP20 lighting provides adequate safety for bathroom environments.
Is IP20 OK for the Bathroom?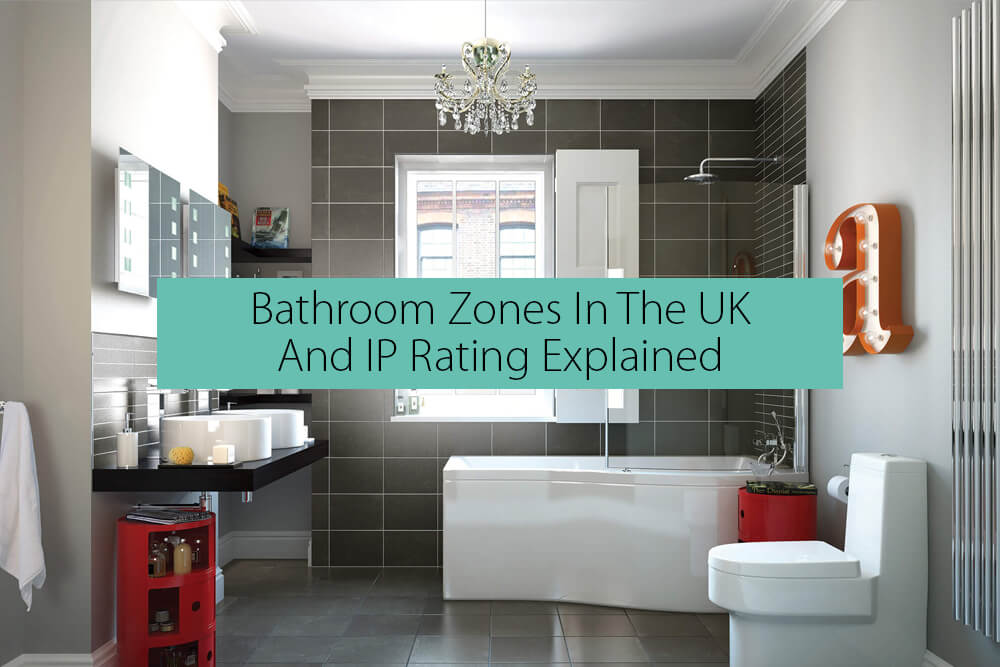 IP20 lighting can be used in zone 3 of bathrooms which is considered a dry area but provides no water resistance.
For increased protection, IP44 or IP65 lights are recommended for bathrooms.
IP20 does not have a damp rating.
Key Points
IP20 has no damp or water resistance rating
Minimum IP44 recommended for bathrooms
IP20 can be used in zone 3 of bathrooms only
Our Opinion
In our expert opinion, IP20 lighting does not provide adequate water or moisture protection for bathroom installations, except for zone 3 areas furthest from water sources.
For best safety, IP44 or IP65-rated fittings are recommended for bathrooms.
IP20 is not damp-rated and only provides basic contact protection.
What Is IP20 Rating?
IP20 signifies a light fixture has basic protection against solid objects greater than 12mm, such as fingers or large tools. However, IP20 does not provide any safeguards against water ingress, which is a key concern in humid bathroom settings. Fixtures with an IP20 rating are designed for general indoor use in dry areas only.
For bathrooms, an IP44 rating or higher is recommended. IP44 fittings are protected from splashing water from all directions, making them suitable for areas like sinks and showers. Using IP20 lights in zones 0, 1 and 2, where water jets or standing water are present, poses an electrocution risk.
Higher IP ratings like IP65 and IP67 offer even better water resistance while maintaining touch-proof protection. These are ideal for bathrooms prone to high humidity, steam and condensation. While IP20 lights can work in zone 3 outside sinks and bathtubs, IP44+ fittings provide an extra safety margin.
When selecting bathroom lighting, consider moisture and splash risks. IP20 products may be permissible in zone 3, but IP44+ options are safer. Improved water protection gives added peace of mind.
Is IP20 Suitable for Bathroom Zones 0, 1, and 2?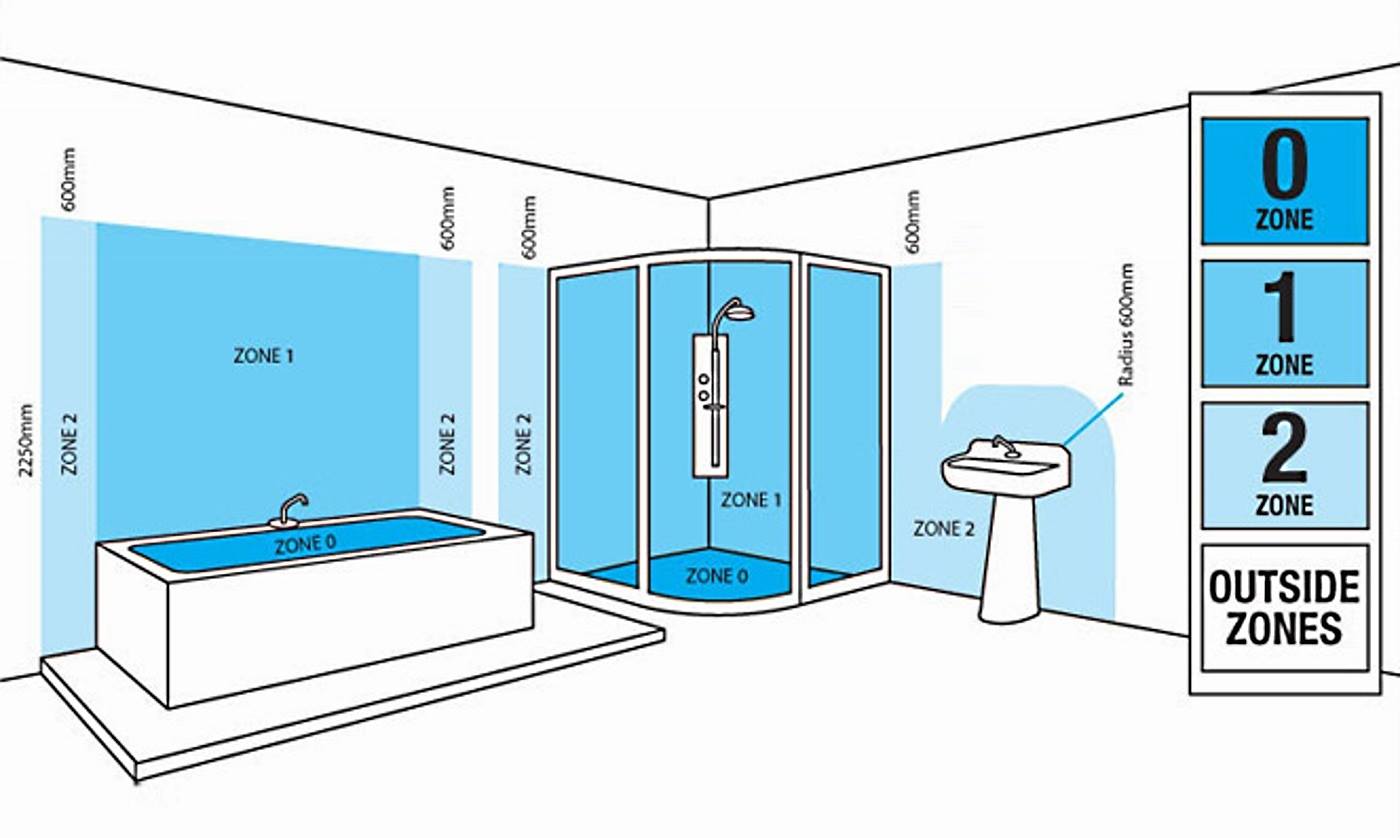 IP20 lighting is not suitable for zones 0, 1 and 2 in bathrooms. These areas have a higher risk of water exposure that IP20 does not protect against.
Zone 0 is inside the bathtub or shower. As IP20 does not provide any water protection, using these lights in zone 0 presents a serious risk of electrocution from water contact.
Zone 1 covers the area above and around the bathtub rim up to 2.25m above the floor. Zone 2 extends to 60cm beyond the bathtub edge. Both zones 1 and 2 see high humidity and potential water splashes from baths and showers. IP20 lights without water seals would be hazardous in these wet areas.
For zones 0, 1 and 2, luminaires rated at minimum IP44 are required. IP44 fittings are protected from splashing water, so can operate safely in the humid conditions around tubs and showers. IP65 or IP67 lights add further waterproofing for installation in the most exposed bathroom locations.
While IP20 can work in dry zone 3 areas, improved IP ratings are needed closer to water sources. IP44+ luminaires are specifically designed to withstand bathroom environments for safer, compliant installation.
Considerations for Using IP20 in Bathrooms
While IP20 lighting should not go in zones 0-2, they can be suitable for certain bathroom applications if the right precautions are taken.
In zone 3, which covers areas beyond zone 2 up to 3m from the bath or shower, IP20 can work if mounted on the ceiling or high on walls away from moisture.
However, it is still best practice to use a minimum of IP44 for all bathroom lighting. IP44 luminaires are specifically designed for high-humidity areas and protect against splashing water from all directions.
If you do use IP20 in zone 3:
Keep them well away from areas where water may splash or collect.
Make sure there is adequate bathroom ventilation to reduce humidity build-up.
Check lights regularly for any moisture ingress issues.
For optimal safety and compliance, choose lighting with a suitable bathroom IP rating throughout. IP44, IP65 or IP67 will stand up to the humid conditions and wet zones much better than IP20.
IP20 Lighting Fixtures for Bathrooms
While not ideal, IP20 luminaires can be used in certain areas of a bathroom if care is taken.
On the ceiling above Zone 2, an IP20 downlight or pendant would be reasonable if positioned at least 0.6m from the perimeter of Zone 2. This keeps it away from any water splashes while allowing some general lighting.
Likewise, an IP20 wall light above zone 2 could work if mounted high, at least 2.25m above the floor level. This should prevent water from reaching it during normal use.
In all cases, avoid directional lamps that shine heat and light directly down into wet zones. Opt for diffused light sources that won't overheat nearby surfaces.
While IP20 bath lights are not recommended, they can be made safer by:
Choosing enclosed, opaque fixtures that offer some protection.
Using LED or CFL bulbs that produce less heat.
Keeping them switched off when not needed to prevent humidity build-up.
Careful positioning and common sense can allow IP20 to be used successfully in some areas. But for true peace of mind, choose luminaires designed for bathroom conditions throughout.
FAQ
Is IP20 damp rated?
IP20 is not damp-rated and does not protect against moisture ingress. The IP2X refers to protection against solid objects greater than 12mm.
What IP rating do I need for a bathroom?
For bathrooms, an IP44 rating is recommended as a minimum. IP44 protects from splashing water. For zones where water jets may be used, IP65 or higher is recommended.
Can I put IP20 in a bathroom?
IP20 fittings can be used in Zone 3 bathrooms, but are not suitable for Zones 1 and 2 which may have direct water spray. A minimum IP44 is recommended for bathroom fittings.
What is IP20 suitable for?
IP20 provides basic protection against contact with fingers and solid objects over 12mm. It can be suitable for general indoor use in dry locations only. Not suitable where moisture or wet contact is expected.
Conclusion
In summary, IP20 on its own does not provide any damp or water protection. For bathroom installations, IP44 or IP65-rated fittings are recommended depending on the zone and likelihood of water spray. IP20 can be used in the driest zone 3 area of a bathroom but provides no water resistance. IP20 is intended for general-purpose indoor use only where moisture is not expected. The key factors are that IP20 has no damp rating and higher IP ratings are advised for bathrooms.