This article explores whether black mould on a bathroom ceiling is dangerous and how it affects human health.
Is Black Mould on Bathroom Ceiling Dangerous?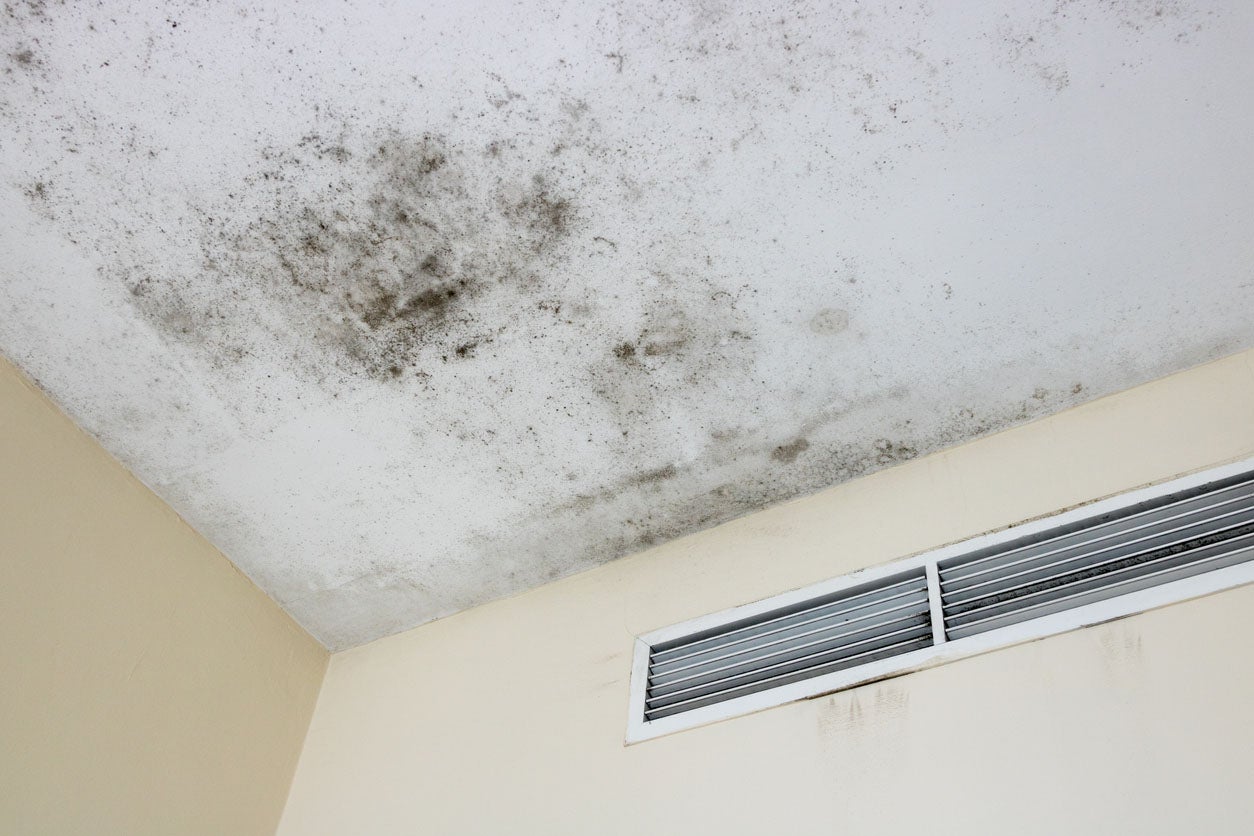 Yes, black mould on a bathroom ceiling is very dangerous and should be addressed right away.
Black mould releases toxic spores and mycotoxins that can cause severe health issues through inhalation or contact.
It is important to properly remediate black mould to protect yourself and your family's health.
Key Points
Black mould releases toxic spores and mycotoxins that can make you sick.
Health issues include allergic reactions, asthma attacks, and respiratory infections.
It is critical to promptly remove any black mould on bathroom ceilings.
Our Opinion
As mould remediation experts, we strongly advise treating any black mould on a bathroom ceiling as a serious health threat.
The toxins released by black mould species can cause dangerous illnesses and allergic reactions, especially for children, the elderly, and those with compromised immune systems.
We recommend hiring a professional mould inspector and remediation company to properly identify, contain, and eliminate the mould.
Do not attempt to scrape the mould yourself, as this can spread spores. Protect yourself and your family by dealing with black mould contamination right away.
What is Black Mould?
Black mould is a type of dangerous mould that can damage your home and health. It produces mycotoxins, toxic compounds that can cause allergic reactions and infections when inhaled. Black mould spores are especially harmful to people with asthma or allergies.
You'll often find black mould growing in damp areas like bathrooms. It starts as small black spots but can spread across walls, ceilings, and other surfaces if left unchecked. Moisture from showers, leaks, flooding, or high humidity encourages black mould growth.
On bathroom ceilings, black mould indicates moisture issues that need fixing. If you spot black mould, take action immediately to clean and remove it. Left alone, it can weaken drywall and wood structures.
Signs of a black mould problem include:
Black spots or patches on walls, ceilings, or around pipes
A musty, earthy smell
Peeling paint or walls that feel damp
Allergic symptoms like wheezing, runny nose, or irritated eyes
Prevent black mould by controlling bathroom moisture and fixing leaks quickly. Clean small amounts with detergent and water. For larger infestations, use protective gear and mould removal solutions. Stopping black mould growth protects your home's structural integrity and your family's health.
Where Does Black Mould Grow in Bathrooms?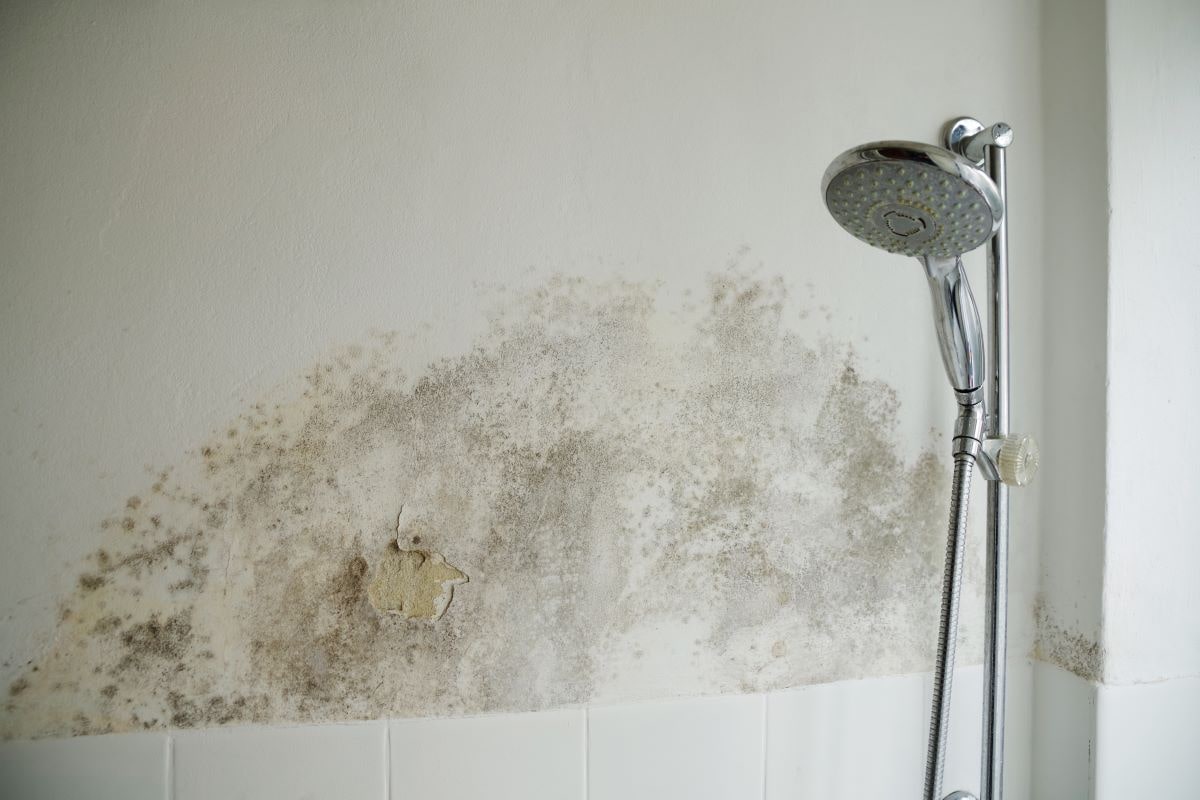 Black mould thrives in the warm, damp conditions found in many bathrooms. The top areas to check for black mould growth include:
Behind drywall, especially near showers or bathtubs
Under sinks, around pipe fittings and drains
In grout between shower tiles or tub surrounds
On ceiling corners and edges, where condensation collects
Behind wallpaper, mirrors, or cabinets
On window sills, shower curtains, and floor mats
Black mould can start in hidden areas like inside walls or under sinks, then spread outward onto ceiling corners, tile grout, and other visible surfaces. Stopping moisture penetration early is key to preventing a major black mould infestation.
Inspect all bathroom surfaces regularly, especially those prone to moisture buildup. Immediately fix any water leaks, seal grout and caulk, improve ventilation, and wipe away condensation. Controlling the bathroom environment inhibits black mould growth and protects your family's health.
Health Effects of Black Mould Exposure
Exposure to black mould can cause a wide range of health problems. The severity depends on the amount and duration of exposure, as well as the health of the individual.
For healthy people, common effects include irritation to the eyes, nose, throat, and skin. Itchy eyes, congestion, coughing, and sneezing are common symptoms. Rashes or hives may also develop after touching contaminated areas. In asthmatics, mould spores can trigger severe asthma attacks.
Those with compromised immune systems are at higher risk for serious illnesses. Fungal infections in the lungs can occur, causing fever, chills, and shortness of breath. Rarely, deadly infections may develop. Children are vulnerable as their lungs and immune systems are still developing.
Chronic exposure can impact the nervous system. Headaches, difficulty concentrating, memory issues, and mood changes like depression may result. Some studies link mould toxins to neurological diseases like Parkinson's and Alzheimer's, but more research is needed.
If you notice health issues improving when away from a home with black mould, that's a sign it could be causing your symptoms. See a doctor and get the mould removed to alleviate problems.
How to Remove Black Mould from Bathroom Ceilings
Black mould on bathroom ceilings poses health risks and needs professional remediation. Completely fixing the problem requires addressing the moisture source allowing mould growth.
Start by identifying and repairing any leaks, condensation issues, or water damage. Improve ventilation and air circulation. Install exhaust fans or open windows when showering.
Next, clean the affected area wearing protective gear. Mix bleach or vinegar with water to create a cleaning solution. Scrub to remove surface mould. Be sure to also clean surrounding areas, as mould roots can spread.
After cleaning, allow the area to fully dry. Apply a mould-blocking primer before repainting to prevent regrowth. Mould-resistant paint containing zinc or copper can also help.
For severe mould on drywall ceilings, replacement may be necessary. Remove and discard affected drywall using containment measures. Install new mould-resistant drywall and paint.
Prevention is key. Keep humidity under 50% with ventilation and dehumidifiers. Promptly fix any water leaks. Clean bathrooms regularly with mould-killing products. Contact a professional if you have recurring mould issues.
FAQ
Can mould on the bathroom ceiling make you sick?
Yes, mould on bathroom ceilings can make you sick. Mould releases spores that can cause allergic reactions, asthma attacks, and other respiratory problems when inhaled. Mould also produces mycotoxins that can suppress the immune system.
What to do if there is mould on the bathroom ceiling?
If there is mould on your bathroom ceiling, you should clean and remove it right away. First, mix water and bleach in a spray bottle and spray the mouldy areas. Let it sit for 15 minutes before scrubbing with a stiff brush. Be sure to wear gloves and a mask. If the mould persists, you may need to replace drywall or ceiling tiles.
How bad is black mould on the ceiling?
Black mould is very harmful and should be addressed immediately. The toxic substances produced by black mould can cause chronic illnesses, infections, and allergic reactions. It can be especially dangerous for people with asthma, allergies, or compromised immune systems.
Is all black mould in the bathroom toxic?
Yes, all black mould found in bathrooms should be considered toxic. Black mould produces mycotoxins that can cause respiratory problems, allergic reactions, and infections. Even small amounts should be removed, as spores can spread through the air. People with mould allergies or asthma may react even to dead mould.
Conclusion
Black mould growth on bathroom ceilings can be very dangerous to your health. Inhaling the spores and mycotoxins produced by black mould species can lead to allergic reactions, asthma attacks, respiratory infections, and a suppressed immune system. It is critical to promptly remove any black mould on bathroom ceilings by cleaning them with bleach and water. Remediating a black mould problem requires removing contaminated materials. Left untreated, black mould spreads quickly and releases more toxic substances. Do not take chances with black mould on your bathroom ceiling, as it poses a serious health hazard.