Excess moisture in kitchen cabinets can lead to mould, mildew, and wood rot.
This article provides helpful tips on how to identify and remove moisture from kitchen cabinets to prevent damage.
From using dehumidifiers and fans, to simple solutions like baking soda and silica gel, these practical steps will help keep cabinets dry and extend their life.
How to Remove Moisture from Kitchen Cabinets?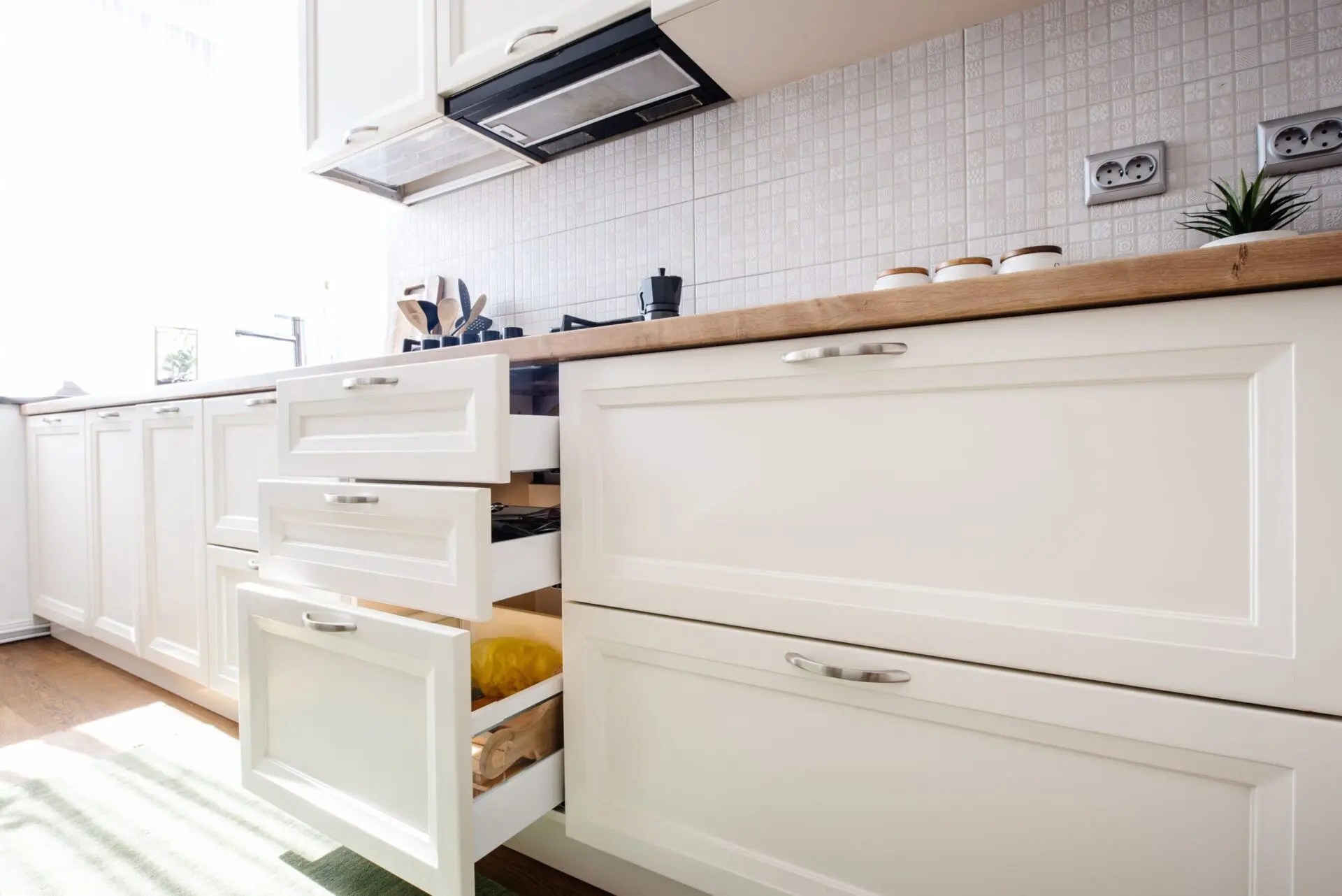 Use a diluted bleach solution to clean mouldy areas.
Place baking soda inside cabinets to absorb moisture.
Get a dehumidifier for your kitchen to reduce dampness in the air.
Key Points
Kitchen moisture is caused by cooking, dishwashing, etc.
Baking soda absorbs moisture well inside cabinets
Improving kitchen ventilation reduces condensation
Our Opinion
The best way to combat moisture in kitchen cabinets is through a combination of absorbents like baking soda, improving air circulation, and using a dehumidifier.
Keeping the inside of cabinets clean and dry is also crucial.
With some simple steps, you can eliminate dampness and condensation.
How to Identify Moisture in Kitchen Cabinets
The first step is checking for signs of excess moisture in your kitchen cabinets. Here are some telltale signs:
Peeling paint or bubbling varnish on cabinet surfaces. This indicates trapped moisture behind the paint.
Musty, damp smell inside cabinets.
Visible moisture droplets or beads of water on interior surfaces.
Warped cabinet doors that no longer align properly.
Discoloration, dark spots or black mould spots on cabinet walls.
Spongy, soft-feeling wood. Healthy wood should feel firm.
Metal hardware showing signs of rust or corrosion.
If you spot any of these warning signs, excess moisture has likely built up inside your cabinets. Taking quick action to remove it can prevent further damage.
Some handy tools to detect moisture are moisture meters and hygrometers. A moisture meter can pinpoint damp areas behind cabinet walls when pressed against the surface. Hygrometers measure air humidity levels inside the cabinet.
Regularly checking these tools and inspecting cabinets helps you stay ahead of moisture issues before they escalate. Addressing problems early protects your cabinets and prevents costly repairs down the line.
Effective Techniques to Remove Excess Moisture
Once excess moisture is detected, taking swift action to eliminate it is key. Here are some handy techniques to dry out cabinets and prevent moisture damage:
Increase ventilation – Open cabinet doors and drawers to allow better air circulation. Place fans directed at open cabinets to actively ventilate and dry them out.
Dehumidifiers – Use electric or desiccant dehumidifiers placed inside cabinets to actively draw out humidity. Monitor with a hygrometer to measure reductions in humidity.
Baking soda – Placing bowls or boxes of baking soda inside cabinets absorbs ambient moisture. Replace frequently as it saturates. The baking soda will clump up when moist.
Silica gel – Similar to baking soda, packets of silica gel crystals placed in cabinets actively absorb moisture. Reactivate dried-out silica gel in the oven to reuse it multiple times.
Rice – Pour rice into porous containers like cloth bags or perforated plastic. Rice naturally absorbs surrounding moisture.
Salt – Rock salt in containers placed inside cabinets draws moisture through the process of deliquescence. Replace when clumped.
Cookware lids – Place metal or glass cookware lids containing salt or rice inside cabinets. The cold lids draw out warm moisture.
Kitty litter – Like baking soda and rice, kitty litter placed in cabinets absorbs moisture from the air.
Regularly employing these practical, low-cost techniques will help maintain dry cabinets and prevent further moisture damage. Be vigilant in monitoring humidity levels, and act quickly when excess moisture is detected. Consistent maintenance is key to keeping kitchen cabinets in great condition.
Using a Dehumidifier to Prevent Dampness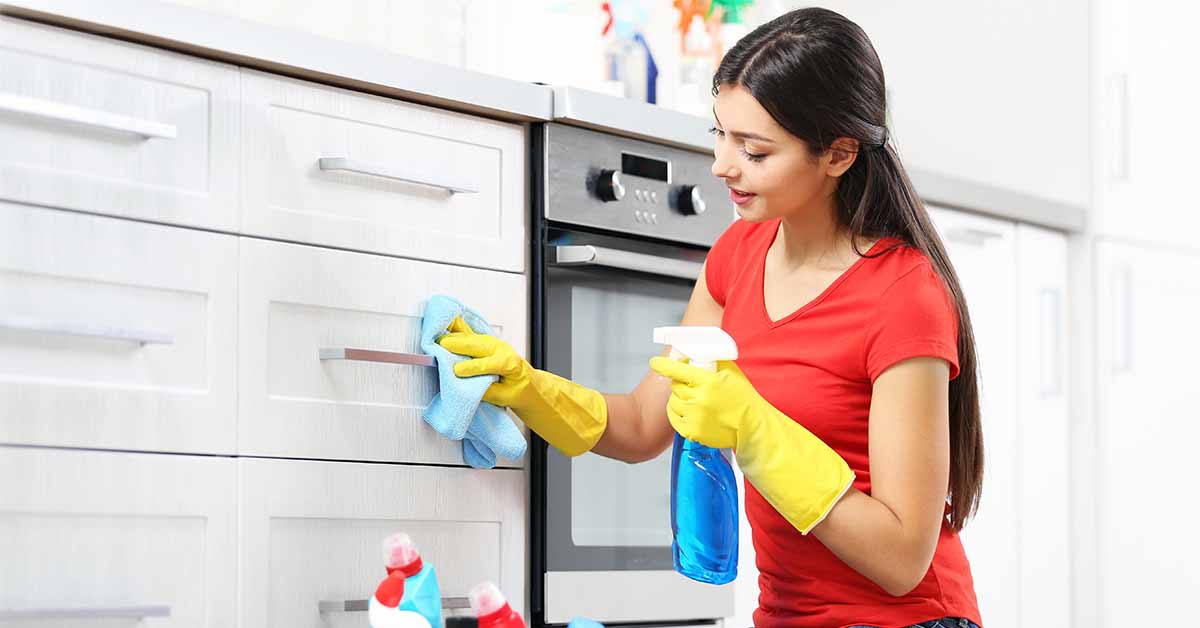 Dehumidifiers are an effective way to remove excess moisture from the air and prevent dampness in cabinets. Here's how to use one properly:
Choose an appropriate model – Opt for a dehumidifier that's the right size for the room with your cabinets. A unit with a built-in humidistat to regulate moisture levels is ideal.
Position wisely – Place the dehumidifier on the floor in front of the damp cabinets. Make sure nothing blocks airflow to and from the unit.
Adjust settings – Set the target humidity level between 30-50% relative humidity. The dehumidifier will run until this level is achieved.
Empty tank – Check the water tank daily and empty it frequently so the dehumidifier can continue working efficiently.
Maintain operation – Keep the dehumidifier running continuously until the excess moisture is under control. It may need to operate for several days.
Monitor progress – Use a hygrometer to track reductions in humidity as the dehumidifier removes moisture from the air.
Improve airflow – Keep cabinet doors open to allow drier air to circulate while the dehumidifier runs.
Be patient – It can take time for the dehumidifier to reach the target humidity level. Persist with daily operation until dampness is eliminated.
Taking these steps will enable a dehumidifier to effectively combat excess moisture and prevent damaging dampness in kitchen cabinets over time. Consistent use is key to the best results.
Baking Soda and Moisture Absorbers for Moisture Control
Baking soda and moisture-absorbing products can also help maintain lower humidity levels and prevent dampness in cabinets. Here are some tips:
Place bowls of baking soda inside cabinets – Baking soda naturally absorbs moisture. Refresh it monthly.
Use moisture-absorbing packs – Place them on shelves to pull moisture from the air inside cabinets. Replace when saturated.
Put near moisture sources – Position near drains, pipes, and bottom shelves prone to dampness.
Monitor and replace – Check moisture absorbers regularly and replace them according to package directions.
Improve airflow – Keep doors open periodically so air circulates and moisture can be absorbed.
Address moisture sources – Fix leaks and improve ventilation to reduce excess moisture.
Consider capacity – For very damp cabinets, use more baking soda and moisture absorbers to increase moisture removal.
Maintain overtime – Continue using these moisture control methods to prevent recurring issues.
Baking soda and moisture-absorbing products offer an easy, affordable way to proactively fight moisture and prevent damaging dampness in kitchen cabinets. Used consistently, they can make a real difference in humidity control.
Ventilation and Air Circulation to Reduce Humidity
Improving airflow and ventilation can also help lower humidity and moisture inside cabinets. Consider these tips:
Use exhaust fans – Turn on kitchen, bathroom or other exhaust fans to remove humid air. Let them run for a while after cooking or showering.
Open windows – Open windows periodically to let fresh, dry air circulate. This works best on breezy, dry days.
Create cross ventilation – Open windows on opposite sides of a room to get good cross-air flow.
Use dehumidifiers – Portable or whole-home dehumidifiers actively remove moisture from the air.
Install vents – Add ventilation ports or grilles to cabinet doors or sides to improve airflow.
Leave doors ajar – Keep cabinet and pantry doors open now and then to allow air movement and circulation inside.
Improve home ventilation – Update HVAC systems, add vents, or make other fixes to increase whole-home airflow.
Address moisture sources – Fix plumbing leaks, improve insulation, redirect rain runoff and make other repairs to reduce excess household moisture.
Taking steps to remove humid air and improve circulation can significantly reduce moisture in cabinets and prevent damaging condensation. Make ventilation and airflow part of your moisture control strategy.
FAQ
What is a natural moisture absorber for kitchen cabinets?
Rice, salt, and baking soda can all absorb moisture naturally inside cabinets. Silica gel packs also work well.
Why is there condensation in my cabinets?
Condensation forms when warm, moist air meets a cool surface. Kitchens contain a lot of moisture from cooking, dishwashing, etc. so cabinet condensation is common.
How to remove moisture from kitchen cabinets?
Mix one part chlorine bleach with three parts water in a tub and use the solution to blot the infected area. A dehumidifier in your kitchen pantry can effectively reduce dampness. Use baking soda to remove moisture and eliminate odours in your kitchen cabinets.
Conclusion
Moisture and condensation in kitchen cabinets a common issues caused by the inherent dampness of kitchens. To remove moisture, use absorbent materials like baking soda inside cabinets. Improve ventilation and air circulation. Dehumidifiers also help reduce dampness in the kitchen. Keeping cabinets clean and dry is key to preventing moisture buildup.