Covering up unsightly pipes in your bathroom doesn't have to be an expensive project.
With some DIY skills and creativity, you can conceal those pipes in no time without spending a fortune.
This article will walk you through several budget-friendly options for hiding bathroom pipes so you can give your space a quick makeover.
How to Hide Bathroom Pipes?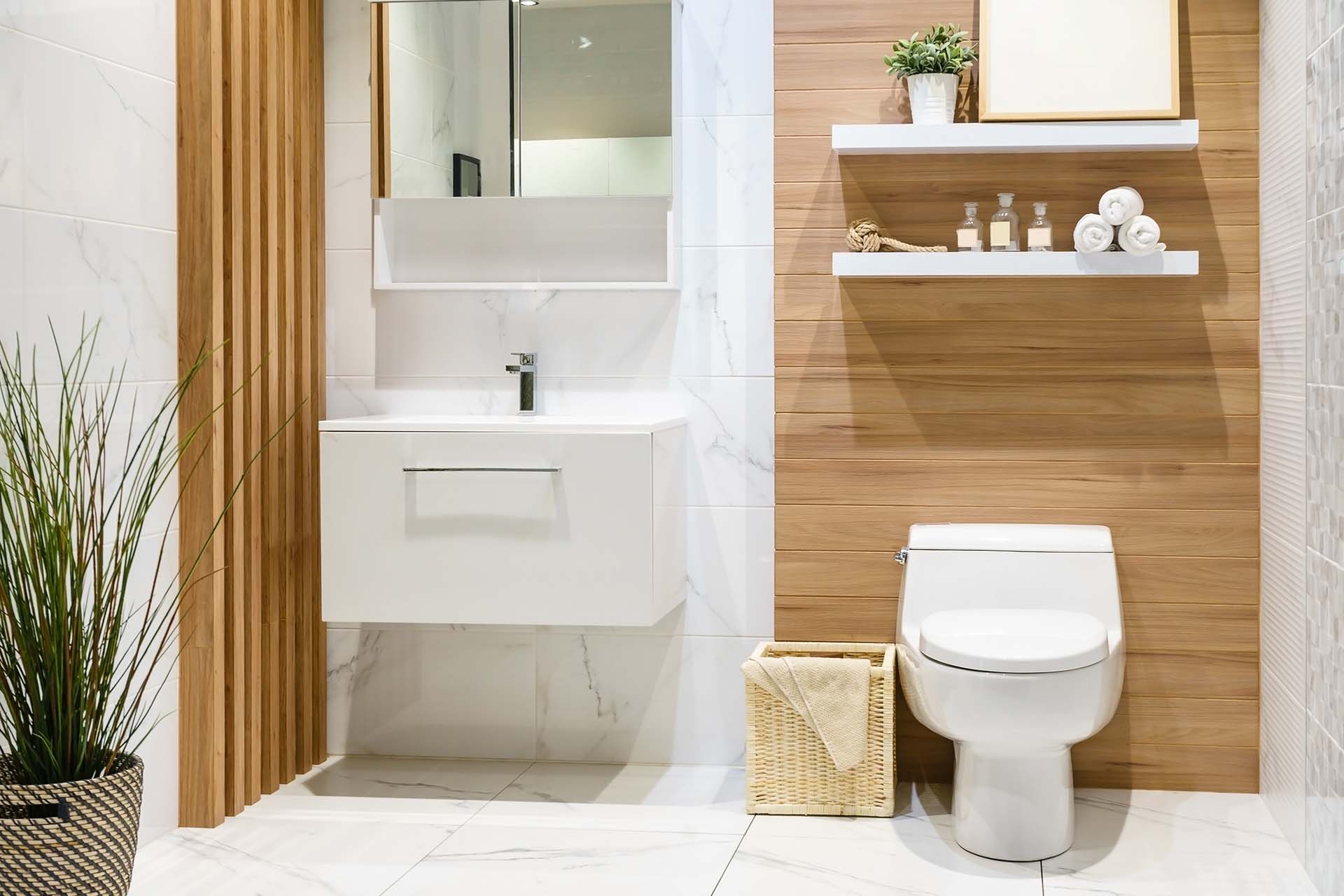 Creating a box around pipes is a simple and effective way to cover them up.
You can use materials like plywood or plasterboard to build a box around the pipes.
Painting the pipes the same colour as your walls also helps conceal them.
Key Points
Build a box around pipes using plywood or plasterboard
Paint pipes the same colour as walls to help them blend in
Wrap pipes in insulation or materials that match your décor
Our Opinion
In my experience, the best way to hide bathroom pipes is to conceal them behind a false wall or inside a custom-built cabinet.
This fully encloses the pipes while also adding extra storage space. Just make sure to allow access for any necessary maintenance or repairs.
How to Hide Bathroom Pipes with Covers
One of the easiest and most affordable ways to hide pipes is by building a simple box around them. You can use inexpensive materials like plywood, MDF, or plasterboard to construct a box or enclosure that fits neatly around the pipework. Paint or wallpaper the box to match your walls for a seamless look. Consider adding a door or panels if you need access behind the box for maintenance.
If you don't want to box the pipes in completely, you can create a half box that covers just the lower half. Or, build the box out from the wall a bit to create a shelf for decorative baskets or bathroom accessories while concealing the pipes.
For pipes that run vertically up walls, consider framing out a new wall in front of them. This extra wall essentially hides the pipes behind it. Just be sure to leave access for any valves or joints that need maintenance.
Insulation wraps are another easy way to disguise pipes. Choose a wrap in colour, texture, or pattern that blends with your wall. Wrapping also dampens noise from rattling pipes.
Strategically placed bathroom furniture like cabinets, shelving, or a pedestal sink base can conceal pipes nicely. Built-in storage is useful for hiding pipes while also giving you space to organize essentials.
With a little creativity and some budget-friendly materials, you can hide bathroom pipes effectively. The result will be a more attractive, polished look in your space.
Concealing Pipes by Painting Them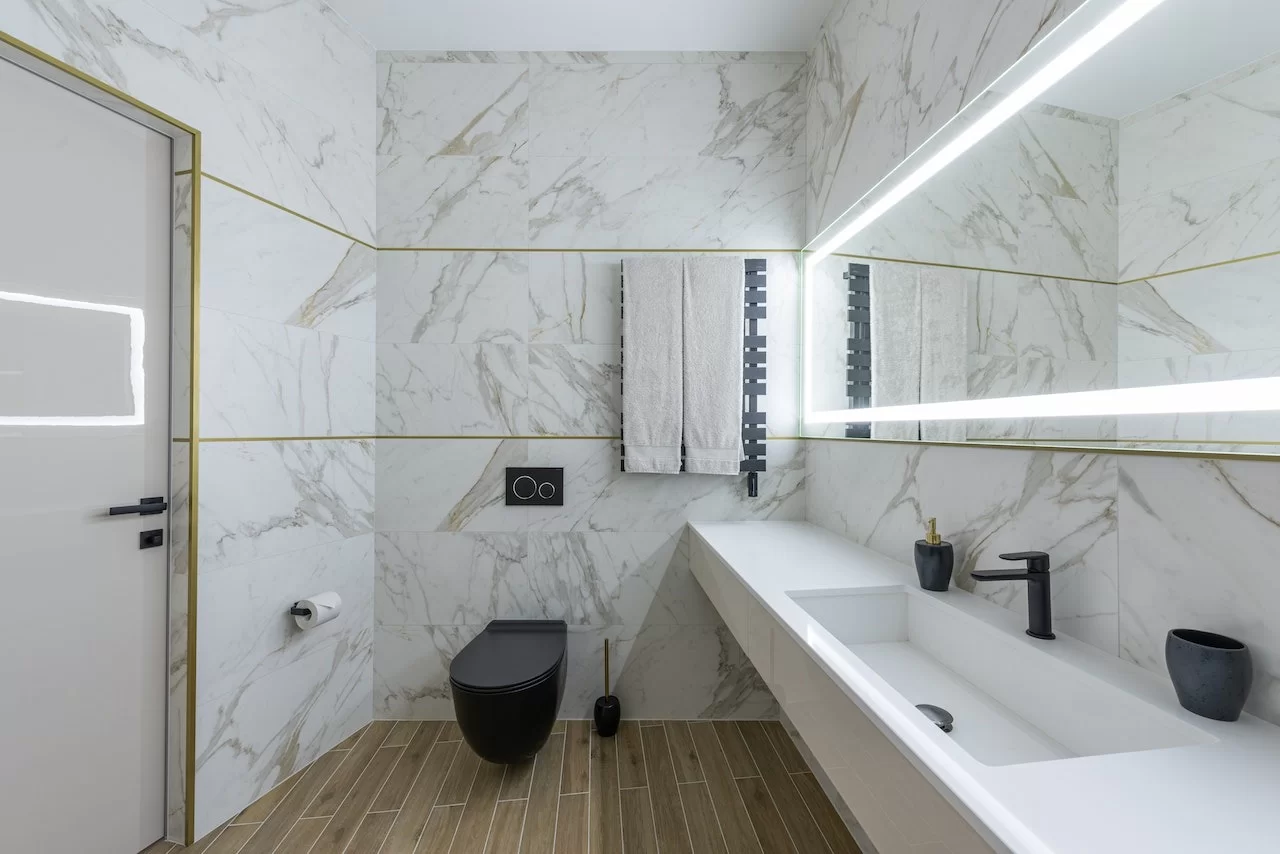 Painting pipes is an easy, inexpensive way to help them blend in. Choose a colour that matches your walls for the best camouflaging effect. Neutral colours like white, beige, grey, and taupe work well in most bathrooms.
Make sure to use a high-quality spray paint formulated for use on metal pipes. Clean the pipes thoroughly before painting so the paint adheres properly. Lightly sand glossy pipes to help the paint grip.
Apply 2-3 thin coats of paint, allowing each coat to fully dry before adding the next. Thin coats help prevent drips and lead to a smoother finish.
For the best coverage, remove pipe escutcheons and paint the pipes separately before reattaching the escutcheons. This allows you to paint the entire circumference of the pipes.
Painting pipes can make a big visual impact and help them blend into the background. But remember regular maintenance may require removing the paint, so only paint accessible areas that don't need frequent servicing.
With the right prep work and paint, you can transform the look of distracting pipes quickly and affordably. Just take your time to do the job well for long-lasting results.
Disguising Exposed Pipes with Decorative Boxes
Do you have unsightly pipes running across bathroom walls that disrupt the decor? Pipe boxes offer an easy solution to conceal them.
Pipe boxes slip over existing plumbing to create a smooth, finished look. Many designs mimic the wall with subtle patterns or colours so the boxes blend in. Others feature more decorative treatments like wainscoting or wallpaper effects.
Look for pipe covers sized specifically for your pipe diameter to ensure a secure fit. Slide them over each exposed section, using adhesive to keep them in place if needed.
For a coordinated look, choose pipe covers that match the style of your bathroom. Rounded boxes complement bathrooms with arched details, while square covers pair well with modern baths.
In addition to hiding unsightly pipes, pipe covers can protect against scrapes and bumps. Just be sure not to fully enclose the pipes—leave the sides open for necessary ventilation.
With the right pipe covers, you can disguise plumbing eyesores on your bathroom walls. This simple upgrade creates a cleaner, more polished look.
Covering Plumbing with Wood Panels
Another way to conceal exposed pipes is by installing wood panels. This adds warmth while hiding unsightly plumbing.
Measure the area you want to cover and cut panels to size. Pine or cedar boards work well for a natural look. You can stain or paint them to match your bathroom's colour scheme.
Attach the panels directly to the wall, leaving a gap behind for ventilation. Complement with trim pieces in a similar shade. For a seamless effect, mitre cut the edges at 45-degree angles.
Consider adding subtle wallpaper or a stencilled design to bring visual interest to the wood covering. This disguises the plumbing while adding decorative flair.
For an upscale look, frame the wood panels with elegant moulding. Fluted or ornamental styles contribute to classic elegance and sophistication.
Wood coverings offer a versatile solution for concealing pipes. With the right finish and framing, they can transform an eyesore into an attractive focal point.
Hiding Pipework Behind False Walls
Constructing a false wall is an effective way to conceal unsightly plumbing in your bathroom. This involves building a new wall surface in front of the pipes.
Use moisture-resistant drywall or tile backer board. Leave a gap between the false wall and the real wall for ventilation and access.
You can integrate shelving, cabinets, or niches into the design for extra storage and visual interest. Consider open shelves to avoid a boxy, closed-in look.
If tiling, use large format tiles running horizontally to give the illusion of width. Accent with complementary tiles or mosaic details.
Paint the false wall an inviting hue if using drywall. Bold colours make a dramatic statement and draw attention away from the plumbing.
Finish by trimming out the false wall to match the rest of the bathroom. Decorative crown moulding along the top adds polish.
With smart design choices, a false wall conceals pipes in style. The result is a cleaner, more unified look that transforms your bathroom.
FAQ
How do you hide exposed pipes in a bathroom?
Wrap exposed pipes in insulation or build a box around them using materials like plywood or plasterboard. Painting the pipes the same colour as your walls is another effective way to conceal them.
How do you hide unsightly pipes?
You can hide unsightly pipes by wrapping them in patterned or textured insulation. Building a false wall or pedestal to conceal them is another option. Painting the pipes the same colour as the walls helps them blend in.
How do you conceal pipes in a bathroom?
Concealing pipes in a bathroom can be done by building a box around them, constructing an additional wall in front, or using bathroom furniture like cabinets to hide them from view. Wrapping pipes in insulation that matches your décor is another way to cover them up.
Conclusion
In summary, there are several effective ways to hide or conceal exposed pipes in a bathroom. Strategic use of materials like plywood, insulation wraps, and paint can help pipes blend into the background. Building false walls or pedestals provides a more built-in solution. Bathroom cabinets or shelves allow you to hide pipes while also gaining storage space. With some creativity, you can come up with an ideal way to hide those unsightly bathroom pipes.