This article covers solutions on how to clean Howdens matt kitchen cupboards, ensuring they stay looking as good as new.
Keeping matt kitchen cupboards looking their best requires regular cleaning to remove dirt, grease, and grime.
How to Clean Howdens Matt Kitchen Cupboards
Use a damp microfiber cloth and mild dish soap to clean Howdens matt kitchen cupboards.
Gently wipe the cupboards without scrubbing.
For tough grease stains, apply baking soda and wipe off.
Always use soft cloths to prevent scratching the matte finish.
Key Points
– Use microfiber cloths and mild cleaners like dish soap
– Avoid abrasive scrubbing or harsh chemicals
– Baking soda can help tackle grease stains
– Soft cloths prevent scratching the matte finish
Our Opinion
While matte finishes require some care when cleaning, the subtle, modern look is worth the extra effort.
With the proper gentle techniques, matte kitchen cabinets can always look fresh and clean.
We recommend using microfiber cloths, mild detergents, and baking soda solutions for best results without damaging the soft matte surface.
Cleaning Solutions for Matt Kitchen Cupboards
Matt surfaces like those on Howdens cupboards are prone to fingerprints and dust buildup. A good first step is to spray the cupboards directly with a multi-surface cleaner formulated for matt finishes. Let it sit briefly before wiping it clean with a dry microfibre cloth.
For tougher dirt or grease marks:
Mix equal parts vinegar and baking soda into a paste and apply to affected areas using a clean cloth.
Use a wet cloth with a small amount of dish soap to tackle greasy marks.
Absorbent cloths like blue shop rolls are ideal for quick spill cleanup. Warm water with a gentle liquid soap can lift dirt from matt cupboard doors, wiped gently with a wrung-out microfibre.
Persistent stains on Howdens matt cupboards may need a more thorough cleaning with a product like Glart Cleaner. But in general, warm water, soap, and a soft cloth keep these cupboards looking their best.
Step-by-Step Guide to Cleaning Matt Cupboards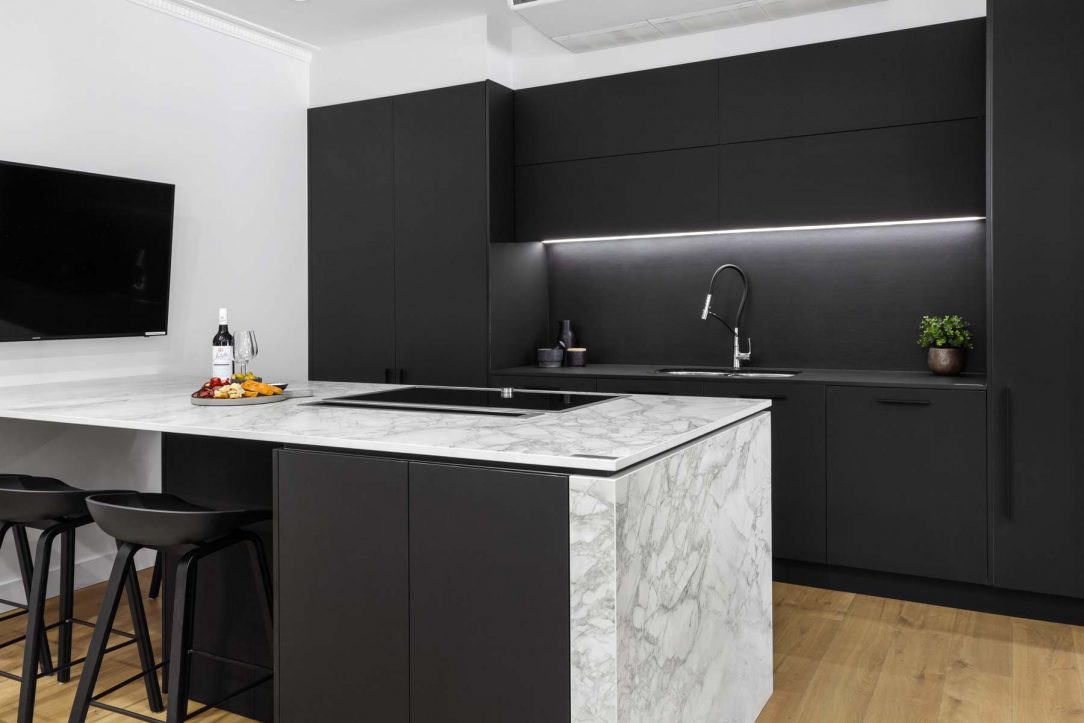 Cleaning matt cupboards like those from Howdens does not require complicated steps. Here is a straightforward process to keep them looking great:
Start by clearing out the cupboards and removing any food or dishes. This allows full access to clean the interior surfaces.
Fill a spray bottle with an all-purpose cleaner formulated for matt finishes. Spritz the cleaner directly onto cupboard doors, sides and shelves.
Let the cleaner sit for 2-3 minutes to penetrate any dirt and grease. This dwell time helps lift stubborn grime.
Wipe down all surfaces with a clean microfibre cloth. For textured matt finishes, wipe gently in circular motions to lift dirt from the grooves.
Go over any pesky spots again with a damp cloth and a drop of dishwashing liquid, rinsing frequently.
Buff dry with a fresh microfibre. This removes any excess moisture and brings back the matte sheen.
For cupboard interiors, use a small hand-held vacuum to suck up any crumbs or dust inside.
Finish by replacing any contents, admiring the clean Matt cupboards!
Regular cleaning keeps Howdens matt cupboards looking their best. Follow these simple steps each month to maintain the matte finish and remove grime buildup.
Tackling Stubborn Grease and Dirt on Matt Cupboards
Matt cupboard finishes can be prone to grease splatters and sticky dirt buildup over time. Here are some tips for tackling those stubborn spots:
For dried-on grease, mix a paste of baking soda and water. Apply the paste to the soiled area and let sit for 15 minutes before scrubbing off with a damp cloth.
Another option is to use undiluted white vinegar. Soak a cloth in vinegar and place over the grease spot for several hours. The acetic acid helps break down the grease.
For sticky grime or splatters, apply a citrus-based degreaser. Let it soak in for 5-10 minutes before scrubbing away with a nylon brush.
For hard water spots or soap scum, use an equal mix of white vinegar and water. Wipe on and let sit before rinsing clean.
For light dirt, rub the area gently with a magic eraser sponge. Avoid excessive scrubbing which can damage the matte finish.
If dealing with grease on textured surfaces, use a small stiff brush to work the cleaner into the grooves and lift out grime.
Be sure to rinse all cleaners thoroughly and wipe dry with a soft cloth to prevent streaks or residue buildup.
Targeting stubborn spots as soon as they happen keeps Howdens matt cupboards looking clean. With the right cleaning methods, you can tackle grease and grime while maintaining the matte finish.
Maintaining Clean and Shiny Matt Cupboards
Once you've cleaned your Howdens matt cupboards, you'll want to keep them looking pristine. Here are some tips for maintaining the finish:
Dust regularly with a microfiber cloth to prevent buildup. Pay extra attention to handles and edges where dust collects.
Clean spills right away to avoid stains. Use a damp cloth and gentle cleaner like diluted dish soap.
Consider applying a matte finish sealant annually. This adds a protective barrier against dirt, grease, and moisture.
Use matte finish polish every few months. This helps hide minor scuffs and fills in micro-scratches to keep the uniform look.
Avoid placing small appliances or accessories directly on cabinet surfaces. Use lined trays or mats to prevent marks.
Open windows when cooking to minimize grease splatter on nearby cupboards.
Rearrange dishes/glasses in cabinets periodically to evenly distribute wear. Frequently used items can damage the finish over time.
Address any new scratches right away with touch-up markers. Letting damage worsen makes it harder to hide.
With consistent gentle cleaning and some preventative care, you can keep your Howdens matt cupboards looking like new for years to come.
FAQ
What is the best cleaner for matte-finish cabinets?
A gentle all-purpose cleaner like diluted dish soap is ideal for matte cabinets. Avoid abrasive cleaners.
What is the best way to clean matt kitchen cupboards?
Use a microfiber cloth, warm water, and a small amount of dish soap. Gently wipe the cabinets and avoid scrubbing.
How do you get greasy fingerprints off matt cabinets?
Rub a bit of baking soda into greasy areas using a damp cloth. Let sit briefly before wiping clean with a soft cloth.
Are matte kitchen cabinets hard to clean?
No, matte cabinets are fairly easy to clean. Just use mild cleaners and soft cloths to avoid scratching the finish.
Conclusion
Matt kitchen cabinets offer an attractive, subtle look for contemporary kitchens. While prone to fingerprints and grease marks, matte finishes can be easily cleaned using gentle techniques like warm water, mild detergent, microfiber cloths, and baking soda. Avoid abrasive scrubbing and harsh chemicals to maintain the matte appearance. With proper care, matte cabinets will retain their soft, smooth finish.