Re-tiling or replacing a roof can be a major home improvement project.
Knowing what to budget for a new roof or roof repairs is key to planning this work.
This article breaks down the costs per metre and total project estimates, so you know what to expect when tiling a roof in the UK.
How Much to Tile a Roof?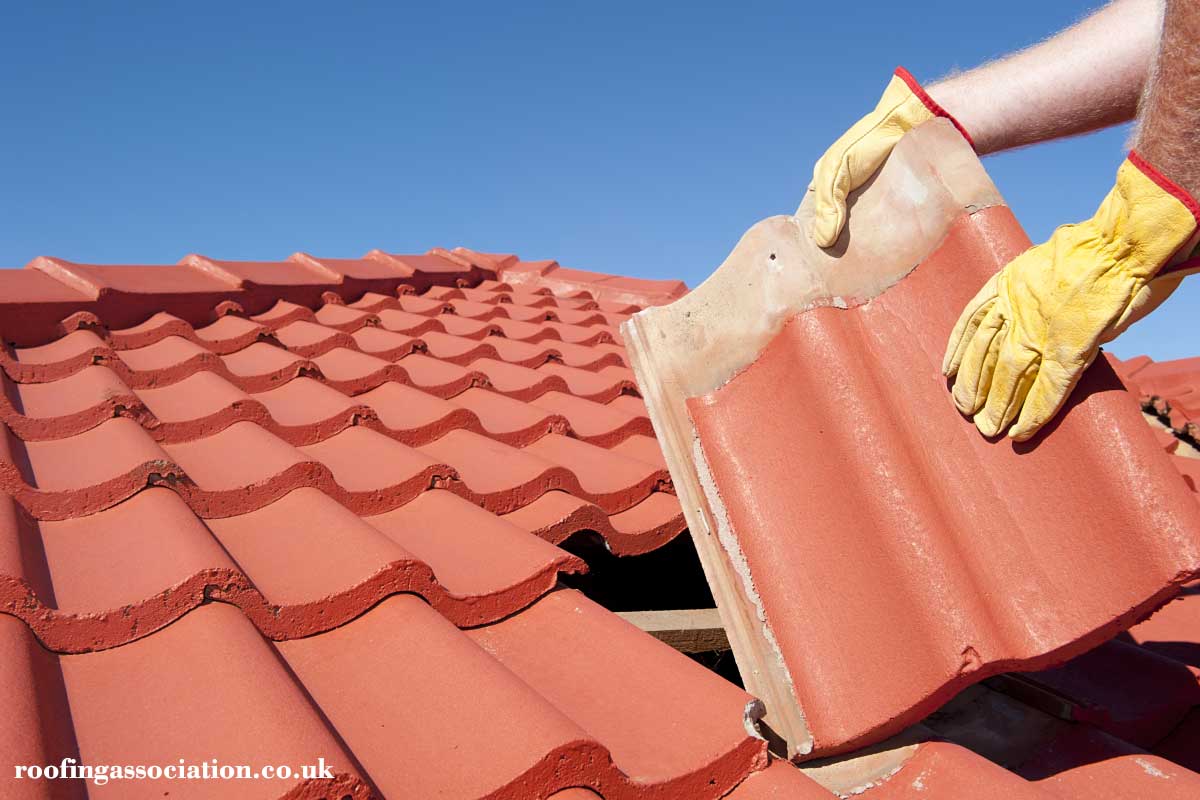 A complete replacement of a tiled roof in the UK can cost around £10,000 on average.
Retiling or replacing individual tiles costs approximately £50-£100 per square meter.
The total cost depends on the roof size, materials, pitch, location and roofer experience.
Concrete or clay tiles range from £50-£100 per m2. Slate is over £100 per m2.
Key Points
Full roof retiling costs £4,000 – £9,000 on average
Concrete/clay tiles cost £50 – £100 per m2
Slate tiles cost over £100 per m2
Our Opinion
In my experience as a roofer, a full roof replacement with concrete or clay tiles for an average-sized house will typically cost between £6,000 and £8,000.
This factors in materials, labour, scaffolding if needed, and waste disposal.
The price can go up if using premium slate tiles or if the roof pitch is very steep.
My best advice is to get multiple quotes from reputable local roofers before proceeding.
How Much Do Roof Tiles Cost in the UK?
When budgeting for a new tiled roof or repairs, the tile materials are a major cost factor. Here's an overview of typical tile prices in the UK:
Interlocking tiles – £60-£120 per m2
Plain clay tiles – £20-£60 per m2
Concrete tiles – £10-£30 per m2
Natural slate tiles – £50-£150 per m2
As you can see, interlocking tiles like clay pantiles tend to be the most expensive roofing tile option. The material costs can quickly add up for an entire roof!
Other material costs for tiling a roof include:
Underlay – £8-£15 per m2
Ridge tiles – £2-£4 per tile
Roofing battens – £1-£2 per m2
Ventilation – £150+ for a roof tile vent
Beyond the tile and material prices, you need to account for scaffolding hire, delivery fees, and of course labour costs. This is where getting quotes from local roofing contractors is essential.
Typical Costs to Install or Replace Roof Tiles
When looking at the total project cost, here are some typical price ranges to expect for tiling a roof on a house or property in the UK:
Minor repairs/replacing a few broken tiles – £100-£300
Re-tiling a small roof (e.g. garage) – £1,000-£3,000
New roof tiles on house – £5,000-£10,000
Complete re-roof with tiles – £8,000-£15,000
As you can see, a full roof replacement with tiles can easily cost £10,000+. Even just re-tiling an existing roof frame often runs £5,000-£8,000 for a typical home.
To get an accurate estimate for your specific roof, it's best to get quotes from 2-3 local roofing contractors. They can assess your roof and provide the full price to supply tiles and install them.
Tiling a roof is a big investment, but quality materials and workmanship can last over 50 years. With proper planning and budgeting, you can get the roof you want for your home or building.
Factors That Influence Tiling Costs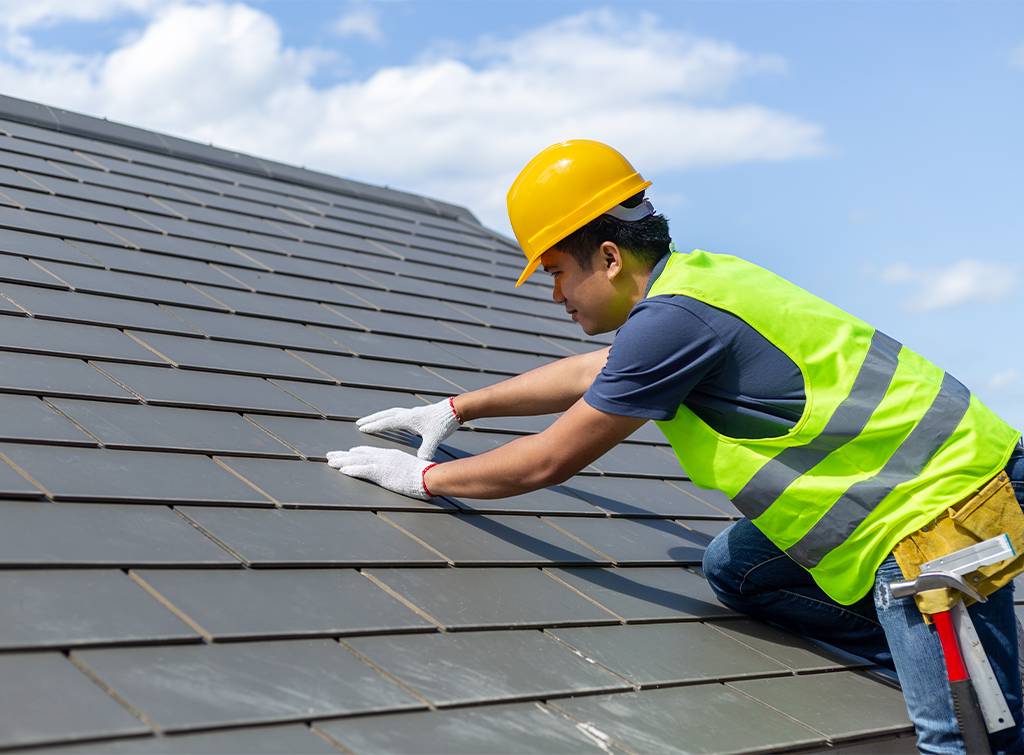 When budgeting to tile a roof, several factors can cause the costs to vary. Here are some of the key considerations that impact pricing:
Roof size – Larger roofs require more materials and longer installation times, increasing costs. Smaller roofs are cheaper.
Roof pitch – Steeply pitched roofs are more challenging and labour-intensive to tile, driving up the price.
Scaffolding – Most roofs require scaffolding which can cost £200-£500 per week to hire.
Access issues – Limited access or a complex roof layout makes tiling more difficult and costly.
Tile choice – Natural slate, clay, and concrete tiles vary widely in price from £10-£150 per m2.
Location – Labour and material costs are higher in some regions like London and the South East.
Specialist work – Chimneys, valleys, and other complex areas require more skill and time.
Additionally, repairing and replacing a few damaged tiles is cheaper than a full re-roofing. Seeking multiple quotes and timing the work in the off-season can potentially save on labour costs.
Discussing your specific roof with local tilers is the best way to understand what factors will influence the price. Experienced roofing contractors can assess all the variables and provide an accurate quote.
Breakdown of Tile Roof Installation Costs
When budgeting to tile a roof, it helps to understand what makes up the total project cost. Here is an overview of the main expenses:
Tiles – The roofing tiles themselves often account for around 50% of the total cost. Prices range from £10-£150 per m2 depending on the tile material.
Labour – For a typical residential roof, labour accounts for 30-40% of the budget. This covers the roofers' time and expertise.
Scaffolding – Essential for access, scaffolding rental typically adds 10-15% to the overall price.
Roofing underlay – A critical waterproof membrane installed under tiles, adding around 5% to costs.
Ridge and hip tiles – Decorative tiles for ridgelines and hips add around 3% on top.
Sundry materials – Nails, mortar, vent tiles etc. account for the remaining few %.
In addition to these direct costs, the roofer may charge a small fee to cover waste disposal and project management expenses. VAT at 20% will be charged on the full price.
To accurately estimate the cost for your particular roof, get quotes from experienced local tilers. They can assess the specifics and provide a detailed breakdown of what's involved.
Ways to Reduce Tiling Costs
Installing a tiled roof can be a major investment. However, there are some ways you can lower the cost without compromising on quality or aesthetics:
Shop around – Get at least 3 quotes from reputable tilers. Comparing prices can save you 10-20%.
Buy tiles in bulk – Purchasing a large volume of tiles directly from manufacturers or wholesalers can mean big discounts.
Use lighter tiles – Opt for concrete or synthetic rather than heavy natural slate or clay tiles to reduce structural work.
Install them yourself – If you're a competent DIYer, supply materials yourself and do the labour. Beware steep roofs.
Reuse existing tiles – Carefully remove and clean sound tiles from your old roof to reuse them.
Go for seconds – Ask suppliers if they have discounted end-of-range or reclaimed tile stock.
Even with money-saving measures, don't compromise on structural preparations, underlay, proper overlaps and nail fixings. Cutting corners could cost you more in repairs down the line.
With careful planning and savvy shopping, you can tile your roof beautifully and still stick to your budget.
Tile Roof Cost Calculator
Figuring out how much it will cost to tile your roof can be tricky. The final price depends on many variables, including:
Roof size and pitch
Type of tiles chosen – clay, concrete, slate, synthetic
Structural work needed – rafters, battens, underlay, vents
Scaffolding requirements
Access issues – height, surrounding obstacles
Geographic location and local labour rates
Special roof features – valleys, hips, chimneys
To get an accurate tile roofing estimate, measure your roof's total square footage. Multiply this by the cost per square foot for materials and installation in your area. This will give you a ballpark figure to budget for.
For a more precise quote, have tilers visit your home to inspect the roof and provide a detailed written estimate. Obtain at least 3 of these from reputable local tilers before deciding.
Online tile roof calculators can also help estimate costs by inputting your roof dimensions, pitch, tile type and location. While convenient, these should not replace an in-person professional assessment.
With careful planning and multiple quotes, you can gain a clear understanding of the investment needed to tile your roof beautifully.
FAQ
How much does it cost to tile an average roof?
A complete replacement of a tiled roof in the UK can cost around £10,000. The cost varies based on the size of the roof, the materials used, and local labour rates.
How much does a tile roof cost in the UK?
The average cost to fully retile a roof in the UK is between £4,000 – £9,000. Concrete or clay tiles typically cost £50 – £100 per square meter. Slate is more expensive at over £100 per square meter.
How much do roofers charge per square metre in the UK?
Roofers typically charge between £50 – £100 per square meter for labour to install new tiles in the UK. The total cost per square meter is higher when including materials.
How much do roofers charge per day in the UK?
In the UK, roofers typically charge between £150 – £200 per day. The daily rate may vary based on experience and demand.
Conclusion
In conclusion, how much to tile a roof in the UK can vary greatly depending on the size of the roof, materials used, and local labour rates. The total cost for a full roof replacement with tiles averages around £10,000, while individual tile replacement or re-tiling costs approximately £50-£100 per square meter. Key factors determining the overall cost include roof size, tile material, pitch or complexity of the roof, location, and roofer experience.