This article provides homeowners with an overview of the average cost to replace a flat roof in the UK in 2023.
Factors that impact the cost are explored along with price ranges based on roof size and materials.
How Much to Replace a Flat Roof?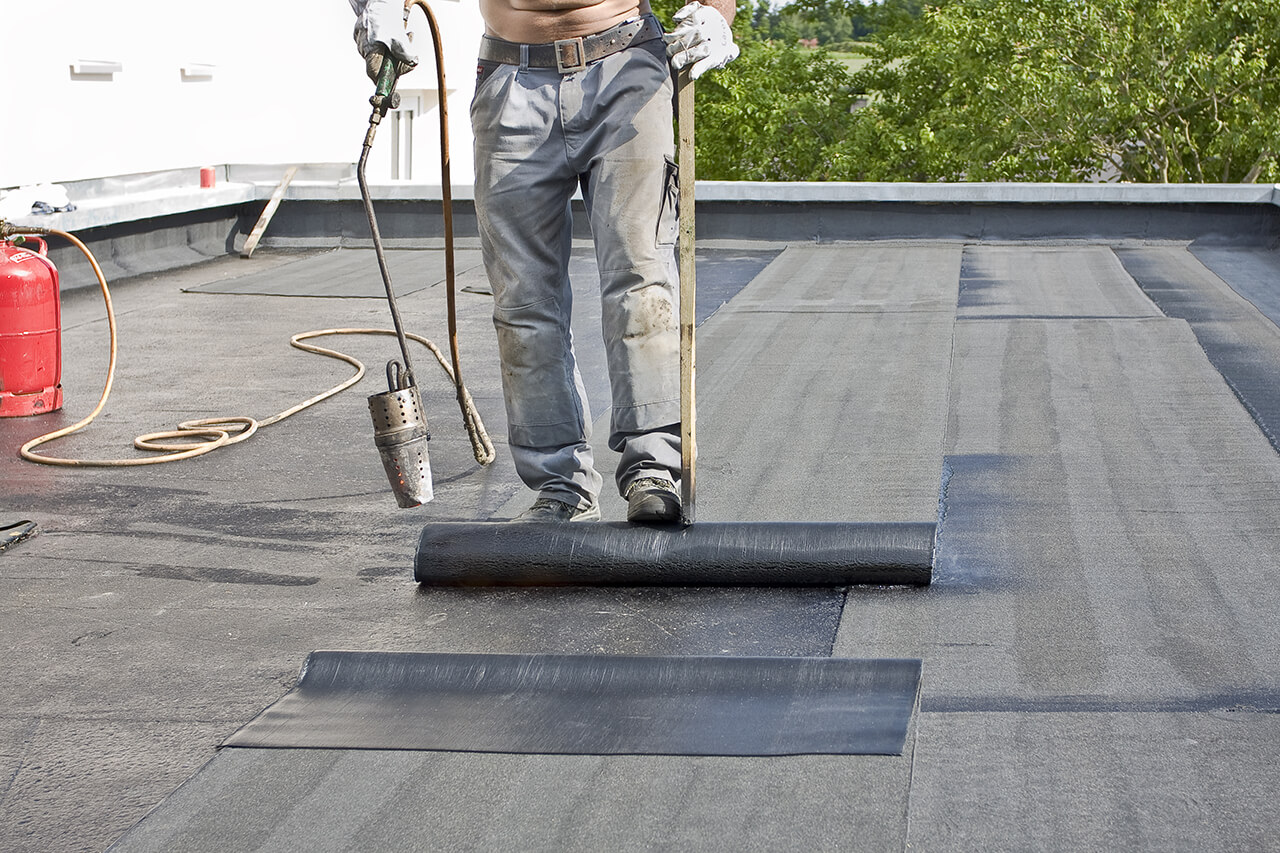 The typical cost to replace a flat roof falls between £700 and £1,300 on average.
However, prices can range from £1,000 to £4,000 or more depending on the specific factors of your roof replacement project.
Key Points
Flat roof replacement costs £700 – £1,300 on average
Prices range from £1,000 – £4,000 or more
Cost depends on size, materials, access needs
Our Opinion
Based on typical flat roof sizes and materials, most homeowners can expect to pay around £1,000 to fully replace their flat roof.
However, every roof is unique so it's important to get professional quotes for your specific project.
Carefully evaluating materials and contractor options can help find the right balance of quality and value.
Average Cost to Replace a Flat Roof in the UK
The average cost to replace a flat roof in the UK ranges from £700 to £1,300. This cost can vary based on:
Size of the roof – Larger roofs cost more to replace
Accessibility – Roofs that are difficult to access require scaffolding which adds to the cost
Materials – Felt is the cheapest option starting at £40/m2. Other materials like GRP, asphalt and EPDM are more expensive
Region – Labour and material costs vary across the UK
Other factors that affect the cost include the need to replace roof edges, drainage, insulation or joists. Additional repairs or replacements drive up the total project cost.
On average, here's what homeowners can expect to pay for a flat roof replacement:
Small flat roof (10 m2) – £700 to £1,000
Medium flat roof (25 m2) – £1,000 to £2,000
Large flat roof (50 m2) – £2,000 to £4,000
Getting quotes from several reputable local roofing contractors is recommended. They will assess your specific roof and advise on the best materials and practices to meet your budget.
Factors Affecting Flat Roof Replacement Costs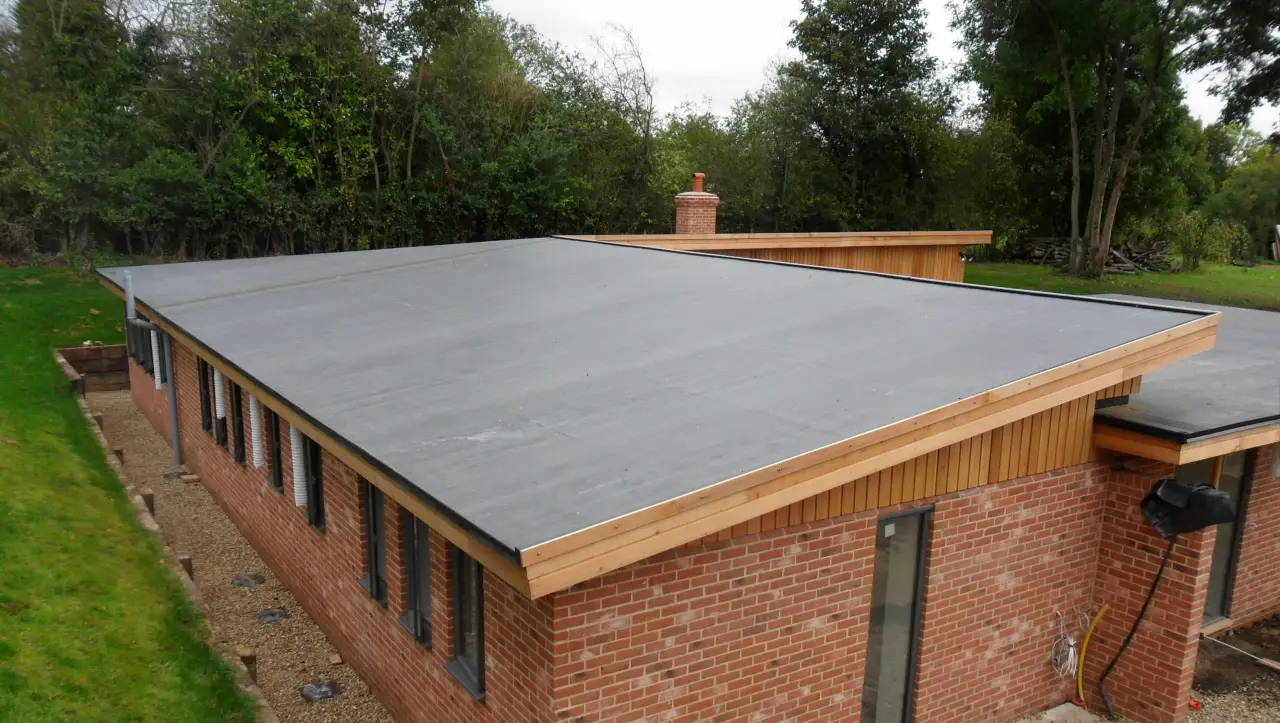 Several key factors influence the cost of replacing a flat roof in the UK:
Size of the roof area – The larger the roof, the more materials and labour will be required.
Access to the roof – Scaffolding or other equipment may be needed to safely access and work on the roof, adding to costs.
Roof pitch – Low-pitch roofs are simpler and therefore cheaper to replace than steeper-pitched flat roofs.
Additional repairs – Replacing rotten roof joists, insulation, or drainage systems can increase costs.
Roof materials – Felt is the most economical. Rubber, GRP, asphalt, and lead are more expensive options.
Regional labour costs – Prices are generally higher in London and the South East.
Scaffolding requirements – For taller buildings, scaffolding will need to be erected, at an additional cost.
Specialist equipment – Some projects require cranes or other equipment to lift materials onto the roof.
Carefully considering what shape your roof is in and what needs repairing beyond just the top layer can help refine quotes and avoid unexpected costs. Getting multiple quotes is advisable to find the best value roofers for your particular project.
Cost of Different Flat Roofing Materials
When replacing a flat roof, the materials chosen make a big difference to the overall project cost. Here are some of the most common options and associated price ranges:
Felt – The most affordable option, starting from £45 per m2 installed. Comes in different weights and qualities.
EPDM rubber – Durable synthetic rubber membrane, approx. £55-£70 per m2.
GRP fibreglass – Seamless and long-lasting, around £70-£100 per m2.
Asphalt – Made from bitumen for waterproofing and stone chippings. Costs £60-£100 per m2.
Lead – Traditional and hardwearing but expensive at £150-£200 per m2.
The condition of the existing roof deck and several repairs needed will also impact the final quote. Request itemised quotes showing materials and labour costs separately. This allows you to compare and choose the most suitable flat roof solution for your building and budget.
Additional Costs to Consider
When budgeting to replace a flat roof, the roofing materials are only part of the total project cost. Other expenses to factor in include:
Scaffolding hire for access, if needed.
Removal and disposal of the old roof materials.
Updating insulation to meet current regulations.
Replacing any rotten roof timbers or damaged areas.
Installation of roof vents or outlets.
Any repairs to interior ceilings or walls damaged by leaks.
An experienced roofer can inspect and provide a detailed quotation with all costs outlined. They may also suggest ways to improve energy efficiency or drainage that will benefit your building long-term, even if they increase the initial price. With a flat roof replacement likely to last 20 years or more, it can be worth investing extra for quality materials and workmanship.
How to Get the Best Value When Replacing a Flat Roof
Replacing a flat roof is a significant investment, so it pays to get quotes from several roofers before deciding who to hire. Here are some tips for getting the best value:
Ask friends and neighbours for referrals to roofers who did a good job on their flat roofs.
Check review websites to see feedback from previous customers on factors like quality, timeliness, cleanup, and service.
Get at least three itemized quotes so you can accurately compare the scope of work.
Ask about the warranties and guarantees offered on workmanship and materials.
Consider hiring a GRP fibreglass roofing specialist if you want the most durable flat roof possible.
Don't automatically choose the cheapest quote, as the quality may suffer.
Verify the roofer has all required licences and insurance.
Investing time upfront to find the right roofer can give you peace of mind that your flat roof will be replaced properly and provide many years of weatherproof protection.
FAQ
How much does it cost to replace a flat roof in the UK?
The cost to replace a flat roof in the UK typically ranges from £1,440 to £3,400, with average prices around £700 to £1,300. The cost depends on the size of the roof and the materials used.
How much does it cost to replace a flat-top roof?
Replacing a flat top roof costs around £45 to £100 per square meter. For an average-sized flat roof of 30-50 square meters, expect to pay £1,500 to £5,000. Prices vary based on materials.
How much is a new flat roof per m2 in the UK?
The cost for a new flat roof per square meter in the UK ranges from £45 to £100 depending on the materials used. Felt roofs cost around £40 to £60 per m2, rubber roofs £60 to £100 per m2.
How often do flat roofs need replacing?
Flat roofs typically need replacing every 10-20 years. Factors like weather damage, poor installation, and inadequate maintenance can shorten a roof's lifespan. Annual inspections help identify issues early.
Conclusion
The cost to replace a flat roof in the UK ranges widely, with prices from £1,000 to £4,000 on average. The exact cost depends on the size of the roof, the materials used, the need for scaffolding, and more. Key factors determining flat roof replacement costs include the roof size, materials, and access requirements. How much to replace a flat roof depends on these variables but homeowners can expect to budget £700 to £1,300 on average.