This informative article details how much to clean a roof in the UK.
With insightful details on pricing factors like house size, location, and cleaning method, it's a must-read for homeowners wondering how much to clean a roof.
How Much to Clean a Roof?
The cost to clean a roof in the UK typically ranges from £600 – £1,500 on average for a full professional clean and treatment.
Prices depend on the roof size, pitch, accessibility and cleaning method.
Manual moss removal costs £5-£12 per m2.
Pressure washing is more expensive at around £750 for a typical house.
Location also impacts cost, ranging from £280-£550 in London.
Key Points
Professional roof cleaning every 2-5 years prevents deterioration from moss etc.
Average cost for full roof cleaning is £600-£1,500 in the UK.
Manual and pressure washing methods have different price ranges.
Our Opinion
As roofing experts, we highly recommend scheduling professional roof cleaning every few years.
Though an added cost, roof cleaning provides important preventative maintenance.
Catching moss growth early protects roof tiles from damage and extends the roof's lifespan, avoiding more costly repairs down the road.
Considering the investment in your home, the average £600-£1500 cost for a full professional cleaning and treatment is money well spent for an essential task.
How Much Does Roof Cleaning Cost?
When it comes to roof cleaning, costs can vary quite a bit based on several factors:
Roof moss removal in the UK can range from £16 per square metre upwards, depending on the cleaning technique used.
For an average 4-bedroom detached home, expect to pay between £1,200 – £2,500 to clean the roof.
For a semi-detached house, moss removal and cleaning costs £495 to £520 on average.
An average-sized detached home's roof cleaning may cost over £1,000.
Manual cleaning with moss removal and biocide can cost £5 to £12 per square metre.
In London, a one-man roofing company may charge around £400 – £500 for roof cleaning.
Across the country, labour costs for roof cleaning average £8-£12 per square metre.
A full roof cleaning and treatment often ranges from £600 to £1,500 but varies based on factors like location and house size.
Manual moss removal is usually cheaper than pressure washing, which can cost up to £750 for a typical house.
Location affects cost, with central London prices ranging from £280 to £550.
The bottom line? Roof cleaning costs depend on the house, location, cleaning method, and more. But for a typical home, expect to pay £500 to £1,500 to thoroughly clean and treat the roof.
Factors Affecting Roof Cleaning Prices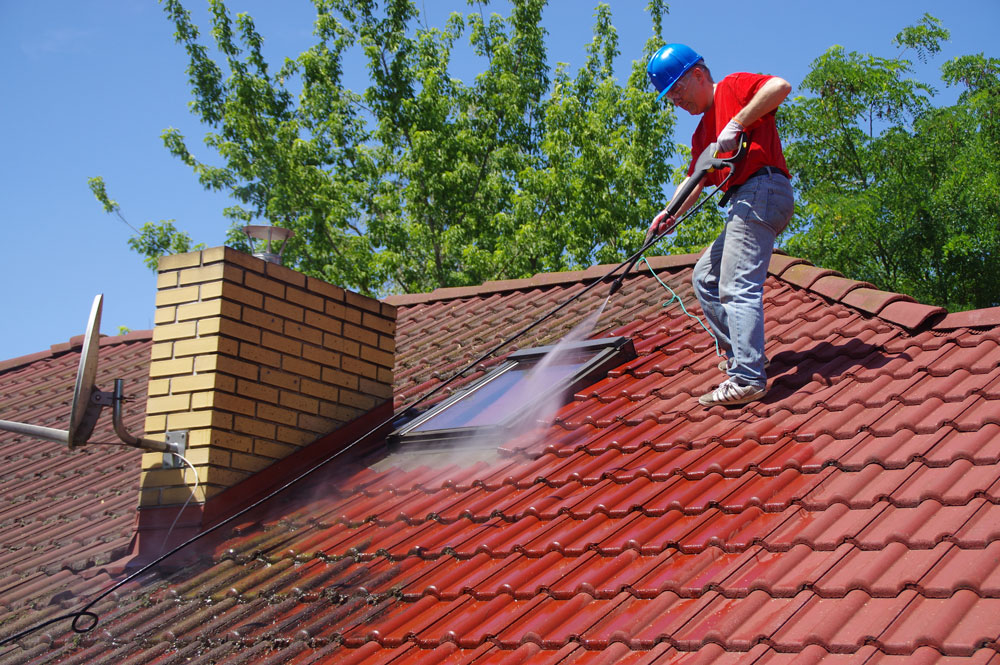 When budgeting for roof cleaning, several key factors affect the final price tag:
Roof size – Larger roofs require more time, labour and materials. A 5 bedroom house costs more than a 2 bedroom flat.
Roof type – Tile roofs are generally more affordable to clean than slate. Concrete or metal roofs have different requirements.
Accessibility – Multi-level roofs or steep pitches make cleaning more complex and costly.
Cleaning method – Pressure washing is quicker but more expensive than manual scrubbing.
Moss levels – Heavily moss-covered roofs take longer to clean.
Location – Central London prices are higher than other areas due to demand.
Additional services – Treatments like biocide or anti-moss coating add cost.
Experience – Established roofers charge more than new businesses.
Reputable companies using quality products and proper safety equipment come at a premium cost.
DIY cleaning is cheaper but riskier than hiring a professional.
While roof cleaning prices fluctuate, being aware of these factors helps set realistic expectations when budgeting for a roof refresh.
Average Roof Cleaning Costs in the UK
When estimating the cost to clean a roof, UK homeowners should budget anywhere from £200 – £2,000 depending on the factors mentioned earlier.
As a general guideline for common roof types:
Cleaning a small flat roof starts around £200
For a typical 2-3 bedroom semi-detached house, expect £400 – £800
Larger detached houses with greater roof sizes often cost £800 – £1,500
Significant moss removal or slate/tile repairs may exceed £2,000
Obtaining quotes from reputable local roofers gives the most accurate price estimate for your specific property. Prices in London and surrounding areas are typically 20-50% higher than other regions.
While DIY cleaning seems cheaper, the risks of damage or injury make professional cleaning a worthwhile investment for most homeowners.
Roof Cleaning Prices Per Square Foot
When getting roof cleaning quotes, another useful metric is the price per square foot of roof area.
On average, roof cleaning costs:
£1 – £2 per sq ft for low moss growth
£2 – £4 per sq ft for medium moss coverage
£4 – £6 per sq ft for heavy moss or algae
Factors like roof pitch, height, and accessibility can increase the per-square-foot price. Many homeowners find it helpful to measure their roof size beforehand when requesting quotes.
Keep in mind, that square footage alone doesn't determine the full price. The amount of moss or roof condition plays a major role. A house with 500 sq ft of roof covered in moss may cost more to clean than 1500 sq ft with light moss.
Discuss the specific requirements with local roofers to get an accurate understanding of potential costs per square foot for your property.
FAQ
Is it worth having your roof cleaned?
Yes, having your roof cleaned can provide several benefits. Removing moss, algae and lichens can help prevent damage to roof tiles and extend their lifespan. Cleaning can also improve the appearance of the roof. However, it's important to use an experienced professional to avoid damaging the roof.
Is it worth removing moss from the roof?
Yes, it's recommended to remove moss, algae and lichen from roofs to prevent damage. Moss retains moisture which can deteriorate and stain roof tiles. Removing it improves drainage and airflow, reducing dampness that causes rot and decay. A moss-free roof is less likely to be damaged in freezing weather.
How often should you clean your roof in the UK?
In the UK, it's generally recommended to clean your roof every 2-5 years. More frequent cleaning may be needed for roofs prone to moss growth due to damp, shaded conditions. Checking and cleaning gutters regularly is also important to reduce the buildup of leaves and debris that can lead to moss.
Is roof cleaning a good idea in the UK?
Yes, roof cleaning is usually a good idea in the UK as long as it is done properly. Moss, algae and lichen need to be removed to prevent deterioration of the roof surface. Professional cleaning using gentle techniques can restore the look of tiles and extend their lifespan without causing damage.
Conclusion
Roof cleaning provides important maintenance to prevent deterioration of roof tiles from moss, algae, and lichen growth. Though costs can vary, professional cleaning every 2-5 years is recommended for most homes to remove buildup and improve drainage. The average cost to thoroughly clean and treat an entire roof is £600-£1,500 in the UK. Key factors determining the cost include the roof size, pitch, accessibility and cleaning method used. While an essential maintenance task, care should be taken to avoid damage to roof tiles during the cleaning process.