Bespoke kitchen suppliers in the UK offer a wide range of prices for custom-designed luxury kitchens.
deVOL is one of the top brands when it comes to high-end, handmade kitchens with unique personalities and character.
If you're considering a deVOL kitchen, here's an overview of what you can expect to pay.
How Much Is a deVOL Kitchen?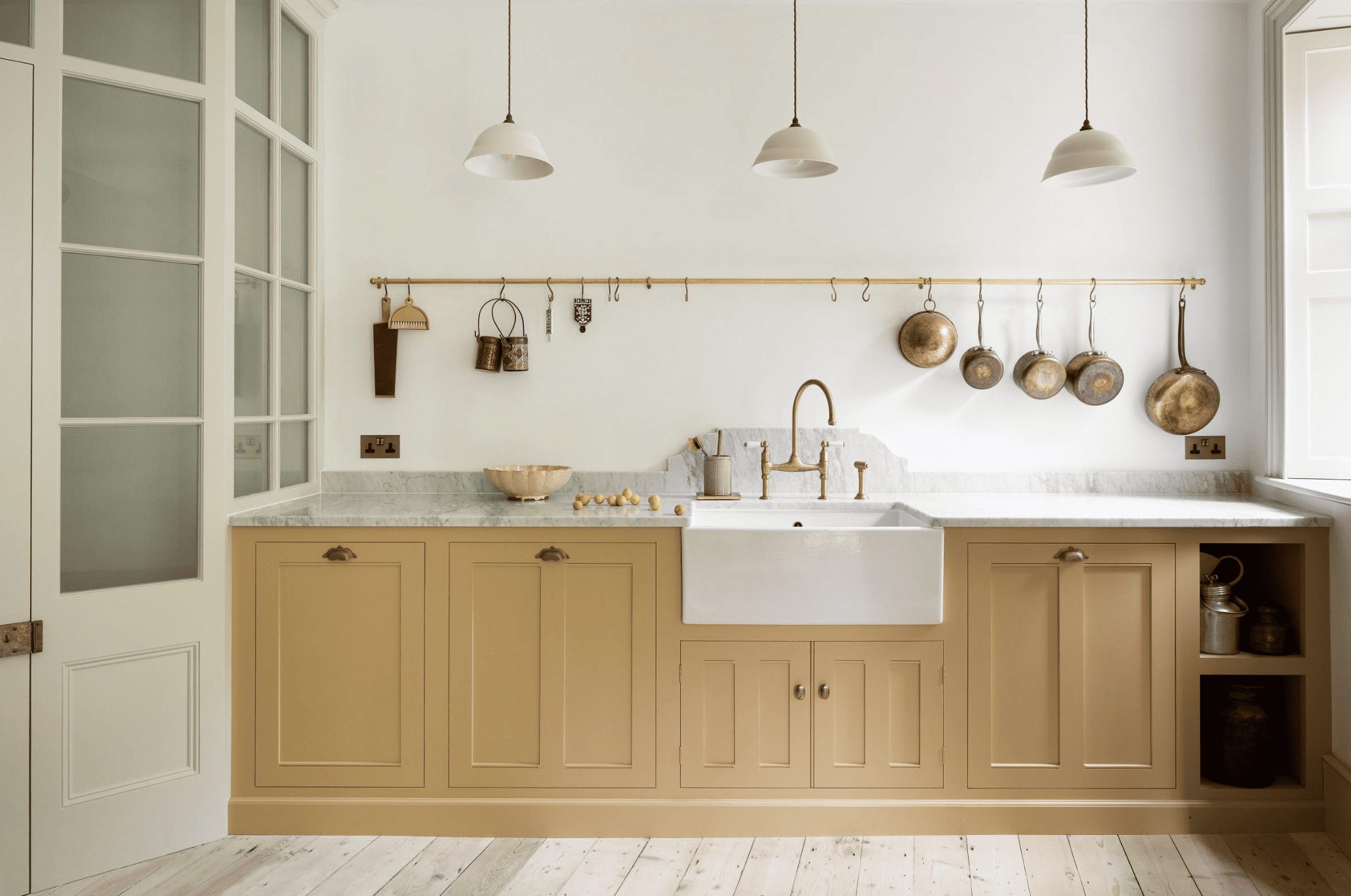 A full deVOL kitchen typically costs between £40,000 and £70,000.
Their Real Shaker style starts around £20,000, while the Classic English look starts around £40,000.
As a bespoke brand, their prices reflect high-quality materials and workmanship.
Key Points
deVOL kitchens range from £20,000 to £70,000
Real Shaker style starts around £20,000
Classic English style starts around £40,000
The bespoke brand with high-end materials and quality
Our Opinion
As experts in kitchen design, we believe deVOL offers exceptional quality and service that justifies their higher prices compared to standard fitted kitchens.
Their bespoke craftsmanship and sustainable materials create kitchens made to last.
While expensive, deVOL kitchens are worth the investment for homeowners wanting a luxury, customized kitchen.
How Much Does a deVOL Kitchen Cost?
The average cost of a deVOL kitchen falls between £15,000 and £50,000. Their most expensive option is a full classic English kitchen, which can reach up to £70,000. Some additional costs to factor in:
End panels, priced at £85 each, are necessary for exposed sides of cabinets and islands.
VAT at 20% is added to the final price.
Installation and customization services are extra.
deVOL offers two main design styles: Real Shaker and Classic English. A typical 8-unit Real Shaker kitchen with an island would cost around £50,000. The Classic English look starts at £40,000. In 2022, deVOL won a Kitchen Design of the Year Award for a Real Shaker kitchen under £25,000.
Compared to competitors like Harvey Jones, Tom Howley, Neptune and John Lewis of Hungerford, deVOL tends to be around 40% more expensive. Yet deVOL's handmade construction and unique, personalized designs account for the premium pricing. If you value high-quality materials, customization and a one-of-a-kind look, a deVOL kitchen is likely worth the investment.
What Factors Affect the Cost of a deVOL Kitchen?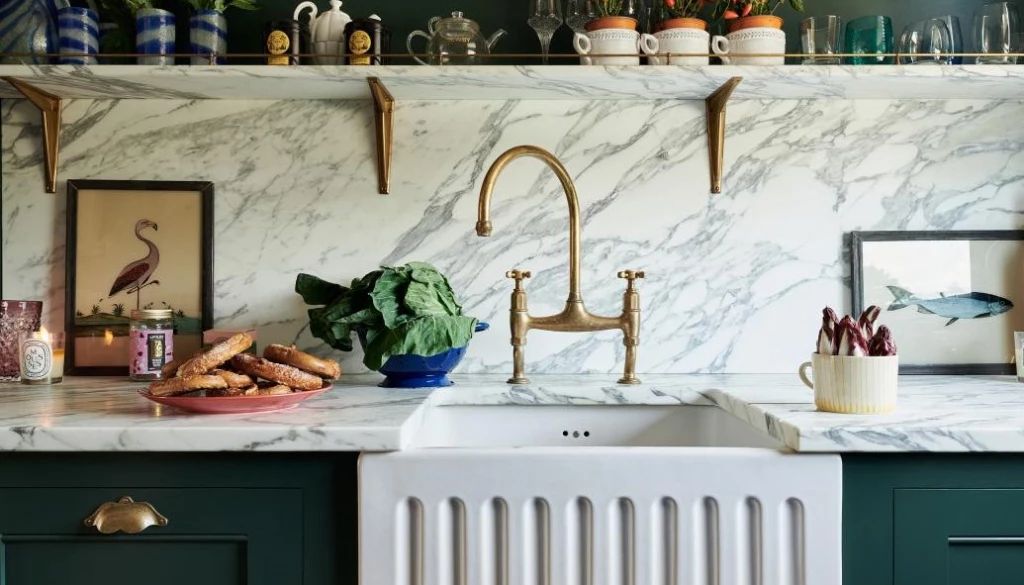 With deVOL, several elements influence the final price of your custom kitchen:
Size – More cabinets and larger islands cost more.
Materials – Solid oak is standard but walnut or painted finishes add expense.
Appliances – Integrated top-brand appliances like Miele increase costs.
Additional features – Extra details like plate racks, larder units and internal drawer fittings add to the overall price.
Delivery – Shipping to remote areas can increase delivery fees.
deVOL's handcrafted process also impacts pricing. Their kitchens are made to order in England, with each unit passing through the hands of 15 artisans over 7 weeks. Skilled British craftsmanship demands higher wages than mass-produced kitchens.
During your consultation, deVOL designers will guide you in balancing your budget with your ideal kitchen vision. Focusing on what matters most in your kitchen design will help prioritize where to invest. With flexible customization options, deVOL can tailor the costs to meet your needs and budget.
deVOL Kitchen Price Range
When investing in a bespoke deVOL kitchen, you can expect prices starting around £30,000. Their luxury handmade kitchens often range from £50,000 to £150,000. For larger, more elaborate designs with top-of-the-line appliances and finishes, some deVOL kitchens cost upwards of £200,000.
Compared to mass-produced brands, deVOL's pricing is on the higher end. However, their focus is on heirloom quality and timeless design. deVOL kitchens are built to last generations, not just years. Their custom process and handcrafted details justify the investment for many clients.
While deVOL commands premium pricing, they offer flexibility to meet different budgets:
Use modular deVOL Elements like the larder unit or prep sink to add function without the full custom price.
Strategically integrate deVOL with more affordable cabinetry in non-focal areas.
Work with deVOL designers to create a phased plan, completing your dream kitchen over time.
deVOL's team will collaborate with you to reach the ideal balance of quality, design and value in your kitchen. Their passion is creating kitchens as unique as their owners. With flexible customization and expert guidance, deVOL makes luxury attainable on any budget.
Cost Comparison Between deVOL and Other Brands
When comparing deVOL to other luxury kitchen brands, their pricing is competitive for the level of quality and service provided. Brands like Poggenpohl and Bulthaup often have similar price points for their bespoke designs.
What sets deVOL apart is its focus on timeless materials and craftsmanship. Their kitchens are made to last generations, not just years. deVOL uses solid hardwoods, hand-patinated metals, and hand-glazed tiles. Their cabinets incorporate traditional joinery techniques not found in mass manufacturing.
While you can find cheaper kitchens from Ikea or Howdens, they lack deVOL's heirloom quality. deVOL prices reflect the meticulous detail in each hand-built kitchen. Their goal is for you to enjoy your kitchen for life.
Compared to other custom kitchen companies, deVOL offers exceptional value. Their streamlined process removes retailer markups. They design, build and install everything in-house for a seamless experience.
deVOL's team will work within your budget. Focusing investment on key materials and custom elements allows cost savings elsewhere. With deVOL, you get the quality details you want at a fair price, without sacrificing your vision.
Tips for Reducing deVOL Kitchen Costs
While deVOL kitchens are an investment, there are ways to reduce costs without compromising quality or design.
Opt for mixed materials like concrete counters paired with wood cabinets. Concrete is an affordable yet durable surface that pairs beautifully with wood.
Focus custom elements on main cabinets and islands. Use more cost-effective stock cabinetry in periphery areas to balance the budget.
Evaluate appliance packages carefully. Choose pro-style brands that offer quality construction at lower price points than luxury designers.
Use open shelving in place of upper cabinets in some areas. This reduces cabinetry costs while adding an airy, contemporary look.
Incorporate smaller-scale tile patterns to reduce tile outlay. Handmade tile can be used judiciously as an accent.
Work with the deVOL team to prioritize must-have design elements. They can suggest creative ways to trim costs in other areas without compromising your vision.
deVOL's experience and craftsmanship mean that you get exquisite results regardless of budget. With smart planning and material choices, you can get your dream deVOL kitchen at the best value.
FAQ
Is deVOL good quality?
deVOL kitchens are known for their high-quality materials and craftsmanship. They use solid hardwoods like oak and elm sourced from sustainable forests. Their cabinets are dovetailed and made to last.
Is deVOL worth it?
deVOL kitchens are expensive but worth it for those wanting a bespoke, luxury kitchen with high-end finishes and attention to detail. Their quality and service justify the premium price for many homeowners.
Which is more expensive deVOL or plain English?
deVOL tends to be more expensive than Plain English. On average, a deVOL kitchen starts around £40,000 while a Plain English kitchen starts around £30,000. deVOL offers more ornate styles.
How much does a full new kitchen cost in the UK?
A full new fitted kitchen in the UK can range from £5,000 to £70,000, with the average cost being £15,000 to £25,000. High-end bespoke brands like deVOL tend to start around £40,000 for a full kitchen.
Conclusion
How much is a deVOLl kitchen?
On average, a full deVOL kitchen costs between £40,000 and £70,000. Their entry-level Real Shaker style starts around £20,000, while their upscale Classic English look starts around £40,000. As a high-end bespoke brand, deVOL kitchens command a premium price but deliver exceptional quality materials and workmanship. Key factors in the cost include the size, layout, chosen style, and customization. Overall, deVOL offers luxury bespoke kitchens made to last, with prices reflecting their quality and service.