Are you planning to upgrade your kitchen but do not just how much a new bathroom cost in 2023?
This article will guide you about the average cost of a new bathroom in the UK and the factors affecting renovation costs.
How Much Does a New Bathroom Cost?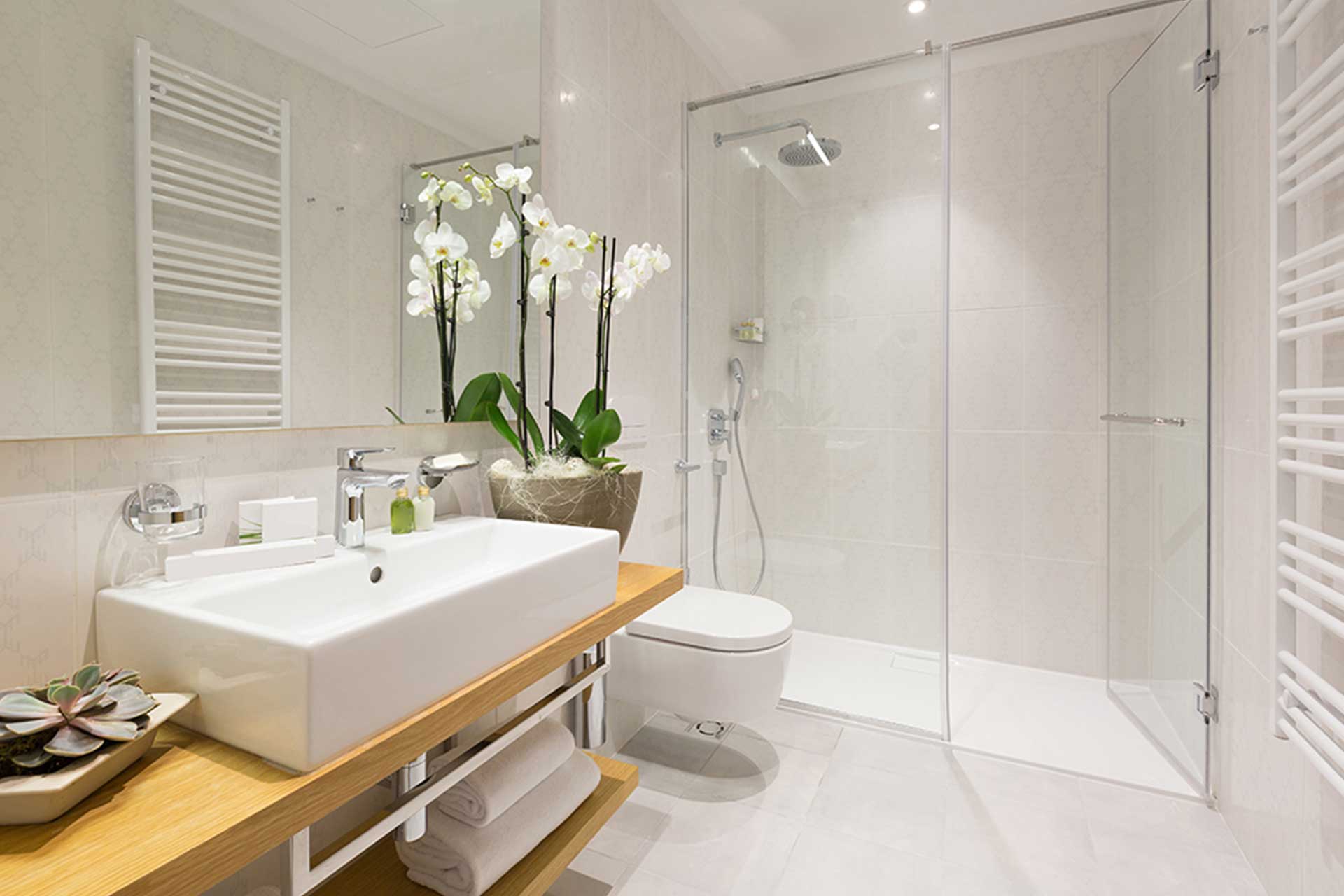 The average cost of a new bathroom in the UK is around £7,200.
This cost can range from £3,000 for a basic bathroom up to £15,000 for a high-end bathroom with premium features and finishes.
The final cost depends on factors like size, layout, materials and fixtures.
Key Points
The average cost for a new bathroom is around £7,200
Cost range is typically £3,000 to £15,000
Many factors like size and materials impact the final price
Our Opinion
When installing a new bathroom, expect an average cost of around £7,200 but know that prices can vary greatly.
Carefully evaluate your needs and budget.
With planning, you can design a beautiful, functional bathroom within your target spending range.
Focus on the essentials first before adding luxury materials and fixtures.
Get quotes from several bathroom fitters to find competitive pricing.
Average Cost of a New Bathroom in the UK
Installing a new bathroom in your home is an exciting project, but it can also be quite costly. So how much does a new bathroom cost on average in the UK in 2023?
The average cost of fitting a brand-new bathroom in the UK is around £7,200. This includes the combined costs of materials like tiles, fixtures, fittings and labour. However, costs can vary widely depending on factors like:
Location – Prices are higher in London and the South East
Size – More space means higher costs
Specifications – Luxury materials and fixtures cost more
While the installation of a basic heated towel rail or radiator adds £250-£500. On average, a standard new bathroom costs around £6,500 in materials and labour. But renovations can range from £1,900 for a basic refresh to £15,000 for a high-end custom bathroom.
The installation costs alone often start around £1,900. Factors like accessibility, plumbing complexity, and electrical work can all impact installation pricing. Luxury materials like stone tiles, jacuzzi tubs and designer fixtures can also increase costs quickly.
In summary, you can expect to pay anywhere from £3,000 to £15,000 for a new bathroom install. But the average cost falls between £6,000-£8,000 for most UK homes. Carefully weighing your budget, needs and style preferences is key to getting the right bathroom renovation for your home and wallet.
Factors Affecting Bathroom Renovation Costs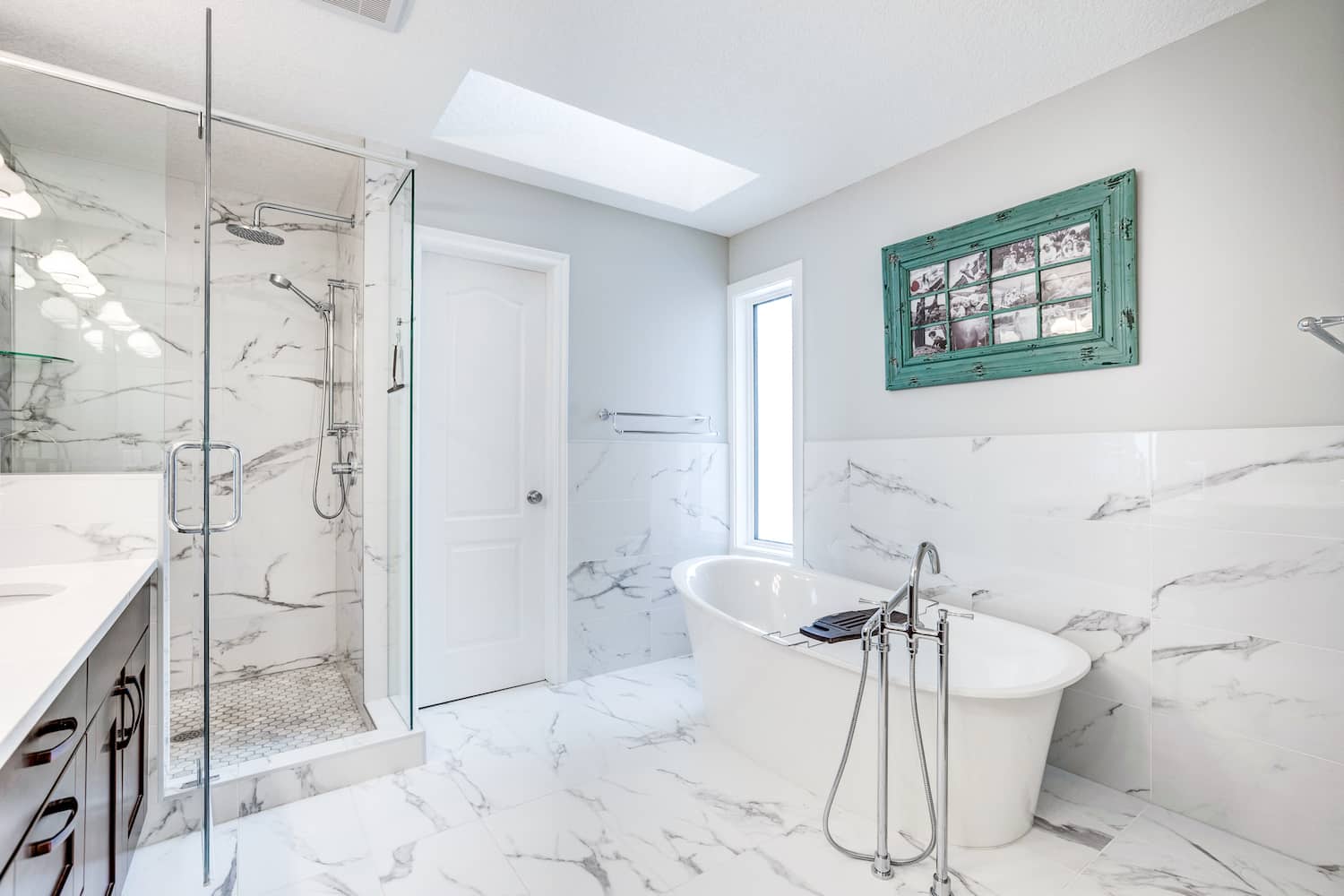 Several key factors influence the total cost of a bathroom renovation project in the UK.
The size of the bathroom is a major cost determinant. Larger bathrooms require more materials, fixtures and labour hours, increasing the overall price. Smaller bathrooms can be renovated for less.
The quality of materials and fixtures chosen also impacts costs. Opting for high-end tiles, bathtubs, toilets and fittings rather than standard models can add thousands to the budget.
The complexity of the job is another consideration. Moving plumbing lines, installing new ventilation or dealing with awkward spaces can drive up labour and material expenses.
Where you live also matters. Labour and material costs tend to be higher in London and the South East compared to other regions of the UK.
Hiring a general contractor usually costs more than a solo tradesperson, but can save headaches with project coordination. DIY bathroom renovations lower costs but require expertise.
In summary, the main factors that influence new bathroom renovation costs include size, materials, complexity, location and who does the work. Carefully evaluating these elements will help keep your project on time and budget.
Breakdown of Costs for a Basic Bathroom Remodel
When budgeting for a bathroom renovation, it helps to understand where your money will be spent. Here is a general cost breakdown for a basic bathroom remodel:
Tiles – £500-£2,000. Tile prices range widely based on material, size and quality. Budget ceramic tiles start around £5/m2, while natural stone tiles can cost over £50/m2.
Bathtub – £200-£600 for a standard acrylic model. Freestanding and cast iron tubs run £600-£1,500+. Installation adds £200-£500 in labour.
Toilet – £75-£300. Basic white toilets start at around £75. Designer and more efficient models run up to £300+. Installation is about £150-£200.
Vanity – £150-£600. Basic vanities start at £150, while custom wood and high-end models can cost £600+. Installation and plumbing add £200-£400.
Labour – For professional installation, expect to pay £150-£200 per day. Many jobs take 2-5 days depending on the scope.
In total, a basic DIY bathroom remodel can be done for £2,000-£3,000. Hiring pros may cost £4,000-£6,000 or more. Upscale finishes can drive the budget above £10,000. Carefully prioritizing must-haves from nice-to-haves helps keep costs down.
Estimated Costs for High-End Bathroom Upgrades
There are many ways to upgrade a basic bathroom remodel for a more luxurious look and feel. Here are estimated costs for some popular high-end finishes and features:
Stone Tiles – Using natural stone like marble or travertine for flooring and walls can cost £50-£100/m2, raising tile costs to £2,000-£5,000+.
Heated Floors – Heated flooring costs £30-£50/m2 to install. For a 10m2 bathroom, expect to pay £300-£500.
Designer Fixtures – High-end taps, toilets, tubs and vanities from brands like Kohler and Duravit generally range from £600-£2,500 each.
Smart Toilets – High-tech toilets with heated seats, bidets and more run £1,000-£5,000+. Installation is included.
Steam Showers – A custom steam shower enclosure can cost £3,000-£6,000 to install. Add £1,500-£3,000 for steam generator and controls.
Heated Towel Racks – Warming towel racks cost £250-£600 to install.
With upgrades like these, it's easy for a bathroom remodel budget to reach £15,000-£25,000. Focusing on one or two statement features can help keep costs in check while still achieving a luxury feel.
How to Reduce Your New Bathroom Costs
If a high-end bathroom remodel is out of your budget, there are ways to cut costs without sacrificing style:
Shop sales and closeouts – Check home improvement stores for discounted tiles, fixtures and other materials. You can find quality items for 30-50% off.
DIY demolition and prep work – Doing the tear-out and prep work yourself saves on labour costs. Just be sure to get professional help for plumbing and electrical.
Buy stock cabinets – Opt for in-stock cabinetry rather than custom. Stock cabinets cost 25-50% less but still offer variety.
Use ceramic vs. natural stone – Ceramic and porcelain tiles have the elegant look of stone for much less. Prices start around £10/m2.
Select mid-grade fixtures – Steer clear of budget fixtures but you don't need top-of-the-line either. Mid-grade options deliver quality and style.
Install flooring yourself – Quality vinyl plank flooring starts around £15/m2 and is installed with just click-together planks.
Get creative with lighting – Use sconces, pendants and recessed lighting rather than pricey chandeliers. Mixing lighting types adds interest.
With strategic material choices and sweat equity, you can create a beautiful new bathroom without busting your budget. Focus on the finishes that matter most to your vision.
FAQ
How much does it cost to fit a new bathroom in the UK?
The cost of fitting a new bathroom in the UK typically ranges from £3,000 to £15,000, with the average cost around £7,200. This includes materials and labour.
How much should I spend on a bathroom in the UK?
The amount you should spend on a new bathroom in the UK depends on your budget and needs. However, expect to spend an average of £6,000-£8,000 for a standard bathroom remodel. High-end bathrooms with premium fixtures and finishes can cost £15,000 or more.
What is the average cost to put in a bathroom?
The average cost to install a new bathroom in the UK is approximately £7,200. This covers the costs of materials, fixtures, labour, and other expenses involved in a bathroom remodel.
How much does it cost to remodel a bathroom in the UK in 2023?
In 2023, the average cost to remodel a bathroom in the UK is forecast to be around £7,500. This factors in projected increases in material and labour costs. The range is typically from £5,000 for a minor update to £15,000 for a high-end renovation.
Conclusion
The cost of installing a new bathroom in the UK can vary greatly but averages around £7,200. Factors like location, size, materials and fixtures impact the final price. Remodelling an existing bathroom starts at around £1,900 just for labour, with total costs ranging from £3,000 to £15,000 depending on the scope of work. When budgeting for a bathroom project, expect to spend £6,000-£8,000 for a standard, quality bathroom renovation. Careful planning and material choices can help keep costs in check. In 2023, bathroom installation costs are forecast to rise slightly to an average of £7,500 due to inflation in material and labour prices.