Adding a balcony can greatly enhance a home, providing extra outdoor space to relax and enjoy the fresh air.
But how much does it cost to build a balcony in the UK?
Here's a detailed breakdown of the typical balcony installation costs.
How Much Does a Balcony Cost?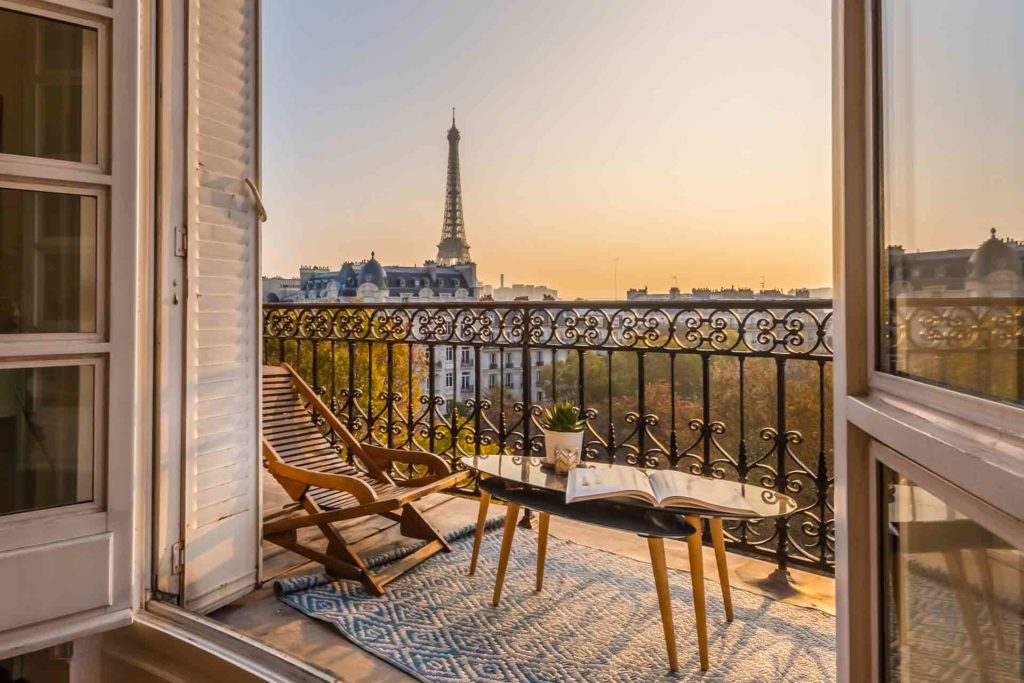 The average cost to install a balcony in the UK ranges from £2,500 to £5,000. Smaller balconies can be built from £1,000, while larger custom builds exceed £5,000.
The size, design, materials, and labour impact the final cost.
Key Points
– Average cost is £2,500 to £5,000
– Small basic balconies from £1,000
– Larger custom builds over £5,000
– Size, design, and materials impact cost
– Adds value of £1,000 to £3,000 typically
Our Opinion
In my opinion as an expert, a balcony is a great addition to increase property value and provide an outdoor space.
Carefully considering the size and design needed helps balance costs.
I think getting quotes for both basic and custom builds makes sense, as the premium for custom work may be worth it long term.
Overall, installing a balcony in the £2,500 to £5,000 range maximizes value added for most homes.
Average Cost to Build a Balcony in the UK
The average cost of installing a moderately-sized balcony in the UK ranges from £1,000 to £5,000, depending on the chosen design. Here are some key factors that influence the cost:
Size – Larger balconies that can accommodate seating areas and planters generally cost more.
Material – Composite decking, glass, and stainless steel balustrades drive up costs compared to cheaper wood and metal options.
Labour – Complex designs requiring more installation time increase labour costs.
Location – Prices are usually higher in London and the South East.
Some typical balcony installation costs in the UK include:
Juliet Balcony – £250 to £3,000
Small Balcony (1.5 x 1m) – £1,000 to £3,000
Medium Balcony (3 x 1.5m) – £3,000 to £5,000
Large Balcony (5 x 2m) – £5,000 to £10,000
Overall, installing a balcony in the UK can range from economical Juliet balcony options to more spacious designs with composite decking and stainless steel glass balustrades. Carefully weighing up the design, materials and location can help find the most cost-effective solution.
Factors that Influence Balcony Construction Costs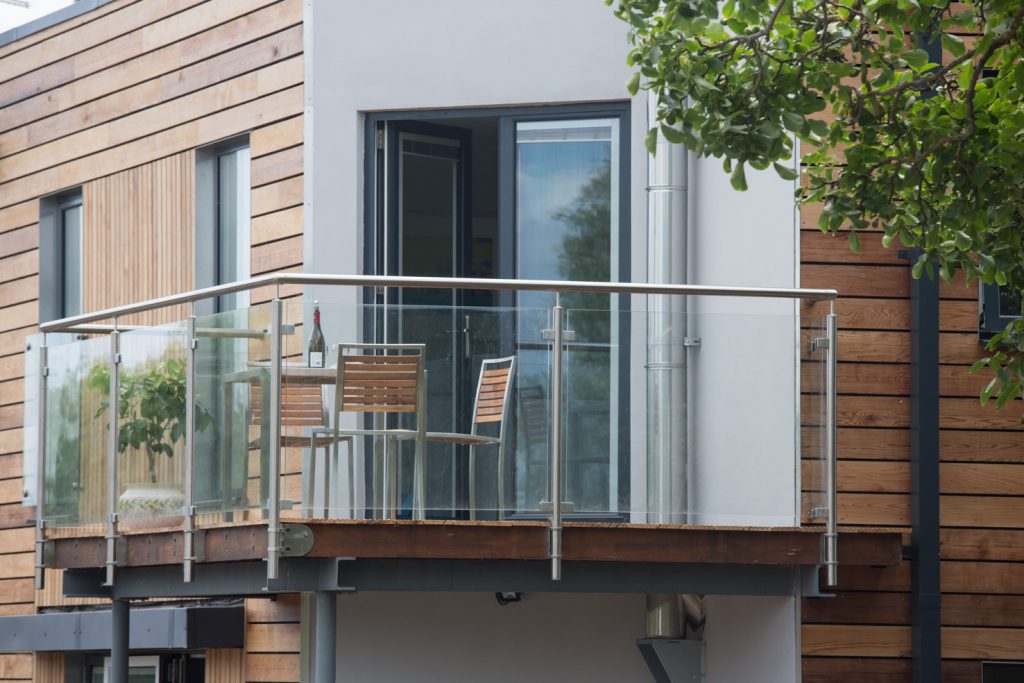 Several key factors affect the total cost of building a new balcony or refurbishing an existing one. Being aware of these can help manage the budget.
The size and design of the balcony significantly impact the price. Larger balconies with customized shapes and features like planters, benches, and pergolas cost more in materials and labour. The structural support and foundation requirements also increase for bigger balconies.
Premium materials like composite decking, glass panels, and stainless steel balustrades are pricier than basic wood and metal options. However, they are very low-maintenance and durable. Choosing quality materials upfront saves costs in the long run.
Balcony location affects pricing too. Installation costs tend to be higher in London and the South East where labor rates are higher. Prices also vary by how accessible the site is and how much preparation work is required.
Finally, the contractor makes a difference. More experienced firms charge higher rates but often complete projects faster and provide better warranties on their workmanship.
Understanding these cost factors allows smart choices to be made when planning a balcony installation or refurbishment. A few adjustments to the design or materials can sometimes yield big savings without sacrificing quality or aesthetics.
Breakdown of Material Costs for a Balcony
The materials selected make up a significant portion of a balcony's total budget. Here's an overview of typical material costs for a medium-sized timber balcony:
Decking – Quality composite or hardwood deck boards £30-£50 per m2
Joists – Treated softwood joists £15-£25 per m2
Balustrade – Glass, steel or aluminium balustrade system £100-£300 per linear metre
Waterproofing – Liquid membrane or flashing £10-£15 per m2
Finishing – Anti-slip decking strips, lighting, planters £150-£300
Upgrading from basic pine decking and handrails to composite materials or aluminium can increase costs substantially. However, the improved durability and lifespan often make this a wise long-term investment.
Carefully selecting finishes like lighting, benches, and greenery also enables the creation of a balcony that suits your tastes without overspending. Understanding the material costs involved provides a solid basis for making informed choices within your budget.
Breakdown of Typical Labour Costs for a Balcony
The labour involved in building a balcony can be a significant portion of the total cost. Here's an overview of typical labour costs:
Demolition – Removing existing structures if needed, £100-£300
Framing – Building the substructure from steel or timber, £500-£1500
Decking – Installing and finishing the deck boards, £300-£600
Railings – Fabricating and mounting balustrades, £300-£800
Waterproofing – Properly sealing surfaces, £200-£400
Finishing – Adding lighting, plants, decor, £200-£500
An experienced contractor is essential for structural work like framing. However, you may save on labour by taking on demolition and finishing tasks yourself if DIY inclined. In total, expect professional installation to add £2000-£5000 or more depending on the balcony's size and complexity.
While a significant cost, quality installation ensures structural integrity and prevents expensive repairs later on. Investing in proper waterproofing and slope drainage is particularly important in our rainy climate. Understanding expected labour costs helps strike the right balance between budget and quality.
Budgeting for a New Balcony
When budgeting for a new balcony, materials and labour are just part of the picture. Here are some other costs that often get overlooked:
Permits – Building regulations require proper permissions, which can run £100-£500 depending on your council.
Architect fees – For more complex designs, an architect may charge £1000 or more for drawings and approvals.
Waste disposal – Proper removal of old structures and construction debris isn't free, estimate £200-£500.
Electrical – If adding lighting or outlets, electrical work can add £500 or more.
Doors – New sliding or French doors to access the balcony, £500-£1500.
Furniture – Don't forget chairs, tables, planters and decor to enjoy your new space.
Accounting for extra costs like these ensures your balcony budget is comprehensive. A 10-15% contingency is also smart to cover unforeseen expenses. With thoughtful planning, you can avoid cost overruns and enjoy your finished balcony without breaking the bank.
FAQ
How much will a balcony cost?
The cost of installing a balcony can range from £1,000 to £5,000 depending on the size and design. Custom builds with high-end materials and intricate designs will be more expensive. More basic balcony builds can cost between £1,000 and £3,000.
How much does a balcony cost to build in the UK?
In the UK, the average cost to install a balcony is between £2,500 and £5,000. Smaller, basic balconies can be built for £1,000 to £3,000. Larger or more intricate balcony builds involving custom materials and labour can cost upwards of £5,000. Regional labour costs impact overall pricing.
Does a balcony add value to a house?
Yes, adding a balcony can increase a home's value. Estimates suggest a balcony can add between £1,000 and £3,000 to the value. Outdoor space is highly desirable, so a balcony creates a premium. In some cases, the balcony value may be 25-50% of the total property price.
How much does a walkout balcony cost in the UK?
In the UK, a walk-out balcony costs between £2,500 and £5,000 on average. Smaller Juliet balcony builds can cost £250 to £3,000. Larger custom walk-out balcony builds with high-end materials can cost over £5,000. Regional labour rates impact overall pricing.
Conclusion
The cost of installing a balcony in the UK can vary greatly, with prices ranging from £1,000 to £5,000 on average. Custom builds with premium materials and labour will be more expensive. Location, size, and design impact cost. Overall, balconies add value and provide outdoor space. Carefully weighing up design and budget helps determine the right balcony investment.