How much are Howdens kitchens?
Read on to find out more about the cost of Howdens kitchens and compare with other brands to better guide you in choosing the right fit for your kitchen.
How Much Are Howdens Kitchens?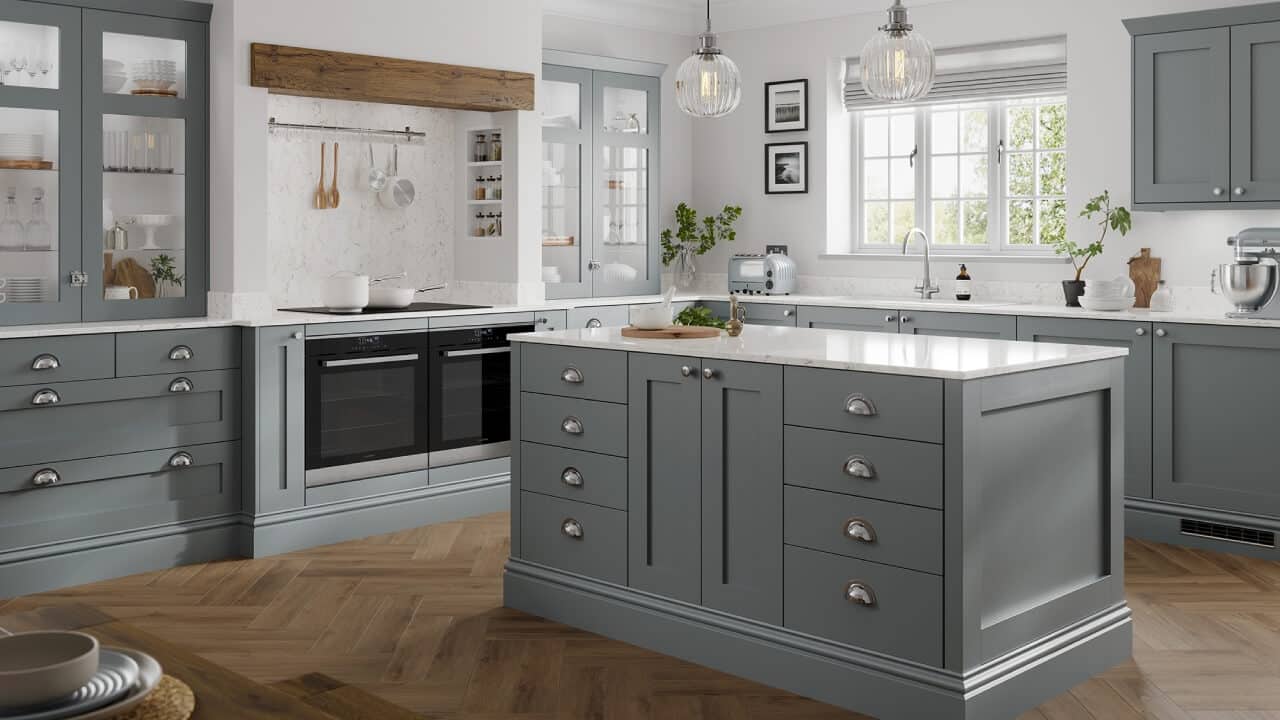 Howdens, a trade supplier for kitchens, offers flexible pricing to meet any budget.
They do not publish pricing lists for the general public, but they guarantee to beat any like-for-like quote.
While there is no uniform pricing for Howdens kitchens, customer reviews suggest that a kitchen from their Fairfield range typically costs between £5,000 and £15,000.
Howdens also offers a lengthy warranty period, with a 25-year guarantee on their products.
It is worth noting that although Howdens is known for being expensive, builders usually do not pay the list price.
Key Points
Howdens does not publish set prices but provides quotes
A medium Howdens kitchen often costs £5,000 – £15,000
Howdens offers a 25-year guarantee on their kitchens
Our Opinion
Based on customer reviews and industry expertise, we believe Howdens provides quality kitchens at a reasonable price point for most budgets.
Their flexible quotes, trade discounts and long warranties make them a smart choice when investing in a new kitchen.
How Much Do Howdens Kitchens Cost?
When it comes to Howdens kitchens, pricing is flexible rather than fixed. As a trade supplier, Howdens does not publish price lists for the general public. However, they guarantee to beat any like-for-like quote from other providers.
While there are no set prices, reviews from Howdens customers suggest their Fairfield range costs £5,000 to £15,000 for a typical fitted kitchen. This wide bracket allows for different sizes, layouts and specifications.
Howdens is known for quality over low prices. Their products come with guarantees like a 25-year warranty.
Builders get better deals than the list prices suggest. As a trade supplier, Howdens offers discounts to the trade.
So, in summary, Howdens kitchens are flexible to suit different budgets. While not the cheapest, their products promise quality and durability. Get a quote to find the exact cost for your kitchen plan.
Breakdown of Howdens Kitchen Prices
When budgeting for a new Howdens kitchen, it helps to understand what factors influence the total price you'll pay.
The main elements are:
Cabinets – The biggest portion of costs. Prices start from £100 for base units and £150 for wall units.
Worktops – Usually 10-15% of the total budget. Prices from £100 per linear metre.
Appliances – Can be supplied by Howdens or sourced separately.
Sinks & Taps – Allow £200-500 for these.
Accessories – Things like pan drawers, waste bins, and lighting. Variable costs.
On top of the core kitchen, installation and fitting will be a major factor. Unless you're installing it yourself, build this into your budget. Expect to pay £150-200 per day for a fitter.
Howdens provides a design service to tailor everything to your kitchen layout. This expertise helps optimise costs by not overspending.
While Howdens kitchens are not the cheapest, their quality and guarantees provide long-term value. Focus your budget on the cabinets and worktops as the foundations.
Factors Affecting the Cost of Howdens Kitchens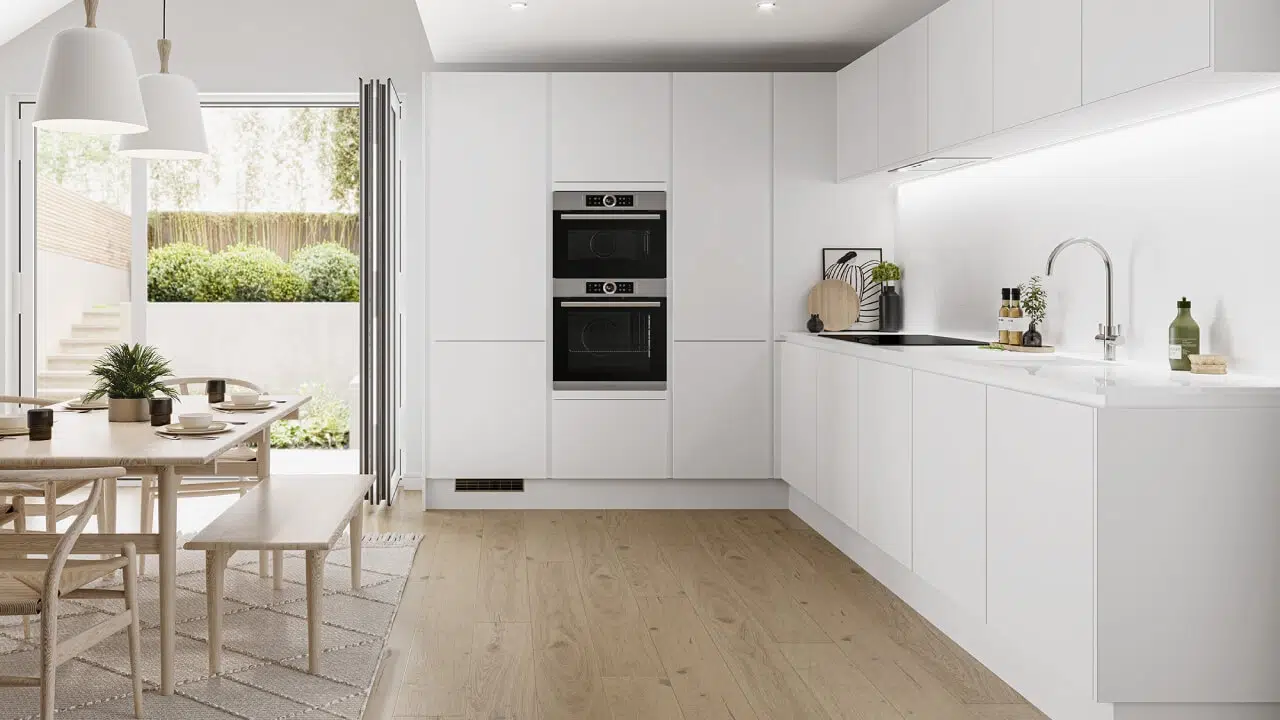 Several key factors can increase or decrease the total cost of your Howdens kitchen.
The main driver is size – both in terms of floor space and number of cabinets. More metros of cabinets and worktops equals higher costs. Carefully measure your space.
Material choices also impact price. Opt for laminate worktops over granite or solid wood. Pick vinyl or repurposed wood flooring instead of new oak.
Appliance costs vary enormously. Compare integrated, built-in and freestanding options. Look at energy ratings – higher efficiency has higher prices.
Additional storage solutions like pan drawers, magic corners and larders can optimise space but add expense. Prioritise needs over wants.
Finally, installation and fitting costs are variable. DIY is the cheapest but requires skill. Get quotes from fitters before purchasing.
Howdens design consultants can advise on balancing your style and functionality with your budget. Their expertise helps maximise value for your money.
With some planning and smart choices, Howdens kitchens can work for nearly any budget. Focus spending on the elements that matter most.
Howdens Kitchen Pricing Policy Explained
Understanding Howdens' pricing model helps you get the best value.
Unlike other retailers, Howdens does not advertise prices. They operate a trade-only showroom policy – you cannot buy directly as a homeowner.
Instead, you work with an approved Howdens installer to design your kitchen. They provide a quote based on the trade prices they have access to.
The benefit of this approach is that it allows flexibility in pricing. Installers can adjust costs based on the scale of your project and their relationship with you.
Larger kitchens with multiple cabinets may receive discounted rates. Repeat customers may get preferential pricing. Area promotions can also lower costs.
In addition, your installer has insight into the latest product deals and incentives offered by Howdens. They can factor these into your quote.
By working directly with a Howdens professional, you can negotiate to find a fair price for your specific kitchen remodel.
While Howdens does not advertise standard rates, its products offer excellent value compared to competitors.
With an approved installer's help, you can get a great Howdens kitchen within your budget.
How Howdens Kitchen Prices Compare to DIY Kitchens
Opting for a Howdens kitchen over DIY can provide better value if planned right.
The main difference is that with Howdens, you pay a professional installer for their expertise. This covers the complete design, supply, and fitting of your new kitchen.
In contrast, a DIY kitchen means you source and assemble everything yourself. This takes considerable time and effort.
On the face of it, DIY seems cheaper. But once you factor in mistakes, changes, labour, and sourcing hassles, the savings can disappear.
With Howdens, you get the simplicity of a fixed-price quote for the entire project. Their installers have trade discounts and incentives you won't get buying parts independently.
What you pay should reflect the convenience, service and peace of mind that comes with an expert-led kitchen makeover.
Get quotes from different Howdens installers to find the best fit for your budget. With the right provider, you can get an incredible new Howdens kitchen for less than the true cost of DIY.
FAQ
How much does a typical Howdens kitchen cost?
Howdens kitchens can vary widely in price depending on the size, layout, materials and appliances chosen. However, for a medium-sized (10 x 15 ft) kitchen with standard cabinetry and finishes, expect to pay £5,000 – £15,000.
Are Howdens cheaper than B&Q?
Generally, yes, Howdens kitchens are cheaper than comparable kitchens from B&Q. As a trade supplier, Howdens can offer lower prices than major DIY retailers like B&Q.
Who is more expensive Howdens or Wren?
Wren kitchens are typically more expensive than Howdens for comparable kitchens. As a luxury brand, Wren caters to a higher-end market than the more affordable Howdens.
How much does a full new kitchen cost in the UK?
For a completely new kitchen install in the UK, including cabinets, countertops, appliances, flooring, lighting, labour and more, expect to pay £10,000 – £30,000 on average. High-end luxury kitchens can cost £50,000 or more.
Conclusion
Howdens kitchens offer great value for money. While prices vary, you can expect to pay around £5,000 – £15,000 for a Howdens kitchen depending on size and specifications. They provide quality cabinetry and a 25-year guarantee at a lower cost than major DIY chains. Considering the warranty, flexible pricing and trade expertise, Howdens delivers an affordable option for most kitchen budgets.