Are you planning to purchase a bay window shutter but do not know how much are bay window shutters?
This blog post will provide an overview of the cost of bay window shutters and factors affecting their cost to better guide you when choosing the right window shutter for your home.
How Much Are Bay Window Shutters?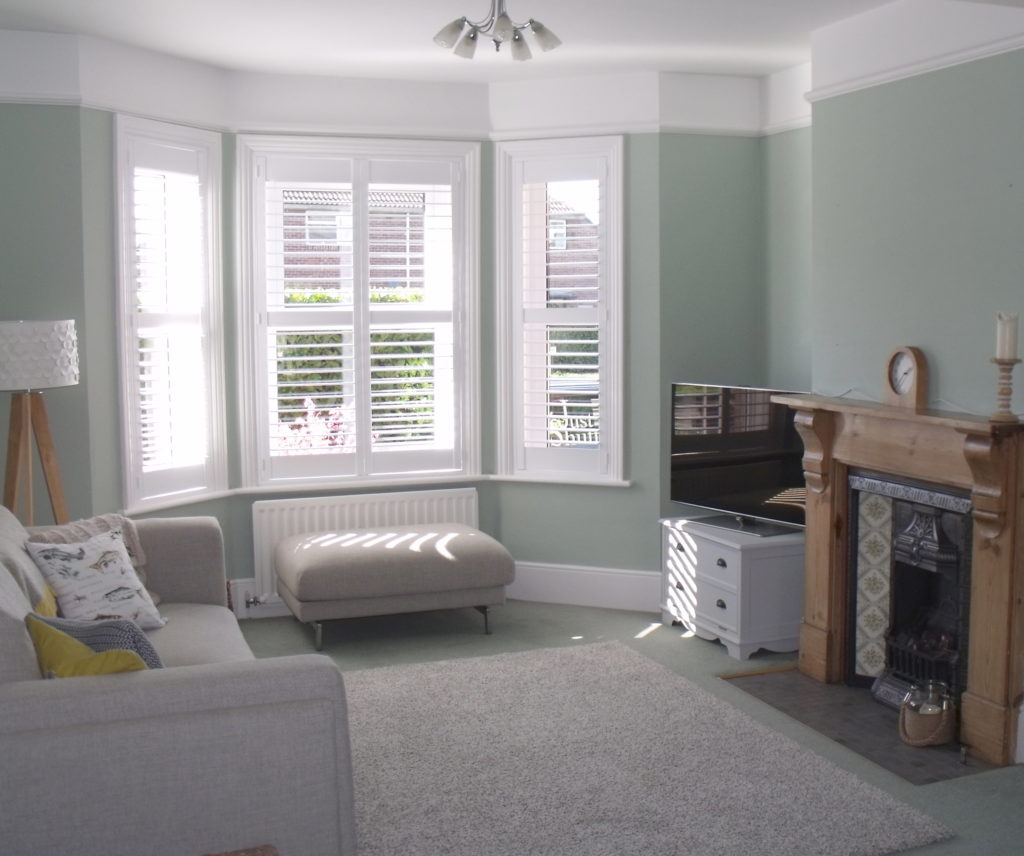 Bay window shutters typically cost between £400 and £1,500 depending on the material, size of the window, and installation method.
For a medium-sized bay window, expect to pay around £500-£800 on average.
PVC shutters are the most affordable while wood is more expensive.
Installation fees also impact the final price.
Get quotes from professionals to determine the exact cost for your specific bay window.
Key Points
Average cost is £500-£800 for a medium bay window
PVC is the cheapest, wood the most expensive material
Installation fees add £150-£500 per window
Our Opinion
In our experience, bay window shutters are a smart investment.
Though the upfront cost is higher than alternatives like curtains, the visual appeal and functionality of shutters make them worthwhile.
Carefully measure your windows and get quotes from multiple providers to find the best value.
With proper installation, bay window shutters will last for years to come.
How Much Do Bay Window Shutters Cost?
Bay window shutters are a popular choice for UK homes—and for good reason. Not only do they enhance the aesthetic appeal of a bay window, but they also provide practical benefits like privacy, light control and insulation. But how much do bay window shutters cost?
The price can vary depending on the size and material you choose. For an average-sized box bay window of around 2 square metres, you can expect to pay:
£400-£800 for self-installed uPVC or MDF shutters
£800-£1,500 for professionally installed wooden shutters
So, for a typical 3 square metre bay window that needs professional fitting, the total cost would be approximately £492 on average.
The material makes a big difference. uPVC and MDF shutters are cheaper, starting from around £200-£480 per square metre. Wooden shutters are more expensive at £800-£1,000 per square metre but can last longer.
Installation costs also bump up the price. Fitting wooden shutters usually takes 4-6 hours for an average bay window, so with labour costs factored in, expect to pay at least double the base cost of the shutters themselves.
The size of your actual bay window is the other key factor. The bigger the window, the more shutters you'll need and the higher the overall cost. But you can get a rough price guide based on £500-£600 per square metre for a good quality, fully installed shutter system.
While the cost might seem high, bay window shutters are a stylish and functional addition to millions of UK properties. And with windows being such an impressive and visible design feature, investing in quality installation is worth it.
The average total cost works out to around £538.50 but get quotes from tradespeople to recommend the best shutters and price for your job.
Factors Affecting Bay Window Shutters' Cost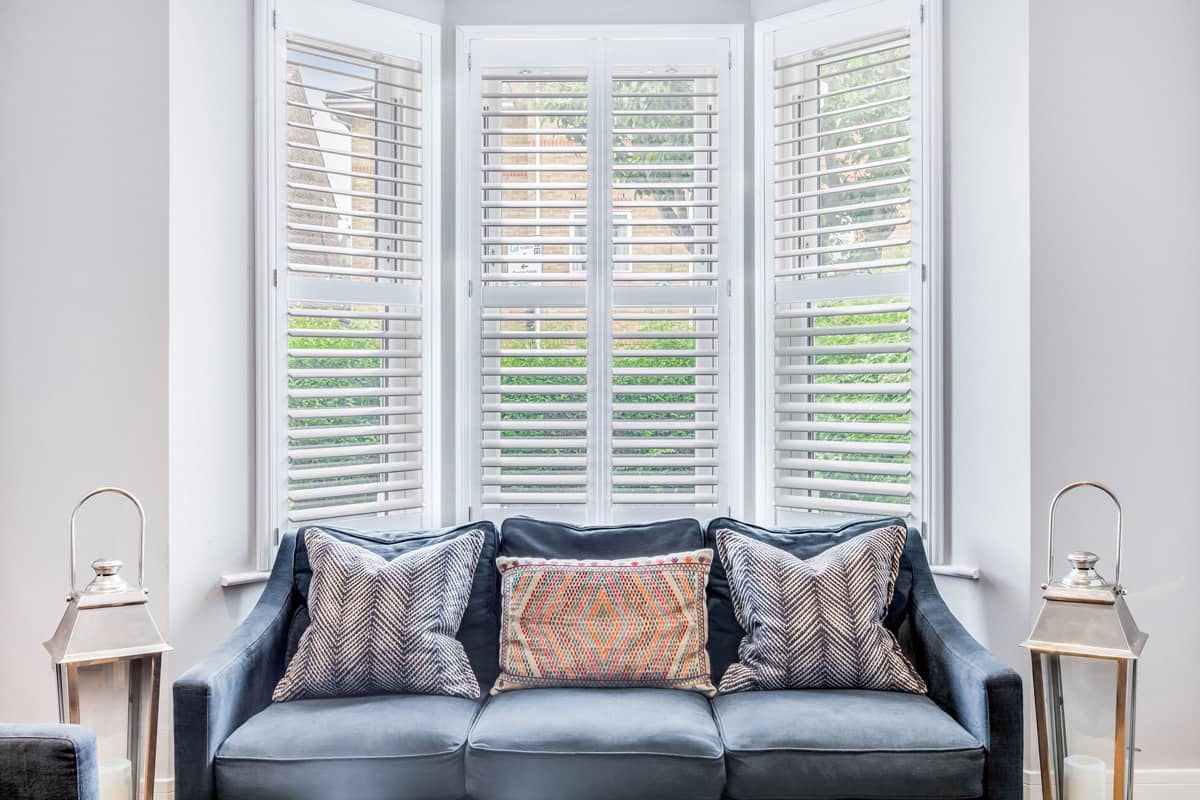 The cost of bay window shutters depends on several key factors.
The type of material is important. Hardwood shutters are generally the most expensive option, typically costing £800-£1,000 per square meter. They require expert craftsmanship but can last over 20 years with proper maintenance.
Softwood shutters made from pine are a mid-range choice at around £500-£700 per square meter. They are prone to warping and denting but provide a cost-effective alternative.
Synthetic shutters made from uPVC, ABS or MDF are the most budget-friendly, starting from £200-£300 per square meter. They are durable and low maintenance but lack the elegance of real wood.
Installation is another major cost consideration. Professionally fitted shutters normally double the base price. DIY installation saves money but can be tricky for bay windows.
The size and shape of your bay window also impact the price. More complex designs with lots of angles require additional custom-cut shutters and specialist installation.
Location is a factor too. Prices in London and the South East are generally 20-30% higher than other regions. The availability of tradespeople affects labour costs.
Finally, extras like integrated curtain rails, embedded magnets and premium paint finishes can bump up the total cost. But they may be worth it for added functionality and aesthetic appeal.
Consider all these factors when budgeting. Get multiple quotes and view samples before deciding on the right shutters for your needs and price range.
Cost of Materials for Bay Window Shutters
The materials used for your shutters will be the biggest determinant of cost. Here's a quick overview of price brackets for common materials:
Basic uPVC or composite plastics: £250-£350 per m2
Mid-range softwood like pine: £450-£550 per m2
Premium hardwoods like oak or mahogany: £650-£850+ per m2
uPVC is the cheapest option but won't have the same aesthetic quality or longevity as wood. Hardwoods provide a luxury look and feel but require an extra budget. Popular mid-range softwoods like pine balance durability, insulation and cost.
Within the wood categories, opting for solid wood rather than engineered wood will increase prices but typically deliver better performance and lifespan. The thickness of the slats also impacts costs.
Other material factors like custom colours/stains, windowpane dividers, embedded magnets and any insulation or noise-dampening upgrades will bump up the price too.
Always get samples to compare materials first-hand before purchasing. This will help decide if paying more for premium materials is worthwhile for your home and taste.
Professional Installation Charges For Bay Window Shutters
Installing bay window shutters can be tricky, so many homeowners opt to hire professionals. This adds labour costs on top of the materials.
Typical installation fees range from £150-£250 per day, depending on the company and number of technicians needed. Bay windows often take 2-3 days in total.
For a small bay window, expect to pay around £300-£500 for installation. Larger or more complex bays with multiple panes may cost £600-£800 or more.
These are general ballpark figures. Actual installation costs depend on the bay's specifications and your supplier's rates. Be sure to get an itemised quote clearly outlining:
Number of days required
Rate per day
Any fixed call-out or assessment fees
Additional charges for out-of-hours, weekend or rush service
Mileage/travel costs if located far from the installer's base
Reputable companies won't hide any surprise fees. Comparing quotes on a like-for-like basis helps find the best value installation service.
Hiring professionals takes the hassle out of fitting shutters. Their expertise allows for a more seamless finish. For big or awkward bay windows, it can be well worth the extra spend.
FAQ
How much do window shutters usually cost?
The cost of window shutters can vary greatly depending on the material, the size of the window, and whether you choose to install them yourself or hire a professional. On average, expect to pay £200-£800 for a standard window.
How much should I pay for shutters?
As a general rule, PVC shutters range from £100-£500 per window, wooden shutters £300-£800, and composite shutters £400-£1000. Get quotes from at least 3 shutter companies before deciding on a price.
Are shutters suitable for bay windows?
Yes, shutters are an excellent choice for bay windows as they accentuate the window's unique shape. They also provide privacy and light control. Expect to pay more for bay window shutters due to the extra material and labour required.
What is the price of installing window shutters?
Professionally installed shutters cost approximately £150-£500 per window on top of the cost of the shutters themselves. DIY installation saves on labour fees but can be complicated for bay and large windows.
Conclusion
Bay window shutters can cost anywhere from £400 for DIY plastic shutters up to £1,500 or more for professionally installed wooden shutters, depending on the exact size and features. When deciding how much to spend, consider material, installation method, and any custom designs. Our experts recommend getting quotes from multiple shutter providers before purchasing. Overall, expect to pay an average of £500-£800 for a typical bay window shutter installation.