If you are planning to get a bathroom sink, you may wonder how high a bathroom sink should be.
This blog post details the ideal height for a bathroom sink and some factors to consider when choosing the best sink.
How High Should a Bathroom Sink Be?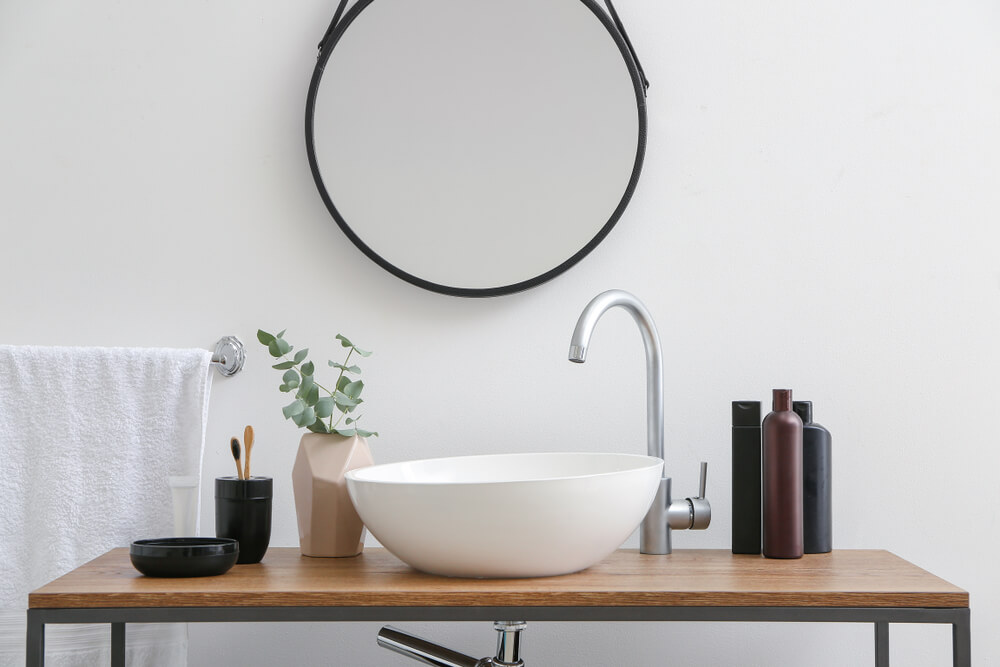 The ideal height for a bathroom sink is usually between 32 and 34 inches (80-85 cm).
This standard height allows most people to use the sink comfortably while standing.
Lower or higher heights may be preferred based on personal needs.
Ultimately, the sink should be installed at a functional height for the homeowners between approximately 29-36 inches.
Key Points
Standard bathroom sink height is 32-34 inches (80-85 cm)
Factors like personal preference and accessibility needs can influence the ideal height
The typical functional height range is 29-36 inches (74-91 cm)
Our Opinion
In our experience, a bathroom sink installed at a height of 32-34 inches provides the most comfortable, accessible height for standing use by most people.
Lower or higher heights may suit some users better based on their height or accessibility needs.
Within the typical range of 29-36 inches, we generally recommend aiming for a sink height in the 32–34-inch standard, unless the homeowner has a strong preference for something different.
This height works well for most without compromising comfort and function.
Finding the perfect height for your bathroom sink is key to creating a comfortable and functional space.
The standard height ranges between 800-850mm but can be adjusted to suit your needs.
Standard Height for a Bathroom Sink
The standard height of a bathroom sink in the UK is typically between 80 and 85 cm (32 or 34 inches) from the floor. However, this height can be tailored to your preferences and requirements.
Here are some key factors to consider when determining the ideal sink height:
Wall-mounted sinks are often installed 30 to 36 inches high, but this depends on the size and shape of the basin.
Plumbing experts recommend a comfortable basin height of 800-850mm (31-33 inches).
For ADA-compliant bathrooms, the maximum sink height is 34 inches.
The sink should sit between 29 and 36 inches high for most people. Consider individual factors like height and accessibility needs.
The standard sink height range allows comfortable use for people of varying heights. Extra tall or short people may prefer an adjusted height outside the typical range.
When installing a new sink, measure the user's height and consider mounting height, basin depth, and distance from the sink to the mirror. Following expert guidelines will ensure your new sink's height suits your bathroom's needs.
Factors to Consider When Choosing Sink Height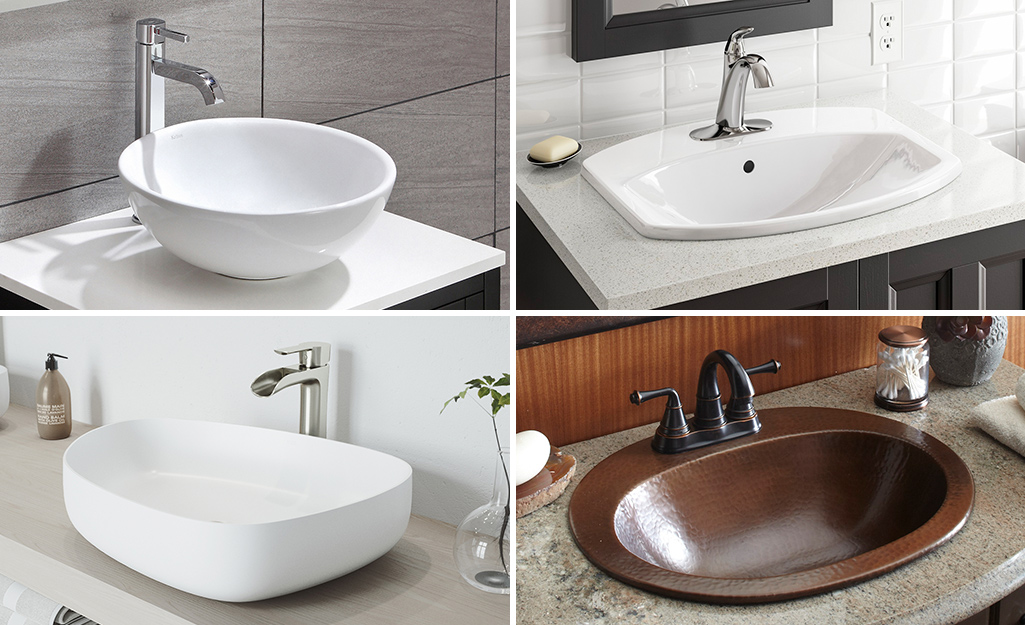 When selecting the ideal height for your bathroom sink, there are a few key factors to take into account:
Consider the heights of the primary users – The sink should be comfortable for those using it most often. For children, a step stool may be needed.
Account for accessibility needs – Lower sink heights around 700-750 mm may be preferable for wheelchair users. Grabbing bars can also help.
Factor in the sink type and size – Vessel sinks often require a higher mounting height than under-mount sinks.
Allow for proper leg room – Avoid uncomfortable bending by allowing enough clearance for legs under the vanity.
Check your mirror placement – The sink should be low enough to easily see your reflection in the mirror above.
Mind the plumbing – Keeping sinks within 30-40 cm of the drain pipe avoids complex plumbing jobs.
Test different heights by adjusting a temporary sink or cardboard cutout. The ideal placement will balance comfort, functionality, and aesthetics for your needs. Slight adjustments may be needed after installation for the perfect fit.
Benefits of a Raised Bathroom Sink
Installing your bathroom sink at a slightly elevated height can offer some advantages:
Reduces strain on your back – Less bending down means less stress and discomfort.
Improves accessibility – A raised sink is easier to use for those with mobility issues or who use a wheelchair.
Enhances user experience – A sink at a natural height feels more comfortable for daily use.
Allows more leg room – Raising the sink can improve clearance for your legs underneath.
Accommodates taller users – People over 5′ 8″ will appreciate a sink height of around 36 inches.
Makes cleaning easier – A taller sink puts less strain on your neck when scrubbing.
Creates a smoother workflow – Moving between sink and countertop becomes more seamless.
The ideal elevation depends on your height and needs. But a slightly taller sink around 850-900mm can provide a more ergonomic, accessible bathroom experience for many users.
How to Install a Wall-Mounted Sink at the Ideal Height
When installing a wall-mounted vanity, getting the height right is key for comfort and accessibility.
Here are some tips:
Measure your height as well as other household members who will use the sink.
For a standard sink height, measure 850-900 mm from the floor to the rim of the basin.
Adjust up or down based on user heights – taller people may prefer around 900mm.
Mark the desired height on the wall where the sink will be mounted.
Install mounting brackets for the sink at this height line.
Set the sink basin on the mounting brackets at your pre-marked height.
Connect the plumbing supply lines and p-trap under the basin.
Seal around the sink edges with caulk for a watertight installation.
Consider an adjustable sink bracket system to fine-tune the height later if needed.
Getting your wall-mounted sink at the right elevation can make using it much more comfortable. Take measurements tailored to who will use it most when deciding on the ideal height.
When installing a custom-height wall-mounted sink, carefully measuring yourself and other household members is crucial.
Some Tips on Getting Accurate Measurements
Stand barefoot against a wall with your arms relaxed at your sides.
Place a book squarely on top of your head, and mark the wall at the bottom edge of the book.
Measure from the floor up to the mark – this is your ideal custom sink height.
Have other household members do the same measurement process.
Compare measurements, and determine a suitable compromise height if there is variance.
Consider individual user needs – for example, make it lower for children.
Add roughly 100-150 mm to allow for the sink basin depth if mounting to the wall.
Mark the final height on the wall where you'll install the sink brackets.
Taking precise measurements is essential for getting your custom wall-mounted sink at the perfect height for you. Follow these tips when measuring to find your ideal installation height.
FAQ
What is the normal height of a bathroom sink?
The standard height for a bathroom sink is usually between 32 and 34 inches (80-85 cm) from the floor to the top of the basin. This allows most people to use the sink comfortably.
What is the height of a bathroom vanity in the UK?
In the UK, standard bathroom vanity units tend to be 720-850 mm (28-33 inches) tall. The basin sits on top of the vanity, so the total height would be around 80-90 cm (31-35 inches).
Where should a bathroom sink be placed?
The bathroom sink should be placed in a location that allows enough clearance to access it. It's recommended to have at least 21 inches (53 cm) of open counter space on each side of the sink basin.
What height should taps be above the basin?
The bathroom tap height above the basin should be around 4-6 inches (10-15 cm). This allows comfortable operation and clearance below the taps.
Conclusion
The standard height for a bathroom sink tends to be between 80-85 cm (32-34 inches) from the floor to the top of the basin. This allows most people to use the sink at a comfortable height. Factors like personal preference, accessibility needs, and vanity cabinet height can influence the ideal sink height. Overall, a height of around 29-36 inches is typical and functional for most bathrooms. Considering all the factors, how high should a bathroom sink be? For most homes, a height of 32-34 inches provides a comfortable and accessible standard height.